The 2019 F1 season is almost upon us, with winter testing starting in a couple of weeks and the Australian Grand Prix commencing next month. It's the perfect time for five early predictions, some of which are pretty long shots.
1. Charles Leclerc will take three wins
Ferrari has a new kid on the block. Charles Leclerc spent his rookie season at Sauber, but from 2019 it's time for his dream to come true. That could prove to be immensely stressful for the young Monegasque, but he may rise to the occasion and even take some wins. If Ferrari is at least on the same level as it was in 2018, then Leclerc could be able to snatch one, two, or even threewins in his first season with a big team, cementing his position at Maranello and proving his talent once again.
2. Nico Hulkenberg will take his first podium
It's something of a mystery how Nico Hulkenberg, a driver who has been in teams with podium potential, has never finished in the top three. But, with Renault constantly improving and with a bit of luck (after all, it is needed as well), the Hulk could finally take that podium finish he truly deserves.
3. Red Bull-Honda will not be in the top three
The all-new collaboration between Red Bull and Honda is one of the hottest topics ahead of the new season, and rightfully so. Honda has proven to be a bit of a 'wild one', especially on the reliability front, and Red Bull could be its next victim. Everyone acknowledges the fact that Red Bull is great in designing an aerodymanically efficient car (Adrian Newey is still the best out there), but this could not be enough for them to stay in the top three. Maybe Renault could step up…
4. Alfa Romeo Racing will be in the top five
The Alfa Romeo-Sauber collaboration worked out perfectly for both sides during the 2018 campaign, with the team finishing seventh in the final standings. Now, with the all-new Alfa Romeo branding, Kimi Raikkonen on board and excellent technical staff, the prospect of them finishing in the top five is not such an absurd thought. After all, the backing from 'sister' team Ferrari is certain and could prove vital.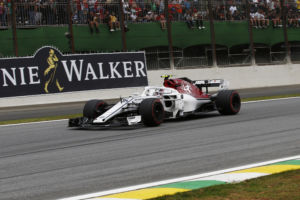 5. Mercedes will not be champions
Finally, the most bold of these predictions sees Mercedes not taking its sixth world championship in a row as a constryctor. Maybe Lewis Hamilton will be the drivers' champion, but his team may be hurt by Valtteri Bottas' incompetence. Ferrari has, on paper at least, a strong line-up, and so does Red Bull and Renault (if we count the French team as a real threat), so Mercedes is really on the ropes on this one.
Less than 40 days remain until the season opener in Albert Park, and the nine-month journey around the world begins for the F1 circus.
[Featured image: Ferrari Media]