Sebastian Vettel believes that Ferrari can still be a force to be reckoned with in 2018, with their spirit "unbroken despite everything" they have been through.
"Today, I found it quite inspirational walking through the garage and watching the guys work," Vettel said. "All the team is fired up and that certainly helps, as the last couple of weeks haven't been that easy. The spirit is unbroken despite everything."
Vettel has only won two races out of the past ten – taking the chequered flag at Silverstone and Spa – and he has been involved in incidents or been the victim of various strategy mistakes in Germany, Hungary, Italy, Singapore and, most recently, in Japan.
Vettel finished in sixth place in Suzuka after a clash with Max Verstappen early on in the race dropped him to the back of the pack. The German tried to dive down the inside going into Spoon Curve but made contact with Verstappen and ended up spinning. The incident, which was investigated by the stewards but didn't result in any penalties, left Vettel to fight his way back through the field. He now trails title rival Lewis Hamilton by 67 points with four races still to go.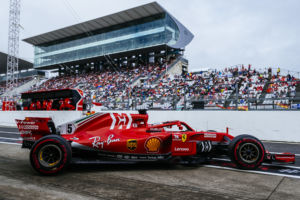 Speaking of the coming together with Verstappen, Vettel said, "I was obviously pushing to pass, I knew he had a penalty, but I also felt that we were fast. I could see that his battery was clipping, while I had saved some energy from mine. I saw a gap and went for it on the inside, he obviously tried to defend and I couldn't go anywhere, so we touched. However, this is part of racing."
F1 now heads to the United States Grand Prix at the Circuit of the Americas, where Hamilton has his first chance at winning his fifth world championship. If he outscores Vettel by eight points – so, if Hamilton wins the race and Vettel doesn't finish second, for instance – then he would wrap up the title.
"Races like [Japan] are a bit of a hand-over and we know it is difficult from where we are in the points standings, but we don't have much to lose," Vettel said. "We have given everything so far and I believe there's still something we can learn and understand from the car. So we keep fighting and resisting and we'll see what the other races bring."