The Singapore Grand Prix was seen to be one of the most important races of the 2018 season so far. With seven races to go, including Marina Bay, a win for Hamilton would put him at least 37 points clear of Sebastian Vettel. A win for Vettel, on the other hand, would bring the gap down to 23 points.
Excitement flowed up and down the paddock as everyone anticipated a crucial and exciting Singapore Grand Prix which, in the past, has been a massive race in terms of the championship outcome, not least last year when Vettel crashed out on the first lap and left Lewis Hamilton to claim a brilliant victory.
This year's race, however, was exactly as Hamilton would have wanted it to be – uneventful. He won from pole, and Vettel could only manage a third place finish, leaving the German's title challenge seemingly in tatters.
Is there a way back for the Ferrari man?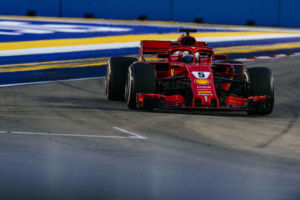 Mathematically, of course, yes. There are still 150 points up for grabs this season, so a 40-point gap means the title race is still open. However, with 25 points given for a race win, Vettel is running out of both time and numbers.
Should Vettel win the next six races with Hamilton finishing second, the German would win the championship by two points. If Hamilton wins another race, Vettel will essentially need to win the other five, hoping for a fourth place finish for Hamilton somewhere in there. Two wins for Hamilton in these last six, and Vettel can forget about the championship.
Realistically, it is very difficult to see any of this happening. We are going to six tracks which will not all suit Ferrari and, given that Hamilton has been strong at almost every circuit so far this season, it is turning into Mount Everest with an extra 100 feet for Sebastian Vettel to climb.
What Vettel can hope for is, of course, some help from his team mate Kimi Raikkonen in the fight against the two Mercedes. The more cynical in the Formula One world might suggest we will see some Ayrton Senna-esque tactics from the Finn, but that is not how we want to see this championship decided.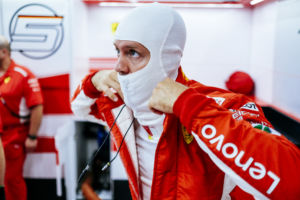 How has Vettel ended up in this situation? The simple fact is that he has made too many mistakes this season. The most notable ones are his spin in Italy when he needlessly hit Hamilton on the first lap, and his crashing out of his home Grand Prix at Hockenheim from the lead of the race.
Red Bull have also taken away two possible wins from Ferrari this season – Ricciardo won in China after Max Verstappen took out Vettel, and Verstappen then won in Spielberg at his team's home circuit. These two races were massive points lost for Ferrari, and the Scuderia could be left to rue them at the end of the year.
Ferrari made an error of their own in Singapore. They brought Vettel into the pits to change him onto the ultrasoft tyre with three-quarters of the race still to go. Hamilton and Verstappen both changed onto the soft tyre which could not only make it to the end of the race, but also run at a consistent pace. This is something Vettel could not do, condemning him to a frustrating and costly P3.
It summed up what has been talked about a lot over the last two seasons – Ferrari have simply been too error-prone, and this has most likely left Hamilton with the championship in the bag.
But, as Hamilton himself will no doubt know from 2007, it's never over until it's over and, as Murray Walker once famously said, anything can happen in Formula One and it usually does.