McLaren's Fernando Alonso has said the team is seeking to improve their pace during qualifying ahead of this weekend's German Grand Prix at Hockenheim.
"We know we need to work on our qualifying performances to give ourselves the best chance on Sunday," he said, "but we've also seen that during the race we can push forward and secure points, so the aim is to achieve the same in Germany [this] weekend."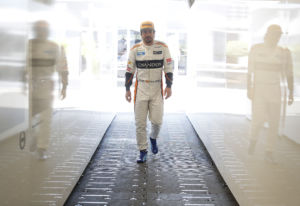 So far this season, Alonso has only made it into Q3 twice – in Spain and in Monaco – while team-mate Stoffel Vandoorne hasn't managed to do so at all. For the most part, the duo have been stuck in the midst of the mid-field, with P13 and P14 being their most frequent results in qualifying. There is no doubt that the French Grand Prix provided their worst Saturday of the year so far – though Vandoorne has failed to make it out of Q3 on four occasions, Paul Ricard has been the only track thus far where Alonso has joined him.
Speaking of the Hockenheim track, Alonso was realistic about his chances. "[I] have won there three times so it's great to be back after a break last year. The track is viewed as one of the classics, it's fun to drive and there are a couple of overtaking opportunities – and an extra DRS zone this year – so hopefully we can fight with the cars around us.
"The next couple of races before the summer break are on very different tracks. We need to work hard, and do as much as possible to adapt our set-up for each of them to maximise our chances. We know this weekend won't be an easy track for us but we'll give it our best as always."
Last time out at the power-sensitive Silverstone, Alonso unexpectedly made up five places during the race to end up in the points for the 200th time in his career. In apparently typical McLaren style, the eighth place finish was not made easy for him after – unsurprisingly – a lacklustre qualifying the day before, a trend Alonso and the team are hoping they can end sooner rather than later.
Featured image courtesy of Steven Tee/McLaren