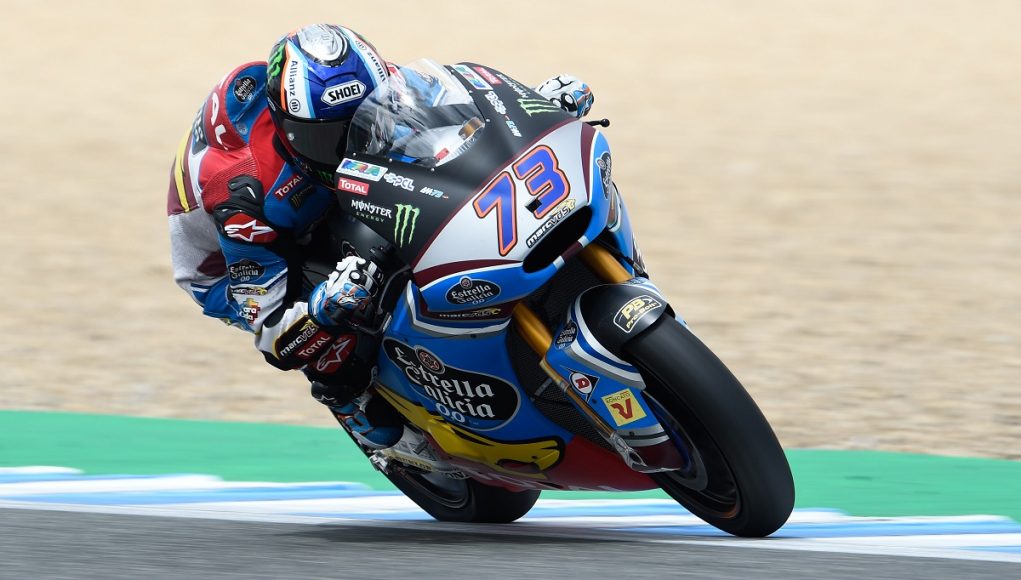 Alex Marquez reminded everyone of his full potential today, with a faultless performance in appalling conditions.
Adverse track and weather conditions ensured that the Moto2 Grand Prix was reduced in distance to 15 laps, from the originally scheduled 23. The continuous heavy rain meant that the traditional first lap scramble simply became a trial just to survive.  Pole sitter Takaaki Nakagami (Idemitsu Honda Team Asia) led an understandably cautious field during the early stages of the race, as the riders found their bearings on a track which resembled more a river than a circuit. Gradually a quintet pulled clear of the main pack, which would fight for the honours.
Marquez (EG 0,0 MarcVDS) has, on a few occasions, perhaps been guilty of letting his heart rule his head when the pressure increases in races. Today was no such day. Having started in second place on the grid, he initially dropped back during the opening laps, the Spaniard never lost focus, giving himself time to find what little grip was to be had. Once confident, he set about chasing down his rivals with ruthless, yet clean, efficiency. With 7 laps of the race remaining, he passed Nakagami for the lead and didn't look back. He produced a string of fastest laps and pulled clear of the rest.
It's the third time in his Moto2 career that Marquez has taken victory and it has easily been his most complete, utilising both the bike's speed and his own nous. He may be signed on for another year in the intermediate class but make no mistake, the premier class have noticed him.
It was a triumphant day for Spanish Rider Xavi Vierge and his team (Tech3), has they finished the race in second place. Both rider and team have been somewhat of a revelation this season, consistently challenging for the larger point hauls at each race. Never troubled by the conditions, it was a commanding ride from the 20-year old, who executed a perfect block pass on Mattia Pasini (Italtrans Racing) and managed to keep his bike shiny side up – not many can say that.
The final place on the podium went to Hafiz Syahrin (Petronas Raceline Malaysia). Regarded in the paddock as a wet weather warrior the 23-year old from Ampang, Malaysia, duly stood up. Having started the race from sixth position, there was a feeling that he could be the man to snatch victory today, before Marquez broke clear from Nakagami. Quite a turnaround when you consider that he finished down in sixteenth place – and out of the points -last time out at Aragon. It was a timely return to form, and it was his second podium finish of the season.
Just missing out on a podium spot was Sky VR|46 rider, Francesco Bagnaia. Although initially bogged down in the mid-field early on, the former Moto3 race winner carved his way through the field, culminating in a daring overtake on Pasini on the final lap, at the treacherous turn 11. "Oh for one more corner" would have been the cry from rider and team-boss alike, as he crossed the line glued to the back of Syahrin's machine.
In terms of the championship, it was a case of severe damage limitation for series leader Franco Morbidelli (EG 0,0 MarcVDS). The Italian endured a difficult weekend, and will be glad to be leaving the circuit behind tonight. Nevertheless, despite finishing in a relatively lowly P8, he still managed to increase his lead over Swiss rival Thomas Luthi, who could only manage P11. It means that Morbidelli heads into next week's Australian Grand Prix with a 24-point lead in the championship.
Finally a word for Tarran MacKenzie. The diminutive British rider has been competing for the Kiefer-Racing outfit since the French Grand Prix at Le Mans this year. Today, he finally secured his first World Championship point with a brilliant – if unheralded – ride to fifteenth place today (he started on the grid in P31). To say it has been a baptism of fire would be the understatement of the century. No pre-season testing, and very limited in-season testing allowed, it has been a tough ask for him just to be competitive – not to mention that aside from Assen and Silverstone, all the circuits are new to him. Today has made his season, as well as for those mechanics working with him. Chapeau!
Race Result Top 5:
1: Alex Marquez (EG 0,0 MarcVDS) – 32:08.901
2: Xavi Vierge (Tech3) + 1.465
3: Hafiz Syahrin (Petronas Raceline) + 3.134
4: Frencesco Bagnaia (Sky VR|46) +3.415
5: Mattia Pasini (Italtrans Racing) +5.618