The Ricardo Tormo circuit, situated on the outskirts of Valencia, is hosting the Formula E collective test this week in preparation for Season 4. It provides  the first opportunity for drivers to get to grips with their performance in terms of their competitors.
In the first morning session of the three day test, Mahindra set the initial pace but Jaguar also showed promise from the start. By the end of the first hour, Mitch Evans topped the leaderboard with a 1.19.776, followed by Audi Abt Schaeffler's Lucas di Grassi who was a mere one tenth behind.
Jaguar showcased that their development throughout the winter has paid off as Evans continued to dominate throughout the session. Nelson Piquet Jr also seemed to settle into his new team, taking P6 by the end of the session. DS Virgin's Alex Lynn in a new dark testing livery, and Evans fought for the top spoils, however, Sam Bird improved on a warmer track, taking first position with a time of 1.18.669. The Audi's of Lucas di Grassi and Daniel Abt followed.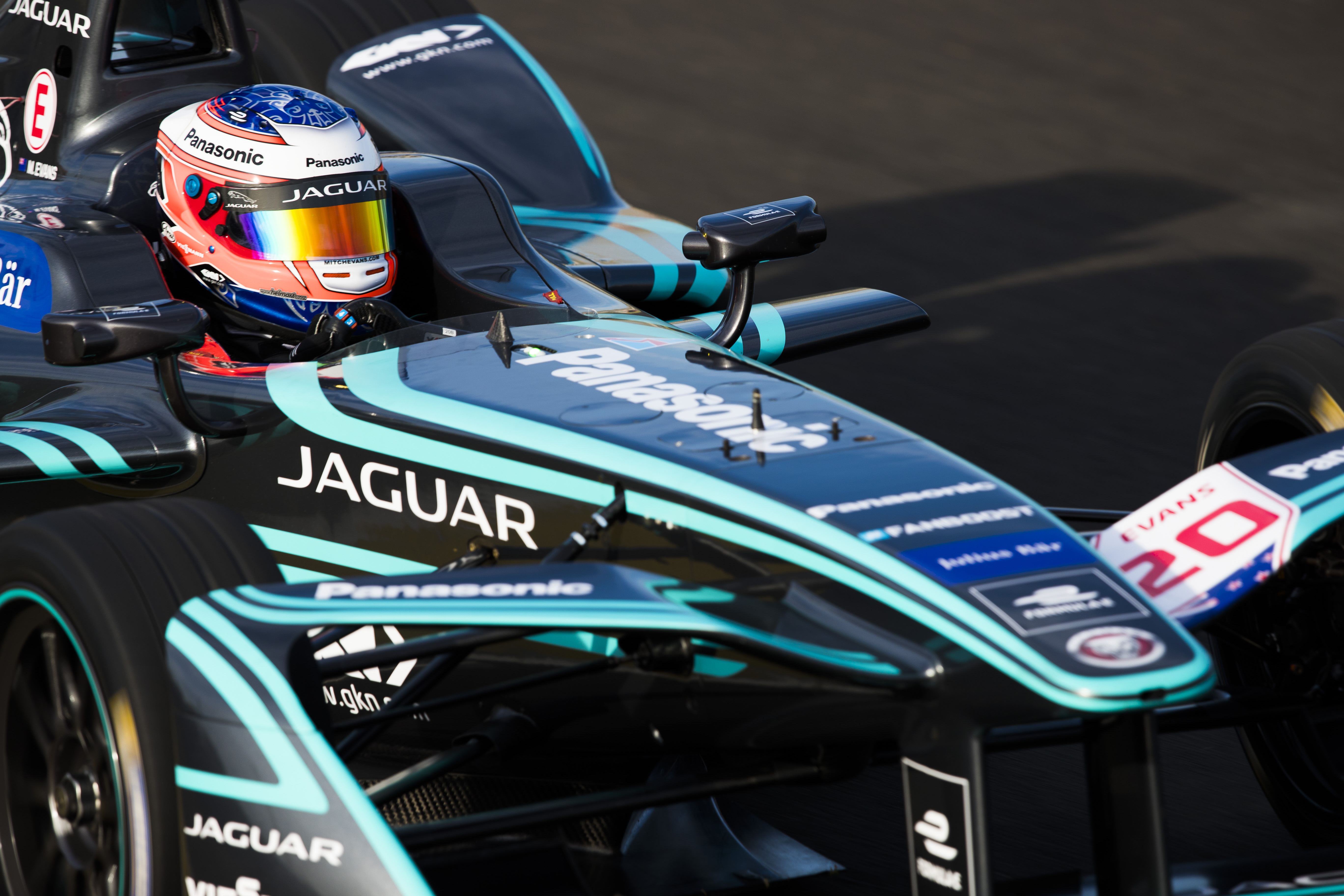 DS Virgin and Audi Abt Schaeffler looked strong on this track – however, it is not indicative of the true potential of the cars when they perform on street circuits.
Regardless of this, the test has shown that all the teams have made significant development over the winter. Renault didn't show their potential in this session as they only occupied P8 and P9 and Sébastien Buemi seemed generally unhappy with the set-up of his car.
Mahindra faded after a strong start, with Felix Rosenqvist only completing 17 laps. Techeetah also seemed to struggle getting to grips with the track, with Jean-Éric Vergne managing P11 and new driver André Lotterer P16.
Formula E has eight new drivers undertaking test duties this week. Alexander Sims made his mark in his attempt to take the second Andretti seat as the IMSA driver outperformed teammate Antonio Felix Da Costa in the morning session and made a solid start.
James Rossiter, previous test driver for Honda and Force India was the best placed of the rookies, having a excellent session which placed him in P12. The other rookies, including newly unveiled Indycar and GP2 NIO driver, Luca Filippi, had solid runs, clocking up over 20 laps a piece, good preparation for the days to come as they become familiar with the car.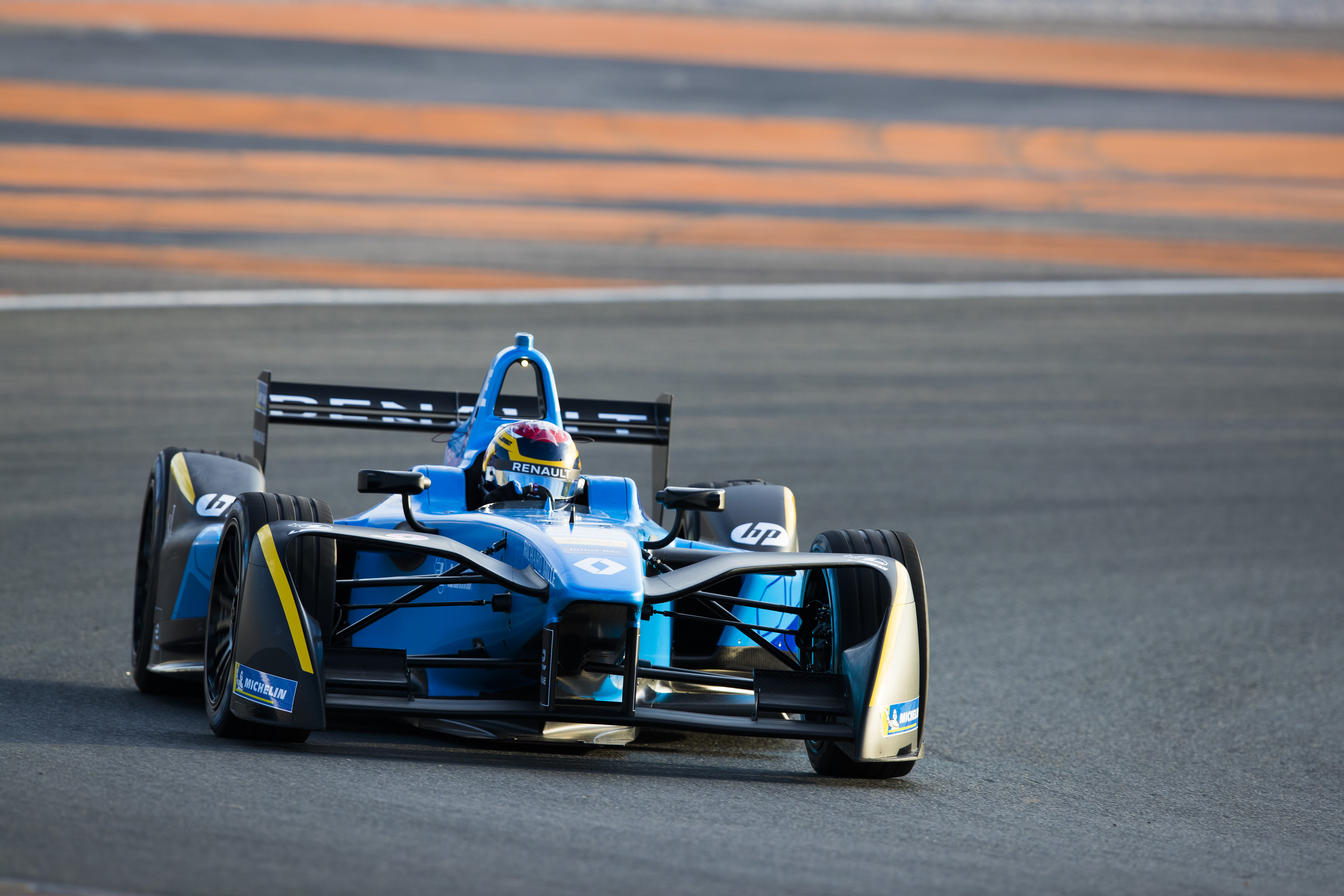 In the afternoon session, Buemi and Renault showed their hand, leaping to the top of the timing screens. Jaguar once again made a solid start with Piquet and Evans climbing the rankings.
Techeetah had a much better afternoon, with Vergne shaking off the troubles of this morning and slotting himself into P3 at the beginning of the session. However, Bird soon brought out a red flag as he crashed out on the tyre chicane just before turn one, forcing his car to be towed away as he beat a hasty retreat to the pits. Racing resumed soon after with Rosenqvist snatching the top spot with a blistering time of 1.18.779.
However, red flags continued to plague the drivers as they struggled in the rising temperatures. Lotterer stopped at turn 7 with a mechanical issue and had to be towed off the track, only to appear a short while later and climb the order. However, turn 7 seemed to pose a problem for Techeetah as Vergne also fell victim to the corner, hitting the gravel and red flagging the session once more.
As racing resumed, Audi began to gain momentum, as Di Grassi and Abt fought for the top position in the latter stages. Buemi also contested the top spot, snatching the position away from Di Grassi by a margin of only two thousandths of a second. However, it was the NIO car of Oliver Turvey who finished on top. With two minutes to go, he put in a time of 1.18.565, the fastest of the day.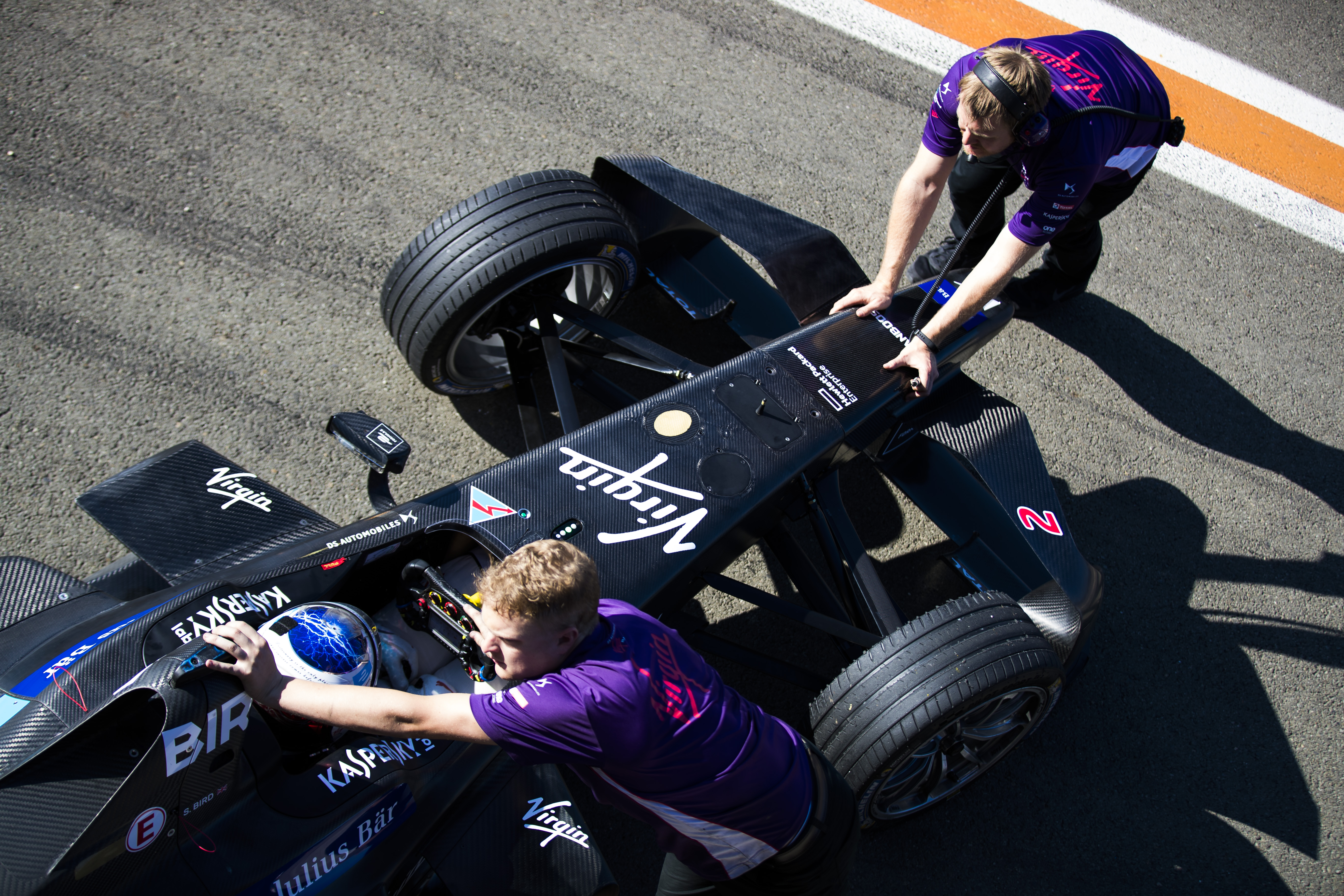 We grabbed a few words with DS Virgin Racing's Alex Lynn and Sam Bird on how the day went and on the upcoming season:
Q:  Congratulations on securing the drive, Alex. Just wanted to know what your thoughts on the session so far today?

Alex Lynn: Yeah, it's very positive. We had a good day. Many laps, car went round and round so very positive. I think the lads have been working really hard in the workshop to get everything done.

Q: What are your aims for this season? Where do you want to be in terms of Formula E?

AL: I think the plan is to definitely win races and be on the podium, that's the immediate goal and what we'd like to achieve. As a team, I think we want to learn as much as we can over the next few days and arrive in Hong Kong in a strong position.

Q: How challenging is this circuit in comparison to the street circuits you usually operate on?

Sam Bird: The circuit doesn't represent what we will be running on but it's unrepresentative for everybody so everybody's in the same boat. We were very quick this morning, I think the track got a little bit quicker this evening but we were doing race running so no worries. Compared to Hong Kong, the average speeds are enormous so what we run here is not what everyone will run in Hong Kong.

Q: Do you feel the season 4 car a significant step forward?

SB: I think there are some teams that have made the jump forwards and hopefully, we can see where we come out of it. There's certainly a lot of teams who have put a lot of effort and resources and obviously their new systems and we will have to see where we are after that.

Q: What are your opinions on the way the series is going?

SB: It's very exciting. This series is in a very stable situation right now, loads of new manufacturers coming on board and some big names.Amazing driver line up again this season and a great calendar, just need London back on the calendar. I fully expect it to flourish.