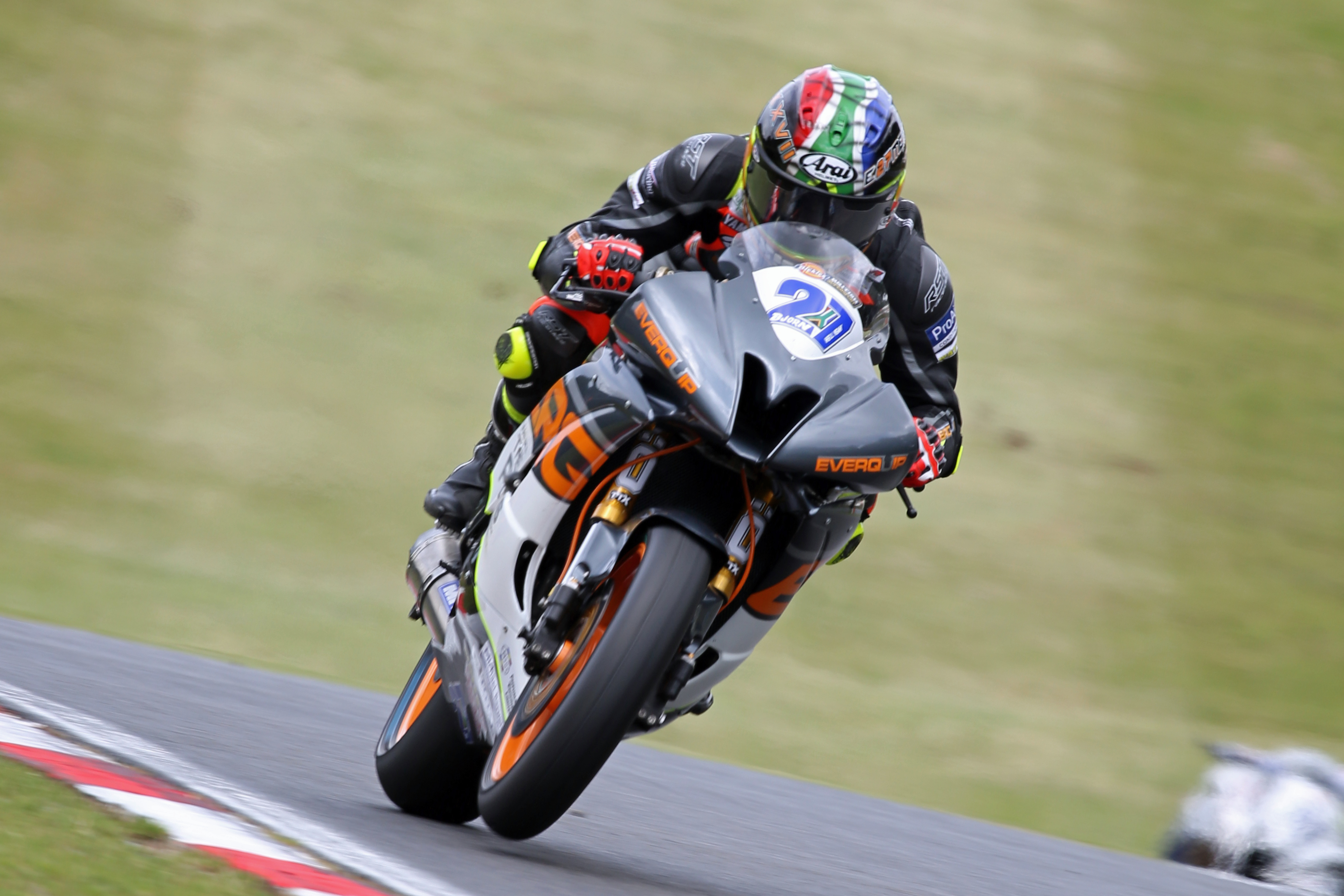 In this latest interview, I talk to Bjorn Estment, one of the up and coming South African riders. Now resident here in the UK, Bjorn is having one of his best seasons to date. He chats to me about his road to the British Superbike paddock, what he thinks of his season so far and the current revival of motorcycle racing in South Africa.
Sum up your season so far?
I think it's been a good year. It's all new – the team is new and their learning, I'm new to the team and I'm learning about them. So far, so good, it's been steady. We had a 9th, 8th, 7th, 6th but then we had an unfortunate weekend at Knockhill and Snetterton. Everquip have given me every opportunity possible in the pre-season testing package. We had a couple of unfortunate teething issues at round one at Donington Park which persisted at Brands Hatch but we are catching up. Lady Luck wasn't on our side at Brands and we were on the wrong side of a 0.1 but it is what it is.
Do you think a wildcard at Donington Park in World Supersport would've benefitted you?
I don't think so. Donington Park isn't one of my favourite tracks and if I was to choose a circuit to wildcard at then it would be somewhere that I felt confident at. Joe Francis and David Allingham went well on their wildcard, especially Joe. I did ride in the World Endurance in the break, on the big 1000cc bike so that gave me plenty of track time and also taught be a brand new set of skills. I think, with regards to Knockhill we was fired up – excuse the pun – but then got unlucky.
Do you feel now that you can focus on your riding instead of worrying whether or not you will make it to the next round, seeing that Everquip Racing have taken you on full-time?
Everquip have given me the dream-shot. I am eternally grateful for the ride, to Stuart, to Carl and Lyndon and everyone in the team. Also, to James at Total Building Services. Without these guys, I couldn't do it. They've given me a big shot now where I can really take motorcycle racing on as a profession and not as a hobby. We are building as a team, I am rebuilding myself around the new bike and package for 2017, the new personnel etc. I thoroughly believe that we are a few steps away from being contenders and front-runners in the class.
Has the progress been quicker than expected?
What we have done has been great, but not I'm not happy with myself more than anything. At Brands Indy, we had good pace but that was at the end of the weekend. Oulton Park was a great meeting for us because it has always been a tricky circuit for me. To be so close to the podium, just four seconds away, I was thrilled! The team has done an outstanding job, especially Stuart and Carl. The Everquip guys are amazing and I'm so thankful to have them behind me.
Stuart told me that you fancied road racing! Are you mad? Is it likely to happen?
I don't think the Isle of Man TT will be on the list, it doesn't really tickle my fancy but the North West 200 has always had me interested. I don't know if it will be pursued. I will think about it in the future but right now, I want to get Everquip and myself to the front of the field in British Supersport.
With the amount of quick South African riders emerging, like yourself, the Binder brothers etc, do you think it is time for a Grand Prix or WSBK round to be held in South Africa again? 
Definitely! I think it would be fantastic for South African Motorsport, for world Motorsport too. As far as I'm concerned, world Motorsport goes across in a linear line from the USA to Japan and they forget about us South Africans down the bottom! The likes of Brad Binder really put us on the map and his brother is doing a fantastic job. Steven Odendaal, the reigning CEV champion is doing mega too.I've had a few flashes and Matthew Scholtz in MotoAmerica is doing grand too. It would be great for it to come back, especially now Kyalami has been refurbished.
What do you make of the 'newest' Kyalami layout?
Kyalami will always be my favourite circuit. I haven't ridden the new circuit so I can't really make a call on what it is like. The old one will always have a place in my heart but I think they needed to change it, to give it the status in world Motorsport. One criticism of the old circuit was that there were no long straights, so now they have the long straight, people can stop moaning. I'm happy with Kyalami and hopefully we can see international motorcycle racing return.
I think that if we were lucky enough to get Grand Prix to go there, then it would draw in huge numbers. Brad and his brother have an enormous following down there. I'm sure there would be plenty of wildcards trying to get in there because they'd know the track, whereas nobody knows the circuit in the GP paddock. The chance for making a name for yourself would be great! I think it would be great but the problem for South Africa is that it costs a lot of money.
Would you be one of those wildcards?
Haha I'd have to have a very serious chat with Stuart about that one!
Any plans to bring out the new R6?
I very much doubt it. The package we have is good and it is a top level bike. I don't think there is a huge difference in performance. Looking at World Supersport, it isn't making a massive differences. We are a new team to the paddock and that means that the budget has to be controlled and that is more important than going with a new bike and having to learn it as a team. It would be better to keep going with the bike we have and then move into 2018 with a clear plan in mind.
Do you support the 'phasing in' of Moto2 bikes into British Supersport?
You have to keep up with the times. Apart from that, I don't really know. From being a privateer and experiencing how difficult it can be in the past, the biggest thing is cost. Production racing is always going to be cheaper. As soon as you start introducing prototypes then you start increasing the bills. I'm not sure. Hopefully, by that time, we would've progressed and maybe be on the bigger bikes.
How much effort has gone into your racing career? 
In South Africa, we have never really had a development for riders. They are starting again now because of Brad Binder's success. In the Superbike series down there, you had a couple of dealer teams at the top but apart from that, there was little support. If you wanted to go overseas then you would do it all off your own back. If you're lucky, you might have been able to bring your sponsors but the vast majority of money would be coming from family savings and you'd be taking a massive gamble! That's what I did. I was incredibly fortunate to have my dad and and my mum support me and a few other family members to help over the years with chipping in to get me where I am now. That's been the case for most of us South Africans really. It is a big risk and if it is your passion and you believe it can work, then why not go with it? No one wants to say, 'what if', when they're sat at home. Brad has made it, his brother is making it and Steven Odendaal is doing a grand job too. I've found my home with Everquip which I hope is for the next couple of years. Without them, I wouldn't be sitting here.
We talk about fitness but we also talk about 'bike fitness'; what's the difference?
There is nothing that can mimic bike fitness. There is no exercise in the gym that replicates the forces you go through on a bike. It is important that you are fit enough to be bike fit to start with though! I am of the opinion that, 'the more you put in, the more you get out'. I really do train a lot and try and push myself to new limits every time I am in the gym. I try and chase personal bests which is enjoyable – well, not all the time but still! A lot of us use motocross, enduro, trials etc to maintain bike fitness. It is the best way to stay familiar with a motorbike and you get the same sort of feel too. It's not exactly the same but it is near enough. There is no time like saddle time!
Bjorn would also like to say a massive "thank you" to all the sponsors who help make this journey a reality. Everquip , Michael Barugh, Total Building Services, Watts Mix, Pneumatic Engineering, MHP, NFB, Pulse Engineering, Pro Air Conditioning, KSM, NGK, GB Racing and everybody else who contributes to this exciting effort!
Thanks to Gareth Davies of Full Factory Photography for the image.