As part of our celebration of International Women's Day, we spoke to Spanish F1 journalist Noemí de Miguel about her love of sports, her work for Spanish broadcaster Movistar and more.
Emily Inganni: Where did your love of sports first start?
Noemí de Miguel: From my childhood. I grew up in my grandparents' house and my grandfather and my uncle (still single then) loved sports and we didn't watch another thing on TV. You only have to choices: love it or hate it. And seems that I felt in love with sports.
EI: Was it always your aim to become a sports journalist?
NM: Indeed. I have been always focused on being a sports journalist and guided my studies and my career to get it from the very beginning.
EI: Why did you decide to switch from football to Formula 1? How did the opportunity with Movistar come about?
NM: I felt stuck. I had been working hard to be the best football journalist possible but my position on the company, my contract and opportunities to raise better conditions weren't what I expected. I felt frustrated working on my dreamed job and at the beginning, I thought that the situation would change in some moment. But nobody changes anything for you. You must do your way. Then, they offered an opportunity working on F1 and I accepted the challenge because you can watch F1 and follow the races but developing yourself as a journalist following the Great Circus is very demanding. I was studying for months to prepare myself.
EI: How did you feel when you first came into F1? Were you intimidated at all?
NM: In Melbourne in my very first grand prix I was nervous and the jet lag didn't help at all. I had been studying, reading and researching all kinds of information, speaking and asking some specialists, but it was my time to prove I was capable of doing a good job; as good as I considered I did working for 10 years on football. And many people tried to pressure me and criticised me for being there coming from football and doubting about my knowledge. But I overcame all those circumstances and my confidence grew quickly. I was very welcomed on the paddock for the main F1 representatives, drivers and colleagues. And soon people on social media changed their minds. It's a good learning experience to leave your comfort zone, face the difficulties, localise your weaknesses and work hard to fix it.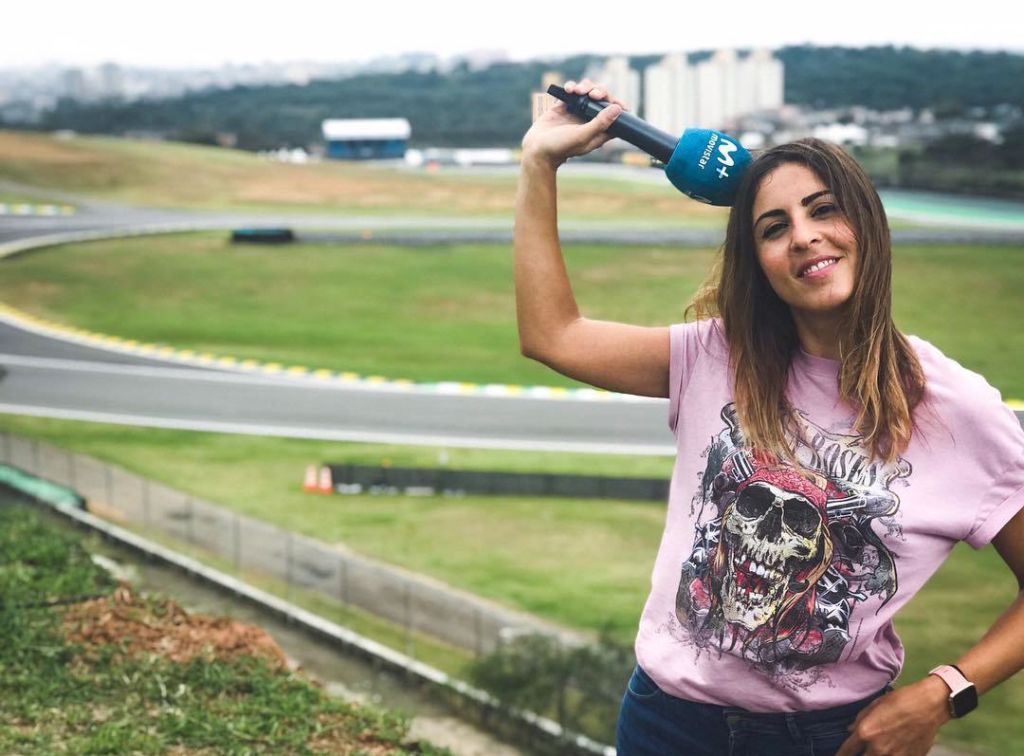 EI: F1 is still very male-dominated, what do you think needs to happen to get more women into the series, in roles both on and off the track?
NM: Fortunately, off the track, there are more and more women coming to play important roles. And the opportunities for a driver is about to happen soon, Tatiana Calderon is in pole position. The problem is the culture of motorsport in women, something in which FIA is working on and also Dare to be Different. As the girls would be educated in the culture of everything is possible for them and every single job is appropriated for them and get away the idea of male and female jobs the number of girls aspiring to be F1 driver will increase, the options of talented drivers also.
EI: Do you think there has been much progress for women since you started working in F1?
NM: It's been a long way but there are more projects running to help the development of female drivers and more women working on F1 teams.
EI: What would be your advice for anyone trying to get into sports journalism?
NM: Respect sports and athletes because they are who play the main role. Work hard, you never know everything, be focused, openminded, a good teammate and enjoy the opportunity. And if you are not happy just change yourself and move on for the next challenge.