Toprak Razgatlioglu claimed victory in Race One in Portimao after a thrilling race.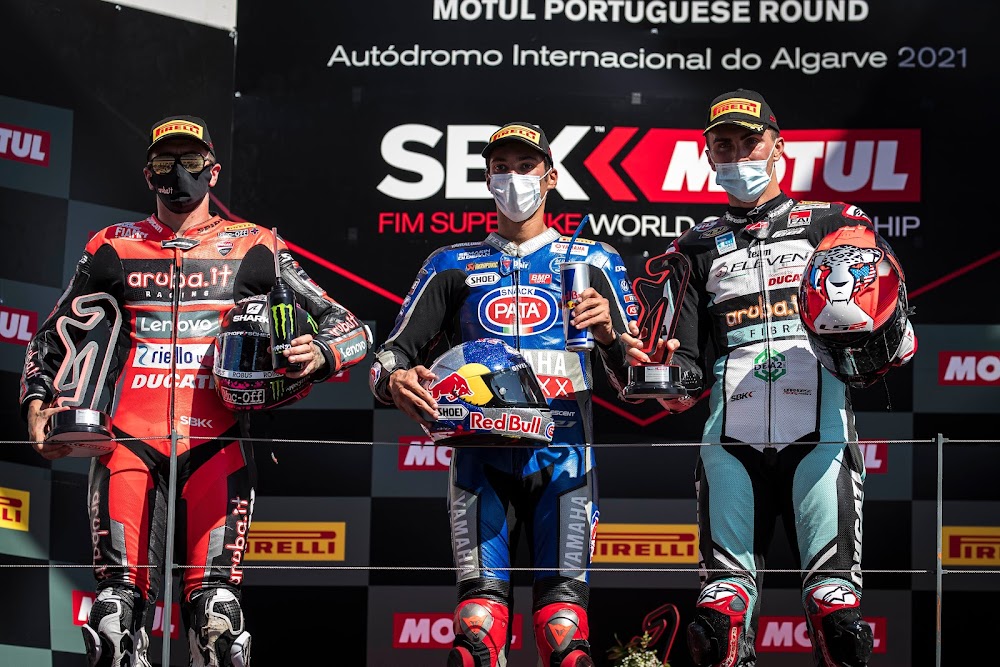 Superpole saw Razgatlioglu (Pata Yamaha) claim top spot with an unbeaten lap of 1:40.219, followed by Rea (Kawasaki KRT) 2nd and Haslam (HRC Honda) in 3rd. The WorldSBK show would be bidding farewell to Europe after this weekend of racing ahead of the international races in Argentina and Indonesia.
Lights out and it was Razgatlioglu with the hole shot into turn 1, but he gets mugged by Jonathan Rea straight away after drifting wide.  All the while Scott Redding (aruba.it Ducati) now in third is watching the action unfold in front of him. It is Razgatlioglu, followed by Rea in 2nd, Redding 3rd, Haslam 4th, Rinaldi (aruba.it Ducati) 5th and Locatelli (Pata Yamaha) 6th.
With 19 laps to go, Razgatlioglu again drifts wide into a corner, opening the door for Rea, who doesn't hesitate and dives up the inside. Toprak is having none of it and forces his way up the inside of Rea the next corner, the two riders coming together and swapping paint. Only lap 2 and the "red mist" has already descended on these two title contenders, the action really heating up now.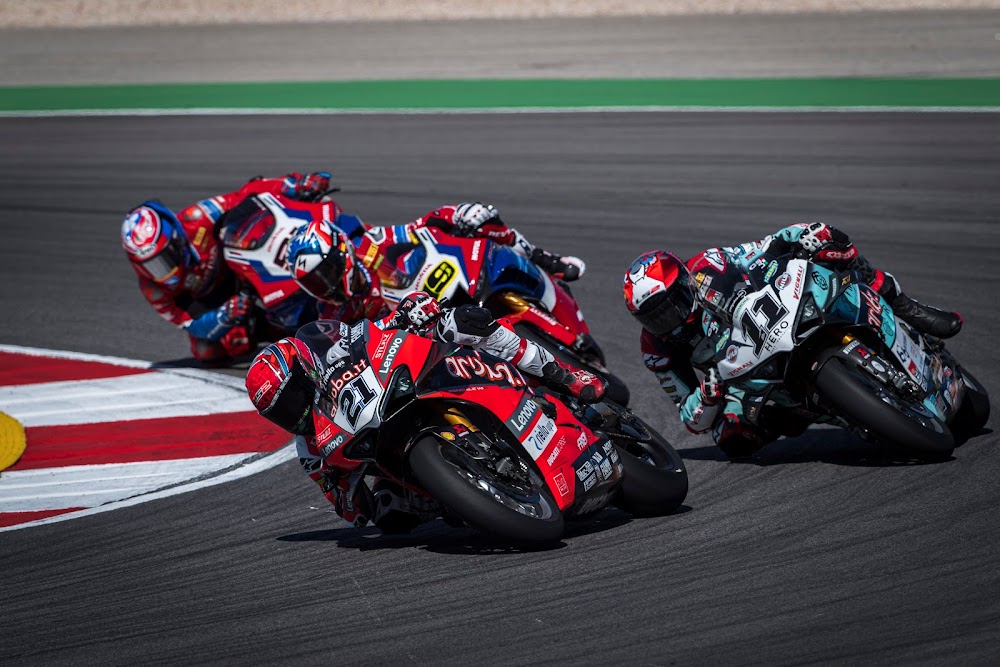 With 18 laps to go, Redding puts in a fastest lap of 1:41.719, the pace of the front three already distancing Haslam and the group behind. Rea tries the same move on Razgatlioglu, this time making it stick to take the lead. Now it is the turn of Redding, who uses the slipstream of the two bikes in front to power past both of them into turn 1 and take over the lead for the first time. It was breathtaking racing and as dramatic as the whole season has been so far.
With 17 laps to go, it is the turn of Rea to put in a new fastest lap of 1:41.645 and he held a gap of 1.6 to Haslam behind in fourth. Further back it was Rinaldi 5th, Locatelli 6th, Gerloff (GRT Yamaha WorldSBK Team) 7th and Baz (go Eleven Ducati) 8th, (still riding for the injured Chaz Davies. )
Rea then moves from 3rd to take the lead; both Redding and Razgatlioglu had gone wide in the previous corners and Rea was looking fired up. And then into the high speed turn 15, huge drama as Rea loses the front of his Kawasaki at around 150 MPH, viciously sending it cartwheeling down the track and into the gravel. Amazingly he gets back onto his feet, very lucky to walk away from a scary crash seemingly unhurt.
With 13 laps to go, Redding and Razgatlioglu had continued to pull away from the rest, the gap now at 4 seconds, There was now a large group of five riders who were all battling it out for 3rd. It was Haslam 3rd, Rinaldi 4th, Locatelli 5th, Baz 6th, Gerloff 7th, Bautista (HRC Honda) 8th and vd Mark (BMW Motorrad) 9th.
A lap later, Bautista, again as in Jerez, was showing great pace late on and had moved up to 6th.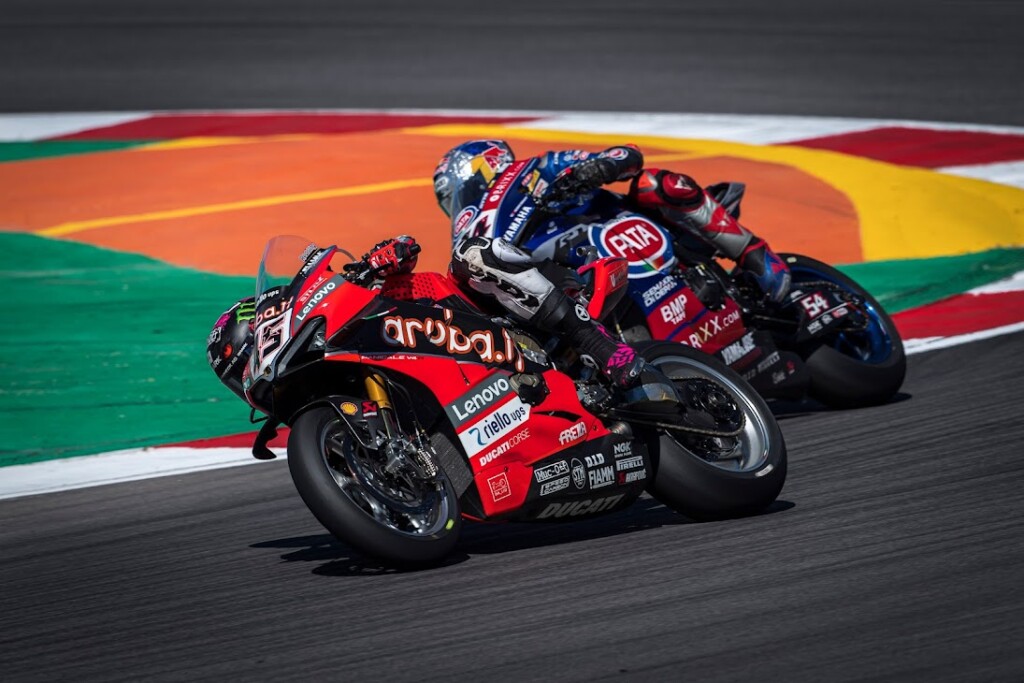 With 10 laps to go, Razgatlioglu makes his move on Redding into turn 1, coming from a long way out and out brakes the Ducati rider. Toprak looks to have the pace to push on further, while Redding looks to just be hanging on.
Shortly thereafter into turn 5, Locatelli runs into the back of vd Mark, taking them both out. The Dutchman was understandably furious as he was making good progress.
Into the final four now, and Redding has closed right onto the back of Razgatlioglu, but he can't find a way past the Turkish rider on the brakes. He would have to find another option to have any chance of the win.
Last lap and Toprak now held a gap of 0.3 to Redding, but could he hold off the charging Ducati behind? Meanwhile further back it was Bautista and Baz fighting it out for 3rd.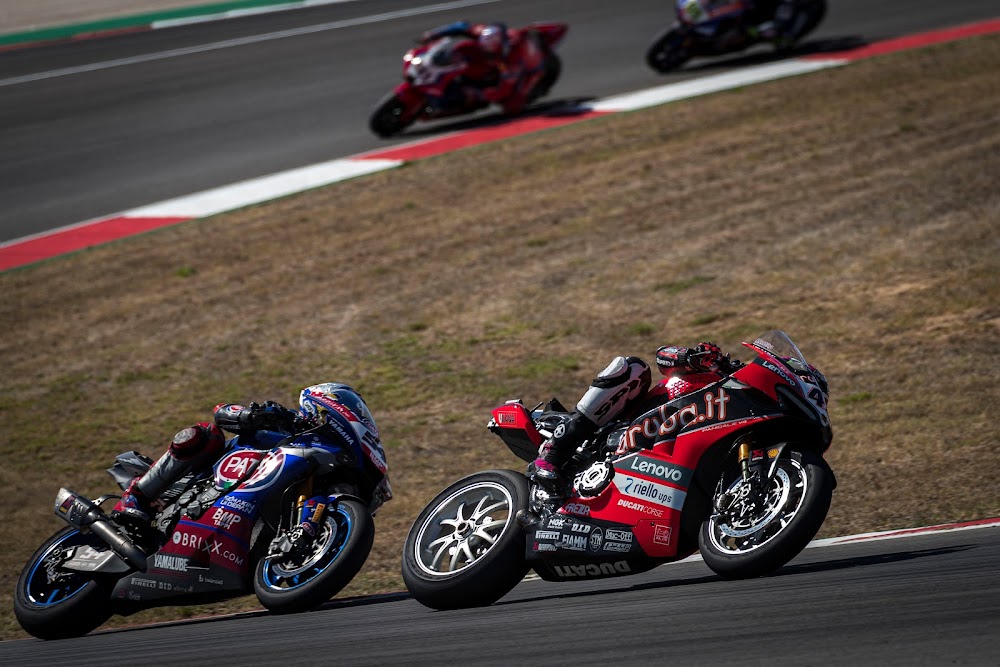 Razgatlioglu crosses the line to take the win, holding off Redding who takes 2nd, Baz 3rd, after Bautista crashes into the last corner. Rinaldi 4th, Haslam 5th, Gerloff 6th and Bassani (motocorsa Ducati) 7th.
Top Five Classification:
Razgatlioglu (Pata Yamaha)
Redding (aruba.it Ducati)
Baz (go Eleven Ducati)
Rinaldi (aruba.it Ducati)
Haslam (HRC Honda)
Out: Rea, vd Mark, Bautista, Epis (Kawasaki), Ruiu
Top three championship Classification:
Razgatlioglu – 474
Rea – 429
Redding – 395