The earlier Superpole race saw Rea (KRT Kawasaki), claim his first win of the weekend, followed by Razgatlioglu (Pata Yamaha) and Bautista (Aruba.it Ducati).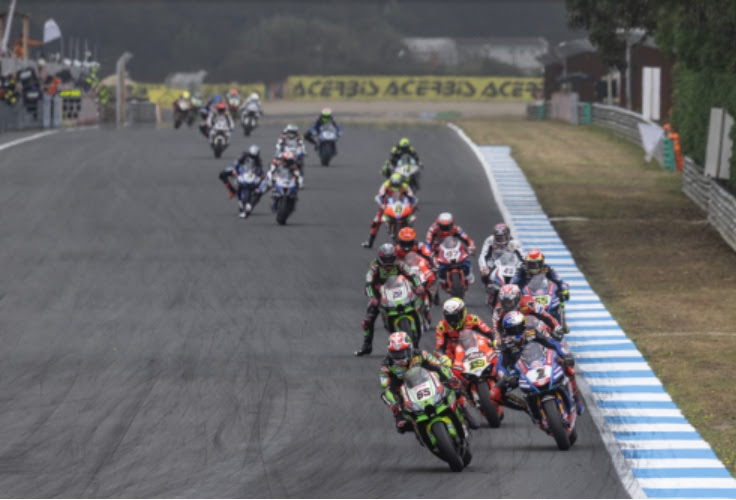 Lights out for race 2, and it's Toprak with the hole shot, followed by Rea 2nd, Locatelli (Pata Yamaha) 3rd, Bautista 4th, Leucona (Honda HRC) 5th and Rinaldi (Aruba.it Ducati) 6th. And then drama as light rain began to fall – would this have a bearing on the race?
Next lap, and Rea again showing good pace, takes over the lead from Toprak. His team mate, Lowes, was showing good early pace too and moved up into 5th, and then quickly into 4th moving through on Lecuona, setting a fastest lap of 1:37.222 in the process.
With 18 laps of 21 remaining, it was Lowes with another fastest lap this time 1:37.039, and moved past Bautista with a neat pass. Both the ZX10-RR machines were looking quick in the early stages of the race. Positions were as follows; 1. Rea 2. Razgatlioglu 3. Lowes 4. Bautista 5. Lecuona 6. Locatelli 7. Rinaldi 8. Vierge (Honda HRC) 9. Bassani (Motocorsa Ducati) 10. Redding (BMW Motorrad).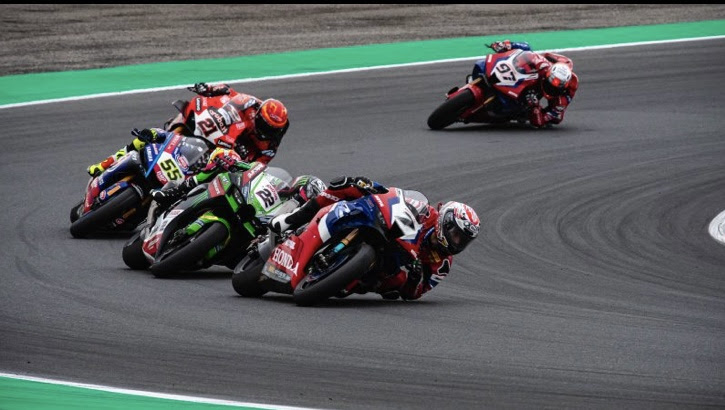 With 13 laps to go, a group of 4 riders had splintered away from the others, with Locatelli trailing by 2s back in 5th. Positions were as follows; 1. Rea 2. Toprak 3. Lowes 4. Bautista. The former then moves past Lowes to take 3rd. The good news was the earlier light rain had stopped, with the track remaining dry.
With 11 laps to go, as he had in race 1, Bautista was showing good late race pace, and used the top end grunt of the Ducati to overtake both Rea and Toprak down the straight and into turn 1, moving from 3rd into the lead. Meanwhile further back, Bassani was having a decent race and was now up to 7th.
Next lap, and Rea comes through on Bautista, after the Spaniard made a mistake running wide and missing the apex. Rea had gone with the softer tyre option, and it looked to be a valid choice, as the Irishman set a new fastest lap of 1:37.751.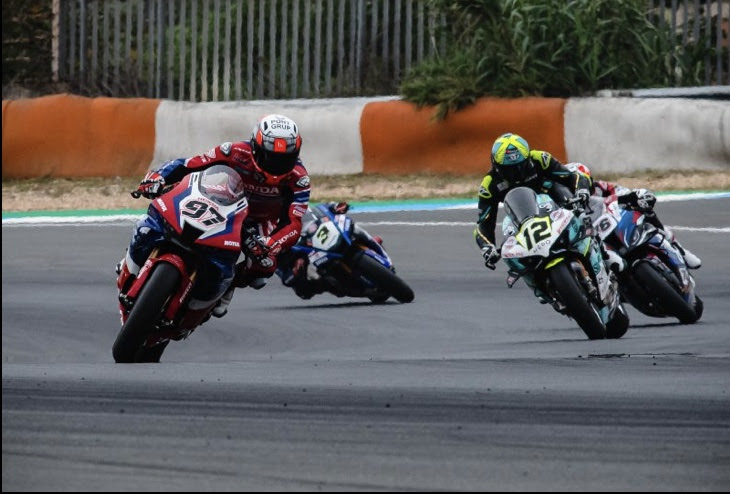 With 8 laps to go, Bautista again using the top end speed of the Ducati, powers past Rea to retake the lead into turn 1. Further back it was 10. Redding 12. Baz (Bonovo Action BMW) and 13. Nozane (GRT Yamaha WorldSBK).
With 6 laps to go, the leading group was now down to 3, as Lowes went off the track briefly, losing contact in the process. The win looked likely to be fought out amongst the leading group of Rea, Toprak and Bautista.
With 2 laps to go, it was the turn of Toprak to lose contact with Rea and Bautista, after the reigning champion made a mistake and ran wide, seemingly struggling with tyre grip again.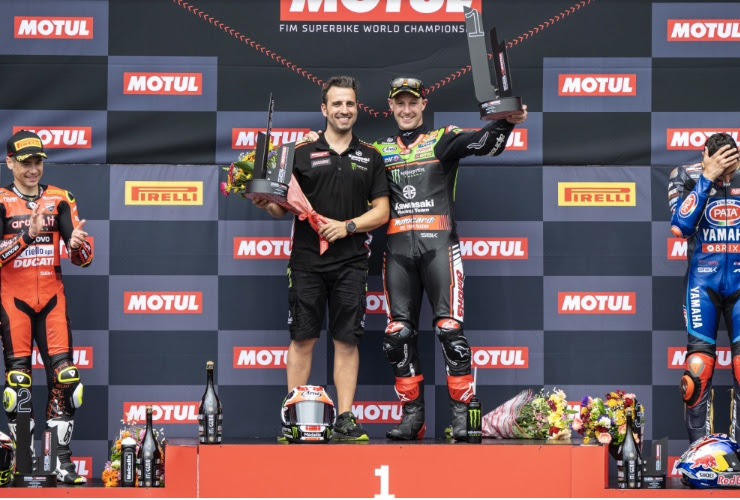 Last lap, and Rea was all over the back of Bautista, he made his move into the chicane, cutting under the Ducati to take the lead. He held the slim gap into the final sector, and crossed the line to take his 2nd win of the day, and his 117 career win to date. 2nd Bautista, 3rd Toprak, 4th Lowes, 5th Locatelli, 6th Lecuona, 7th Bassani, 8th, Rinaldi, 9th Vierge.
Result top 5:
Rea (KRT Kawasaki)
Bautista (Aruba.it Ducati)
Razgatlioglu (Pata Yamaha)
Lowes (KRT Kawasaki)
Locatelli (Pata Yamaha)
Championship top 3:
Bautista – 161 pts
Rea – 144
Razgatlioglu – 109