With the extended break, it was a welcome return to action back on track. The skies were grey and gloomy, but the racing was white hot. Rea (KRT Kawasaki) would claim the Superpole with a fastest lap of 1:35.346, followed by Razagatlioglu (Pata Yamaha) and Bautista (aruba.It Ducati) in 2nd and 3rd respectively.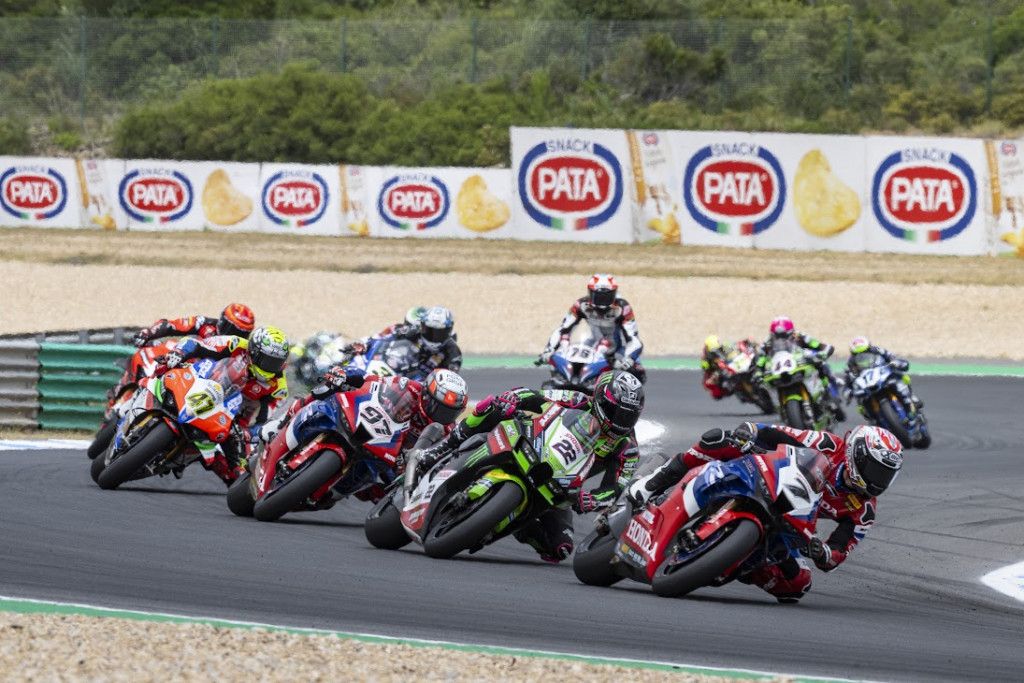 Lights out and it was Razgatlioglu with the hole shot into turn 1 followed by Rea, Locatelli (Pata Yamaha), Bautista and Lowes (KRT Kawasaki). Mercado (MIE Racing Honda) crashed out, and his race was over.
With 20 laps to go, it was Toprak and Rea setting a very quick pace, and they were already pulling out a gap to the group of Locatelli and Bautista behind. Rea had gone with the harder tyre option and was able to match the pace of Toprak on the softer tyre, Rea setting a fastest lap of 1:36.258. Then drama into turn 6, Rea ran into the back of Toprak making contact with his rear tyre, but both riders were able to stay upright. The gap to Locatelli in 3rd was now at 1.0s.
With 18 laps to go Redding was again showing an improvement on the BMW, and was in 5th. Bautista used the top end speed of his Ducati to blast past Locatelli down the straight and took over 3rd. Meanwhile at the front both Toprak and Rea were still very much locked in battle, with only a gap of 0.5s between them.
With 16 laps to go, Razgatlioglu who was giving everything, ran too hot into turn 3, allowing Rea to come through and take the lead. Positions were as follows: 1. Rea 2. Razgatlioglu 3. Bautista 4. Locatelli 5. Redding (BMW Motorrad) 6. Lecuona (Honda HRC) 7. Vierge (Honda HRC) 8. Lowes.
With 14 laps to go Toprak out brakes Rea into turn 1 to retake the lead. Bautista was struggling to match the pace of the two at the front.
With 12 laps out of 21 remaining, it was now Rea who out braked Toprak again into turn 1, and took over the lead. Neither rider was giving an inch, and you felt the race win would be fought out between the two of them. Bautista had distanced Locatelli, and was having a lonely ride in 3rd. Meanwhile further back it was Laverty (Bonovo action BMW) in 13th and Nozane (GRT Yamaha WorldSBK) in 14th.
Next lap, and Toprak retakes the lead, again it's into turn 1. Bautista was 1.7s behind in 3rd.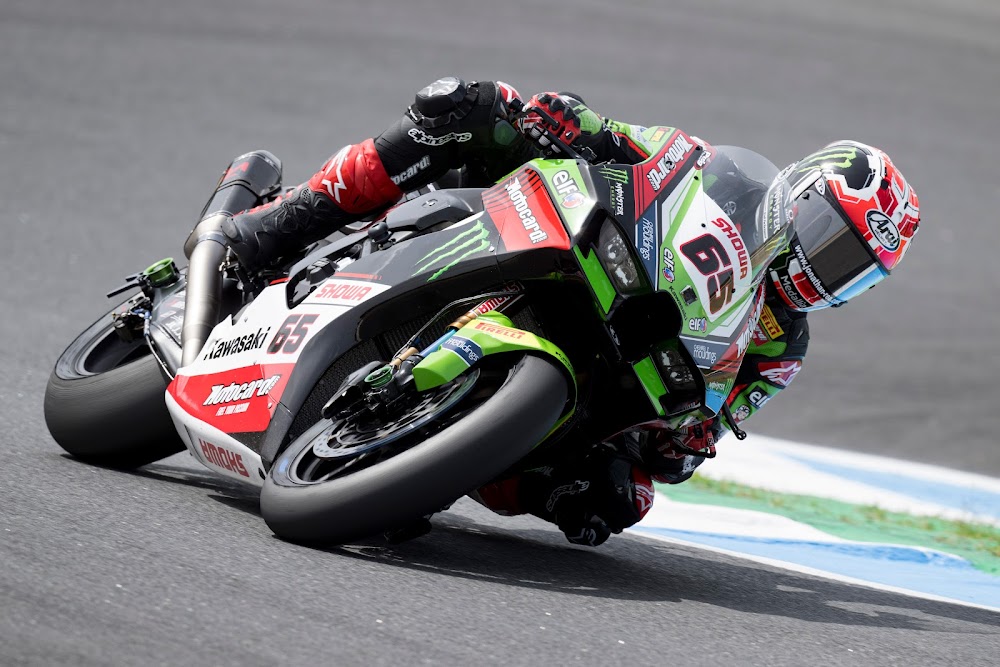 Just over half race distance, and Rea responds yet again, retaking the lead again into turn 1. This was becoming one of the all time great battles between Rea and Toprak, with the lead changing virtually every lap. Meanwhile Bautista was finding good late race pace, and set a new fastest lap of 1:36.7. The Spaniard wasn't out of contention for the race win yet.
Next lap and the battle between Toprak and Rea showed no sign of ending, and yes, you guessed it, Toprak retook the lead into turn 1, both riders leaving braking to the very latest possible into the corner.
With 8 laps of 21 remaining, Rea again stuffs his ZX10-RR under the Yamaha R1 of Toprak, again it's turn 1, and he retakes the lead. This battle looked to be going down to the wire. Meanwhile further back there was a 3 way battle for 5th between Redding, and the Honda team mates of Lecuona and Vierge. Bautista however, had now closed the gap to Toprak to 1.0s.
Next lap and once again the lead changed hands, this time the reigning champion retakes the lead, again it's turn 1. The constant battle between Rea and Toprak had allowed Bautista to catch them, and he was now 0.4s behind, and was looking to have managed his tyres well.
With 6 laps to go, Rea was pushing hard, and ran wide into turn 1, allowing Bautista to come past and into 2nd. The Spaniard now had Toprak in his sights, and was looking quick. Meanwhile further back, Lecuona had got past Redding, and was now in 5th.
With 4 laps to go, Toprak held a gap of 0.4s to Bautista. Rea looked to have completely lost tyre grip, and was losing contact with the two at the front. Meanwhile further back it was Lowes in 8th, Baz (Bonovo action BMW) 9th and Rinaldi (aruba.it Ducati) in 10th.
With 2 laps remaining, Bautista was all over the back of Toprak and looking for the pass. The hard battle between Rea and Razgatlioglu had taken a toll on the tyres, and both of them were now struggling with limited grip in the closing stages of the race.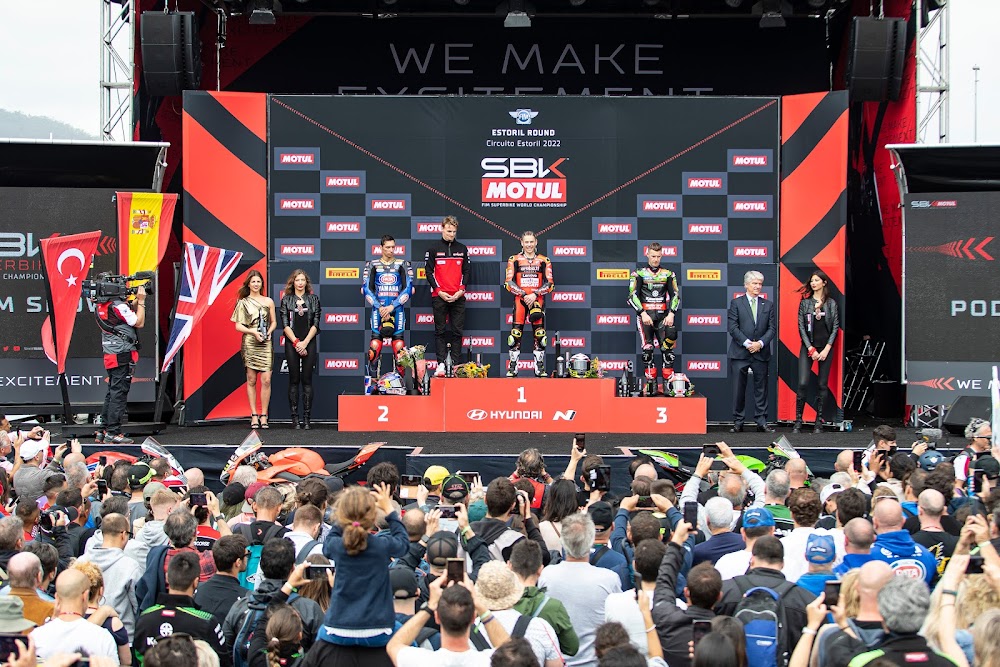 Last lap, and Toprak was desperately still trying to keep Bautista at bay. Into the final corner, and Bautista got the drive out of the corner to power past Toprak and pip him to the line. Toprak looked disgusted and shook his head, but Bautista had judged the race to perfection using all of his experience to claim the win. Top ten positions were as follows: 1. Bautista 2. Razgatlioglu 3. Rea 4. Locatelli 5. Vierge 6. Lecuona 7. Lowes 8. Redding 9. Rinaldi 10. Baz. If the Superpole race and race 2 are anything as exciting as this one, race fans are in for a treat.
Result Top 5:
Bautista (aruba.it Ducati)
Razgatlioglu (Pata Yamaha)
Rea (KRT Kawasaki)
Locatelli (Pata Yamaha)
Vierge (Honda HRC)
Top 3 championship:
Bautista 134
Rea 107
Razgatlioglu 84