The first Superpole race of the new season saw Bautista (aruba.it Ducati) exact revenge for getting pipped in race 1 and claim the win, followed by 2nd Rea (Kawasaki KRT), and 3rd Razgatlioglu (Pata Yamaha).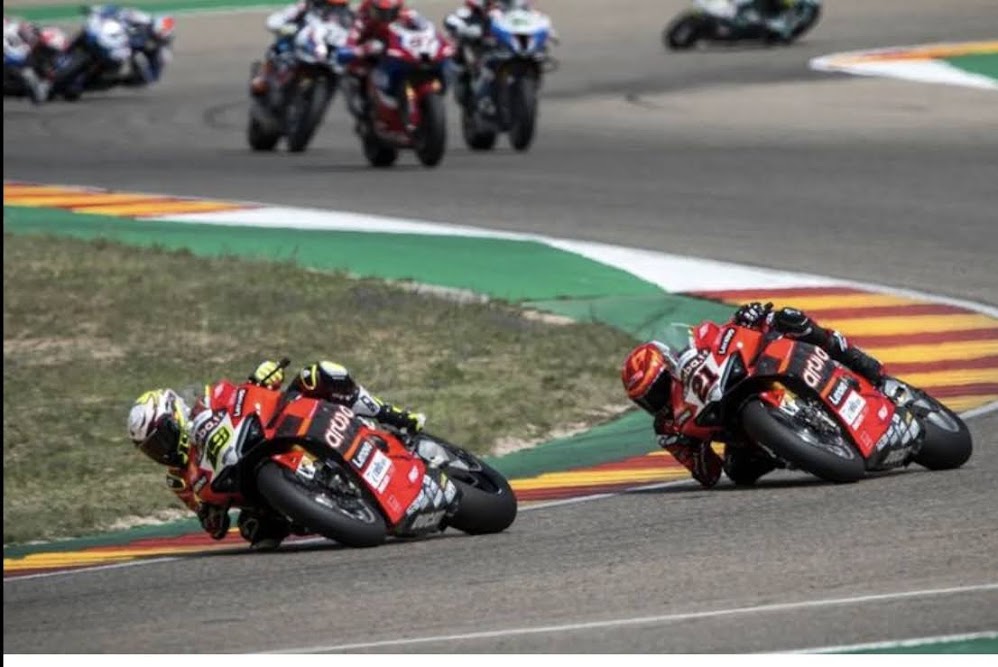 The track temperature was slightly higher for race 2, compared to race 1, with most of the riders again opting for the softer tyre option. Lights out, and its Rea with the hole shot into turn 1, pursued by the Ducati team mates of Bautista and Rinaldi (aruba.it Ducati, with Razgatlioglu closely behind in 4th. This group of 4 was already gaining an advantage on the rest of the field, pulling out a slight gap.
With 16 laps to go, the two aruba.it Ducatis were looking quick and Rea was going to have his hands full shortly in trying to keep them at bay. Positions were: 1st Rea, 2nd Bautista, 3rd Rinaldi, 4th, Razgatlioglu and 5th Lowes (Kawasaki KRT).
Next lap and with Rea feeling the pressure from the Ducatis behind, makes a mistake by running too hot into turn 1, allowing both Bautista and Rinaldi through. Rea now anxious to get back to the front, had to first deal with the immediate problem of getting past the reigning world champion in 3rd. Further back there was a four way battle for 7th between the Honda team mates of Lecuona (Honda HRC), Vierge, Loris Baz (Bonovo action BMW) and Gerloff (GRT Yamaha WorlsSBK Team).
With 13 laps to go Rea manages to out break Toprak into turn 1 taking back 3rd. Meanwhile the two Ducatis at the front were looking quick, most notably Bautista who was pulling away. Would the Spaniard be able to claim his 2nd win of the day? Further back Redding (BMW Motorrad) was still having a miserable weekend, and now found himself dead last in 23rd place. Seemingly unable to get the BMW into corners. What is happening in that garage?
With 11 laps to go Rea had the head down and was desperate to regain contact with the Ducatis at the front, both of whom were having a cracking race. Behind Rea it was; 4th Razgatlioglu, 5th Lowes, 6th Baz, 7th Lecuona, 8th Vierge and 9th Gerloff.
Next lap and Rea had now closed the gap to 2nd place Rinaldi to 0.8s. Axel Bassani (Motocorsa Ducati) was having an incredible race and had now moved all the way up to 6th. Meanwhile further back both Nozane (GRT Yamaha WorldSBK Team, and Laverty (Bonovo action BMW) were struggling, and found themselves in 14th and 15th respectively.
With 8 laps to go the increasing pressure on Rinaldi told, and he was forced into a mistake running wide into turn 1, allowing Rea to come past for an easy 2nd place. Rea was now running 0.3s a lap faster than Bautista at the front, but would he have enough laps left to catch the Spaniard?
Next lap and with Rea pushing as hard as he dared, he over shot turn 1, running wide and losing precious time. The gap to Bautista was now pushed out to 1.8s with more work left for Rea. Meanwhile Redding retired, giving up on a shockingly dreadful weekend.
With 6 laps to go it was Rinaldi in 3rd who now set the fastest lap of 1:51.377, although the race pace was faster yesterday, even although the track temperature was colder. Further back Gerloff in 10th, was all over the back of Vierge in 9th, and looking for the pass.
With 5 laps to go Razgatlioglu had found a bit of late race pace, and was closing in on 3rd place Rinaldi cutting the gap down to 0.3s. Could the Turkish rider claim a podium postion? Nozane had a nasty crash into turn 7, sending his Yamaha down the road in a shower of sparks. He was able to walk away, but his race was over.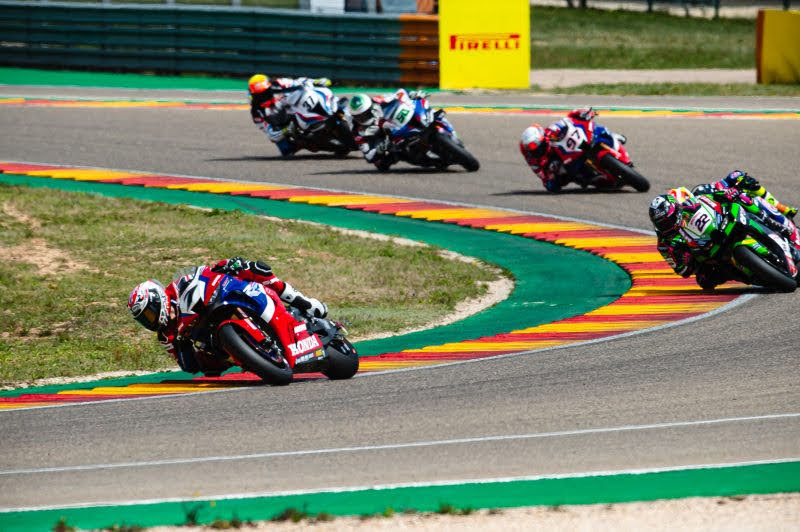 Next lap and Toprak set the new fastest lap of 1:51.177, quicker than both the riders ahead of him. Bautista looked to have the win sealed up and was comfortable in the lead, with Rea too far behind to cause any trouble. Second and 3rd were all still to play for however.
With 3 laps to go Razgatlioglu out brakes Rinaldi into turn 2, and takes 3rd. Meanwhile Rea was far enough ahead in 2nd to be comfortable, without having to look over his shoulder.
Last lap and Bautista crosses the line in 1st to take his 2nd win of the day, putting himself at the top of the championship in the process. Second Rea, 3rd Razgatlioglu, 4th Rinaldi, 5th Lowes, 6th Bassani, 7th Baz, 8th Vierge, 9th Gerloff, 10th Lecuona.
Result top 5:
Bautista (aruba.it Ducati)
Rea (Kawasaki KRT)
Razgatlioglu (Pata Yamaha)
Rinaldi (aruba.it Ducati)
Lowes (Kawasaki KRT)
Championship top 3:
Bautista 57 pts
Rea 54
Razgatlioglu 39