Ayumu Sasaki (Liqui Moly Husqvarna Intact GP) was back to his best in qualifying to take pole position here in Australia – the first pole position for Sasaki since the Sachsenring weekend way back in June.
Home favourite Joel Kelso (CFMOTO Racing PruestelGP), to the delight of the home crowd, qualified on the front row in 2nd. "Full gas" was the message from Stefano Nepa (Angeluss MTA Team) as he took his first ever front row start, qualifying in 3rd.
AS IT HAPPENED
Qualifying 1
Daniel Holgado (Red Bull KTM Tech3) and Ivan Ortola (Angeluss MTA Team) were the surprise names in the Q1 session. Holgado was under a mountain of pressure to stay in the championship fight with Jaume Masia (Leopard Racing) and Sasaki.
As always here at Phillip Island, the conditions could have turned at any moment but it thankfully remained dry for the session. The battle for a top 4 spot, and to progress in to Q2, got under way with Holgado leading the pack out onto the circuit.
Ryusei Yamanaka (Gaviota GASGAS Aspar Team) was quickest after the first set of flying laps. Holgado was just getting warmed up to the fast paced circuit and immediately got up into the top 4 on the next flying lap.
With 8 minutes left of the session, Holgado was quickest with Yamanaka 2nd, Filippo Farioli (Red Bull KTM Tech3) in 3rd and Taiyo Furusato (Honda Team Asia) in 4th.
Ortola, with just 20 seconds left of the session, crossed the line with one last effort to get through to Q2 remaining. He was red through sector 1, but came out of the Miller corner, at turn 4, and nearly lost the rear. The team looked nervous, but Ortola just managed to save his weekend and scraped into the top 4 to get through to Q2.
The top 4, and going through to Q2, were Holgado, Yamanaka, Farioli and Ortola.
Qualifying 2
The battle for pole position commenced and the Husqvarna riders stayed in the pits as the rest of the field poured onto the circuit. Sasaki wasn't keen to tow his rivals round in qualifying.
Teenage rookie sensation David Alonso (Gaviota GASGAS Aspar Team) was on provisional pole as the first batch of flying lap times were posted. However, this didn't last as Sasaki posted a time nearly half a second quicker to take provisional pole with 7 minutes left of the session. Sasaki was ahead with a lap time of 1:36.654. Alonso was 0.492 seconds behind, in 2nd. After their first runs, Sasaki's title rivals of Masia and Holgado were 8th and 17th respectively.
Home favourite Joel Kelso (CFMOTO Racing PruestelGP) put in a stunning lap, splitting Sasaki and Alonso, and moved up to 2nd place. He was onto the front row of the grid with 2mins left of the session.
Masia was in 9th place and left the pits with just 90 seconds to spare for a final attempt at pole. This would end up being a big mistake from the championship leader, as he left the pits without enough time on the clock to go for pole position. Masia will have to start tomorrow's race from 13th on the grid.
It was all change in the starting order as the riders came through to finish the session. Nepa took his first ever starting row qualifying in 3rd place. Last weekend's winner Diogo Moreira (MT Helmets – MSI) heads up the second row in 4th place.
Sasaki, with a blistering lap, takes pole position here in Phillip Island. Sasaki has been missing for a few weeks with below par qualifying performances. Today though, Sasaki was back to his best with title rivals Holgado starting 11th and Masia 13th tomorrow.
Last season here in Australia, Holgado crashed out on lap 2, Masia finished down in 15th and Sasaki narrowly missed out on a podium finishing in 4th. Will it be a similar story tomorrow?
Starting Grid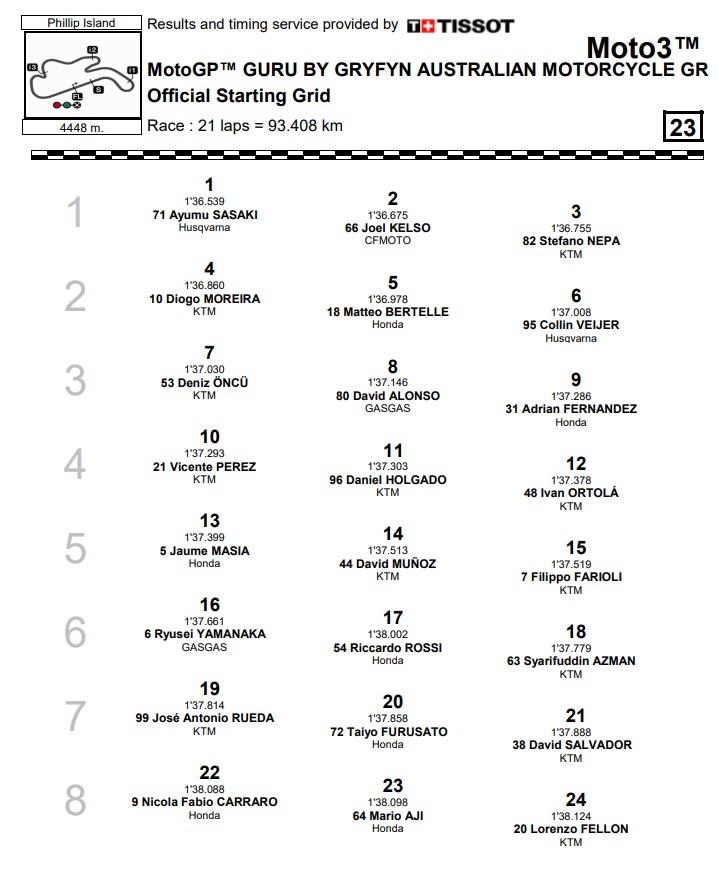 Image Credit: MotoGP