The final day then and once again Ott would be opening the road over the remaining 61km's and four stages. The start list looked like this – Tänak, Katsuta, Loubet, Suninen, Evans, Lappi,
Neuville, Rovanperä. What could the local favourite do, particularly with the power stage?
First up then was SS18 Karaski 1 – 12.04 km and Kalle continued his run winning the stage from Esapekka and Elfyn. The Finn in his i20 edged away a little more from Elfyn, the gap now 9.6 seconds between the pair. In WRC2 Sami was setting the pace with the fastest time in the stage and reducing the gap to Andreas by 2.7 seconds.
Into SS19 Kambja 1 – 18.50 km and again Kalle was setting the pace and making the most of his road position. Elfyn was second fastest and Thierry third. The Welshman's pace brought him a little closer to EP. In WRC2 Oliver was fastest from Sami and Andreas, whilst the Norwegian remained in the lead of the category, albite with an again reduced lead of 12.6 over Sami.
The penultimate stage then SS20 Karaski 2 – 12.04 km and the top three again was Kalle from Esapekka and Thierry. There as a change in the fight between Takamoto and Pierre-Louis with the Japanese driver passing the Puma driver and moving into sixth overall. Sami was again fastest from Andreas and brought the gap to the WRC2 leader below ten seconds.
The final stage then, SS21 Kambja 2[Power Stage] – 18.50 km and Ott set the early pace before Elfyn came through and beat the time. Then all eyes were on the top three as too if they would beat the Welshman's time. EP was first to come through and was just off the pace that Elfyn set but his third-place finish was confirmed. Then Thierry was next but was not able to beat Ott's time. Finally, Kalle came through and set the fastest time, beating Elfyn's best by two seconds. The top five in the stage looked like this, Kalle, Elfyn, Esapekka, Ott and Thierry. There was one final change of positions though with Pierre-Louis passing Takamoto for sixth overall, the gap at the end? Just three tenths of a second! In WRC2 Andreas took the category win, whilst Sami made it his best result in the category with second place and Emil third in his first start in the i20Rally2.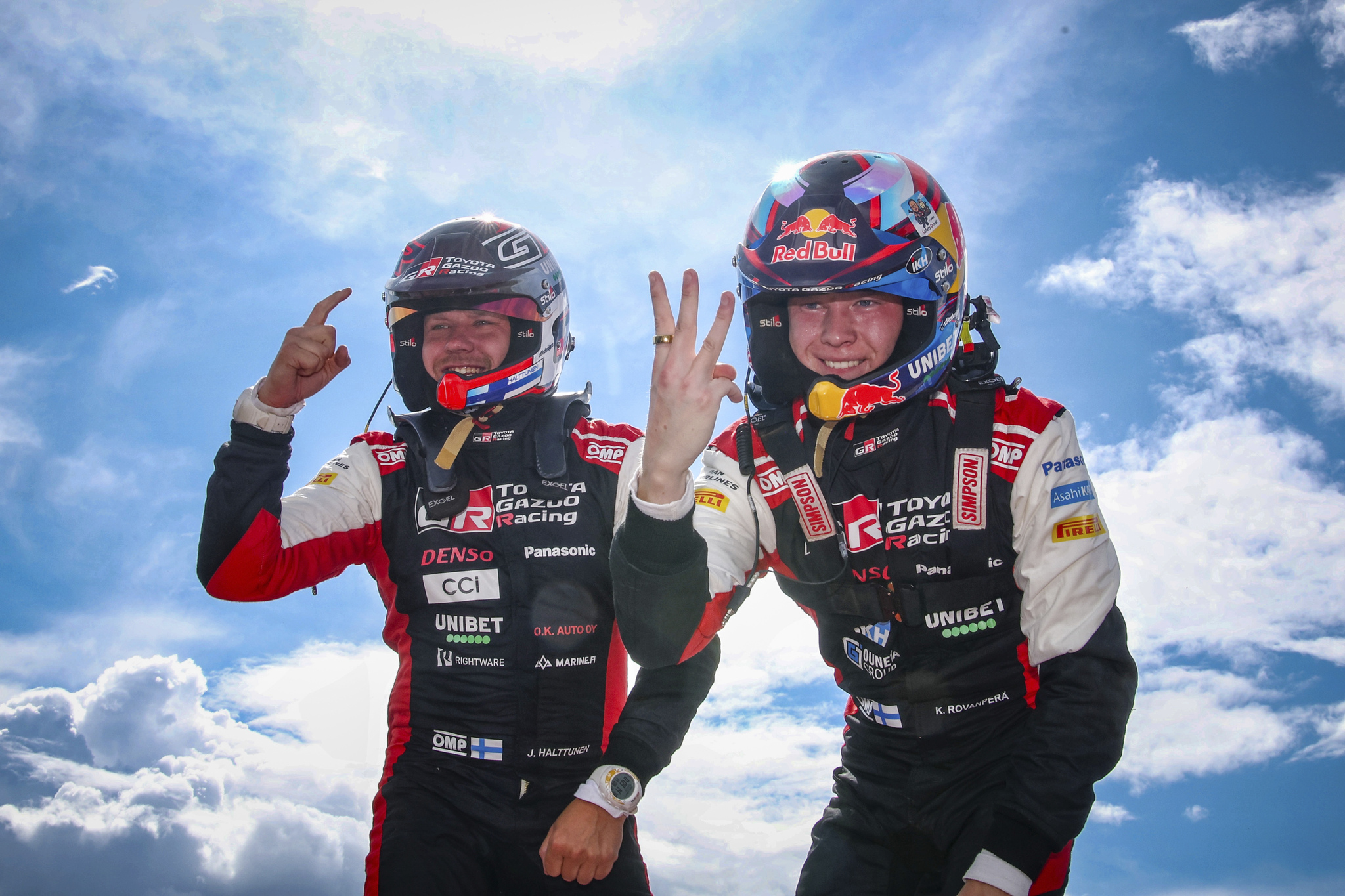 Let's take a look at the top ten.
Final Overall Classification –Rally Estonia
| | | | | |
| --- | --- | --- | --- | --- |
| 1 | K. Rovanperä | J. Halttunen | Toyota GR Yaris Rally1 Hybrid | 2:36:03.1 |
| 2 | T. Neuville | M. Wydaeghe | Hyundai i20 N Rally1 Hybrid | +52.7 |
| 3 | E. Lappi | J. Ferm | Hyundai i20 N Rally1 Hybrid | +59.5 |
| 4 | E. Evans | S. Martin | Toyota GR Yaris Rally1 Hybrid | +1:06.8 |
| 5 | T. Suninen | M. Marrkula | Hyundai i20 N Rally1 Hybrid | +2:21.1 |
| 6 | P. L. Loubet | N. Gilsoul | Ford Puma Rally1 Hybrid | +3:09.9 |
| 7 | T. Katsuta | A. Johnston | Toyota GR Yaris Rally1 Hybrid | +3:10.2 |
| 8 | O. Tänak | M. Järveoja | Ford Puma Rally1 Hybrid | +6:25.6 |
| 9 | A. Mikkelsen | T. Eriksen | Škoda Fabia RS | +9:54.1 |
| 10 | S. Pajari | E. Mälkönen | Škoda Fabia RS | +10:03.8 |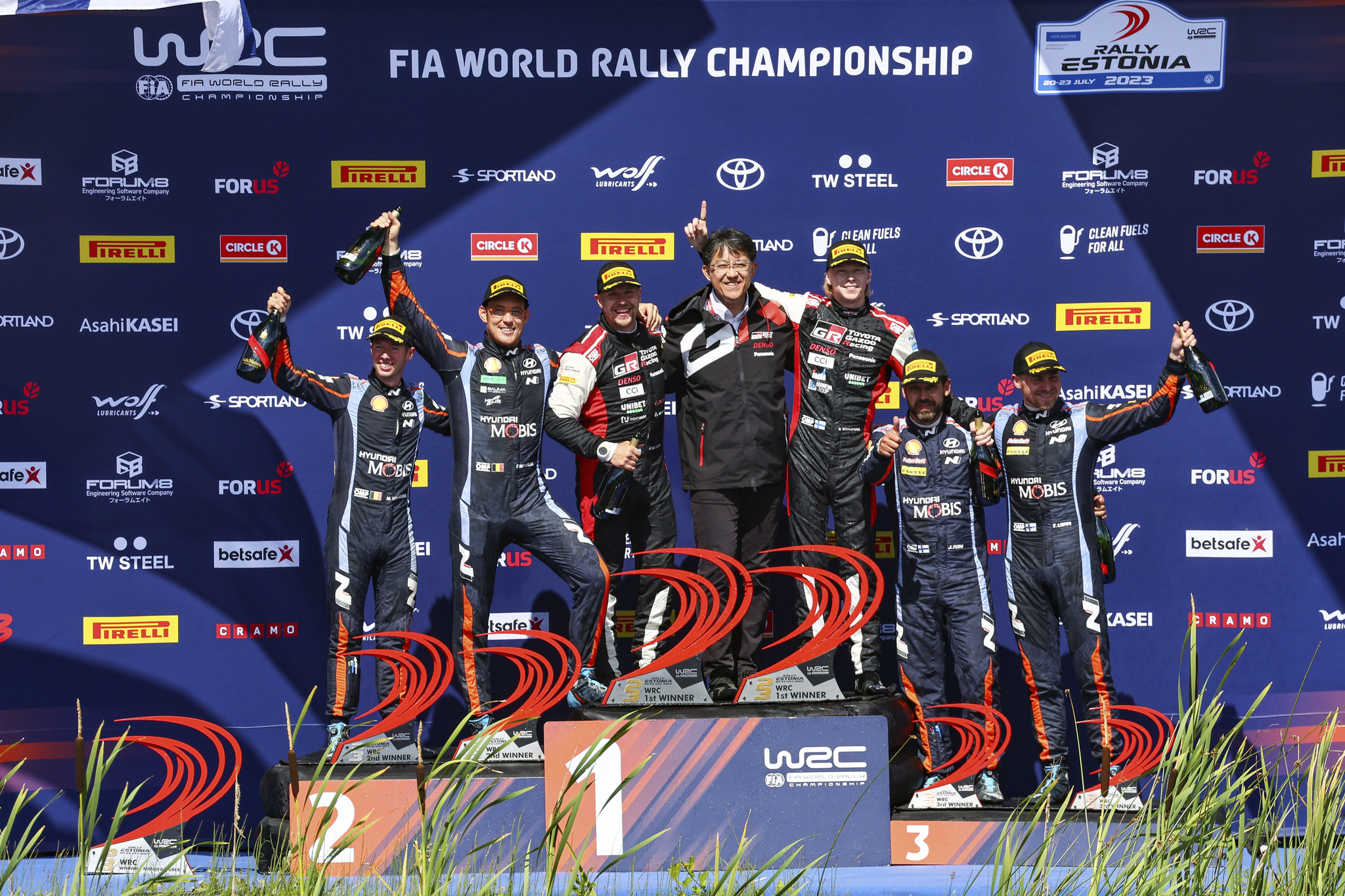 Let's hear from the drivers.
Toyota Gazoo Racing WRT
Kalle Rovanperä
"It is an amazing feeling to achieve our 10th WRC win here in Estonia and to win this rally for the third time in a row. For me it's a really nice rally and one I have always enjoyed. This weekend was something special, winning all the stages from Saturday morning onwards. I think we showed our speed and what the car can do quite well, so I'm really happy. We did a good job with Jonne, driving at this speed without really having any moments, and pushing all the time but still enjoying the driving, which is not always the case in rallying. I felt happy in the car and I was enjoying the nice stages and the great support we had here. It was also amazing to celebrate with Sato-san just after the stage and on the podium afterwards – he was so happy."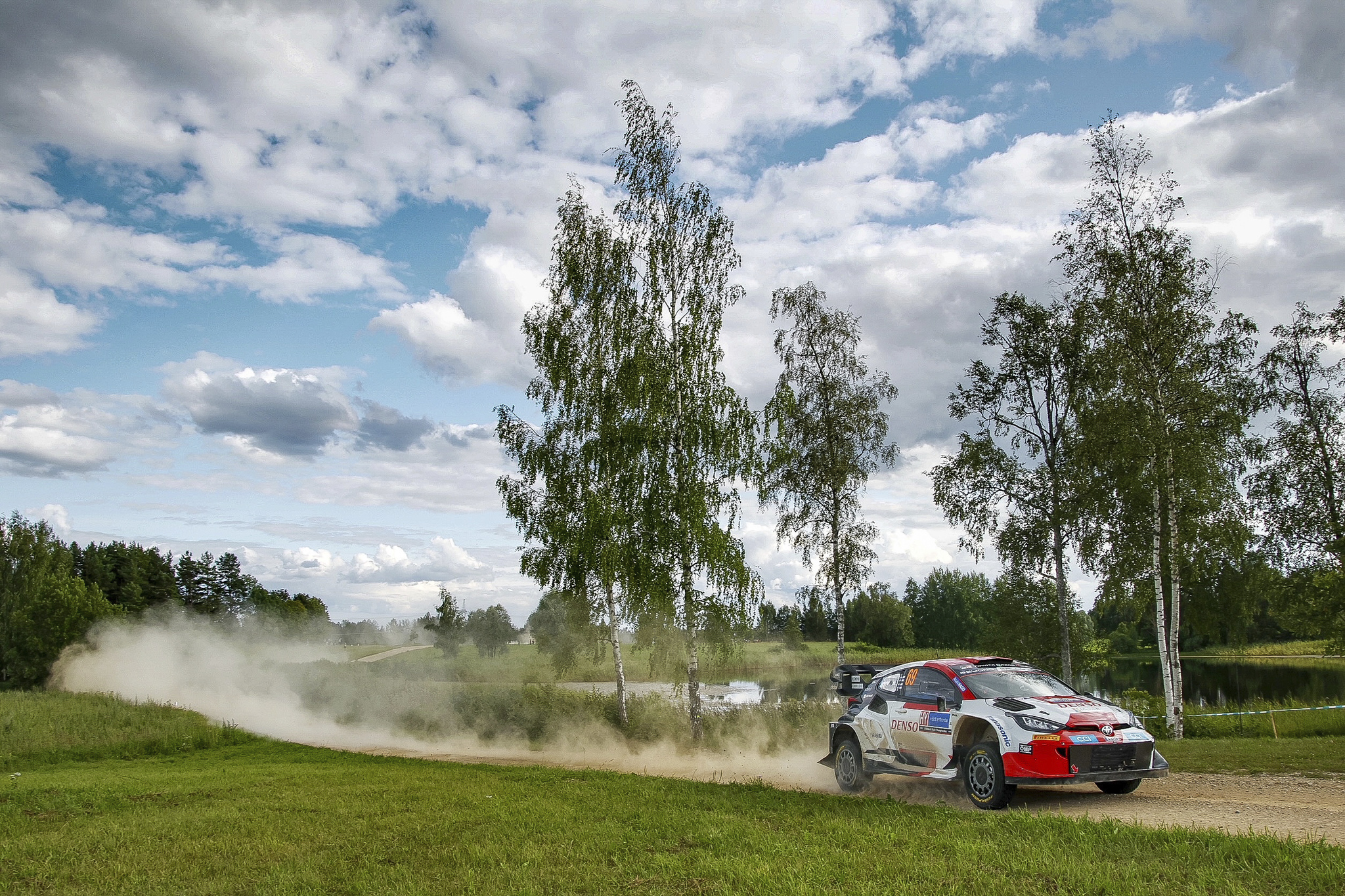 Elfyn Evans
"We were in a pretty intense fight throughout the weekend for the podium places and naturally it's disappointing not to have made it in the end. We weren't a million miles away but unfortunately, we just fell a bit short. On Friday it took some time to feel comfortable and I think that's when the majority of the damage was done in terms of our road position for the rest of the rally. Well done to Kalle who was dominant this weekend. It's hard to be satisfied with our result but we come away with some good points from the Power Stage and from the rally. It's also a good warm-up for Rally Finland and we'll work hard over the next week to try and do better there."
Takamoto Katsuta
"There have been some positives and some negatives for me this weekend. It has been good to finish the rally without any mistakes or moments, so it has been quite a clean weekend. But I was lacking speed in many places and that is what I need to improve for the next event. I was struggling a lot in the beginning, and after that the feeling was improving but I still wanted to show more speed and I can't be happy with my performance. I will try to take the positives, to analyse what we did here and try to improve for Rally Finland. Congratulations to Kalle, Jonne and the whole team for the win."
Hyundai Motorsport
Thierry Neuville
"I am very happy to finish on the podium; this is a good boost of motivation for both the team and myself. I have never been so fast at rallies like this. Looking forward to Finland, this is a great sign as we can clearly see we have improved our car on high-speed gravel. Of course, we had hoped that we could finish in front of Kalle, who had another incredible weekend and there was nothing we could do to fight him. On our side it was a very strong performance, and I am very satisfied. We made no mistakes, and we were able to push, as well as keep cars behind us. Hopefully we can do a little bit more for Rally Finland and be fighting again for podium positions."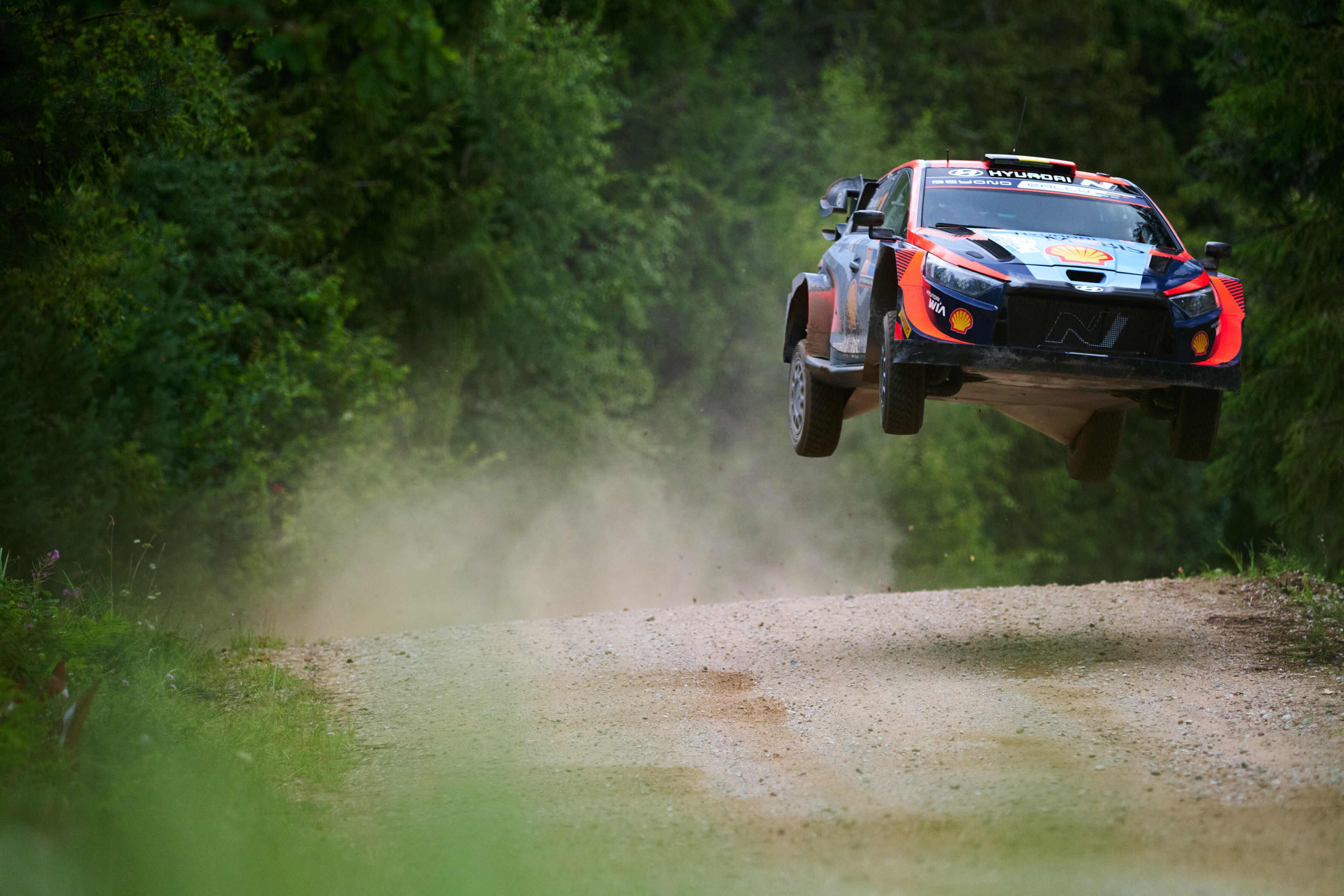 Esapekka Lappi
"It has been a strong weekend for our team. I think we were closer to Toyota than we all expected to be, but still a bit too far behind, which we need to keep working on. This is the first time I have been flat out for three days in a row fighting with someone – Elfyn was really fast here last year so it was fantastic to win this battle. Thank you to the team; we didn't have any problems this weekend except from the hybrid, which was my fault. We have done a good job on the testing and development of the car, so we just need to continue that. There is still work to do but as we can see from these results, we are heading in the right direction."
Teemu Suninen
"It is a really special feeling to finish fifth. I'm sure Craig has been following my weekend. It would have been nice to have finished on the podium for him, but we didn't manage it here. I have done all I can to try and work as he had been working, and it's been an emotional rally for me. I would like to say a big thanks to Hyundai Motorsport and everyone in the team; it is a super environment to work in. We were able to make good progress with our driving and experience of the car, and we were improving our times stage by stage. I enjoyed every one of them and I am grateful for the support of the team to help me become an even better driver."
M-Sport Ford WRT
Pierre-Louis Loubet
"I think in general we can be happy about our pace, especially when you compare to last year. We made some good steps, and some stages we were very close to Ott, and I know Ott is using the full potential of the car. For me it's a very good comparison, he's the best kind of driver on these rallies."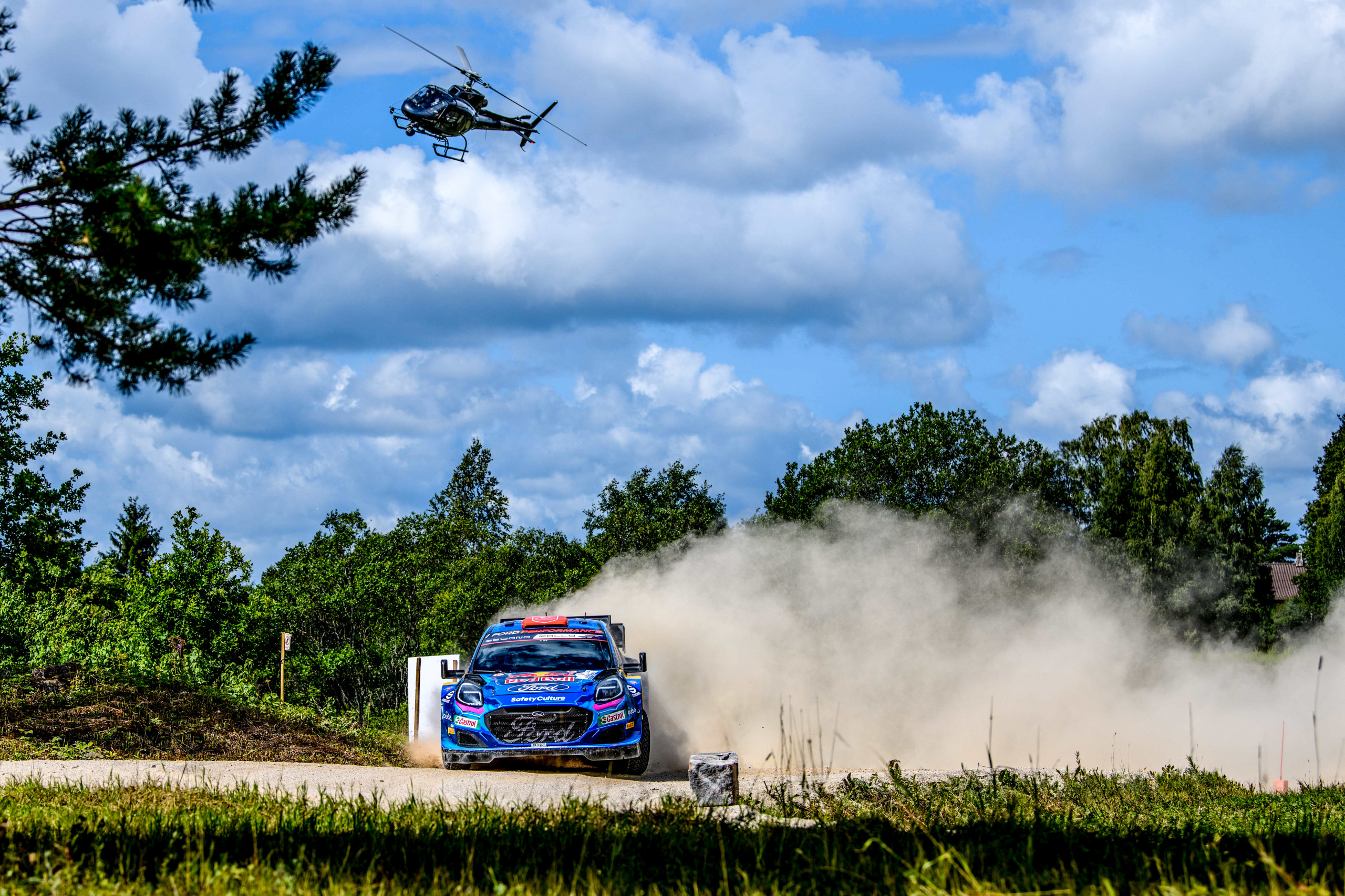 Ott Tӓnak
"Reaching the top eight was the target, and we achieved that. I would say our strength came from the small rally we did in Estonia last week, we were already in a high speed rhythm compared to everyone else. It was clear to see how our one-day rally experience before made our speed better. But it was a fun weekend and we've had a nice experience with the fans.
"I would say we are at maximum capacity at the minute. For sure, Finland is very specific so we will do a one-day test to do a bit of fine-tuning, but there aren't any plans for big changes."
Summary
Well, what can I say about the winner? Kalle showed again why he's our world champion and took his second win of this year. Elfyn had a great rally although he was not particularly happy but battled well for the final step on the podium with EP. Takamoto drove well and avoided any mistakes.
At Hyundai it was a surprise to see Thierry run so well at the front and ultimately take a very good second place to boost his championship run. Any attempt to challenge for victory came to an end with the tyre off the rim and then he got his head down and pulled away again from his teammate, EP and Elfyn. Esapekka showed well again taking another very good third place and yet another podium. Finally, Teemu's drive to fifth overall again showed his class and quality in his debut in the Rally1 i20. No mistakes all weekend.
Finally at M-Sport it was a case of what might have been for the fan favourite! Ott would have certainly battled with Kalle at the front were it not for the five-minute penalty after an engine change following shakedown. His French teammate, Pierre-Louis again had a great event, with consistently good pace and even though he had the extra boost in stage seven giving him extra pace, his third best time in that stage showed that he really is starting to show his quality.
2023 FIA World Rally Championship for Drivers' Standings
After round 8
| | | |
| --- | --- | --- |
| 1 | K. Rovanperä | 170 |
| 2 | E. Evans | 115 |
| 3 | T. Neuville | 112 |
| 4 | O. Tänak | 104 |
| 5 | S. Ogier | 98 |
| 6 | E. Lappi | 87 |
| 7 | D. Sordo | 46 |
| 8 | T. Katsuta | 41 |
| 9 | P.L Loubet | 28 |
| 10 | C. Breen | 19 |
| 11 | T. Suninen | 19 |
2023 FIA World Rally Championship for Manufacturers' Standings
After round 8
| | | |
| --- | --- | --- |
| 1 | Toyota Gazoo Racing World Rally Team | 331 |
| 2 | Hyundai Shell Mobis World Rally Team | 274 |
| 3 | M-Sport Ford World Rally Team | 195 |
Next round is Rally Finland, the ninth round of the championship from the 3rd to the 6th of August.