The earlier Superpole saw Toprak Razgatlioglu (Pata Prometeon Yamaha) claim top spot with an unbeaten time of 1:45.959, followed by team mate Andrea Locatelli, and Axel Bassani (Motocorsa Ducati) in 2nd and 3rd respectively.
Scorching temperatures were already taking hold across Southern Europe, and the mercury was hitting 34 degrees Celsius for race 1, with a track temperature of nearly 60 degrees.
Lights out then for race 1 and it was Andrea Locatelli with the hole shot into turn 1, followed by Bassani 2nd, Alvaro Bautista (Aruba.it Racing Ducati) 3rd, Toprak 4th, and Rea (Kawasaki Racing Team WorldSBK) 5th.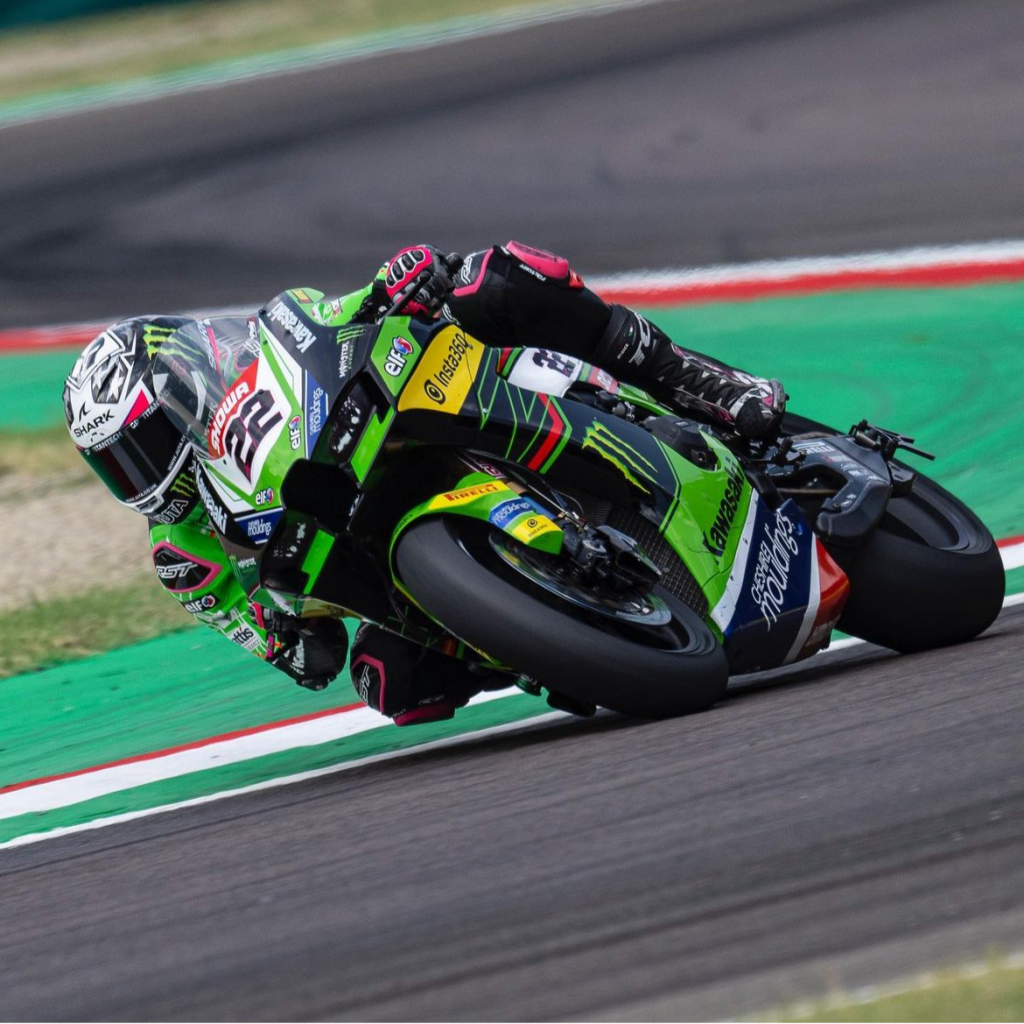 Next lap of the 19 lap race and positions were as follows: 1. Locatelli 2. Bassani 3. Bautista 4. Toprak 5. Rea 6. Redding (Rokit BMW Motorrad WorldSBK)  7. Rinaldi (Aruba.it Racing Ducati) 8. Brad Ray (MotoxRacing Yamaha) 9. Petrucci (Barni Spark Racing) 10. Baz (Bonovo Action BMW)
With 18 laps to go, Bassani who had been looking aggressive from the off, dived up the inside of Locatelli to take the lead. Further back Rea held a gap of 0.7s to Redding, while Lowes (Kawasaki Racing Team WorldSBK) was up to 10th. At the front Locatelli responded to retake the lead, Bautista moved into 2nd, while Bassani dropped down into 3rd. Drama then for Baldassarri (GMT94 Yamaha) who crashed out, his race over.
Next lap and Toprak got through on Bautista up into 2nd. Pata Prometeon Yamahas were now 1 and 2.
With 16 laps of 19 remaining, Bassani continued to fall back and this time Rea got through and into 4th.
Next lap and Toprak got through on his team mate and took the lead. Meanwhile further back it was Redding 7th, Petrucci 8th, Baz 9th, Lowes 10th, and Ray 11th. Bautista then got through on Locatelli and up into 2nd, Rea too seized the opportunity and dived up the Italian into 3rd. Locatelli had now dropped to 4th.
With 13 laps to go, Bautista was slowly ratcheting up the pressure on Toprak. Rea put in a new fastest lap a 1:47.554 and was right on the back of Bautista. The leading trio were edging away from the rest of the field. Meanwhile further back Petrucci was up to 7th, Redding 8th. The factory Hondas were struggling again with Vierge 14th, and Lecuona 15th, although Vierge had to start from the back of the grid due to a last minute issue, so his position was well deserved. Leon Haslam (Rokit BMW Motorrad WorldSBK) was in 13th and riding for the injured Tom Sykes.
Next lap and it was Locatelli with the new fastest lap a 1:48.353, he had clearly not given up and was trying to make contact with the leading trio. Bautista then had a massive tank slapper down the back straight and it allowed Rea to come through. Bautista was lucky to get away with what could have been a nasty crash. It didn't deter Alvaro however, and he snapped back to take 2nd.
With 11 laps remaining Locatelli held a gap of 1.6s to Bassani in 5th, Rinaldi 6th.
Next lap and it was Petrucci who got through on Bassani up into 6th, Rinaldi was ahead of him in 5th, and Bassani had now dropped down to 7th.
Just over half race distance and Bautista had shrugged off his earlier moment, and was now right on Toprak. Rea was struggling to keep contact with the pace being set by the leading duo, and was falling behind.
With 8 laps to go Bautista had been lining up a pass and used the power of the Ducati to once again blast past Toprak down the back straight, and into the lead. It was a perfectly clean pass and Toprak could not respond. The 250 revs docked from the Ducati by the organisers, seemingly making no difference to the performance what so ever.
And if to reiterate the point, Bautista put in a new fastest lap a 1:47.065 with now only 6 laps remaining. Drama for Eric Granado (Petronas MIE Racing Honda Team) who crashed out.
With only 5 laps remaining the positions were as follows: 1. Bautista 2. Toprak 3. Rea 4. Locatelli 5. Rinaldi.
Next lap and drama for Lecuona who had to retire due to a mechanical issue. Meanwhile further back Bassani continued to slide down the positions, and was now getting reeled in by Loris Baz. Lowes was 9th, Redding 10th, Haslam 11th. Vierge then got through on Leon to take 11th. Meanwhile drama for the Swiss rider Aegerter (GYTR GRT Yamaha WorldSBK Team) who retired back to the pits due to a mechanical.
Penultimate lap and Bautista now held a gap of 3.4s over Toprak, while Toprak held a similar gap over Rea in 3rd.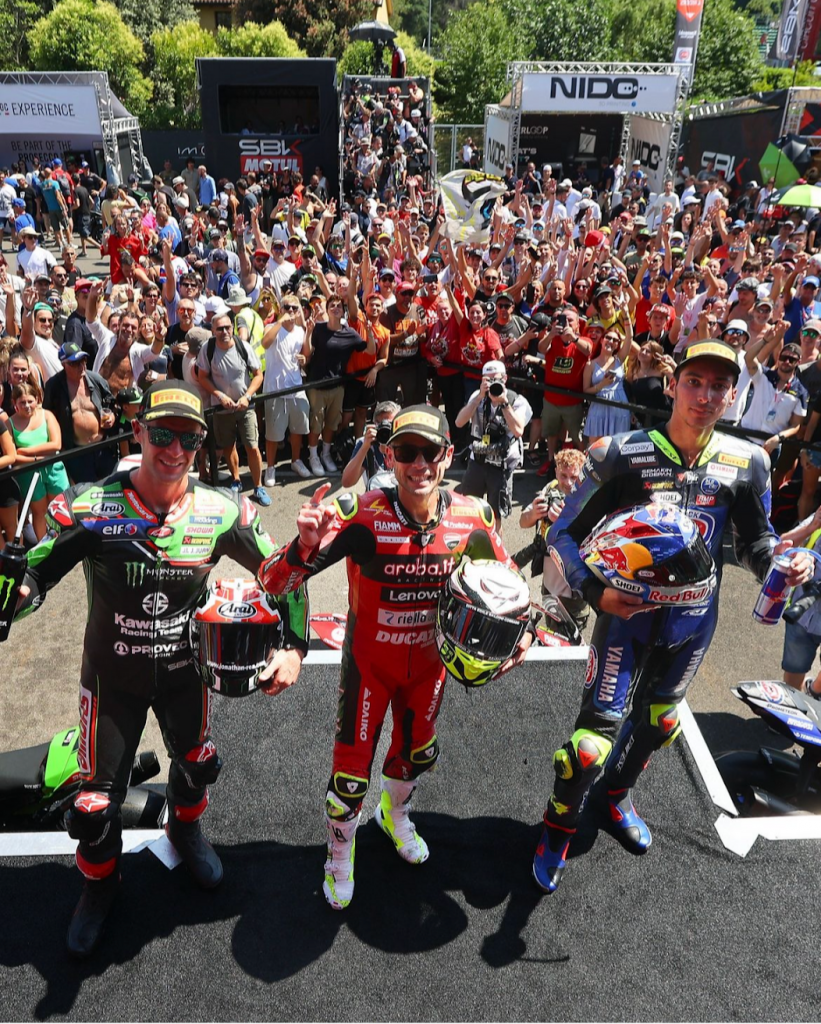 Last lap and Bautista secured yet another win followed by Toprak 2nd, Rea 3rd, Locatelli 4th, Rinaldi 5th, Petrucci 6th, Bassani 7th, Baz 8th, Lowes 9th, and Redding 10th.
Result top 5:
Bautista (Aruba.it Racing Ducati)
Razgatlioglu (Pata Prometeon Yamaha WorldSBK)
Rea (Kawasaki Racing Team WorldSBK)
Locatelli (Pata Prometeon WorldSBK)
Rinaldi (Aruba.it Racing Ducati)
Championship top 3:
Bautista – 382
Razgatlioglu – 284
Locatelli – 188