The earlier Superpole race was won by Toprak Razgatlioglu (Pata Yamaha Prometeon WorldSBK), followed by Alvaro Bautista (Aruba.it Racing Ducati), and Andrea Locatelli in 2nd, and 3rd respectively.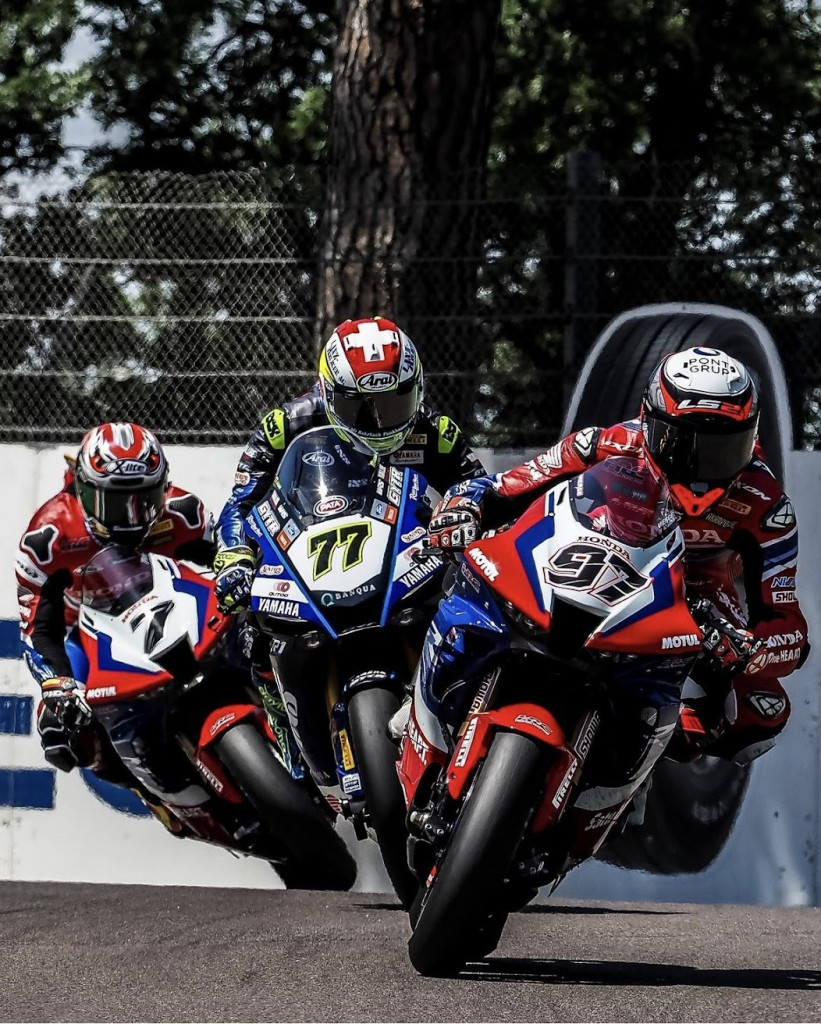 With the extreme heat conditions persisting, it was decided by the race organization to shorten the length of race 2, to 15 laps.
Lights out then for race 2, and after initially getting a great drive off the line, Bautista tipped into the right handed turn 2 and went straight down, he had no chance to save it, and the bike somersaulted into the gravel. A rare mistake from the reigning champion.
Toprak took over the lead, followed by his team mate Locatelli in 2nd, and Bassani (Motocorsa Racing) in 3rd. Rea (Kawasaki Racing Team WorldSBK) then dived through on Bassani and took 3rd. Lowes (Kawasaki Racing Team WorldSBK) 5th, and Redding (Rokit BMW Motorrad WorldSBK Team) 6th.
Next lap and positions were as follows: 1. Toprak 2. Locatelli 3. Rea 4. Bassani 5. Lowes 6. Redding 7. Rinaldi (Aruba.it Racing Ducati) 8. Ray (MotoxRacing Yamaha) 9. Petrucci (Barni Spark Racing) 10. Baz (Bonovo Action BMW).
With 13 laps of 15 left, Bassani aggressive as always from the start, dived up the inside of Locatelli to take 2nd, Rea seized the opportunity and likewise did the same to the Italian who dropped down to 4th. Out in the lead, Toprak had pulled the gap out to 0.9s.
With 11 laps remaining Rinaldi took Redding into the chicane to take 6th. Meanwhile further back it was Petrucci 10th, Vierge (Honda HRC) 11th, Aegerter (GYTR GRT Yamaha WorldSBK) 12th. Tito Rabat (Kawasaki Puccetti Racing) then crashed out, his race over.
With 10 laps to go Toprak had pulled the gap out to 0.3s. Bassani put in the new fastest lap with a 1:47.4. Rea was in 3rd. The leading trio had pulled away from the rest, with Locatelli now 1.7s behind Rea.
With 8 laps to go, Bassani had been steadily gaining on Toprak, and cut under him to take over the lead. Toprak now in 2nd, Rea 3rd. Further back it was Locatelli 4th, Lowes 5th, and Rinaldi 6th.
Just over half race distance and Bassani only held a gap of 0.1s to Toprak. Meanwhile it was Toprak who put in the new fastest lap with a 1:47.7. Drama further back for Isaac Vinales (Team Pedercini) who crashed out, his race over.
With only 4 laps remaining Rea was now struggling to remain in contact with the two ahead of him, and had a gap of 1.0s to overcome to 2nd. Drama for the other factory Kawasaki, Alex Lowes crashed out from a comfortable 5th place, losing the front end, his race over. Meanwhile up ahead Toprak had caught back up to Bassani, and cut up the inside of the Italian into turn 16, to retake the lead. Bassani, however, snapped straight back although Toprak was able to defend the lead.
Last 3 laps and the win would surely be decided between Toprak, and Bassani. Rea now too far back to be in contention.
Penultimate lap and Toprak had put the hammer down, obviously with more tyre grip, and broken the ability of Bassani to remain in contact. Great race for Brad Ray who was now up to 6th, in contention for his best ever WorldSBK result. Behind was Baz 7th, Redding 8th, and Petrucci 9th.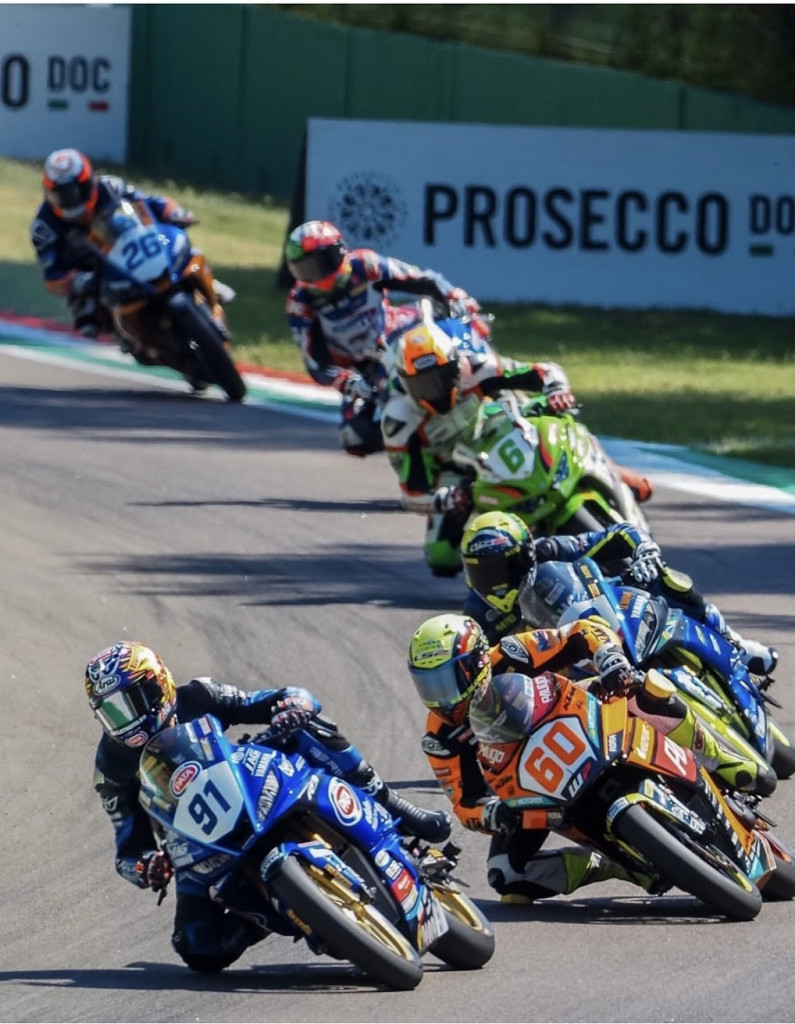 Last lap and Toprak took the win to make it a double across the weekend. Bassani 2nd, Rea 3rd, Locatelli 4th, Rinaldi 5th, Ray 6th, Baz 7th, Redding 8th, Petrucci 9th, Lecuona 10th.
Result top 5:
Razgatlioglu (Pata Yamaha Prometeon WorldSBK)
Bassani (Motocorsa Racing)
Rea (Kawasaki Racing Team WorldSBK)
Locatelli (Pata Yamaha Prometeon WorldSBK)
Rinaldi (Aruba.it Racing Ducati)
Championship top 3:
Bautista – 391
Razgatlioglu – 321
Locatelli – 208