The earlier Superpole race saw a new winner crowned, with Toprak Razgatlioglu (Pata Prometeon Yamaha WorldSBK) claiming only his 2nd win of the season so far, with Alvaro Bautista (Aruba.it Racing Ducati) in 2nd, and Jonathan Rea (Kawasaki Racing Team WorldSBK) in 3rd.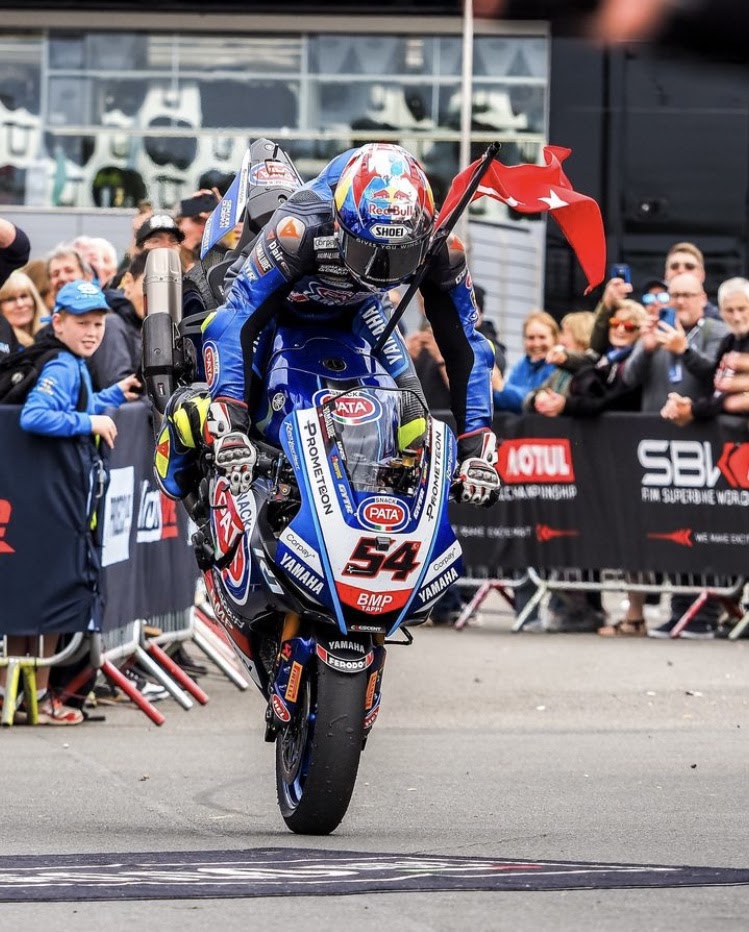 Lights out then for race 2 and both Toprak and Bautista were in contention, before Toprak took the early lead. Then before the first lap could be completed, a massive crash involving 3 riders into turn 8 Coppice, brought the red flag out and the race was stopped. The riders involved were, Tom Sykes (Rokit BMW Motorrad WorldSBK Team), Rinaldi (Aruba.it Racing Ducati), and Loris Baz (Bonovo Action BMW). Seemingly it was Sykes who had a massive highside, and the others were collected in the process.
The race would be restarted with a total of 22 laps.
Lights out for the restart and this time Bautista gets the hole shot, followed by Rea, Toprak 3rd, Locatelli (Pata Prometeon WorldSBK) 4th, and Lowes (Kawasaki Racing Team WorldSBK) 5th. Toprak dived up the inside of Rea into his favourite corner, Melbourne Loop, to take 2nd.
Next lap and positions were as follows: 1. Bautista 2. Toprak 3. Rea 4. Locatelli 5. Gerloff (Bonovo Action BMW) 6. Lowes 7. Petrucci (Barni Spark Racing) 8. Redding (Rokit BMW Motorrad WorldSBK Team) 9. Aegerter (GYRT GRT Yamaha WorldSBK) 10. Oettl (TeamGoEleven).
Toprak then once again, and in his favourite corner, stuck it up the inside of Bautista to move into the lead. The Spaniard had to pick the bike up, and it allowed Rea to come through into 2nd. Bautista got mugged in that corner and found himself in 3rd.
Next lap and Rea put in the new fastest lap with a 1:26.4, and increased the gap to Bautista to 0.3s. Meanwhile in 5th, the Texan, Gerloff, was having one of the best rides for a BMW rider in some time.
With 18 laps of 22 remaining, at the front it was still Toprak leading Rea, with Bautista in 3rd, Locatelli 4th, and Gerloff 5th. Bautista had reduced the gap to Rea to 0.2s.
Next lap and further back it was Axel Bassani (Motocorsa Racing) 10th, Oettl 11th, and Remi Gardner (GYTR GRT Yamaha WorldSBK)  12th. Meanwhile at the front there was now a group of 7 riders forming, and Alex Lowes was showing good pace and passed Gerloff into 5th.
With 15 laps to go, the lap times between the leading trio of Toprak, Rea, and Bautista was similar. Further back Locatelli was struggling to keep in contact. Lowes then carried on his charge and moved past Locatelli into the chicane to take 4th.
Next lap and both Hondas were having a disaster of a weekend, with Vierge 13th, and Lecuona 15th. The Brit, Brad Ray (MotoxRacing Yamaha), was sandwiched in between in 14th.
With 13 laps to go, Bautista, who had been closing the gap made his move on Rea into the chicane and into 2nd. Meanwhile Toprak was looking to take his 2nd win of the weekend.
Next lap and Bautista put in the new fastest lap with a 1:26.4, and was now slowly reeling in the Turkish rider ahead. Meanwhile Rea couldn't match the pace and was now losing contact with the two ahead the gap increasing to 1.6s.
Just over half race distance and Bautista seized the moment, and blasted past Toprak and into the lead in turn 1. Toprak however had the pace down the Craner Curves, and snapped straight back at Bautista into turn 4 to retake the lead.
Next lap and Bautista knew he had the speed to take Toprak down the straight, which he did to retake the lead. Toprak again responded using the agility of the R1 to close the gap through the twisty parts of the track. Meanwhile further back it was still Rea leading his team mate, followed by Locatelli 5th, Petrucci 6th, Redding 7th, and Gerloff down to 9th.
With 8 laps remaining, the weekend was going from bad to worse for Honda, and Xavi Vierge retired to the garage. Meanwhile as he had shown in race 1, Petrucci was capable of late race pace, and he was again gaining on the riders ahead. He caught Locatelli and made a clean pass into 5th.
Next lap and Scott Redding was having the best race of his season so far, and got through on Locatelli into 6th. He had only started from 9th on the grid. Meanwhile at the front the gap between Bautista, and Toprak, increased to 0.7s.
With 6 laps to go, Petrucci had now caught Lowes, and dived through into the Foggy Esses to take 4th. He now had Rea in his sights, and got through into 3rd with what would be his first podium of his WorldSBK career to date. Both Kawasakis were now dropping back, and Redding was reeling them in, he caught Lowes first and cut under him into the Melbourne loop to take 5th.
With 4 laps to go Redding had now caught Rea, and made a clean pass again into the Melbourne loop. The BMW had much better acceleration, and Rea was unable to respond. Meanwhile at the front Bautista increased the gap to 1.3s. Toprak was winding the life out of his R1 but was unable to make up any ground.
Penultimate lap and Petrucci had now increased the gap over Redding to 1.2s. Meanwhile Rea launched an attack on Redding into the chicane, but Redding was able to defend his position.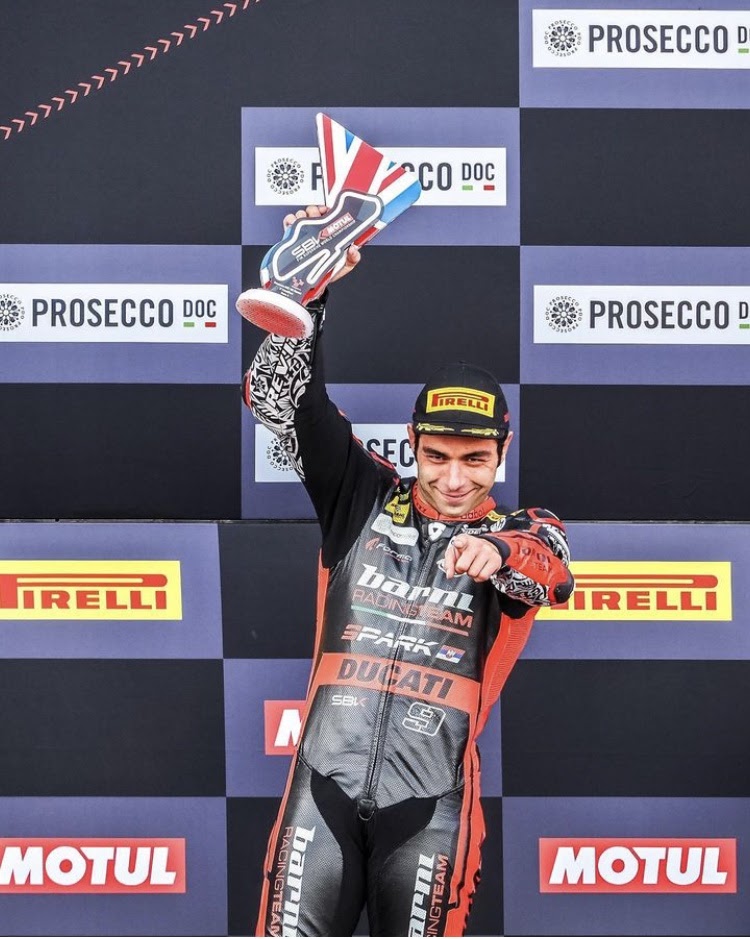 Last lap and Bautista crossed the line to take another win, followed by Toprak 2nd, Petrucci 3rd, Redding 4th, Rea 5th, Lowes 6th, Bassani 7th, Locatelli 8th, Gerloff 9th, Oettl 10th, Brad Ray 13th.
Results top 5:
Bautista (Aruba.it Racing Ducati)
Razgatlioglu (Pata Prometeon Yamaha WorldSBK)
Petrucci (Barni Spark Racing)
Redding (Rokit BMW Motorrad WorldSBK Team)
Rea (Kawaski Racing Team WorldSBK)
Championship top 3:
Bautista – 357
Razgatlioglu – 264
Locatelli – 175