We're back with race action after the long break, and no doubt all the riders would be keen to get straight back into the thick of it.
Donington Park was recently resurfaced, how would the riders fair on a track with less bumps and more grip?
The earlier Superpole saw Rea (Kawasaki Racing Team WorldSBK), make a return to pole position with a top time of 1:26.041, followed by Bautista (Aruba.it Racing Ducati), and first time on the front row, Danilo Petrucci (Barni Spark Racing).
For race 1 the rain showers of Friday had cleared, although it was still gusty, with track temperatures of mid 20 degrees.
Lights out then for race 1 and it was Alvaro Bautista with the holeshot into turn 1, followed in hot pursuit by Rea 2nd, Petrucci 3rd, Toprak (Pata Prometeon Yamaha WorldSBK) 4th, and Tom Sykes (Rokit BMW Motorrad WorldSBK) 5th. Drama for both Brad Ray (YamahaxRacing), and Gerloff (Bonovo Action BMW) who make contact into turn 1 sending both riders into the gravel. Ray comes off worse with his bike upside down, his race over. Gerloff rejoins at the back of the field.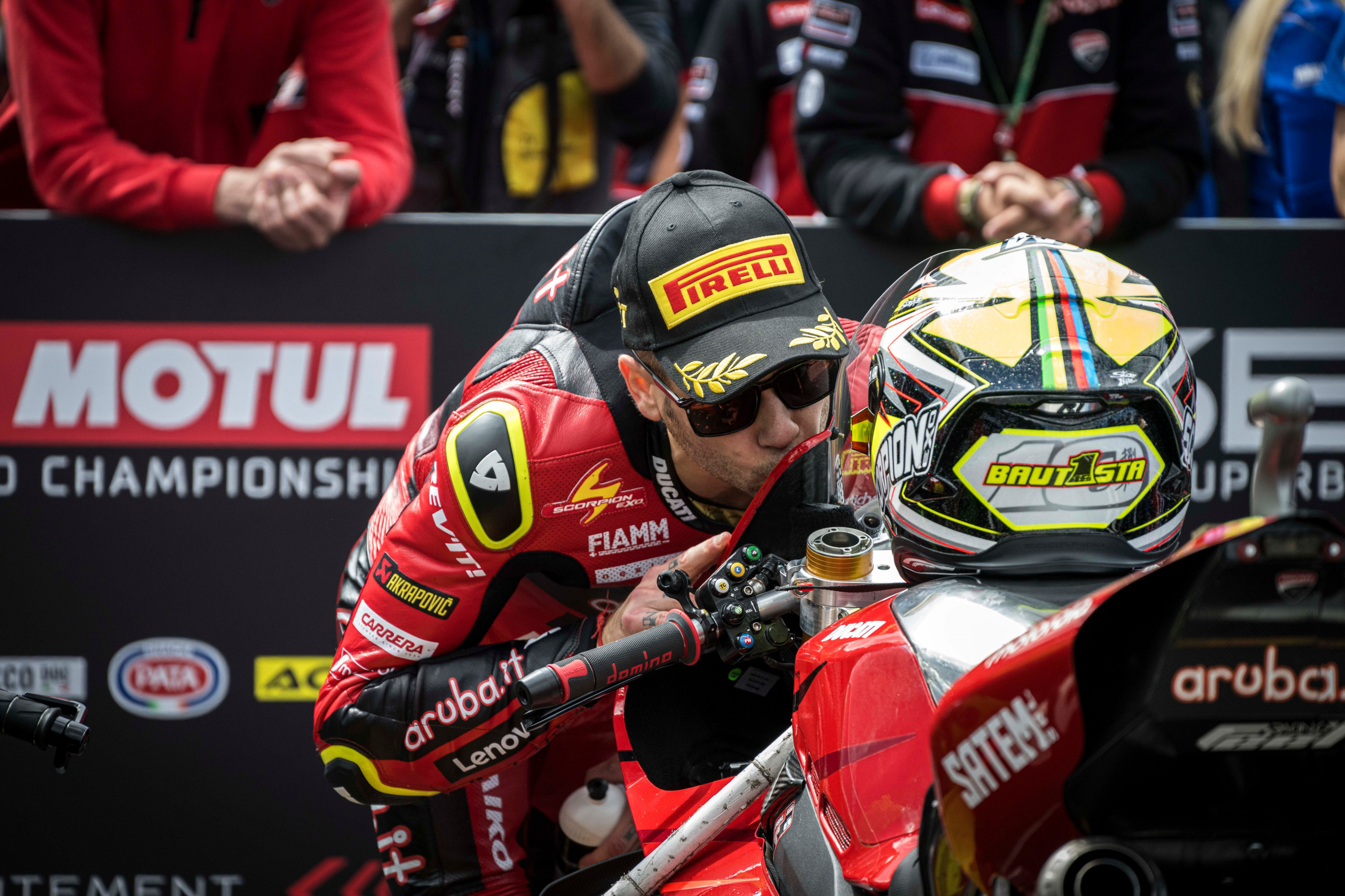 Next lap and Rea had the bit between his teeth, keen not to let Alavaro get any headway. Rea seized the opportunity into the Foggy Esses as Bautista ran slightly off line, Rea cleanly through into the lead. Team mate Alex Lowes (Kawasaki Racing Team WorldSBK) was also making ground and was up into 4th, Toprak into 3rd, while Sykes had dropped down to 6th.
Rea then put in the new fastest lap of the race with a 1:27.384.
With 20 laps of 23 remaining, positions were as follows; 1. Rea 2. Toprak 3. Bautista 4. Lowes 5. Petrucci 6. Sykes 7. Bassani (Motocorsa Ducati) 8. Locatelli (Pata Prometeon Yamaha WorldSBK) 9. Aegerter (GYRT GRT Yamaha WorldSBK) 10. Lecuona (Honda HRC). Locatelli then got through on Bassani up into 7th.
Another new fastest lap and this time its Toprak with a 1:27.043. Both Rea and Toprak were pulling away from Bautista in 3rd.
With 18 laps to go, Toprak had now clawed his way right onto the back of Rea and was looking for the pass. Meanwhile further back it was Redding (Rokit BMW Motorrad WorldSBK) 11th, Lecuona 12th, and Gardner (GYTR GRT Yamaha WorldSBK) 13th. At the front Toprak out brakes Rea down into the Melbourne loop, diving up the inside and passing the Six time champion easily to take the lead. Meanwhile it had now become the leading trio, with Alvaro having rejoined the group in 3rd.
Next lap and Rea looked to be back to his best, taking back the lead as the track fell down into the Craner Curves, a lovely pass taking Toprak by surprise. Then Toprak snapped back into the Melbourne loop once again, cutting inside into the hard braking corner to retake the lead. This was turning into a blow for blow battle for the lead, all the while you sensed Bautista was biding his time in 3rd.
It was turning into a bad day for Bonovo Action BMW, with Loris Baz now having to retire due to a mechanical issue. Meanwhile at the front the leading trio would now be a quartet, as Lowes snagged onto the back of the group, and looked to have good pace. Bautista made his move on Rea into the chicane, taking the position he moved up to 2nd.
With 15 laps remaining, positions were as follows; 1. Toprak 2. Bautista 3. Rea 4. Lowes 5. Petrucci 6. Bassani 7. Locatelli 8. Sykes 9. Aegerter 10. Oettl (Team GoEleven).
Bautista now got through on Toprak and took the lead, setting a new fastest lap of 1:26.913 in the process.
With 13 laps to go Bautista put in another new fastest lap a 1:26.8, and ominously looked to be getting into his grove. Rea was trying to maintain contact in 3rd but was getting distanced.
Next lap and Bautista put in yet another fastest lap, a 1:26.615, and was now distancing Toprak who was winding the life out of his Yamaha R1, trying to keep in contact.
Over half race distance and Alvaro was showing no signs of slowing down, setting a new all time race lap record, a 1:26.610, increasing the gap to Toprak to 1.2s, while Toprak held a gap of 1.6s to Rea.
With 8 laps to go, Rea was drifting back with the gap to Toprak increasing to 1.9s, while Bautista held a gap of 1.7s over Toprak. Meanwhile further back Redding was up to 10th getting past Aegerter. Petrucci had made some what of a resurgence and was finding some late race pace, and got through on Lowes into the chicane to move into 4th, and was now hunting down the other Kawasaki of Rea. Further back Locatelli moved into 6th, getting through on Bassani.
With the track temperature rising it was working to Bautista's advantage, and he was finding the extra grip ripping up lap time records one by one. It was another new all time fastest lap a 1:26.550, 0.5s slower then Rea's pole position time.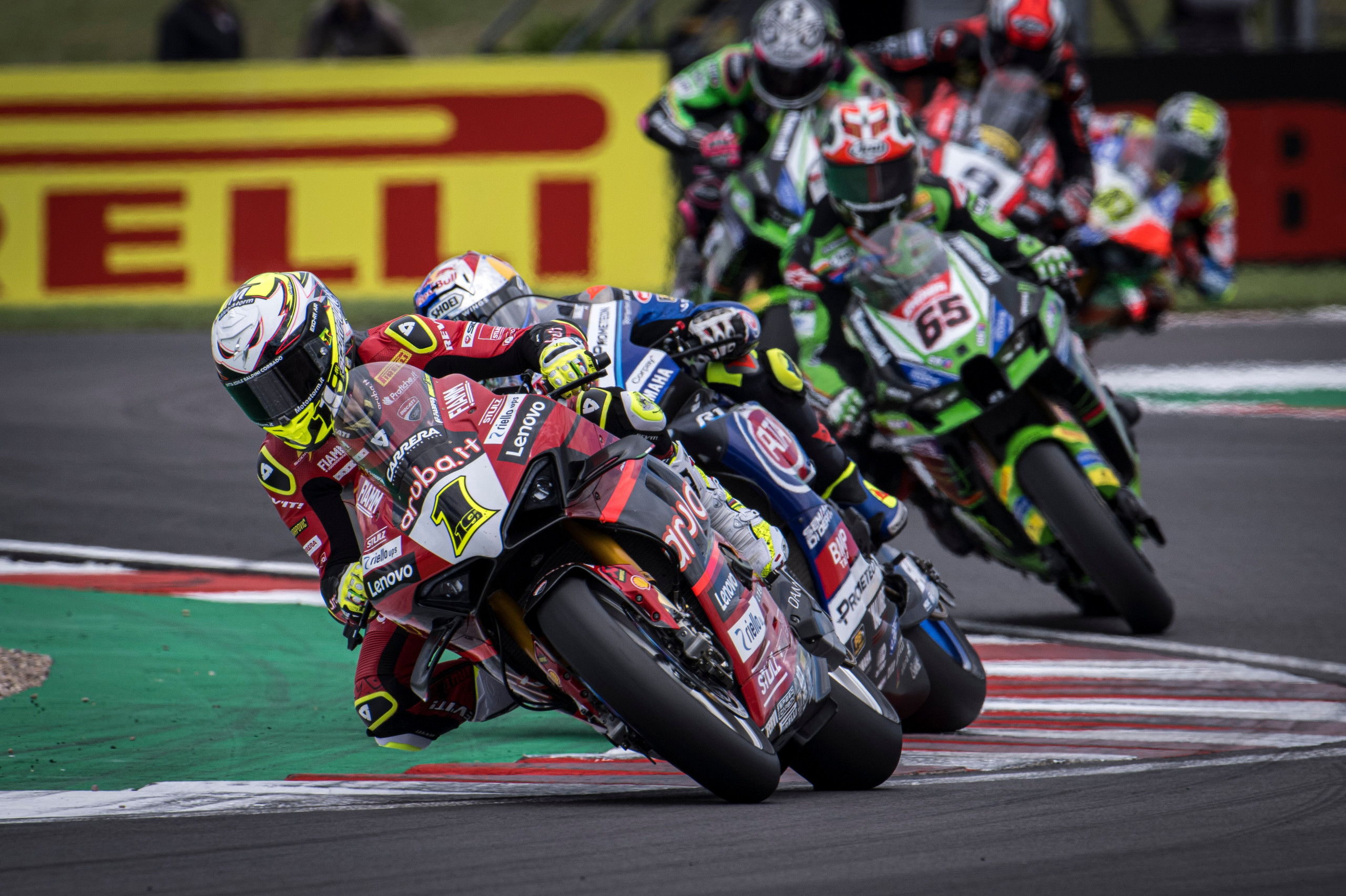 With 6 laps to go Petrucci was slowly reeling in Rea with the gap down to 0.4s.
With only 4 laps remaining, Petrucci was now right on Rea with the gap down to 0.2s. Meanwhile out in front Bautista was looking in cruise control, a not unfamiliar scene. Further back Locatelli had caught Lowes and was looking for the pass.
Next lap and Locatelli finally made the pass on Lowes into the chicane moving into 5th.
Penultimate lap and Petrucci had eased off with the gap increasing to 0.5s to Rea. Bautista held a comfortable lead of 3.7s over Toprak.
Last lap and there was drama for both Lecuona, and Oettl who had been having a good race, the former crashing out into turn 4, with Oettl going down into one of the final corners. However no mistake for Bautista who crossed the line to take yet another win, that made it 11 wins in a row equalling his tally of 2019. Toprak 2nd, Rea 3rd, Petrucci 4th, Locatelli 5th, Lowes 6th, Bassani 7th, Redding 8th, Sykes 9th, Gardner 10th.
Result top 5:
Bautista (Aruba.it Racing Ducati)
Razgatlioglu (Pata Prometeon Yamaha WorldSBK)
Rea (Kawasaki Racing Team WorldSBK)
Petrucci (Barni Spark Racing)
Locatelli (Pata Prometeon Yamaha WorldSBK)
Championship top 3:
Bautista – 323
Razgatlioglu – 232
Locatelli – 161
Featured image courtesy of Yamaha