The very first Portland E-Prix for Formula E saw drama in both qualifying and the race.
Qualifying:
Groups:
This session kicked off with Group A going out. 2 of the 4 chamionship contenders participating in this session: Pascal Wehrlein and Nick Cassidy. Gunther, Fenestraz, Ticktum and Vergne were quickest in the early parts of the session. As the timer ticked down, drivers kept on going faster and faster. Fenestraz, Vergne, Nato and Gunther were the top 4 as we entered the latter staged of the first group session. Mitch Evans, although he was not in this session, was under investigation for pit land procedures. 2 championship contenders Cassidy and Wehrlein both did NOT improve and were due to start on the 6th and 10th rows of the grid. Fenestraz, Vergne, Nato and Gunther(who made an error on his final lap) managed to make it through to the duels. Group A was finished and Group B was just getting underway.
As the light went green for Group B, another championship contender Mitch Evans was out of his car before the session even got underway. It appeared he had an issue with his car so he was unable to even participate in the session which was big for his championship hopes. It emerged that both DS Penskes were under investigation for a technical infringement which then meant both drivers of Stoffel Vandoorne and Jean-Eric Vergne would be forced to do a pitlane start. Roberto Mehri had a big lockup going into turn 1 but he managed to go into the run off area and rejoin the track. Mortara did something similar to his teammate and went onto the grass. He then pitted while Jake Dennis went fastest with a 1:09:856. It was then understood that a DC fault was the reason for the Mitch Evans not taking part in qualifying. Mortara managed to jump up to P2 which dropped Andre Lotterer out of the top 4. Both Sam Bird and Antonio Felix Da Costa managed to finish laps but only got up to P7 and P8 respectfully. The top 4 then went from Dennis, Mortara, Lotterer and Rast to Rast, Dennis, Hughes and Da Costa. They all went through to the duels.
Duels:
It was Nato and Vergne up first with Nato managing to beat the 2 time champion.
Fenestraz and Gunther were up next with Fenestraz having an advantage over the Maserati driver. Fenestraz then has a moment after the final corner and he managed to tap the wall and have a wiggle. He manages to beat Gunther by 0.100.
Hughes and Dennis went up against eachother for the third qualifying. Hughes first ahead by 0.056 but then Dennis managed to get a jump by 0.126. Dennis managed to keep that lead and beat the McLaren driver.
The final quarter final saw Rene Rast and Antonio Felix DaCosta go against eachother. Rast was 3 tenths down on the 2020 champion and it didn't seem to go well. But then as they crossed the line, Rast managed to get through by other 1 tenth!
It was an all Nissan semi final 1 with Nato against Fenestraz. Nato managed to go a bit wide in turn 1 while Fenestraz managed to keep it tighter and be over 3 tenths up. Fenestraz then managed to get through to the final.
Rast and Dennis went uo against eachother with Dennis maintaining an early lead as they crossed the line to go into the final.
Dennis and Fenestraz went against eachother for the final with Dennis first being up by 0.011 tenths and then Fenestraz being up by 0.022 tenths. Fenestraz then tapped the wall at the final corner which costs him pole position. Jake Dennis took pole position and the championship lead.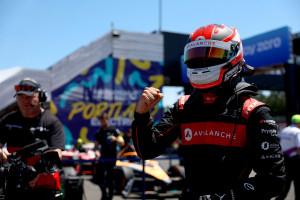 Race:
The lights went out in Portland and the McLarens managed to make a good start as well as Nick Cassidy who already made his way up to P5. Many moves happened in the early parts of this race with Mehri up to P15 and the Nissans still in 2nd and 3rd. Da Costa also managed to overtake Cassidy for P5. Muller managed to have broken front nose on his car. Cassidy then managed to get up to the lead from Dennis and Rast. A yellow flag then came out due to Mehri having a loss of power and stopping on track which brought out a safety car. At the safety car restart, Nato lead from Da Costa and Dennis. At that point, Da Costa managed to make 12 overtakes in the race so far. When the safety car came in, Fenestraz had to pit for a new front nose. The top 3 remained the same after the restart until Nato and Gunther managed to jump Cassidy with Mortara and Da Costa in P4 and P5.
The Safety Car was then deployed for a second time as the Abt Cupra of Nico Muller crashed at the walls of turn 9 and 10. His wing came off and went under the car. Thankfully, he is safe and got out of the car. The DS Penskes of Vergne and Vandoorne managed to get up to P13 and P15 after starting from the pitlane. Wehrlein also managed to get up to P1. The Safety Car remained out for many laps as we passed lap 15 out of 28. Then, Nato passed Cassidy while under the safety car. This was more than likely due to the race stewards reviewing the footage when the safety car came out.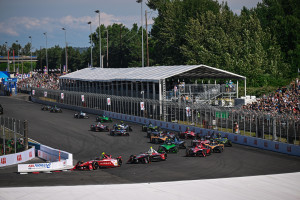 Jake Dennis, Avalanche Andretti Formula E, Porsche 99 X Electric Gen3-Image Credit: Simon Galloway
We then went green again and MANY drivers decided to go for attack mode including Nato, Gunther, Mortara, Rast, Frijns, Hughes and Bird. While having attack mode, Gunther goes for an overtake on Dennis and managed to hold onto it. Every car was still stuck together on lap 18/28 while Vandoorne and Lotterer went through attack mode. Vergne then had a moment on the grass at the same place Muller went off but he managed to keep it on track. Wehrlein was then under investigation for a turn 1 incident. Both Vergne and Wehrlein then fell down the order as they took attack mode. Muller then got a 5 second penalty for leaving the track but he already retired from the race. Da Costa managed to overtake Cassidy for the lead of the race!
The race then became a matter of energy saving to get them to the end. This involved a lot of weaving from many drivers. Vergne managed to get his way up to P4 after a pit lane start but he was overusing on power and had to drop back to conserve in order to get to the end. As we entered the letter staged of the race, Evans, Wehrlein, Buemi and Sette Camara all had 1 attac mode remaining. 4 additional laps were then added due to the amount of laps we spent behind the safety car. In terms of energy at this point, Vergne has 24% while Cassidy had 28% and Da Costa 29%. Dennis then goes for a move around the outside and he gets Da Costa but not Cassidy as Da Costa fights back. Gunther manages to touch the grass and drop down to P8. With 3 laps remaining, Da Costa takes the lead of the E-Prix! Dennis lines up a move into turn 1 on Da Costa but he stays behind the Porsche driver.
Cassidy manages to hold onto the lead and he wins the Portland E-Prix! Jake Dennis finishes P2 and Antonio Felix Da Costa finished the podium positions in P3. Mitch Evans managed to go from P20 to P4, Sebastian Buemi finished in P5 with Maximilian Gunther in P6. Sam Bird crossed the line in P7 but he got a penalty for a collision and dropped down to P17. Lucas DiGrassi, Pascal Wehrlein and Normal Nato crossed the line P8, P9 and P10 but got points for P7, P8 and P9. Robin Frijns managed to get P10.
Formula E returns in a few weeks with the Rome E-Prix on the 15th and 16th of July with the season finale a few weeks after that in London for the London E-Prix on the 29th and 30th of July.
Who is your favourite to win the title?