We ended last years season here in Phillip Island, with Alvaro Bautista                    (Aruba.it Ducati) being crowned the champion. The paddock have returned to the Island for the start of the new 2023 season.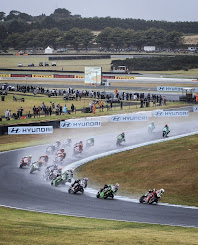 Superpole saw Toprak Razgatlioglu (Pata Yamaha Prometeon WorldSBK) claim top spot with an unbeaten time of 1:29.400, followed by Alvaro Bautista in 2nd, and former double SSP champion, and current SBK rookie, Dominique Aegerter (GYTR GRT Yamaha WorldSBK) in 3rd.
Conditions for race 1 were less than ideal compared to the earlier Superpole, with the rain coming in, the track was soaking wet, and the race was declared a wet race. Every rider opted for full wet tyres in the tricky conditions.
Lights out then for the first time this season, and it was Bautista quickest off the line with the hole shot into turn 1, followed by Rea (KRT Kawasaki), Toprak, Lowes (KRT Kawasaki), and Aegerter in 5th. Rea looked keen from the off, and made a decisive move on Bautista into MG, cutting up the inside of the reigning champion to take over the lead. Fellow KRT Kawasaki team mate Alex Lowes replied in kind by blazing around the outside of Toprak over Lukey Heights, and up into 3rd, Toprak 4th.
Next lap and positions were as follows: 1. Rea 2. Bautista 3. Lowes 4. Razgatlioglu 5. Locatelli (Pata Yamaha Prometeon WorldSBK) 6. Bassani (Motocorsa Ducati) 7. Aegerter 8. Gardner (GYTR GRT Yamaha WorldSBK) 9. Lecuona (Honda HRC) 10. Petrucci (Barni Spark Racing Ducati).
Drama then for the Dutchman Vd Mark (BMW Motorrad) who had a nasty looking high side into the Hay shed corner, his bike was mangled, and his start to the season was over. Meanwhile at the front Rea and Bautista were both checking out, and had already pulled out a decent lead.
With 20 laps of 22 remaining, it was Rea who set the fastest time in the tricky conditions with a new lap time of 1:42.5, and held a gap of 1.3s over Bautista behind in 2nd.
With 18 laps to go, Toprak struck back at Lowes, and blasted past the Kawasaki down the straight and into turn 1 to retake 3rd. The Yamaha R1 looking like it had extra grunt this season. Further back the former AMA rider, and MotoGP rider, Danilo Petrucci was having a decent start to his season, and was up into 9th. At the front Rea had extended his lead to 1.6s.
Next lap and Scott Redding (BMW Motorrad) moved through on rookie, and former MotoGP rider, Remi Gardner to move up into 10th. Back in the paddock once again, the former WorldSBK champion Tom Sykes (Kawasaki Puccetti Racing) had to retire due to a mechanical issue.
Lap 6 of 22, and Bautista was slowly finding his rhythm and was making inroads on the gap to Rea, the gap now cut to 0.9s.
With 14 laps to go, Bautista had now caught right up to Rea, with the gap only 0.6s. Toprak 3rd, Lowes 4th, Locatelli 5th, Bassani 6th.
Next lap and Bautista made his move on Rea into turn 3, Rea couldn't respond and Bautista took over the lead. Rea however had been steadily losing time, and the commentator noted that he had been having to shut off the throttle on gear shifts, seemingly a problem with the quick shift, or automatic blipper. Bad news then for the Kawasaki team on their return to racing.
Half race distance, and Rea was fighting incredibly hard to stay in contact with Bautista, you could notice him ringing the throttle now, but the electronic issue was also affecting his traction. Positions were as follows: 1. Bautista 2. Rea 3. Toprak 4. Lowes 5. Locatelli 6. Bassani 7. Redding 8. Lecuona 9. Petrucci 10. Vierge (Honda HRC).
With 8 laps remaining it was drama for Alex Lowes who had a high speed crash into turn 2, and he was lucky to be able to walk away from it, however his race was over. Meanwhile further back it was the German, Oettl (Team Goeleven Ducati) 11th, Gardner 12th, Rinaldi (Aruba.it Ducati) 13th, and Gerloff (Bonovo Action BMW) 14th.
With 6 laps to go Rea was still fighting with his bike, and trying to reduce a gap of 1.8s to Bautista in front.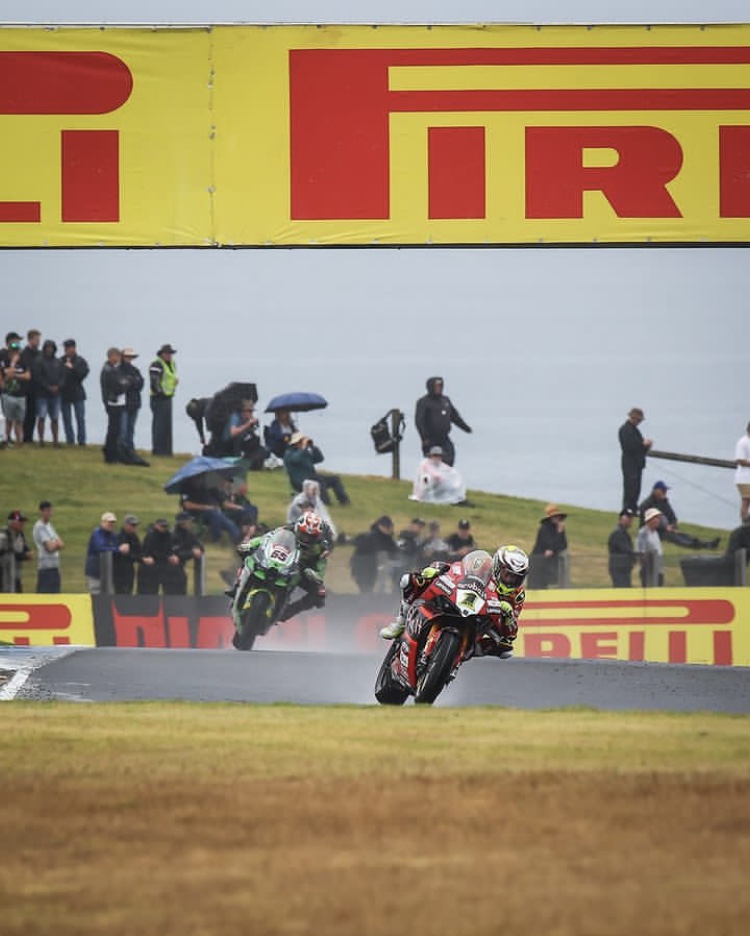 Next lap and Iker Lecuona moved through on Redding to take over 6th, Meanwhile after his fantastic superpole to start in 3rd, Aegerter was now all the way back in 13th, finding the conditions challenging.
On lap 20 of 22, and as he was for so much of last season, Bautista was firmly in control of the lead, and looked like he would have the win sealed up. Rea was behind in 2nd, with Toprak in 3rd.
Last lap and Bautista made no mistake and crossed the line to take the first win of the new season. Rea 2nd, Toprak 3rd, Locatelli 4th, Bassani 5th, Lecuona 6th, Vierge 7th, Petrucci 8th, Redding 9th, Gerloff 10th.
Result top 5:
Bautista (Aruba.it Ducati)
Rea (KRT Kawasaki)
Razgatlioglu (Pata Yamaha Prometeon WorldSBK)
Locatelli (Pata Yamaha Prometeon WorldSBK)
Bassani (Motocorsa Ducati)
Championship top 3:
Bautista – 25pts
Rea – 20
Razgatlioglu – 16