Season finale here in the land down under. With Alvaro Bautista (Aruba.it Ducati) already crowned world champion, it would fall to the others to fight it out for the last 3 races of the season.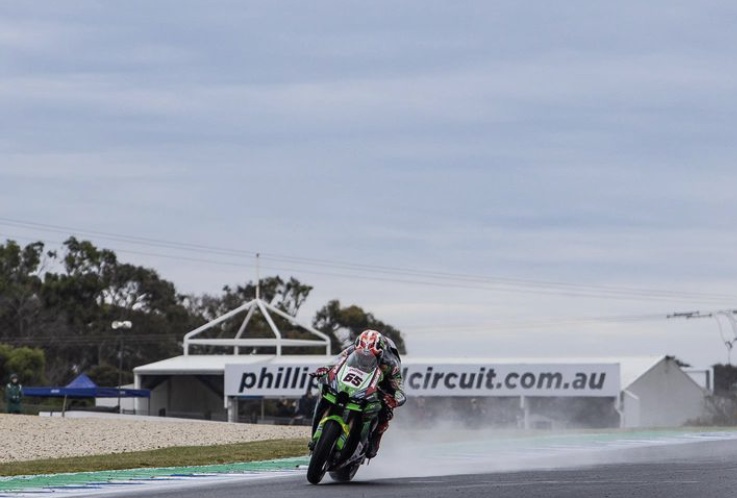 Superpole saw Bautista claim pole with an unbeaten time of 1:29.813, followed by the Kawasaki KRT team mates of Jonathan Rea and Alex Lowes in 2nd and 3rd respectively.
Conditions were mixed for race 1, with the track still wet from earlier rainfall, most of the riders went for full wet tyres.
Lights out then for race 1, and it was Bautista with the hole shot into turn 1, followed by Rea and Toprak (Pata Yamaha). Lowes ran wide and was able to rejoin in 4th, Locatelli (Pata Yamaha) was 5th.
Next lap of the 22 lap race, and positions were: 1. Bautista 2. Toprak 3. Rea 4. Lowes 5. Bassani (Motocorsa Duacti) 6. Locatelli 7. Gerloff (GRT Yamaha) 8. Vierge (Honda HRC). Bassani had a sensational start after only qualifying down in 14th, he was now up to 5th and looked quick.
With 20 laps to go, Rea made a move on Toprak blasting past the R1 down the straight and into turn 1 to take 2nd, and then cut up the inside of Bautista a few corners later to take the lead. Rea looked like he had good pace, even in the tricky conditions, as the track was starting to dry out. He held a gap of 0.6s to Bautista in 2nd.
Next lap and Rea put in the new fastest lap with a 1:43.070. Toprak then came through on Bautista to take 2nd, next was Lowes to relegate the new world champion down to 4th in a few corners. Both the Kawasakis were looking quick, and looked to have their set up dialled in. The leading four riders were now clearing away from the others.
With 17 laps to go, it was the turn of the former champion Toprak to put in the new fastest lap with a 1:43.014, and then made his move on Rea on take over the lead. Positions were as follows: 1. Toprak 2. Rea 3. Lowes 4. Bautista 5. Bassani 6. Locatelli. Lap times continued to drop with Lowes next to set the new fastest lap with a 1:42.8. The English rider then came through on Toprak into Doohans corner to make it a Kawasaki 1, 2.
With 15 laps to go, Lowes then took the lead down the straight, flying past his team mate to take the lead. Lowes was looking quick and was out to take his 1st win of the season. Meanwhile further back it was Gerloff 8th and Loris Baz (Bonovo Action BMW) 10th. At the front end, Toprak ran out wide, and allowed Bautista to come through into 3rd.
With the track fairly well mostly dry now, several riders decided to come into the pits to change for slick tyres. These included Rea, Toprak and Bautista. Lowes decided to press on with his wet tyres, so to did Scott Redding (BMW Motorrad) and rookie Kyle Smith (Pedercini Kawasaki).
Half race distance now, and Lowes, currently in the lead after the others had pitted, was struggling with grip as his wet tyres were tearing up. Behind him then was Redding and Kyle Smith in 2nd, and 3rd respectively, Rea 5th, Toprak 6th, Bautista 7th, Locatelli 8th, and Bassani 9th. Lowes then decided to pull into the pits for a tyre change.
Next lap and Rea who had brand new slicks on was looking quick, and moved into 4th, setting the new fastest lap with a 1:33.311 in the process. Redding was still in the lead, but setting lap times around 8s slower then Rea, and would no doubt get caught.
With 9 laps to go Rea continued to slash the lead of Redding at the front, and set the new fastest lap with a 1:32.7. Meanwhile Toprak was in 4th and had a gap of 5.8s to Rea. Redding then decided to pull into the pits for a tyre change, which meant that rookie Kyle Smith, the Huddersfield local lad, lead his first WorldSBK race.
With 8 laps to go, Rea had now caught Smith, passed him, and immediately pulled away. Rea was looking good for his first win after a long win less drought of 24 races. Positions were as follows: 1. Rea 2. Smith 3. Toprak 4. Bautista 5. Locatelli 6. Lowes 7. Bassani. Toprak then blasted past Smith down the straight like he was riding a 250cc bike, moving into 2nd, and setting the new fastest lap with a 1:32.3. Lowes then moved into 5th after getting through on Locatelli.
With 6 laps left to go, Rea was showing no signs of slowing down, and set the new fastest lap with a 1:32.203, and held a gap of 5.7s to Torpak. The Turk had a gap of 8.3s to Bautista in 3rd. Lowes then pulled off an audacious pass on Bautista, taking him around the outside of Lukey Heights to move into 3rd. Lap times continued to drop, and Toprak was next to set the new one with a 1:32.005.
Next lap and it was Locatelli to take Bautista and move into 4th. Bautista was in 5th, and held a sizeable gap of 12s to Bassani in 6th.
With only 3 laps left positions were: 1. Rea 2. Toprak 3. Lowes 4. Locatelli 5. Bautista 6. Gerloff 7. Bassani 8. Vierge 9. Smith 10. Baz.
With 2 laps left it was Lowes with the new fastest lap, a 1:31.8. Drama for Vd Mark (BMW Motorrad) who had a big crash into turn 4, lost the front of his BMW and sent it catapulting into the gravel. The bike completely totalled, and his race was over.
Last lap and Rea broke his win less streak. Toprak 2nd, Lowes 3rd, Locatelli 4th, Bautista 5th, Gerloff 6th, Bassani 7th, Vierge 8th, Baz 9th. Smith 12th.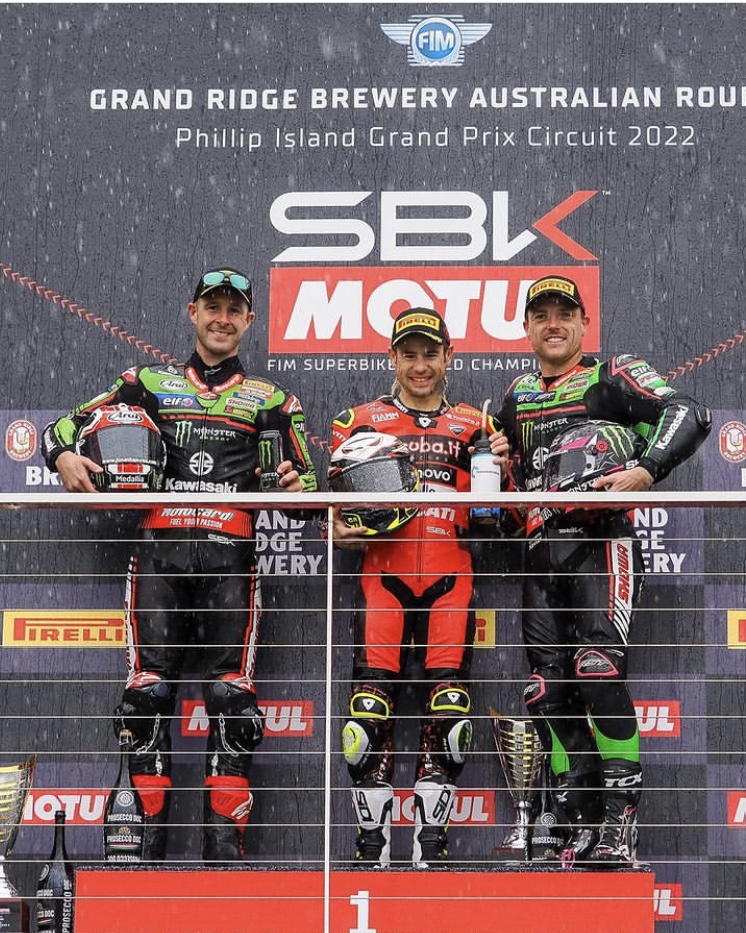 That 5th place finish for Bautista, also meant Ducati won the manufacturers championship, their first in 11 years.
Results top 5:
Rea (Kawasaki KRT)
Razgatlioglu (Pata Yamaha)
Lowes (Kawasaki KRT)
Locatelli (Pata Yamaha)
Bautista (Aruba.it Ducati)
Championship top 3:
Bautista – 564 pts
Razgatlioglu – 507
Rea – 475