I've written this intro something like 10 times. Deleted it and started again! Deleted it and started again! Deleted it and started again! Deleted it and started again! I'm struggling to find the words to describe what happened this weekend that you can follow in a logical pattern and order which will make sense by the end of this article. A roller coaster of action, emotion, shock, confusion, anger, deflation and a whole other host of feelings towards situations beyond our control. Huge amounts of disappointment for some, while others breath a huge sigh of relief, albeit with a concerned eye on the health of their racing colleagues but appreciating that one third of the Showdown battle is behind them.
Oulton Park in the Autumn of 2021 changed the season for two McAMS Yamaha riders. One rider's fortunes were changed for the better, where the other lost a season's worth of hard work in 2 days. Of course, I am referring to Tarran Mackenzie's success and Jason O'Halloran's disastrous 'two crash weekend' 1 year ago. Well it seems 'The Curse of Oulton Park' his struck again in 2022 for the same team, though it seems it has swept through the McAMS team like a case of the common cold! Take this in for a second… The McAMS Yamaha pairing of reigning champion, Tarran Mackenzie and [the man who up until Saturday inhabited second place in the championship standings] Jason O'Halloran have failed to finish a single race this weekend. 6 FULL RACES. GONE! The British Superbike Championship has been turned on its head.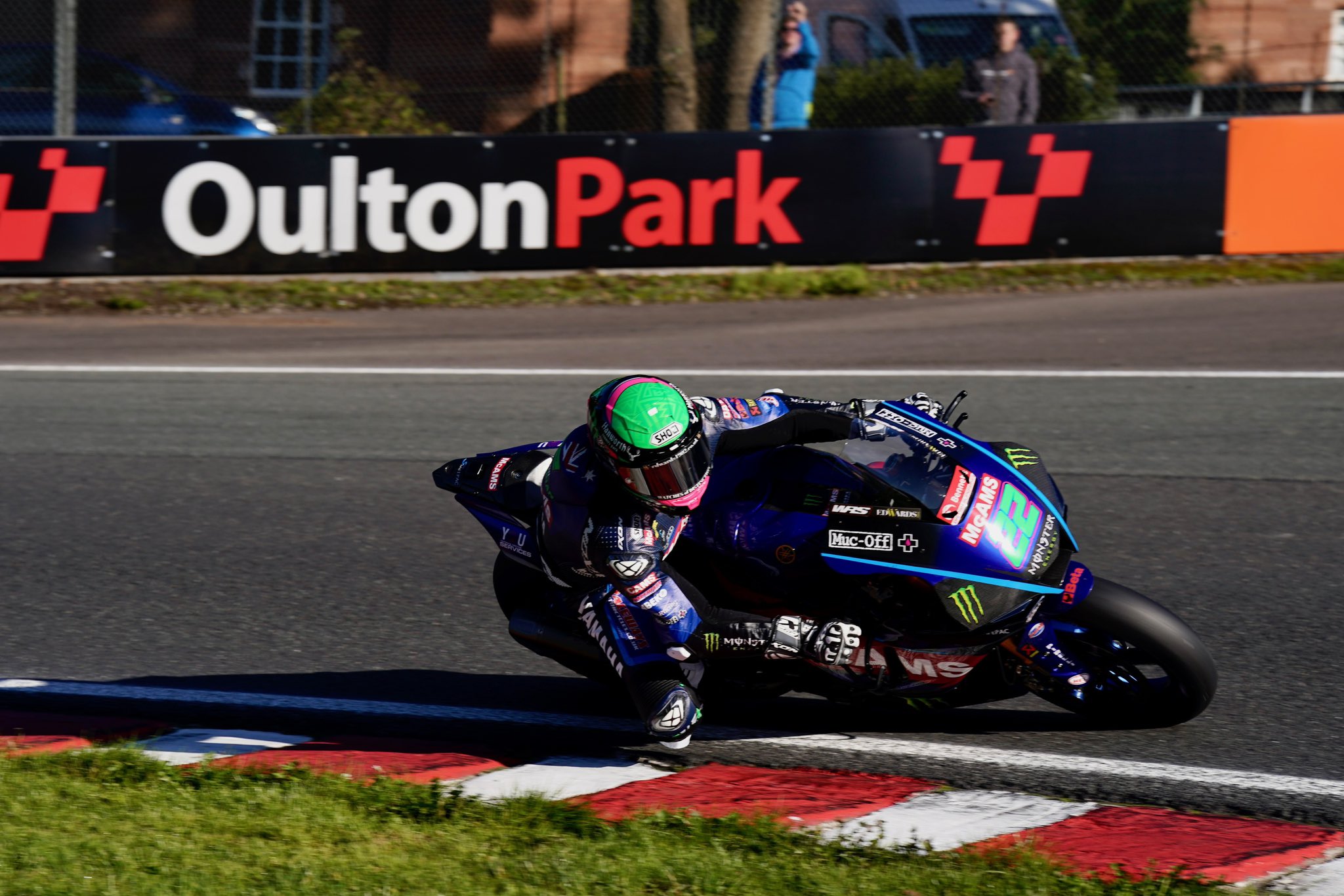 Jason O'Halloran – Image courtessy of McAMS Yamaha
Race 1
A typical Oulton Park race, of which we have seen many over the years, where riders try to pass on the tight, twisty, undulating circuit but ultimately the attempts are short in supply and the laps tick off one by one in the countdown to the checkered flag. The first shock of Race 1 came when a charging Tarran Mackenzie crashed his Yamaha R1 on the entry to Shell Oil's hairpin, trying to bridge the gap to the front group after his poor start from his qualifying position of 5th on the grid. Oulton Park, 1 – Tarran Mackenzie, 0. The first mistake of the Showdown coming from the reigning champion. Before you know it, fans and teams alike looking at Bradley Ray entering the final lap with a 3.1 second lead over the following group of Tommy Bridewell in second place, followed by Jason O'Halloran, Peter Hickman and Leon Haslam. A group of three riders chasing Ray, but who will round out the podium on the final lap?
Now here's the rub! After cresting Clay Hill and entering the Druid's right-hand turn for the final time, there was contact between the motorcycles of Peter Hickman [FHO Racing BMW] and Jason O'Halloran [McAMS Yamaha] resulting in a crash for The O'Show. Hickman letting the brake off and moving for an inside line overtake, O'Halloran turns in and the end result is a trip to the gravel trap ending O'Halloran's first race in the Showdown. A potential podium chance gone. Oulton Park, 1 – Jason O'Halloran, 0. Being it was the final lap, the incident was investigated after the race and resulted in Bennetts British Superbike Race Direction disqualifying Peter Hickman from the race, handing him 2 points on his racing license and a 3-place grid penalty for Race 2. Official BSB later released the onboard footage from Hickman's BMW and Leon Haslam's Kawasaki following behind.
Hickman was quick to defend his position, taking to Twitter to issue a statement. "Of course, I'm absolutely gutted that JO and McAMS Yamaha didn't finish that race, that was never my intention and never would be. I'm just glad he's ok. I am however shocked at Race Directions decision, don't get me wrong they have a tough job to do but disqualification… 2 points on my race license and a 3 place grid penalty is absolutely way over the top. We are racing, not playing today [Hicky meant tiddly] winks! I stand by what I said on Eurosport after the race, there was a gap, he was weak in that area and I was strong, and I had a chance of a podium so… of course I had a go. It's a huge shame that he tagged the back of my bike and went down, but we are racing on very small margins and sometimes it happens. As for comments about not having a go at passing someone because they're in the showdown and lack of respect etc I… completely disagree, but each to their own eh! Thanks for the support from everyone as always, I'll be on the grid again tomorrow and trying just as hard. Hicky."
Jason O'Halloran took to his own social media outlets to post a picture of his accident damaged Yamaha in the McAMS garage and wrote "All my guys and I have worked so hard this year to put ourselves in a position to win this championship. A little bit of respect would go a long way."
 Race 1 Results – Ray, Bridewell, Haslam, Glenn Irwin, Buchan, Jackson, Iddon, Skinner, Ryde, Brookes, Sykes, Kent, Neave, Harrison, Rouse, Takahashi, Owens, Mizuno, Delves. 
DNF – Mackenzie, O'Halloran, Andy Irwin, Jeacock, Vickers, Stacey.
Race 2 – Start 1
Unlike last year (which was shorts and a t-shirt) it was freezing cold on Sunday. Raining on and off and blowing a gale. Not the best weather for a British Superbike race. Declared a wet race, then after a slight delay and the rain abating, it was declared a dry race meaning any sudden rain would cause a red flag.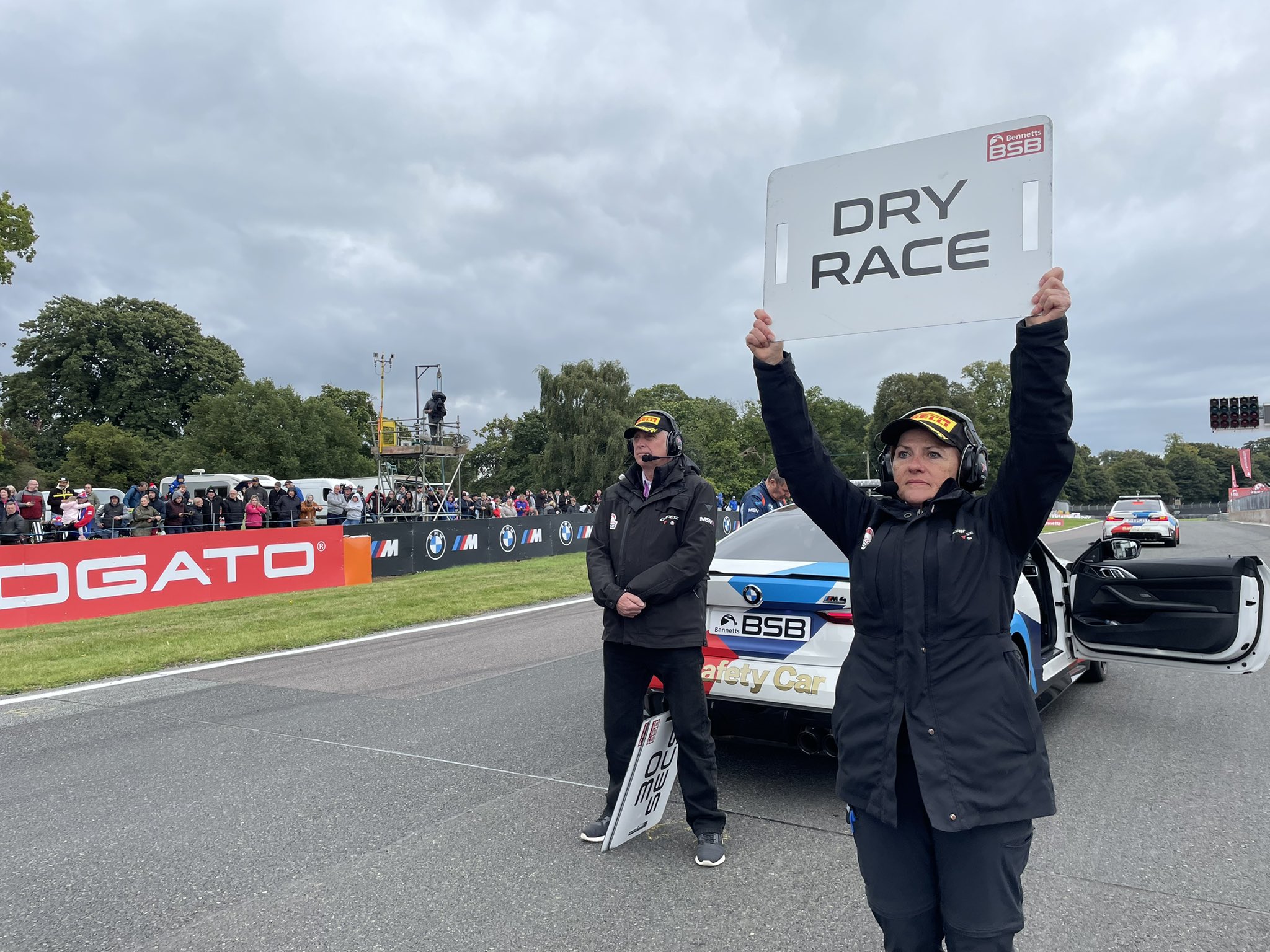 Dry Race – Image courtessy of Official BSB
LAP 1 Away from the lights it's Brad Ray who gets the holeshot, followed closely by Jason O'Halloran and Tommy Bridewell. As we return to the scene of Saturday's Race 1 incident at Druid's corner, racing fans and teams look on in shock as Tommy Bridewell puts a move on Jason O'Halloran, that sends the McAMS Yamaha rider barreling through the same gravel trap as the previous day. Oulton Park, 2 – Jason O'Halloran, 0. Race direction investigates the incident as the race continues to circulate.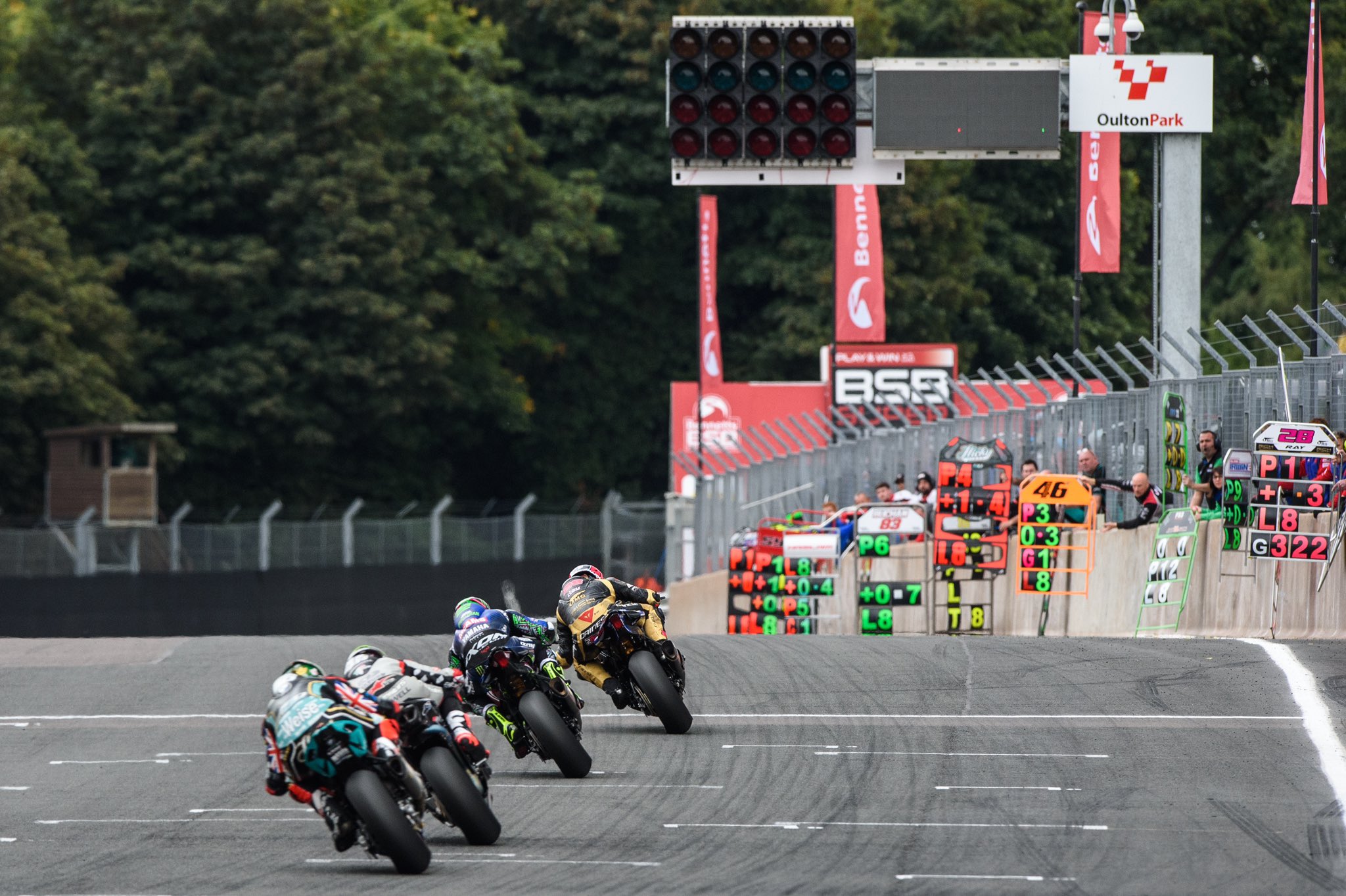 Oulton Park, Race 2 – Image Courtesy of Official BSB
Tommy Bridewell was ordered to perform a Long Lap Penalty (which is down at Hissy's chicane while you perform the slalom between the barriers) but a lap later, while entering the Hislop Chicane Tarran Mackenzie slipped off his Yamaha R1 and slid into the path of Peter Hickman. In a split second, contact was made between Hicky's BMW and Mackenzie's lower body and legs. Oulton Park, 2 – Tarran Mackenie, 0. The race was then red flagged. The Mackenzie family and McAMS Yamaha later released a statement officially ending Tarran's season due to a fractured femur, which after surgery leaves the Scottish / Derbyshire-man unfit for the remaining rounds in the 2022 season. While the medical team were dealing with Mackenzie on circuit, Bridewell gave an interview to Eurosport insinuating that he also thought O'Halloran was going too slow in the Clay Hill / Druid section and he thought the move was on.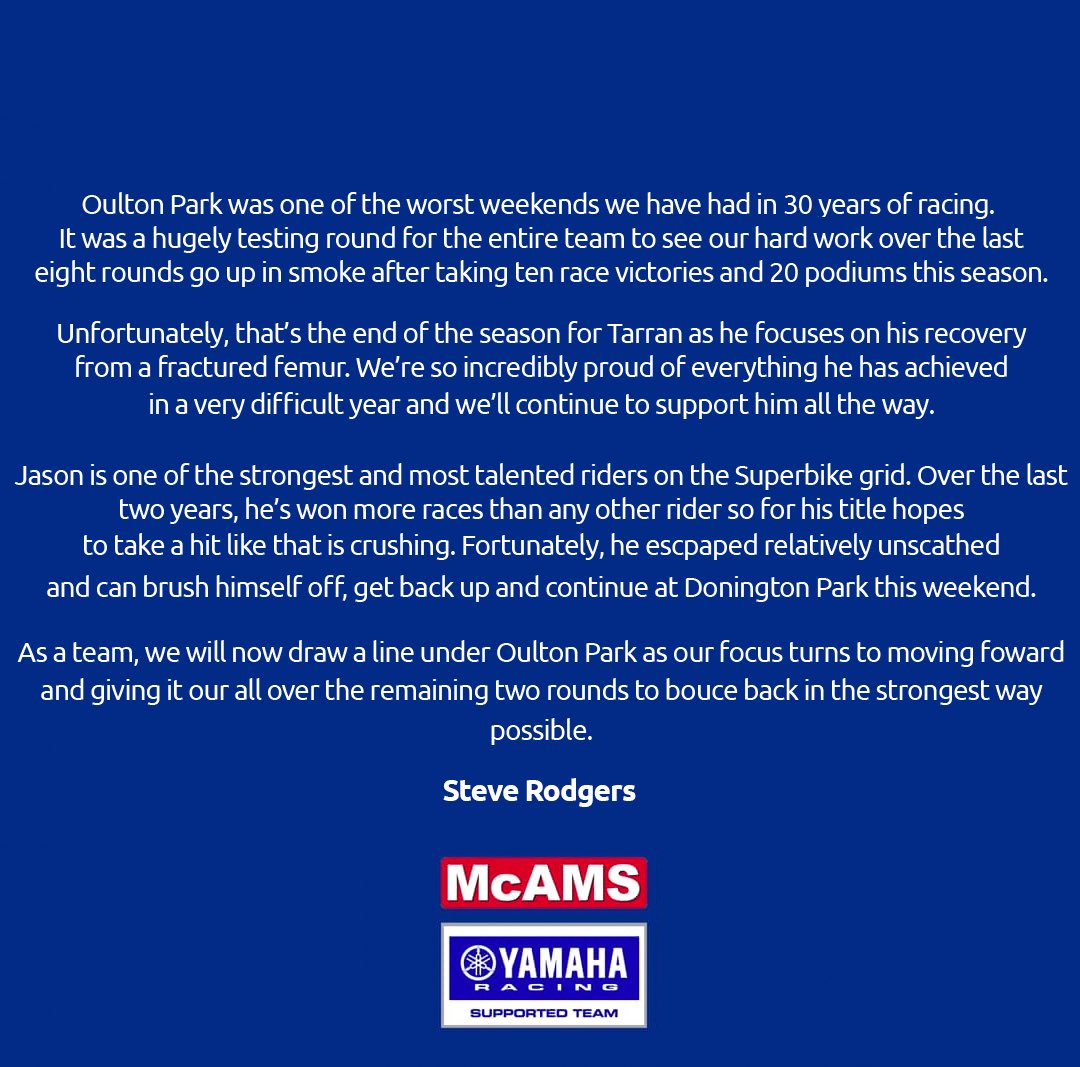 Statement from McAMS Yamaha with reference to the Oulton Park Round.
Race 2 – Start 2
Shortened to a 14-lap race and Bridewell's unserved long lap loop penalty was changed into a time equivalent, which effectively put him to the rear of the grid. Race 2 kicks off again for the second time, only for the race to be stopped again due to rider contact at Britten's Chicane a few laps later. This time it was contact between Rory Skinner, Christian Iddon and a luckless Kyle Ryde. Iddon and Ryde both a victim of 'wrong place, wrong time'. Entering the Britten Chicane, Iddon and Skinner had the same idea at the same time. Iddon lined up Ryde on the brakes into the left / right chicane and as he moved left to pull off the maneuver Skinner behind had lined Iddon up for the same move. All happening in a split second, with only a heartbeat to react Iddon realised the move wasn't on and lined up to slide in behind Ryde but Skinner had already put his own move into action. The result was Skinners FS-3 Kawasaki crashing into the rear of Iddon's Buildbase Suzuki, sending Skinners bike careering across the track to collect Ryde's Rich Energy OMG Racing Yamaha from behind, bringing down the Yamaha rider.
Unfortunately, this wasn't the end of the crash for Skinner himself. He was scooped up between the rear wheel and subframe on the Suzuki GSXR of Iddon and dragged into the back wheel. This caused Iddon's rear wheel to lock and dropped them both to the ground. Red Flag x 2. Iddon later confirmed he has a broken bone in his hand and has also been ruled out of the Donington Park round this weekend due to the sports concussion protocol. Skinner has also suffered multiple fractures in his hand and requires surgery. It is yet to be confirmed if Skinner will attend the Donington Park round or not.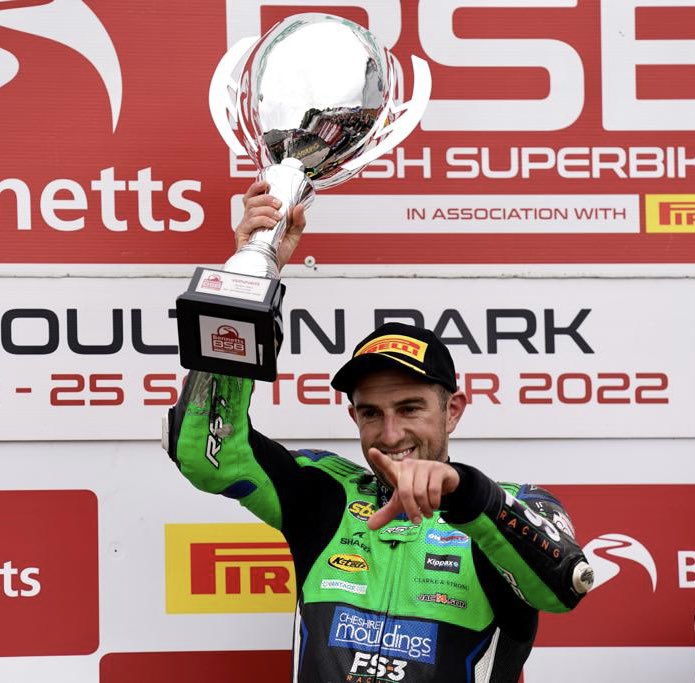 Lee Jackson. Winner of Race 2 – Image Courtesy of FS-3 Racing
Race 2 – Start 3
A relatively tame version of events, barring poor Kyle Ryde's Turn 1 slip off which can only be put down to cold tyres. In comparison to the first two attempts, the restart running to the finish was a welcome relief to everyone but the delay had affected the schedule for the remaining races of the day. After the two earlier versions, the surprise of the restart was Rich Energy OMG Racing Yamaha's Bradley Ray seemingly not having an answer for the FS-3 Kawasaki of Lee Jackson or the Oxford Products Ducati of Tommy Bridewell who took the win and second place respectively after Bridewell had made up half the grid at the restart, before the red flag, to then make up the rest of the grid on the 3rd restart. Lee Jackson returning to the winning step of the podium for the first time since his earlier win at Oulton Park back in the summer.
Race 2 Results – Jackson, Bridewell, Ray, Glenn Irwin, Buchan, Haslam, Sykes, Brookes, Andrew Irwin, Hickman, Stacey, Kent, Vickers, Takahashi, Mizuno, Jeacock, Delves. 
DNF – O'Halloran, Mackenzie, Harrison, Rouse, Ryde, Neave, Owens, Iddon, Skinner. 
Race 3
It was announced by McAMS Yamaha that a battered and bruised Jason O'Halloran would not take part in the remaining race of the day. Oulton Park, 3- Jason O'Halloran, 0. Race 3 turned out to be a very tame affair and the surprise came in the form of a battle for the win between Honda Racing UK's Glenn Irwin and Oxford Products Tommy Bridewell, with Bridewell claiming the victory. Another great result for Race 3 was the addition of Tom Sykes and his MCE Ducati making it into the top 6, not more than a handful of seconds from the winners. In race three the temperature had dropped significantly and with the news that his closest rivals weren't taking part in the remaining race, it seemed Brad Ray could also ensure he had a solid finish to a chaotic race meeting.
Race 3 Results – Bridewell, Glenn Irwin, Jackson, Buchan, Ray, Sykes, Hickman, Brookes, Ryde, Kent, Stacey, Andrew Irwin, Vickers, Haslam, Harrison, Takahashi, Rouse, Owens, Jeacock, Mizuno. 
DNF – O'Halloran (Did not Start) Mackenzie (Did not start) Delves, Neave, Iddon (Did not start) Skinner (Did not start).
The overall championship has been turned on its head. McAMS Yamaha have dropped down the order to be replaced by Tommy Bridewell, Lee Jackson and Glenn Irwin, however Bradley Ray has extended his championship lead from the 13 points he had on O'Halloran coming into Oulton Park, to 40 points over Tommy Bridewell in 2nd place overall.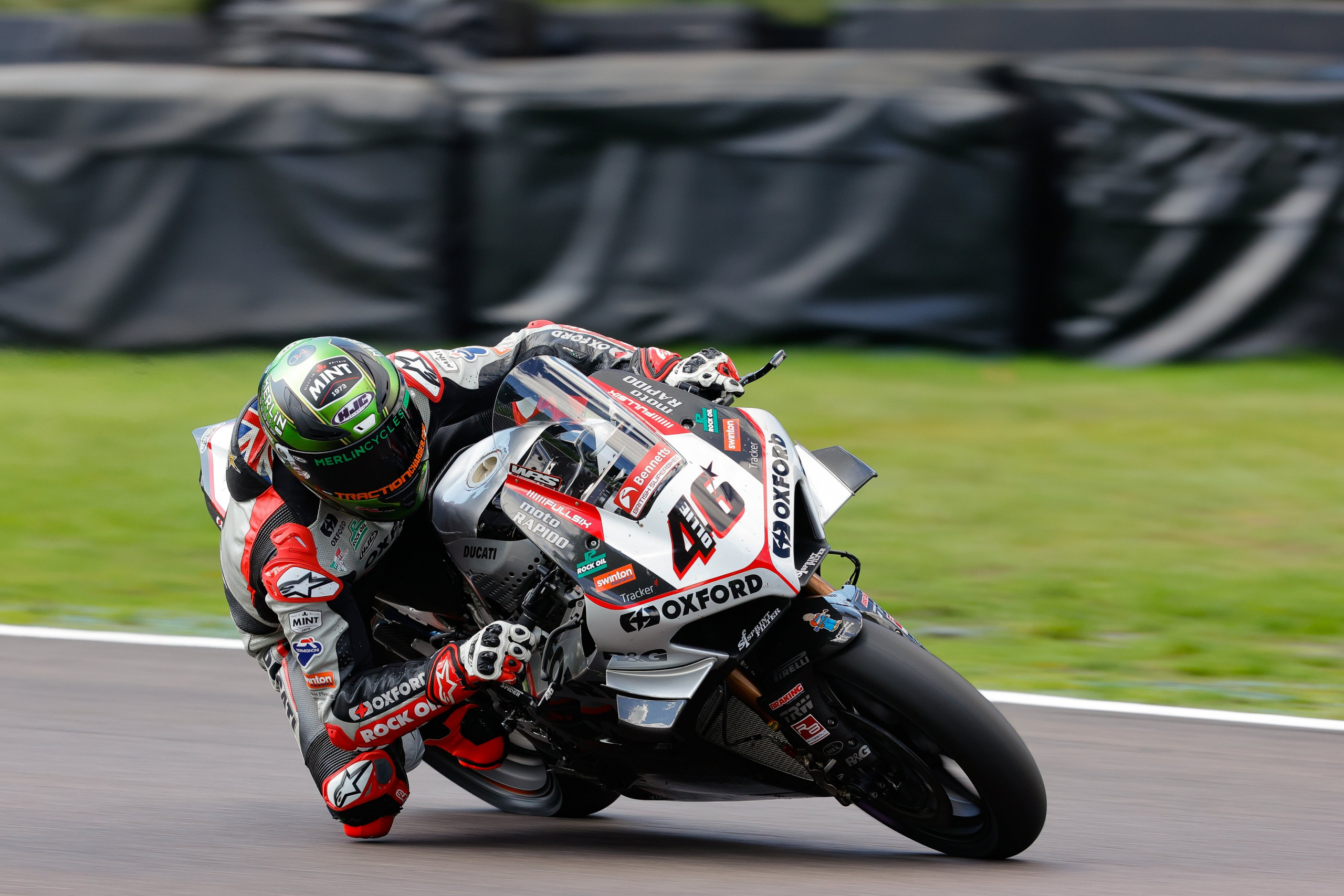 Tommy Bridewell, Oxford Products Ducati – Image courtesy of Official BSB
Donington Park this weekend. Who will take the second round of the Showdown in their stride and come out on the other side leading the championship?