The Superpole race saw Toprak Razgatlioglu (Pata Yamaha) claim the win, followed by Bautista (Aruba.it Ducati) and Rea (KRT Kawasaki) respectively.
With the track temperature nearing 40 degrees Celsius for race 2, the action on track would surely be heating up too.
Lights out for race 2, and it was Toprak with the hole shot into turn 1, followed closely by Bautista and Rea. As was the case in race 1, Bautista used the power of the Ducati to blast into the lead down the back straight, Toprak didn't have an answer. Then Rea dived into 2nd place, looking aggressive early on. Lowes (KRT Kawasaki) got pushed out wide, and dropped down into 6th. Then massive drama as Rea took out the championship leader, sending Bautista flailing into the gravel. Rea caught him on the inside into turn 13, and the two bikes bumped into each other. There was nothing Bautista could do about that, and his race was over.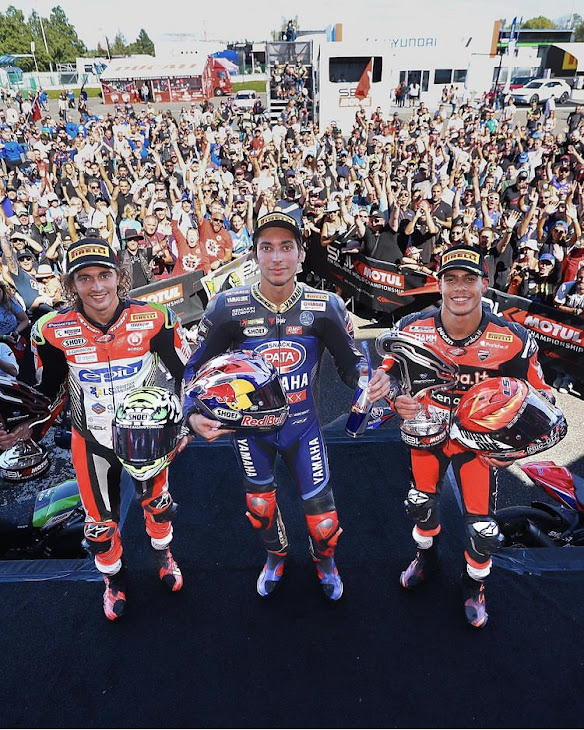 Next lap and positions were as follows: 1. Toprak 2. Bassani (Motocorsa Ducati) 3. Rea 4. Rinaldi (Aruba.it Ducati) 5. Lowes. Then Bassani takes the lead making a great move on Toprak, and sets the new fastest lap of the race with a 1:37.000. Positions were changing, by numerous riders, every corner in a chaotic start to the race.
With 17 laps remaining, Rea got a long lap penalty for the incident with Bautista. Positions were as follows: 1. Bassani 2. Toprak 3. Rinaldi 4. Lowes 5. Rea 6. Redding (BMW Motorrad) 7. Baz (Bonovo Action BMW) 8. Locatelli (Pata Yamaha) 9. Gerloff (GRT Yamaha) 10. Lecuona (Honda HRC).
With 15 laps left, Bassani was having one of his best races of the season so far, and doing his best at keeping the world champion at bay behind in 2nd. The leading trio of Bassani, Toprak and Rinaldi had now pulled away from the rest. Rea took his penalty, and rejoined in 7th, in front of Baz 8th and Gerloff in 9th. The gap from Rinaldi in 3rd to Lowes in 4th was 1.2s, and Lowes held a gap of 1.4s to Redding behind in 5th. Rinaldi then makes an audacious move and moved from 3rd into the lead, taking both Bassani and Toprak. Toprak snapped back and took 2nd, while Bassani got forced into 3rd.
With 13 laps to go, Lowes had clawed his way back onto the leading group. Rea had moved up to 6th, and was in front of Locatelli in 7th.
Next lap and Vierge (Honda HRC), went down into turn 13, his race was over. Rinaldi was holding his own out in the lead, and so far was managing to keep Toprak at bay. Toprak however, was getting quicker lap by lap, and set a new fastest lap of 1:36.8. Bassani held a gap of 0.4s to Lowes behind in 4th. Meanwhile further back it was Mahias (Puccetti Kawasaki) 12th, and Nozane (GRT Yamaha) 14th.
Just over half race distance, and Redding in 5th held a gap of 1.7s to Rea in 6th.  Bassani was struggling to keep contact with Rinaldi and Toprak, both had pulled away.
With 8 laps to go, Toprak eventually made his move, and came through on Rinaldi to retake the lead.
With 6 laps remaining, Toprak had pulled out the gap to 0.4s to Rinaldi, who then ran too hot into turn 11, the Chicane, running straight through, and losing time in the process. The gap to Toprak in the lead was now up to 0.8s.
Next lap and Rea moved up into 5th after Redding ran wide. Further back there was a three way battle for 7th between Locatelli, Gerloff 8th and Baz 9th.
With 3 laps to go, Toprak now held a gap of 0.7s to Rinaldi in 2nd, Bassani was in 3rd, Lowes 4th, and Rea in 5th.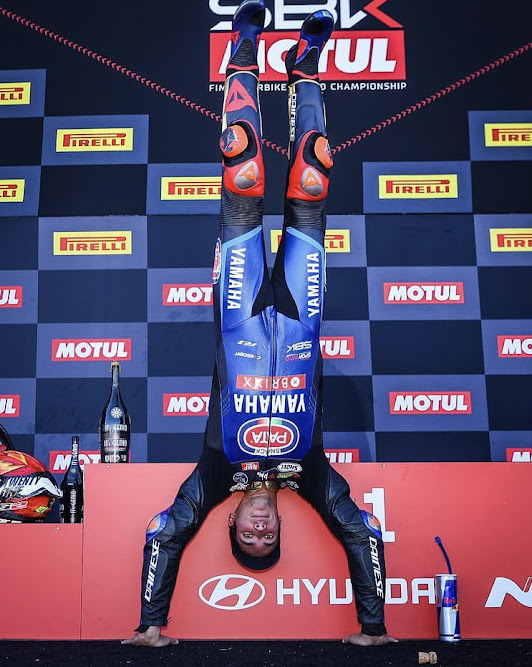 Last lap, and Toprak crossed the line to take his 2nd win of the weekend. Rinaldi took 2nd, and Bassani took 3rd, to claim his 2nd podium of the weekend. Lowes 4th, Rea 5th, Redding 6th, Locatelli 7th, Gerloff 8th, Baz 9th, and Lecuona 10th.
Result top 5:
Razgatlioglu (Pata Yamaha)
Rinaldi (Aruba.it Ducati)
Bassani (Motocorsa Ducati)
Lowes (KRT Kawasaki)
Rea (KRT Kawasaki)
Championship top 3:
Bautista – 332
Razgatlioglu – 302
Rea – 285