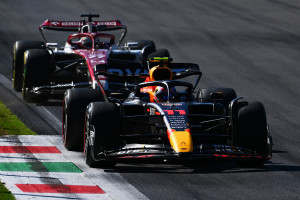 Max Verstappen secured his fifth victory in a row and his eleventh this season to spoil the Ferrari party at Monza, despite starting in seventh after receiving an engine penalty.
The Red Bull driver and reigning champion was able to make his strategy work superbly, finishing ahead of Ferrari's Charles Leclerc and Mercedes' George Russell, with the race finishing behind the safety car after Daniel Ricciardo's late retirement.
But once again the story at the front of the race was about the dominance of Red Bull and Max Verstappen. He was over 15 seconds ahead of Leclerc before the safety car was deployed, and now moves level with Nigel Mansell in joint-seventh on the all-time winners list with 31 victories. Verstappen is now 116 points ahead of Leclerc, and can now secure the championship at the next race in Singapore.
Verstappen started moving up the field straight away, getting a good start to take fifth into turn one, later overtaking Gasly into Ascari, and Ricciardo on the run down the start-finish straight to take third on lap two. George Russell tried to take the lead around the outside into the first chicane, but was never far enough alongside to make it work and had to take to the escape road.
It was clear Russell wouldn't be able to hold onto second for long, and by lap five Verstappen had made his way up into second place. Things stayed that way until lap twelve, when a retirement for Sebastian Vettel caused a virtual safety car, and Ferrari gambled on bringing Leclerc in from the lead, putting him on to a new set of medium tyres.
The original plan was to keep him on these until the end of the race, but it became clear after Verstappen's stop on lap 25 that Leclerc would not have the pace to take the victory on this strategy. Ferrari brought Leclerc in for fresh softs on lap 33, but had barely gained any time on Verstappen by the time the safety car was deployed for Ricciardo's retirement.
The Australian had spent most of the race at the head of a DRS train, with the overtaking aid being relatively ineffective here due to the low-drag setups used by the teams.  The only driver who seemed to be able to make any moves in the train in the opening stages was Carlos Sainz, overtaking cars lap after lap into the Rettifilo chicane to move into fourth by lap 20. Sergio Perez and Lewis Hamilton, who also started further back, didn't have as much luck at moving through the field in the early stages. Mercedes' lack of straight line speed meant Lewis spent many laps behind Yuki Tsunoda, whereas Perez pitted on lap seven for fresh hard tyres, with the Mexican's brakes catching fire as he exited the pits. Thankfully though, he was able to continue.
Hamilton had much more luck overtaking in his second stint, with the Brit able to move onto the soft tyres rather than the hards after superbly looking after the mediums in the first half of the race. One particular highlight was a switchback on Lando Norris and Pierre Gasly out of the Rettifilo as the two cars focused on each other – a situation that Norris wouldn't have found himself in if it wasn't for a slow pitstop. Hamilton ended up fifth after Perez pitted late on for soft tyres, with the Red Bull coming home sixth with the fastest lap.
Norris ended up recovering to finish best of the rest once again in seventh place, as McLaren look to close in on Alpine for fourth in the championship. It was a bad day for the French outfit, with Esteban Ocon failing to score, and Fernando Alonso retiring on the day he equaled Kimi Raikkonen as the most experienced Formula One driver of all time. Haas and Aston Martin also failed to score points, with Stroll joining Vettel in retirement, whereas Haas once again struggled with pace on a low downforce circuit.
Pierre Gasly came home in eighth, with Nyck de Vries superbly holding on to tenth (which became ninth after Ricciardo's retirement). The former F2 and FE champion soaked up the pressure that was being applied from Zhou Guanyu throughout the race – and perhaps gave Williams something else to think about as they look to lock in their driver line-up for 2023. It is possible that we will see de Vries again in Singapore, depending on how quickly Albon recovers from his appendectomy. Zhou did take the final point for tenth, scoring his and Alfa Romeo's first points since the Canadian GP in June.
A season which promised so much in terms of a title battle seems to be ending in a dominant display. Verstappen will surely become a two-time world champion, and with regulations remaining stable until 2026, he could well add many more to that tally. Winning this season is obviously his main goal, but the record of thirteen wins in a season (currently held by Michael Schumacher and Sebastian Vettel) has never looked more fragile.