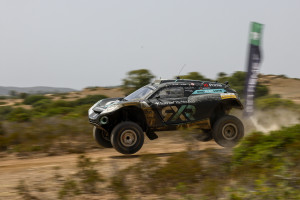 Image courtesy of Extreme E
Rosberg X Racing (RXR) topped Extreme E qualifying for the first time in their history in Sardinia. The German team beat X44, who had qualified fastest in every round prior to this week.
Qualifying 1
RXR were first to set a time in Qualifying 1. Drivers Mikaela Ahlin-Kottulinsky and Johan Kristofferson both put in quick laps with little drama. They set a benchmark time of 9:13.966
That time would not be beaten the entire session, however, as several other teams had issues.
Veloce and McLaren both suffered front right suspension failures and neither team were able to complete their runs. This meant they picked up 0 intermediate classification points for Qualifying 1.
Chip Ganassi's bad luck continued as technical issues in the switch zone prevented Kyle Leduc from completing their run. Technical issues for Chip Ganassi were a common theme across Season 1 of Extreme E.
X44's run was eventful too. Loeb was very quick on his lap, and the team looked close to challenging RXR's time. Loeb might have been pushing too hard, however, as his rear right tyre got a puncture. He limped home and changed it in the switch zone as Gutierrez got into the car. Gutierrez completed the run, securing 4 crucial classification points.
Qualifying 1 Classification
RXR 9:13.966  10 Points
Acciona Sainz +11.893  9 Points

Andretti United +13.011  8 Points

ABT Cupra +15.744  7 Points

Xite Energy +18.516  6 Points

JBXE +30.460  5 Points

X44 +2:07.008  4 Points

McLaren +1 Lap  0 Points

Chip Ganassi +1 Lap  0 Points

Veloce +2 Laps  0 Points
Qualifying 2 Heat 1
The first heat in Qualifying 2 was made up of RXR, Andretti United, Xite Energy, X44, and Chip Ganassi.
When the lights went out Kristofferson for RXR and Munnings for Andretti got off the line well, and RXR led Andretti into the first checkpoint.
Further back, Chip Ganassi and Xite Energy were having a good battle, with X44 just behind. Then, Chip Ganassi's day turned from bad to worse, as another technical issue saw them grind to a halt.
After all the remaining teams had been into the switch zone there was drama at the part of the track Chip Ganassi were stopped in. To allow the racing to continue, race control had put in a slow zone in that area, meaning teams had to enable their pit limiters and could not overtake.
It appeared, however, that X44 had closed in on Andretti United, and overtook them in the slow zone. At the time of writing, X44 are under investigation for the overtake, whilst Andretti United are being investigate for speeding in the slow zone.
The heat ended with RXR crossing the line first, securing them top spot in qualifying. X44 had also overtaken Xite Energy after the slow zone, with Andretti being the last of the finishers.
Qualifying 2 Heat 1 (provisional) Classification 
RXR  10 Points
X44  8 Points
Xite Energy  6 Points
Andretti United  4 Points
Chip Ganassi  2 Points
Qualifying 2 Heat 2
The remaining five teams (Acciona Sainz, Veloce, McLaren, JBXE, and ABT Cupra) competed in Qualifying 2.
On the whole it was a much calmer affair than the first heat, although not without some potential penalty drama of its own.
Acciona Sainz led from start to finish, securing them an extra 10 classification points, and second placed qualifiers.
It was in the switch zone that most of the action happened. Coming in, McLaren held second place, with Veloce 12 seconds behind. As the teams left the switch zone, however, Veloce had caught up and overtaken McLaren, prompting an investigation into a potential Veloce early release and speeding. At the time of writing the investigation has not been concluded.
Qualifying 2 Heat 2 (provisional) Classification
Acciona Sainz  10 Points
Veloce  8 Points
McLaren  6 Points
JBXE  4 Points
ABT Cupra  2 Points
Overall Qualifying Classification:
RXR  20 Points

Acciona Sainz  19 Points

X44  12 Points

Andretti United  12 Points

Xite Energy  12 Points

ABT Cupra  9 Points

JBXE  9 Points

Veloce  8 Points

McLaren  6 Points

Chip Ganassi  0 Points
RXR topped qualifying, closely followed by Acciona Sainz. Qualifying masters X44 scraped third after a difficult qualifying 1. Chip Ganassi's woes continued for another weekend.
Into the races tomorrow RXR will compete in the first semi final against Andretti United and Xite Energy, whilst Acciona Sainz will compete against X44 and ABT Cupra for a place in the final.
JBXE, Veloce, McLaren, and Chip Ganassi will race against each other in the Crazy Race for the fifth and final place in the final.