After running inside the top five for the first two stages, Daniel Suárez controlled the race at the front for the final stage, holding off challenges from Chris Buescher and Kevin Harvick for the final 40 laps before pulling a four second lead heading to the chequered flag to get his first NASCAR Cup Series victory by winning the Toyota/Save Mart 350 at the Sonoma Raceway road course on Sunday.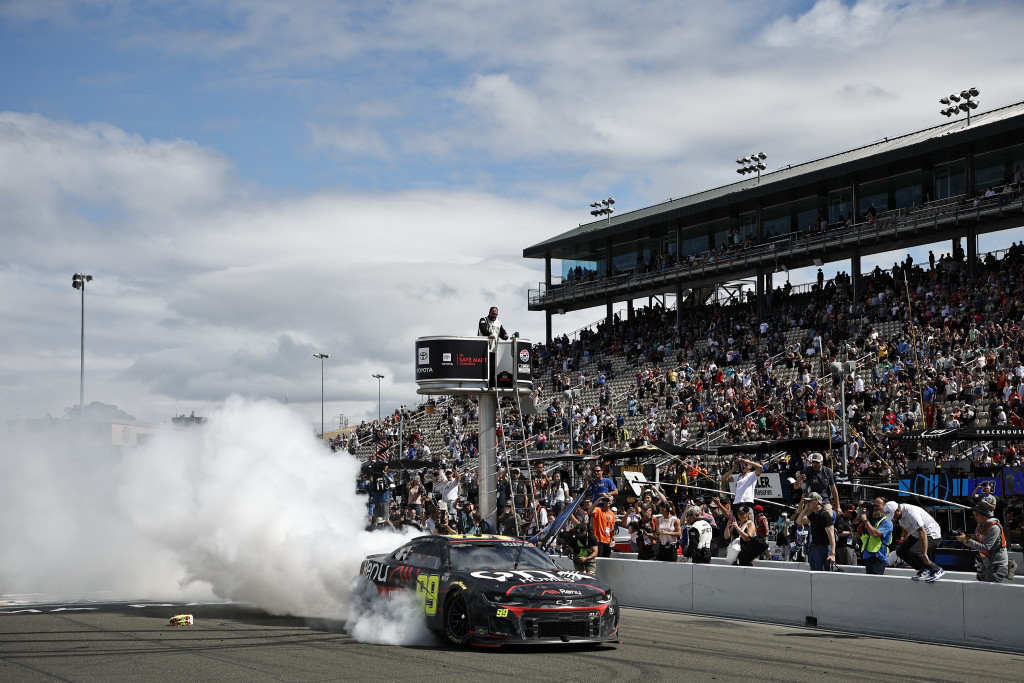 This was Suárez's 195th career start in the Cup Series and his sixth season since joining the top division in 2017. Born in Monterrey, Mexico, Suárez becomes the first Mexican driver to win a NASCAR Cup race and joins the likes of Juan Pablo Montoya, who won the 2007 Cup race at Sonoma Raceway in his rookie year, in being the fifth foreign driver to win a Cup race.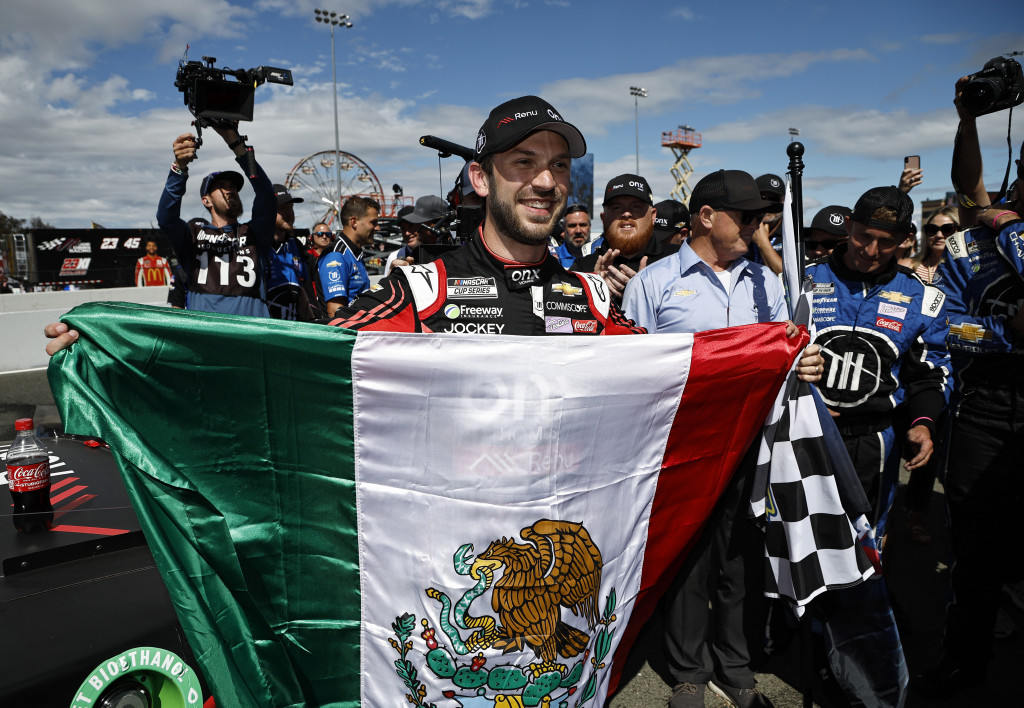 Suárez also joins Austin Cindric, Ross Chastain and Chase Briscoe in becoming the fourth first-time winner in the Cup Series in 2022.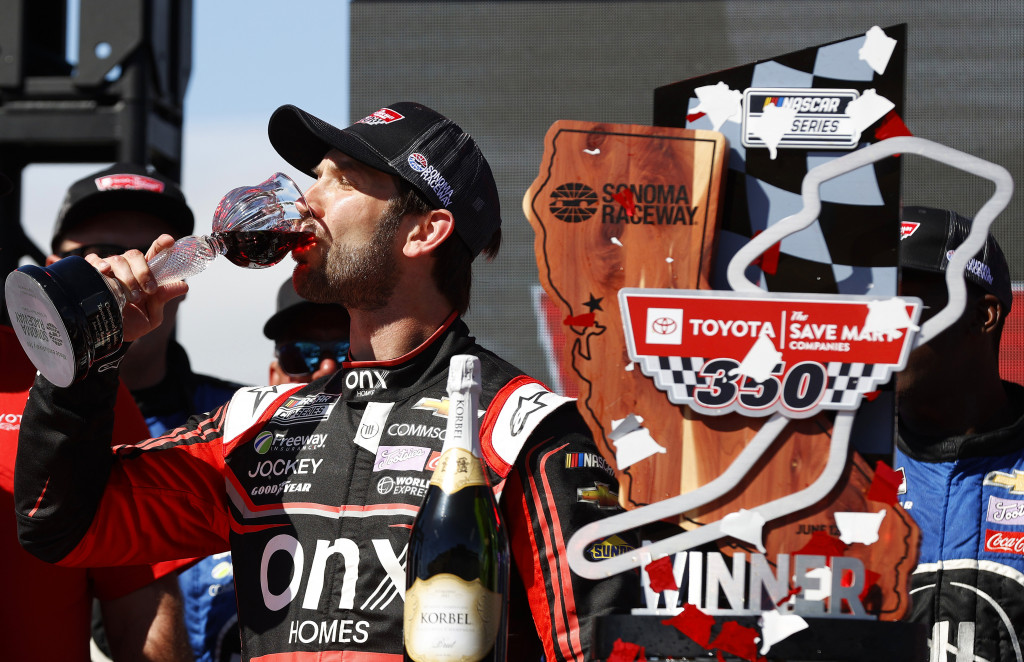 Speaking to FOX's Jamie Little Suárez said: "A lot of people in Mexico, my family, they never gave up on me, a lot of people did but they didn't. This is the first one of many." Suárez was Trackhouse Racing's first driver in the Cup Series when they entered in 2021 after buying Chip Ganassi's NASCAR operation.
For Chris Buescher and Kevin Harvick, both had opportunities in the final stage to take the lead away but were unable to find a way past the No. 99 Trackhouse Racing Chevrolet. Buescher, who was unable to race last week at WWT Raceway due to testing positive for Covid, had initially led the start of stage three but went wide at both turns four and seven and would drop back to fourth, handing the lead to Suárez.
Harvick moved up to second and was pressuring Suárez in what was a three-car battle for the lead for two laps before Buescher dived down the inside of Harvick in turn 11 to retake second.
On a restart with 23 laps to go, Suárez got a great launch over Buescher, but four laps later had to go defensive into turn 11 to cover Buescher off. With Buescher appearing unwilling to use the bumper with over 15 laps to go, Buescher would then proceed to slip back reporting he had weak forward drive and with five laps to go, Suárez had built a five second lead over him.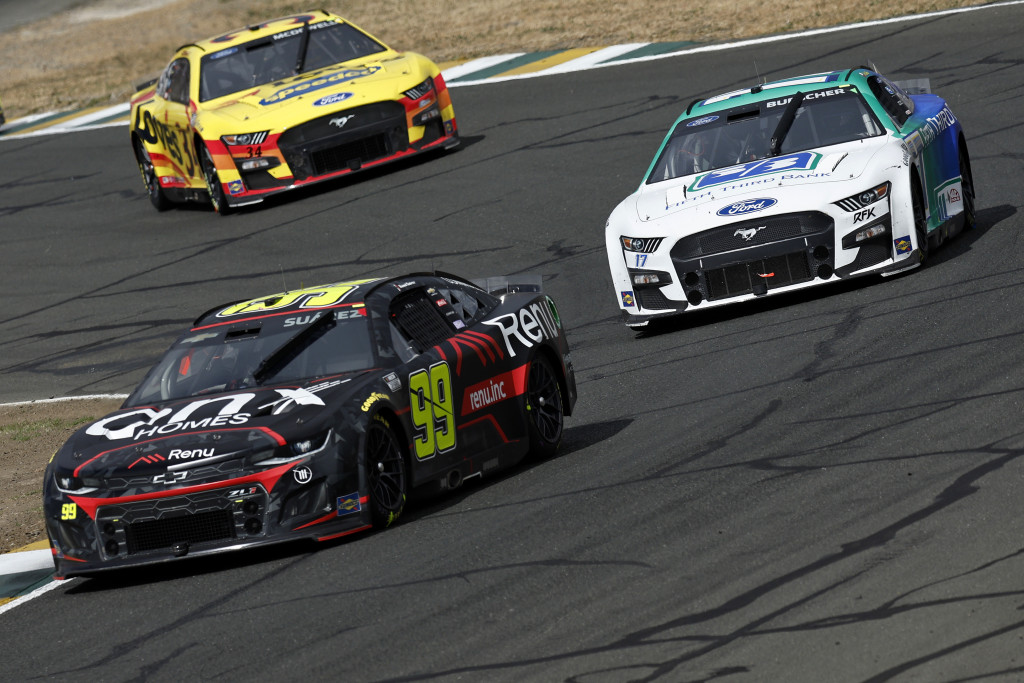 Talking to FOX, Buescher said: "I'm just disappointed with myself, didn't get the job done there when it counted." Both Buescher and Harvick were looking for their first win of the season.
Suárez smashed a taco piñata in celebration.
Suárez was not looking to be the race favourite as that went to Hendrick drivers Kyle Larson and Chase Elliott, as Larson and Elliott have dominated the road courses in recent years, but due to poor execution on pit road resulting in penalties, Larson would only manage 15th while Elliott finished eighth.
Kyle Larson was the reigning race winner and led the field to green before leading all 25 laps of stage one. Larson chose to go for the stage win instead of pitting for tyres and fuel prior to the end of stage one and would consequently start 24th. In the 2021 race, Larson was able to work his way to the front in stage two, but was only up to 14th when he and everyone pitted again.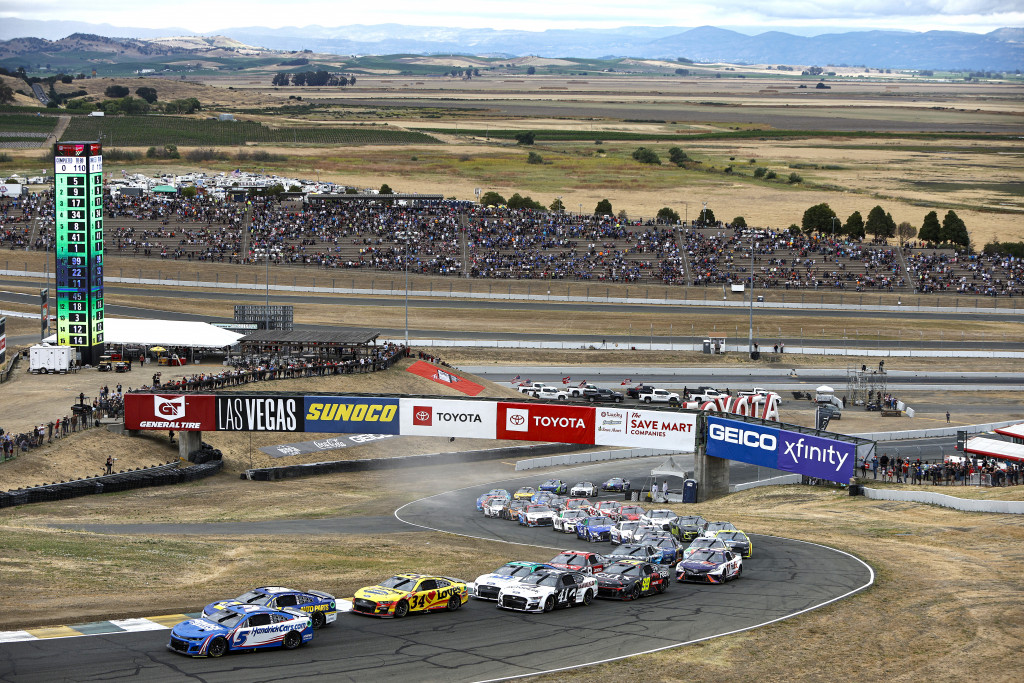 On the final pit stop with 28 laps to go, Larson's crew would fail to get the front right tyre secured and instead Larson's tyre came off the car in turn two after exiting the pits bringing out the caution and ending any hopes of a race win. His crew chief Cliff Daniels, and two crew members were all given a four-race suspension for the incident.
Elliott had ran inside the top three in stage one, only getting overtaken by Buescher for second with four laps to go in the stage before giving up stage points and pitting in exchange for a good starting spot for stage two. Elliott led most of stage two with Buescher following him and at one point had an eight second lead over then third place Suárez.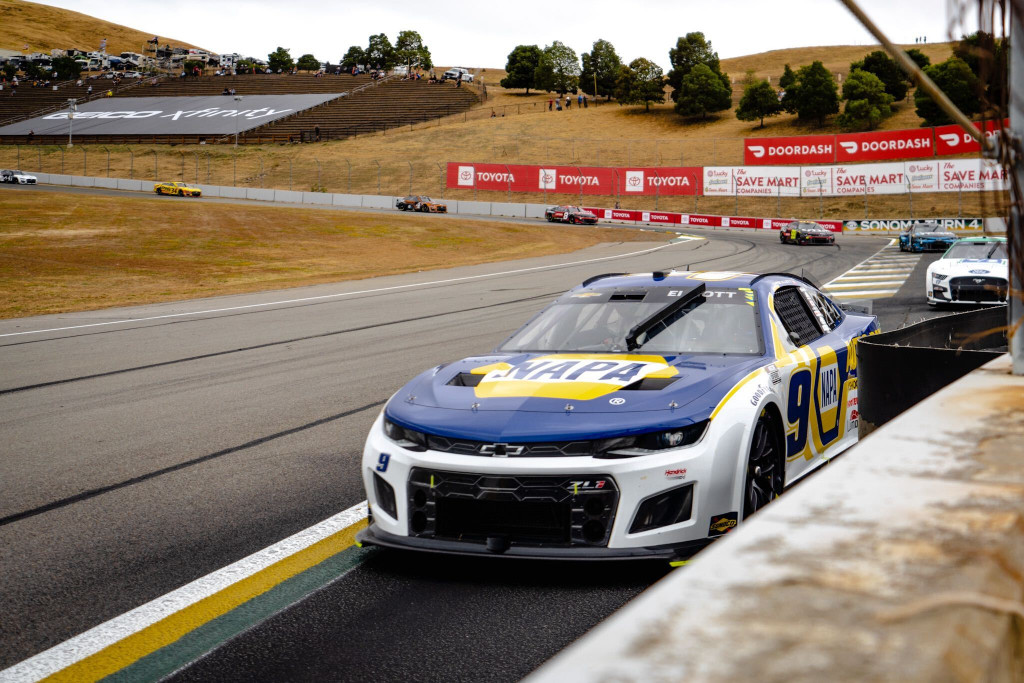 In Elliott's pit stop sequence at the end of stage two, disaster struck when Elliott was called back to the pit box by crew chief Alan Gustafson for having a loose left rear wheel but failed to get his car fully inside the box and instead the team serviced his car resulting in a costly penalty that saw Elliott start from the rear of the field for the final stage.
Elliott however was successful in delivering Hendrick Motorsports its 100,000 mile in leading Cup races during stage two. They are the first organization to reach the milestone.
Road course veteran Michael McDowell would finish third in the end after qualifying fourth and moving up to third in the opening laps before fighting amongst the top ten for the majority of the race.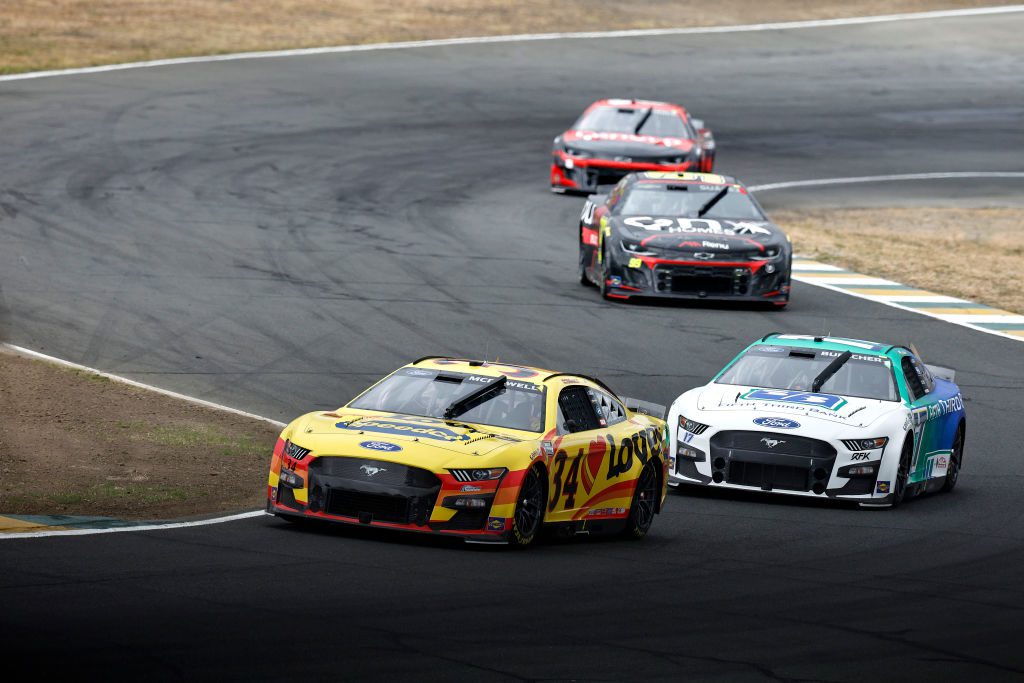 Apart from Larson's loose wheel, the only other cause for caution came on lap 10 when Bubba Wallace's engine let go.
After already spinning out in stage one, Erik Jones during stage two spun out trying to pass on the inside entering turn seven. Suárez's Trackhouse Racing teammate Ross Chastain then performed a carbon copy of it a few laps trying to pass Suárez and fell back from fourth to seventh. Chastain had ran ahead of Suárez in third earlier in the stage.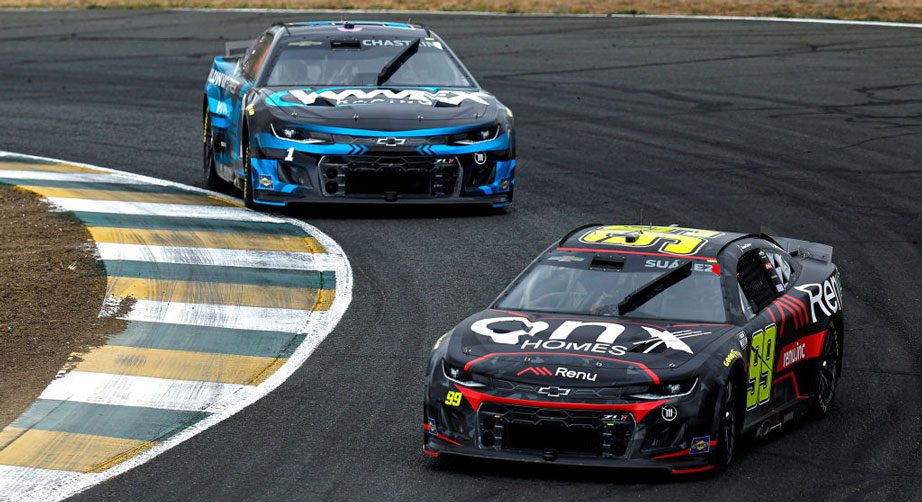 Joey Logano, after concluding they didn't have a race winning car, decided to stay out at the end of stage two to bag a stage win and a playoff point. Logano fired off 24th at the start of stage three and finished 17th.
AJ Allmendinger had an incredible afternoon as despite having lost power steering early on in the race, he broke into the top 10 inside of 20 laps to go. Allmendinger risked bringing out the caution with two laps to go when he went off in turn three, the sight visible to "Daniel's Amigos" who had been cheering Suárez on every lap, but Allmendinger got going, and the race stayed green until Suárez took the chequered flag.
FOX's Mike Joy said: "You've got to love it when nice guys finish first."
The FOX Deportes broadcast team enjoyed the win too!
The NASCAR Cup Series returns in two weeks time when they race at Nashville Superspeedway in the Ally 400.
Full race results: 1st Daniel Suárez, 2nd Chris Buescher, 3rd Michael McDowell, 4th Kevin Harvick, 5th Austin Cindric, 6th Ryan Blaney, 7th Ross Chastain, 8th Chase Elliott, 9th William Byron, 10th Brad Keselowski, 11th Austin Dillon, 12th Justin Haley, 13th Chase Briscoe, 14th Aric Almirola, 15th Kyle Larson, 16th Alex Bowman, 17th Joey Logano, 18th Kurt Busch, 19th AJ Allmendinger, 20th Joey Hand, 21st Cole Custer, 22nd Erik Jones, 23rd Ty Dillon, 24th Todd Gilliland, 25th Ricky Stenhouse Jr., 26th Martin Truex Jr., 27th Christopher Bell, 28th Harrison Burton, 29th Josh Bilicki, 30th Kyle Busch, 31st Denny Hamlin, 32nd Cody Ware, 33rd Scott Heckert, 34th Corey Lajoie, 35th Tyler Reddick, 36th Bubba Wallace
Stage 1 results: 1st Kyle Larson, 2nd Joey Logano, 3rd Kyle Busch, 4th Justin Haley, 5th Aric Almirola, 6th Harrison Burton, 7th Josh Bilicki, 8th Kurt Busch, 9th Ricky Stenhouse Jr., 10th Cody Ware.
Stage 2 results: 1st Joey Logano, 2nd Aric Almirola, 3rd Chris Buescher, 4th Daniel Suárez, 5th Kevin Harvick, 6th Todd Gilliland, 7th Harrison Burton, 8th Michael McDowell, 9th Ricky Stenhouse Jr., 10th Ryan Blaney.
Featured Image: Daniel Suárez , driver of the #99 Onx Homes/Renu Chevrolet, celebrates in victory lane after winning the NASCAR Cup Series Toyota/Save Mart 350 at Sonoma Raceway on June 12, 2022 in Sonoma, California. (Photo by Chris Graythen/Getty Images)