NASCAR is returning to the legendary 0.625-mile North Wilkesboro Speedway as part of its 75th anniversary to run its All-Star Race where the winner will take home $1 million dollars.
North Wilkesboro Speedway
Format
Heat races
All-Star Open lineup
All-Star Race lineup
Drivers to watch
Notable paint schemes
Located in the heart of NASCAR country, Wilkes County, NASCAR, Marcus Smith's Speedway Motorsports Incorporated and the local community have spent the last year restoring North Wilkesboro Speedway to its former glory while making it a venue fit for a modern day NASCAR Cup Series race after the track was abandoned by NASCAR in 1996 in pursuit of furthering national expansion efforts beyond the Southeast into it's schedule to grow regional markets.
NASCAR has now come home though, returning to its roots in what many are calling the 'Field of Dreams of Racing'.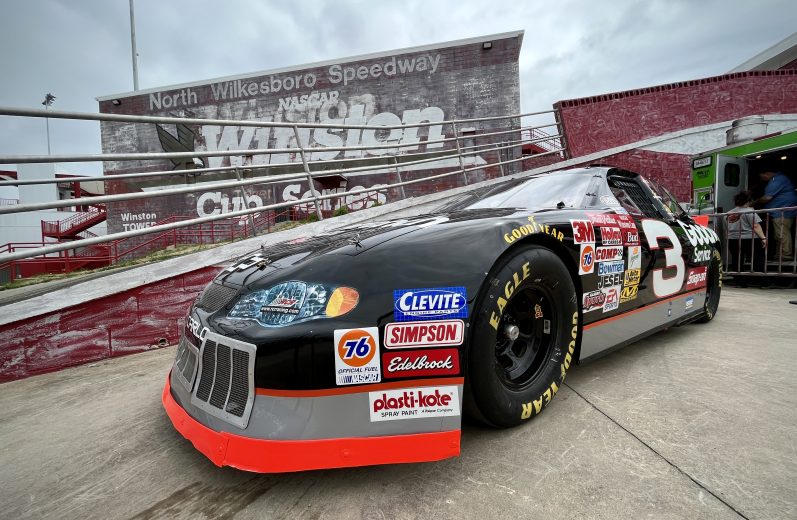 New grandstands have been built, a freshly repaved pit road has been put down, and the cracks in the asphalt filled in. Surrounding this though still is much of its history, with old signage including the original scoreboard have remained in place and the original walls and buildings also kept wherever possible including the famous NASCAR Winston Cup Series wall.
The track has been described as a cheese grater by the drivers who have teared around the half mile track of dreams so far this week such as in the CARS Tour Late Model race on Wednesday, the NASCAR Truck Series 250-lap race on Saturday, and during the various practice sessions.
Format
Sunday night's All-Star Race will consist of 200 laps with a break at 100 laps while the 100-lap All-Star Open race being run prior to decide the final three spots to make up the 24 car field for the All-Star Race.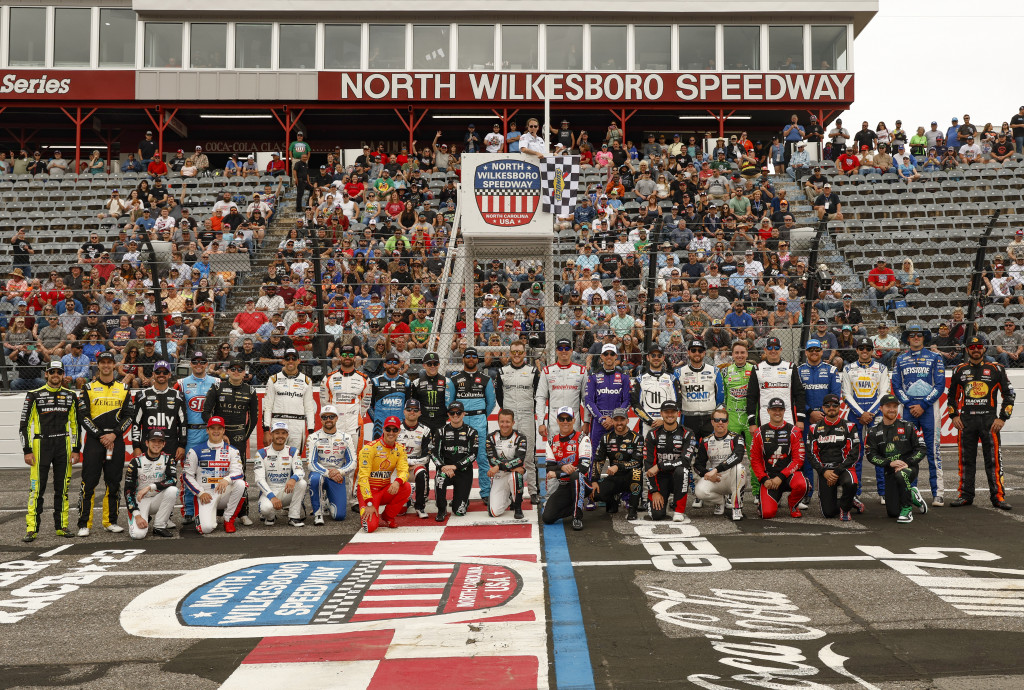 The green flag for the 100-lap All-Star Open will fly at 5:30pm ET while the All-Star Race will begin at 8pm ET.
In the All-Star Open there will be a competition break around lap 40. The top-two finishers will advance to the All-Star Race as well as the fan vote driver (the driver from the All-Star Open who received the most fan votes to advance to the All-Star Race).
For the All-Star Race, there are three sets of sticker tyres allocated to each team in addition to the sticker set they start on. Strategy will come into play in when to and when not to take tyres due to the high falloff with over a second a falloff being seen in the lap times in a matter of laps around the historic half mile.
To complicate matters further, only one additional set of sticker tyres can be used following the competition break.
Eligibility to be locked into the All-Star Race is if a driver is a previous champion of the sport or previous All-Star Race winner that is currently competing full-time, or has won a Cup Series points paying race in the 2022 or 2023 season.
The Grand Marshals for the  All-Star Race will be seven-time Cup champion Richard Petty and three-time Cup cahmpion Darrell Waltrip who combined have won 25 Cup races at North Wilkesboro, Petty 15 to Waltrip's 10.
The Honorary Starter will be Ray Evernham, three-time Cup Series champion crew chief.
The Honorary Pace Car Driver will be Jeff Gordon, four-time Cup Series champion driver who won the very last Cup race at North Wilkesboro Speedway in 1996.
The track itself sees 13 degrees of banking in both turns one and two, and three and four ,with the a downhill frontstrectch and an uphill backstretch.
Heat races
The starting lineup for the All-Star Race was decided in Saturday night's two 60-lap heat races with heat race one determining the inside row lineup and heat race two the outside.
Daniel Suarez won heat one in damp conditions to start on pole for the All-Star Race while Chris Buescher led every single lap of heat two that a saw a switch onto rain tyres on lap 25, to start alongside the Mexican.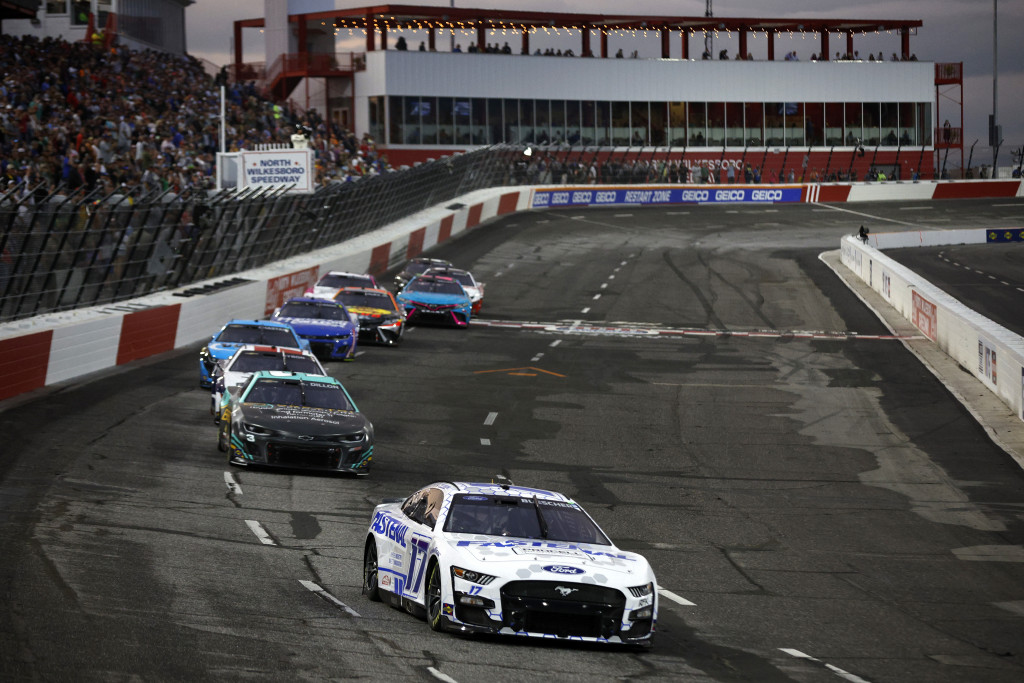 All-Star Open Lineup
Friday's Pit Crew Challenge won by the Ty Gibbs No. 54 Joe Gibbs Racing Team determined the starting lineup for the heat races as well as the All-Star Open, with Gibbs securing the pole for the All-Star Open due to not being locked into the main event.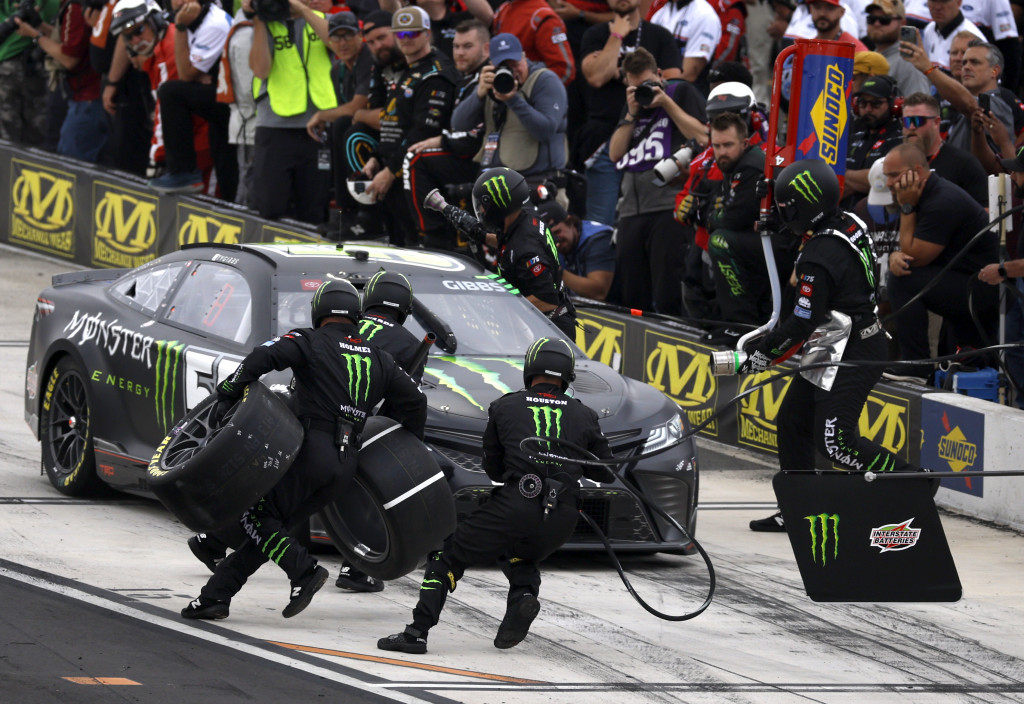 The All-Star Open lineup is as follows.
Position
Driver
1st
Ty Gibbs
2nd
Josh Berry
3rd
Corey LaJoie
4th
Harrison Burton
5th
Justin Haley
6th
Michael McDowell
7th
Todd Gilliland
8th

9th

10th

11th

12th

13th

14th

15th

16th

Ryan Preece

Aric Almirola

AJ Allmendinger

Josh Bilicki

Ty Dillon

Chandler Smith

Ryan Newman

Noah Gragson

JJ Yeley
All-Star Race Lineup
The first 21 of 24 positions with the final three to come from the All-Star Open are as follows.
*Josh Berry won the All-Star Open with Ty Gibbs being the runner up. Noah Gragson won the Fan Vote. All three advance through to the All-Star Race. Berry, Gibbs, and Gragson, will start 22nd, 23rd, and 24th respectively.
Position
Driver
1st
Daniel Suarez
2nd
Chris Buescher
3rd
Joey Logano
4th
Austin Dillon
5th
Chase Briscoe
6th
William Byron
7th
Christopher Bell
8th

9th

10th

11th

12th

13th

14th

15th

16th

17th

18th

19th

20th

21st

Brad Keselowski

Denny Hamlin

Bubba Wallace

Ryan Blaney

Martin Truex Jr.

Chase Elliott

Kyle Busch

Kevin Harvick

Kyle Larson

Austin Cindric

Ross Chastain

Ricky Stenhouse Jr.

Tyler Reddick

Erik Jones
Drivers to watch
Kevin Harvick and Kyle Larson have both won two All-Star Races, in 2007/2018 and 2019/2021 respectively and with Kyle Larson winning the 250-lap NASCAR Truck Series race at North Wilkesboro in dominating fashion leading over half the laps, he is one of the favourites to make it a third All-Star Race win.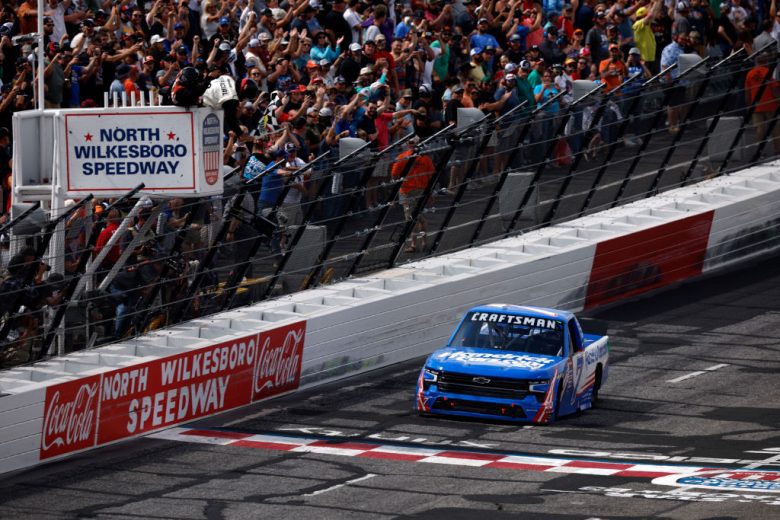 Kyle Larson was joined by four other Cup regulars for Saturday's truck race, in Chastain, Bell, Wallace and Hendrick Motorsports teammate Byron.
They all saw action at the front, most notably Bell and Larson charging through the field together to the front in stage one, Larson and Byron duelling for the lead in the final stage, and Larson passing Wallace, who was on older tyres inside of 20 laps to go, and holding him off in an overtime finish, to go onto the win the race.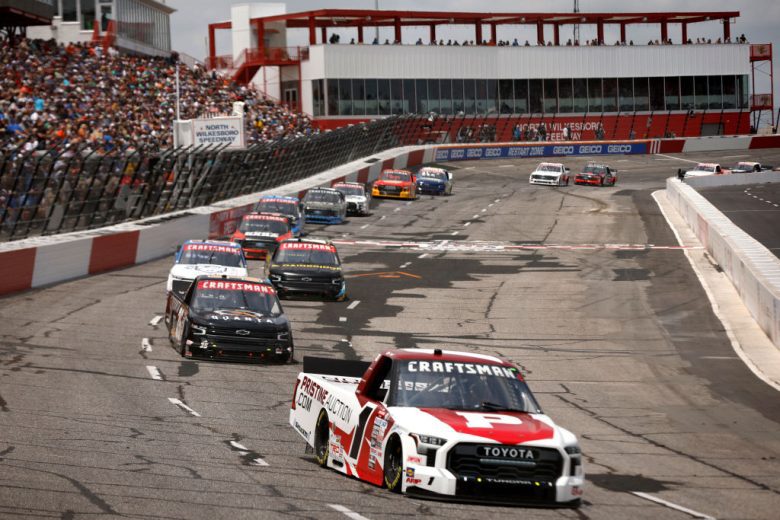 The more in-race track time the better prepared a driver will be for the All-Star Race due to having to rely on old data, and sim time prior to this week.
Ryan Blaney is the reigning All-Star Race winner having won the 2022 All-Star Race at Texas Motor Speedway in an overtime finish.
Chase Elliott won the 2020 All-Star Race at Bristol Motor Speedway that was accompanied by all car having fluorescent light bars attached to the rear of the cars that made it quite the spectacle around the colosseum.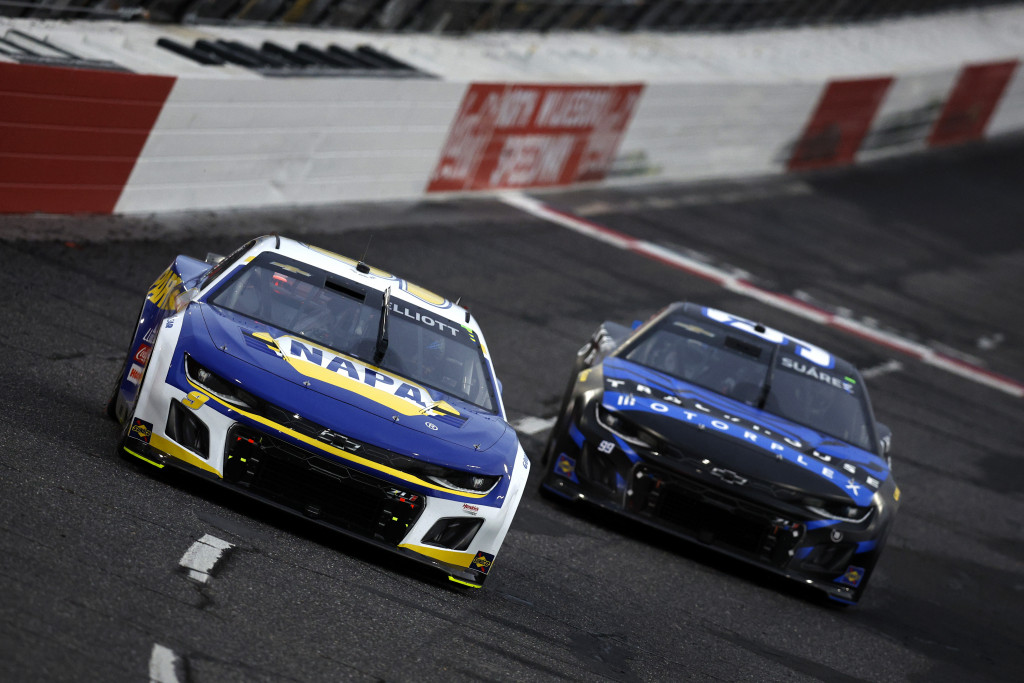 Kyle Busch, Denny Hamlin, Joey Logano, and Ryan Newman all have one All-Star Race win, all having come at Charlotte Motor Speedway where the event was held in 1985 and then from 1987-2019.
Notable paint schemes
Erik Jones is piloting the No. 43 STP LEGACY MOTOR CLUB Chevrolet that is throwing it back to Richard Petty, who won 15 times at North Wilkesboro in the Cup Series, including eight time while racing STP colours.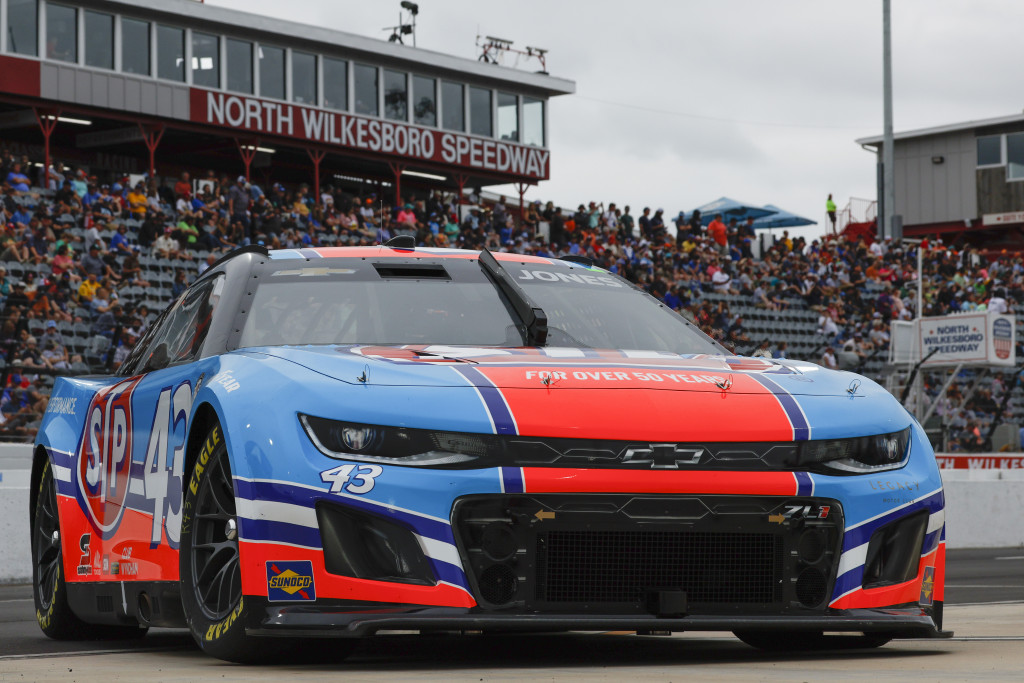 Kevin Harvick is throwing back to his 2001 Atlanta scheme when he was promoted to the Cup Series by Richard Childress Racing following the tragic passing of seven-time Cup champion Dale Earnhardt Sr. It is Harvick's final full-time season before retiring.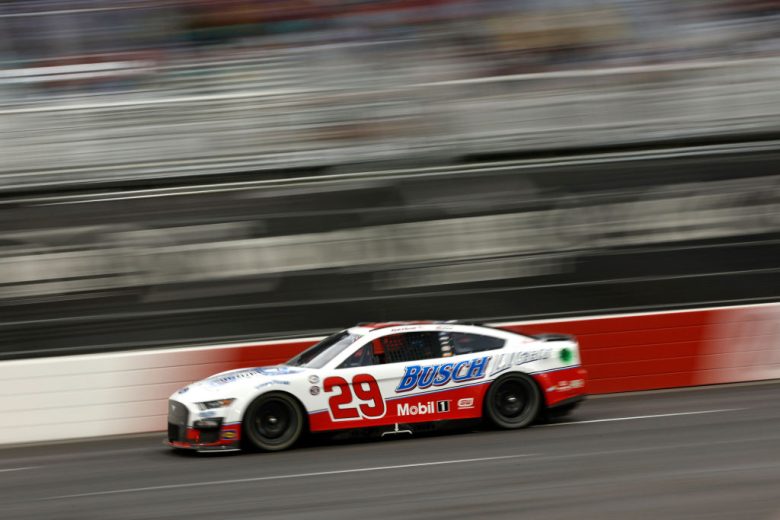 Michael McDowell is racing the No. 34 Ford that is throwing it back to Mark Martin's 1990 Cup win at North Wilkesboro Speedway.
Follow ThePitCrewOnline's twitter @PitCrew_Online for live updates and reporting of the All-Star Open and All-Star Race.  
Featured Image: Erik Jones, driver of the #43 STP Chevrolet, exits the track during practice for the NASCAR Cup Series All-Star Race at North Wilkesboro Speedway on May 19, 2023 in North Wilkesboro, North Carolina. (Photo by Chris Graythen/Getty Images)