Martin Truex Jr. led the final 25 laps holding off the chasing Richard Childress Racing duo of Austin Dillon and former teammate Kyle Busch to win the 150-lap Clash at the LA Coliseum under the lights.
Truex Jr. spent most of the race up front alongside Toyota teammate Bubba Wallace who led 40 laps including leading going into the halftime break after a two-lap shootout holding off Dillon. With seven laps to go Dillon dumped Wallace in turn one fighting over second place as Truex pulled away. Wallace ended up finishing 22nd.
Truex stated that there was a "lot of fire in my belly to change what we did last year" in reference to going winless in the 2022 season and just missing making the playoffs.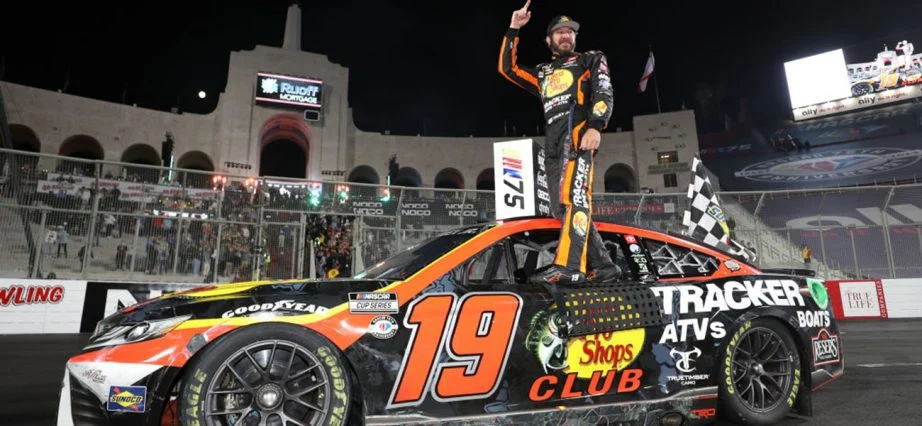 It's a complete reversal of last year's inaugural clash at the LA Coliseum where the 2017 Cup champion barely made the main event, was unable to pass and spun on his own on the final lap. Truex said Sunday's race day from winning heat two before the main race onwards has been "a huge confidence booster" now going into Daytona.
A new and unexpected addition for NASCAR fans to this year's Clash at the LA Coliseum was the top three drivers receiving honorary "Clash" medals post-race, in what was a nod to the 1932 and 1984 Olympic Games previously held at the Coliseum, as opposed to just the race winner receiving a trophy. Truex additionally was awarded with a separate Clash trophy.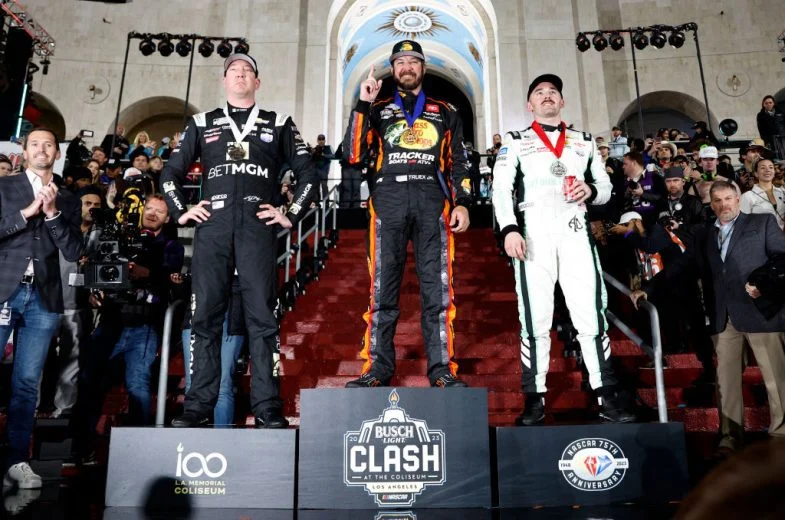 Dillon's new teammate and two-time champion Kyle Busch experienced getting moved himself when with 65 laps to go, reigning champion Joey Logano drove deep into turn three and tagging Busch, spinning him around. Not at all pleased with the Team Penske driver's actions Busch said post-race "Logano didn't get hit by nobody. He just flat-out drove through me, so he's got another one coming. I owe him a few." Busch then impressively drove back up through the field from 25th to second before relinquishing the position to Dillon with four laps to go.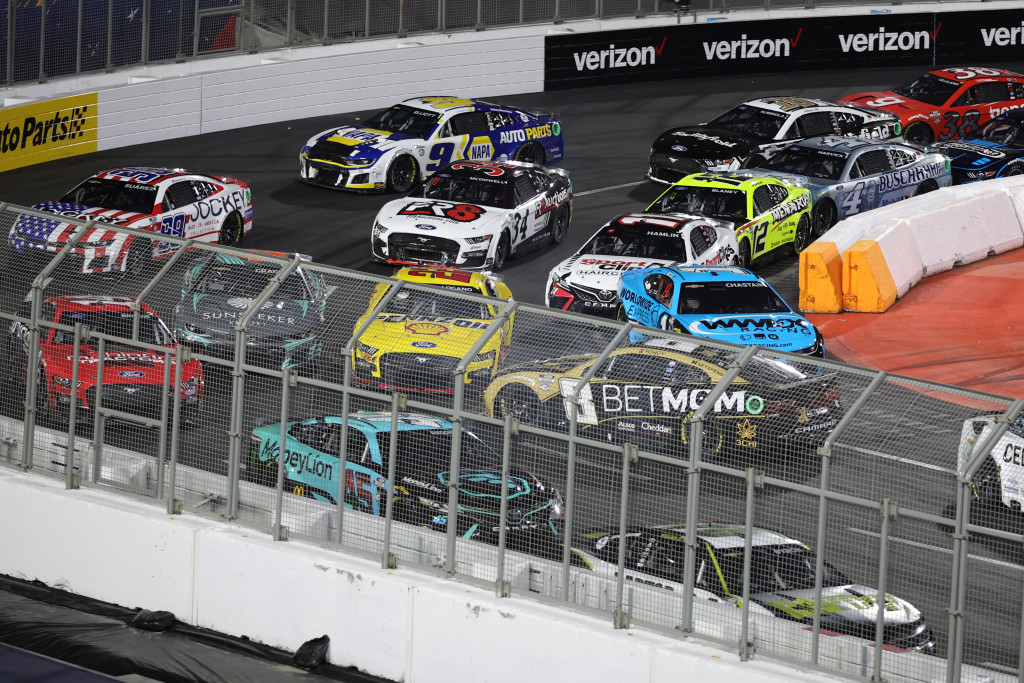 Busch's climb back through the field was all the more impressive given that this year's race at the Coliseum dealt out 16 cautions, over three times as many compared with last year's five, including being bombarded with yellows during the middle third of the race with many cars spinning out including AJ Allmendinger, Denny Hamlin, Ty Gibbs, and Kevin Harvick after being tagged, attempting to race around the extremely tight quarters arena.
Busch post-race said "we were spoiled" by last year's race with Dillon adding there was "much more parody" this time around with the teams and drivers being more familiar with the track. Most of the race was also ran under the lights increasing the overall grip for the drivers compared to last year's daytime running of the event.
Busch went on to say that if they had used the old generation car in Sunday's race, half of the radiators would have been knocked out with Hendrick Motorsport's Kyle Larson adding that the current generation car is much stiffer and stronger in comparison.
It was actually New England's Ryan Preece "Lightning" who led the most laps with 43 but shortly after getting bumped out of the way for the lead by Truex Jr. with 25 to go, his car experienced a temporary electrical problem and quickly fell back to fifth; Preece finished seventh. Preece had been Stewart-Haas Racing's reserve driver in 2022 after competing full-time for three seasons for JTG Daugherty Racing.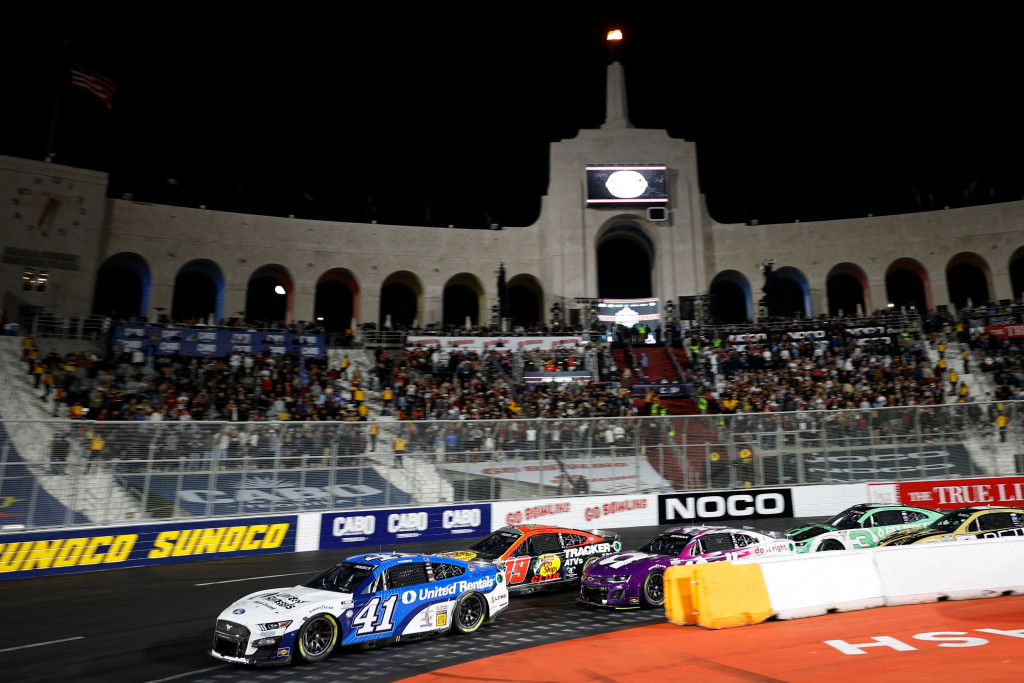 Preece climbed through the stock car ranks by dominating on the short tracks in the New England region so Truex was "not shocked at all" to see him leading at the quarter-mile mile track despite being out of a full-time Cup ride last year.
Pole-sitter Aric Almirola led the opening 16 laps before being overtaken by Denny Hamlin. By lap 67 however he found himself being lapped by then leader Bubba Wallace.
It was a short lived race for Legacy Motor Club's Erik Jones, previously known as Petty GMS Racing in 2022, after he made contact with Kevin Harvick, damaging the toe link, forcing him to retire.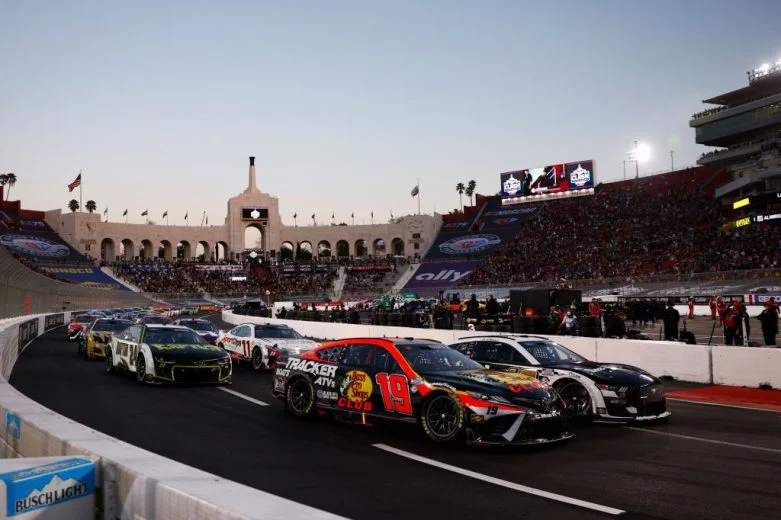 Team Penske's Ryan Blaney had a rough ride of a race after being spun out twice, the first time in turn one in the opening stage of the race, with the second incident seeing him end up backwards in the turn two wall while running ninth.
Ty Gibbs and Todd Gilliland crossed swords for several laps knocking into each other's fenders before on lap 43 AJ Allmendinger, an innocent bystander, would get wiped out by Gilliland after Gibbs ran into the back of him. Gilliland would then spin out Harvick on lap 72 before having the favour returned with 69 laps to go. Gibbs would retire with suspension damage.
Another draw for fans attending the Clash was the pre-race entertainment as well as the Clash's halftime show. Cypress Hill performed ahead of pre-race ceremonies that had many bobbing their heads to the multi-platinum hip hop group.
The halftime show lived up to expectations with Wiz Khalifa performing a selection of his best hits including "Black and Yellow."
As NASCAR celebrates its 75th anniversary, the biggest race of the season, the 65th running of the Daytona 500 is less than two weeks away, with the Daytona Duels taking place on February 16th starting at 7pm ET and the green flag for the Daytona 500 flying on February 19th at 2:30pm ET. You don't wanna miss it!
Full race results  
Martin Truex Jr.
Austin Dillon
Kyle Busch
Alex Bowman
Kyle Larson
Tyler Reddick
Ryan Preece
Ross Chastain
Denny Hamlin
William Byron
Justin Haley
Kevin Harvick
Christopher Bell
Noah Gragson
Chase Briscoe
Joey Logano
Ryan Blaney
Aric Almirola
Daniel Suárez
AJ Allmendinger
Chase Elliott
Bubba Wallace
Todd Gilliland
Michael McDowell
Austin Cindric
Ty Gibbs
Erik Jones
Heat Winners
Heat 1 winner – Aric Almirola
Heat 2 winner – Martin Truex Jr.
Heat 3 winner – Denny Hamlin
Heat 4 winner – William Byron
First last chance qualifying race – Michael McDowell
Second last chance qualifying race – Chase Elliott
Featured Image: Martin Truex Jr., driver of the No. 19 Bass Pro Shops Toyota, celebrates with the Busch Light Clash at The Coliseum trophy in Victory Lane after winning the NASCAR Clash at The Coliseum at Los Angeles Memorial Coliseum (Photo by Jared C. Tilton/Getty Images)