The crew faced 120km over eight stages on the first leg of the rally. The startlist looked like this –Rovanperä, Neuville, Greensmith, Katsuta, Breen, Lappi, Solberg, Tänak, Evans, Fourmaux, Loubet. The rain was falling out on the stages and as the road climbed up, there was the additional extreme of heavy fog!
Heading into the first stage then, SS1 Mali Lipovec – Grdanjci 1 – 19.20 km and what we saw that the earlier you entered the stage, the more favourable the conditions were. The result of this was that Kalle took the lead from Thierry, the first two crews into the stage and then Craig was next up and third fastest. Elsewhere in the leaderboard, Ott had a good stage and was fourth, but there was disaster for two of the Toyota crews, with Esapekka hitting a large rock on the corner of a right-hander and damaged his suspension. He was out for the day. Elfyn also had troubles, getting a puncture and only going 15th fastest.
Into SS2 Stojdraga – Gornja Vas 1 – 20.77 km then and once again it was Kalle fastest from Thierry and then Ott third in the stage. The Estonian's time moved him into third overall, pushing Craig down to fourth. The drama continued further back, with Gus in his Puma sliding wide onto a bank on the right and damaging the nose of his car. Never the less, he made it to the end of the stage. Elfyn's fifth best time moved him up the leaderboard into ninth overall.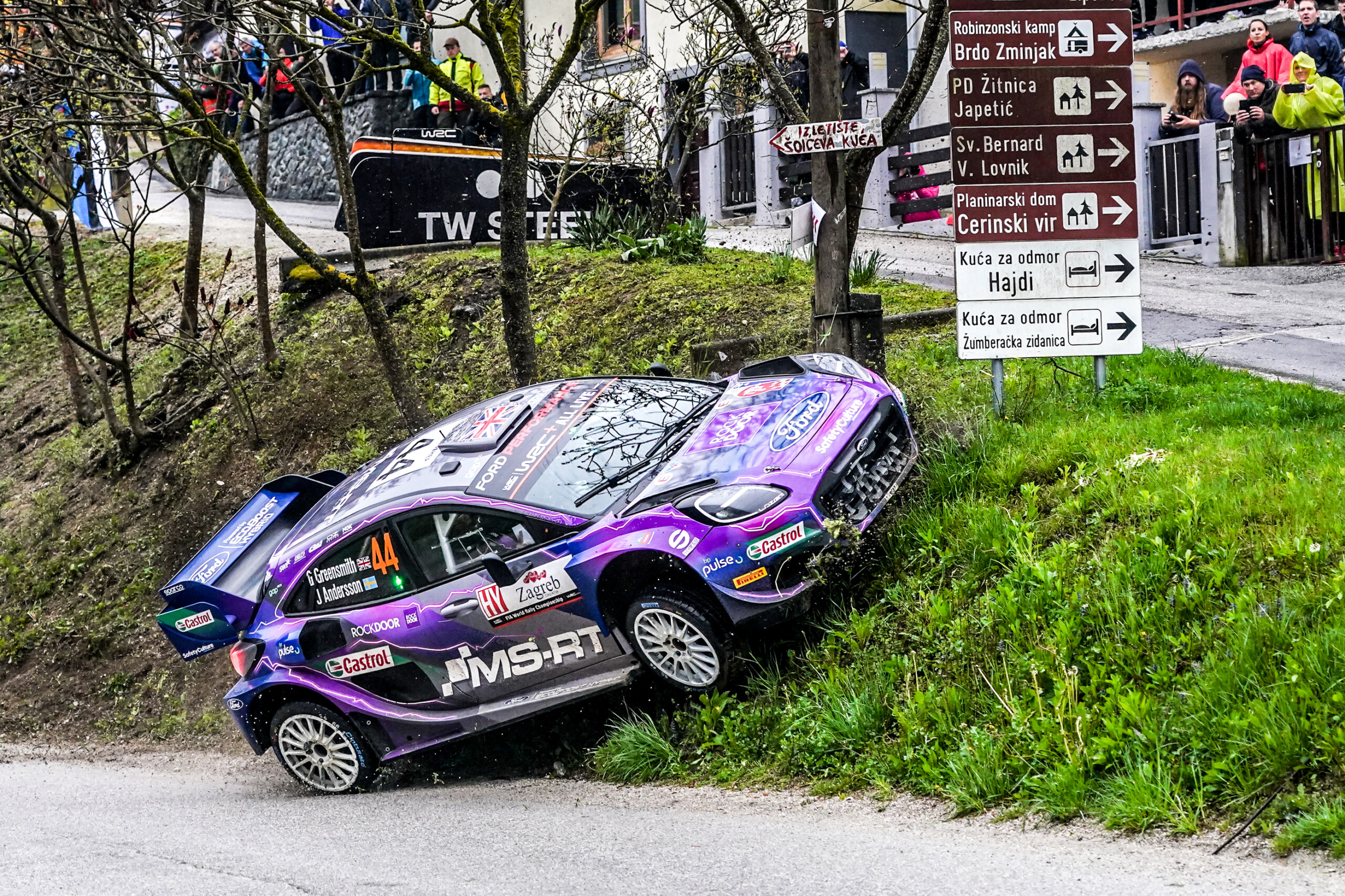 It came good for Elfyn in SS3 Krašić – Vrškovac 1 – 11.11 km as he set the fastest time from Kalle and Thierry. One of the Pumas' exited on this one, with Adrien crashing out, whilst his teammate for this event, Pierre-Louis, went out as well, getting three punctures! The conditions were really tricky out there!
Last morning stage then, SS4 Pećurkovo Brdo – Mrežnički Novaki 1 – 9.11 km and the top three was Kalle, Thierry and Craig. Elfyn suffered another puncture in this one and after setting the eighth best time fell down the leaderboard into eighth place.
After the service break, Kalle continued to make the most of his starting position and was fastest in SS5 Mali Lipovec – Grdanjci 2 – 19.20 km, with Thierry and Ott second and third, and these three remained the top overall three. Elfyn showed that when he did not have punctures, that he could set some strong pace out there, going fifth fastest and jumping two places up the leaderboard into sixth overall. One of the drivers that fell back was Gus who had his own puncture in this one and fell back three places to eighth overall.
Into SS6 Stojdraga – Gornja Vas 2 – 20.77 km and Kalle was making it look easy, even though it definitely was not, winning again from Ott this time and Thierry third fastest. The two Hyundai drivers swapped positions with the Estonia moving up into second overall, although this mostly down to the penalty that the Belgian received after arriving late at service and also having trouble demisting his windscreen with all the rain coming into the car. Elfyn went well, with fourth fastest and had a good 17 second lead over his Japanese teammate and he was now just seven seconds behind Oliver who held fifth overall.
Next up was SS7 Krašić – Vrškovac 2 – 11.11 km and once more, Kalle set the best time from Thierry and Oliver. Fourth equal fastest was Takamoto and Elfyn. Meanwhile, Ott had a puncture in this one and was passed by Thierry for second overall. So many problems, but none at all for our erstwhile Finnish leader.
The final stage then of the day, SS8 Pećurkovo Brdo – Mrežnički Novaki 2 – 9.11 km, and we had a different car take the fastest time as Thierry took the stage win from Kalle and Ott. Oliver made it three Hyundai's in the top four, whilst Elfyn was fifth in the stage. The Welshman was now just 10.6 seconds behind Oliver for fifth overall.
Classification after Day One
| | | | | |
| --- | --- | --- | --- | --- |
| 1 | K. Rovanperä | J. Halttunen | Toyota GR Yaris Rally1 | 1:15:35.5 |
| 2 | T. Neuville | M. Wydaeghe | Hyundai i20 N Rally1 | +1:04.0 |
| 3 | O. Tänak | M. Järveoja | Hyundai i20 N Rally1 | +1:23.3 |
| 4 | C. Breen | P. Nagle | Ford Puma Rally1 | +1:35.2 |
| 5 | O. Solberg | E. Edmondson | Hyundai i20 N Rally1 | +2:38.5 |
| 6 | E. Evans | S. Martin | Toyota GR Yaris Rally1 | +2:49.1 |
| 7 | T. Katsuta | A. Johnston | Toyota GR Yaris Rally1 | +3:28.0 |
Let's hear from the drivers!
Toyota Gazoo Racing WRT
Kalle Rovanperä (1st)
"It's been a really good day for us. This morning we tried to really use our starting position which we knew could be good for these conditions. This afternoon it was a lot more dirty, as we expected. All the cuts were very muddy so I don't think it was then such a big difference being first on the road. On some stages there was a lot of fog and rain and we could still push quite well and set some nice times. It's nice to be leading but tomorrow is a long day, anything can happen and we'll need to keep up our pace to maintain the concentration and avoid problems. Hopefully the conditions should be drier and a bit more enjoyable."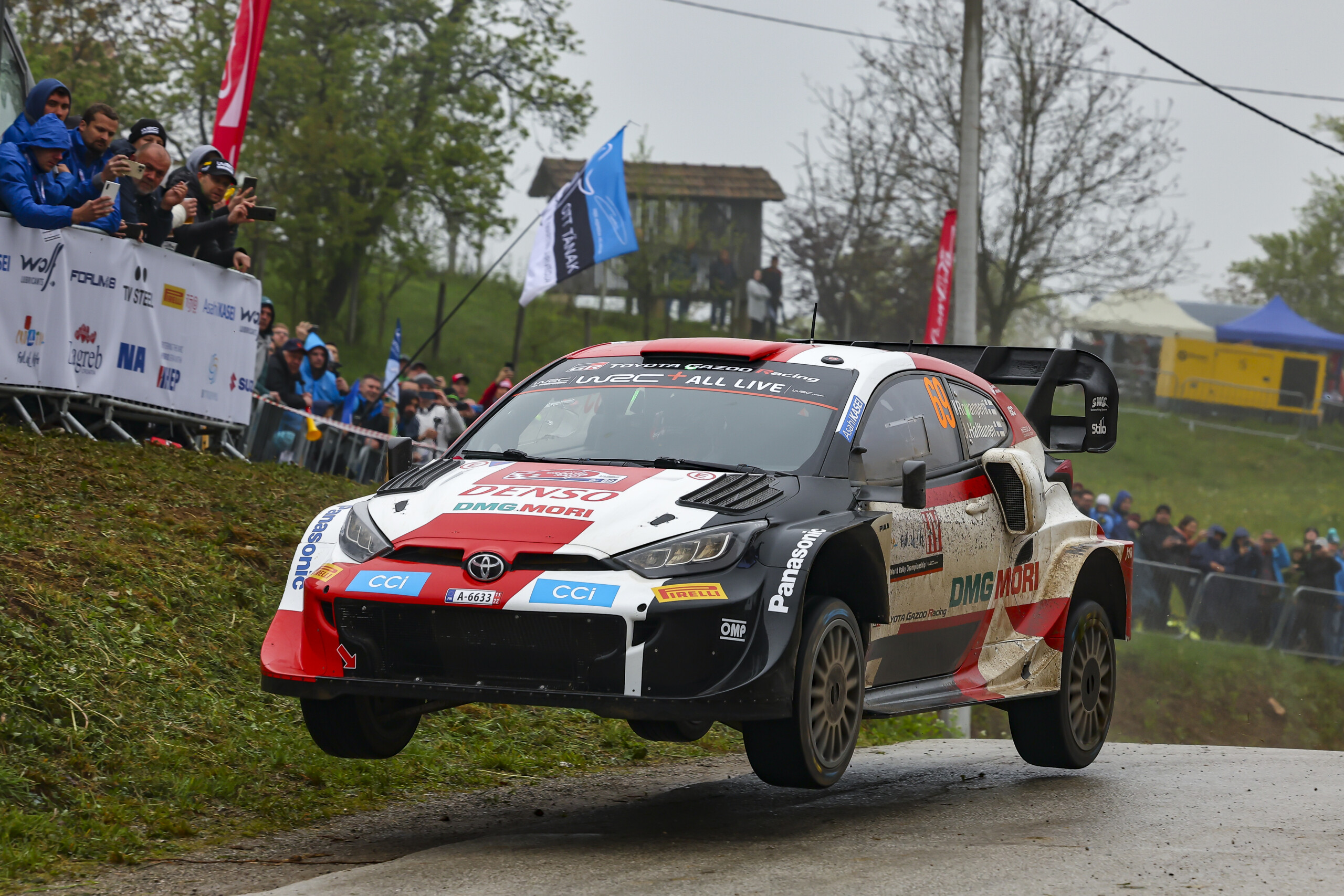 Elfyn Evans (6th)
"Today has been pretty difficult. We knew it would be a challenge running near the back of the field in these conditions, and to twice have tyres off the rim this morning was really not ideal. That was possibly down to the cuts in the corners getting worse as more cars go through, and with mud all over the road there's little to no choice: You either have to slow down massively or take the cuts. SS3 on the other hand was a bit cleaner with a lot less cutting, so we weren't affected so much by the dirt coming from those ahead. I found myself being quite careful this afternoon and that obviously hasn't helped the times. I'm looking forward to going again tomorrow although I'm not expecting it to be fully dry with all the rain we've had."
Esapekka Lappi (57th) Super Rally
"The first stage this morning started OK. Then there was a combination of left and right corners, and in the left, there was a big cut with a lot of mud. So, for the right-hander I thought the tyres would be muddy, and I turned in a bit too early and touched this large rock at the side of the road, which unfortunately broke our suspension. It was quite a stupid thing to do and quite frustrating to lose the chance of a good result so early. But thanks to the team for fixing the car for tomorrow: I'm looking forward to doing some more kilometres because I had a really good feeling yesterday in the shakedown."
Hyundai Motorsport
Thierry Neuville (2nd)
"It was a challenging day. After the last stage of the morning loop, we had a technical issue on the road section. We managed to repair the car but it stopped again when we got close to the service park. We pushed it for 800 metres – it was very tough but we always say that we never give up. I don't think we could have matched Rovanperä's speed today without taking big risks, and that was not our target, so I am happy with second place. We always want the best for the team and for ourselves as well, so it is important that we keep going and get strong points from this weekend."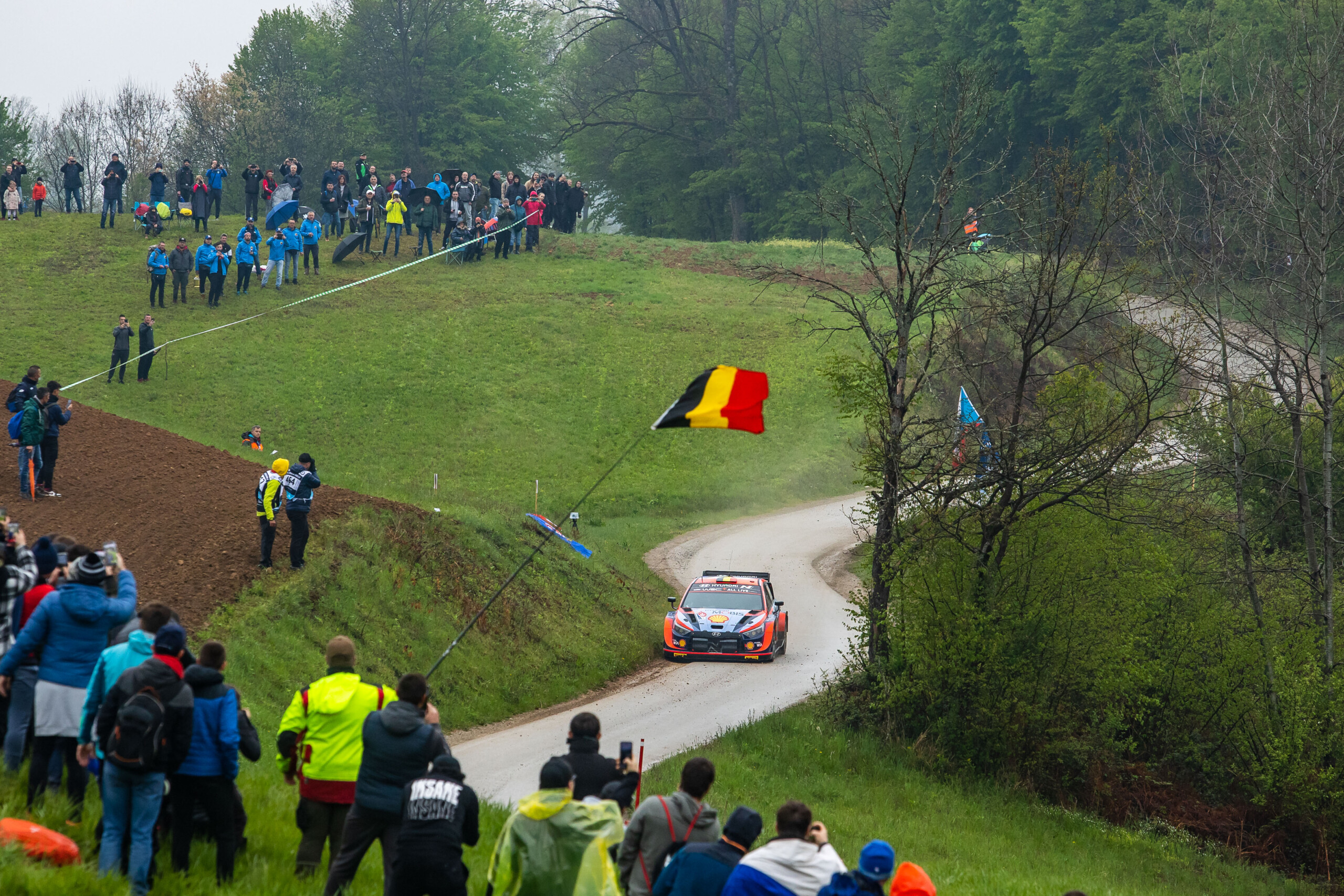 Ott Tänak (3rd)
"Today was very demanding with low visibility and more dirt on the road than we expected. I was hoping it would be more like a tarmac rally but it ended up being very muddy. With everything we had to deal with, we got the maximum out of the situation so we must be happy with that. I think today everyone was just trying to survive, so we will see tomorrow if the conditions will improve a bit and we can start to be more competitive, especially if we can go back to the slick tyres. Our focus right now is not on the championship, it is just on the rally and doing the best we can for ourselves and the team."
Oliver Solberg (5th)
"The morning was quite interesting as the road was very slippery and it is always difficult getting up to speed with new pace notes. I was very happy with the afternoon – my speed was good and I was often setting top three or four times. I also got more experience on the road which helps too, so it was all positive. Tomorrow it is new roads so I have to be realistic with my expectations, but I will see where I am in the morning and hope to get quicker during the day. Overall, the consistency and pace are good so we need to just keep doing what we are and see what happens."
Saturday
The second leg of the rally will see the crews tackle 116km over eight stages again. One crew that will not be re-joining is Adrien and Alex as M-Sport confirmed that the damage to their Puma was too heavy to allow them to continue.