Elf Marc VDS top the timesheets during a private two-day testing session in Jerez. Sam Lowes secured the fastest lap overall.
Sam Lowes has laid down an early marker ahead of the 2022 season, topping the timesheets during a private testing session in Jerez. Just behind was his new team mate, Tony Arbolino, in second. This was Arbolino's first experience of the new bike and he spent the sessions working closely with the team to find a set-up that gave him maximum confidence in the machine.
Third place was taken by Celestino Vietti on the Mooney VR46 Racing machine. The top 3 were covered by a mere 0.140 seconds.
These close timings could suggest that Lowes' main competitor in 2022 will be his own team mate. Both riders were looking very strong and Arbolino seems to be very comfortable on the Elf Marc VDS bike already. However, this test may not tell the full story as there were only 6 Moto2 riders involved, with a further 15 Moto3 riders joining them.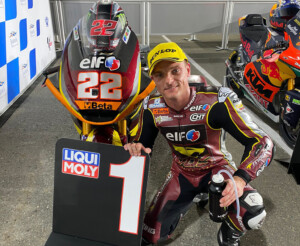 Lowes, who enjoyed 3 wins and a further 2 podiums in 2021, commented that he was "really happy with the work done in these two days". He then went on to state that "I was trying lots of components, especially today. Yesterday was more about getting back up to speed. But today we tried many things. As always in testing, some were good, some weren't. But we found a nice direction. It's been a good two days to get back into the riding side of things."
He summed up the two-day test by saying he "felt confident" and is "looking forward to Jerez and making steps so we are ready for Qatar."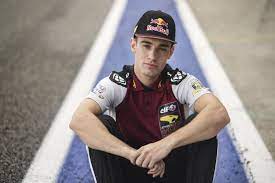 Arbolino, who is the new boy at Elf Marc VDS this year, stated "It was a great test! We worked really well during the two days and we tested many things. The team worked really hard to give me a better bike which allowed me to feel more comfortable on it. I'm really proud of them for that. From here we'll keep going and keep working hard to reach our objective."
Both Arbolino and Lowes will be back in action for one more private test on the 8th and 9th of February. They will then join the rest of the field for the only official test, commencing on the 22nd of February.
Feature Image Credit: Marc VDS Racing Team