There aren't many riders who enter their rookie season in Moto3 and blow both the fans and opposition away. But Pedro Acosta has done just that.
The young Moto3 rookie entered the category this year with an already impressive resume, winning the Red Bull Rookies Cup in 2020 and finishing as runner-up in the FIM CEV Moto3 Junior Championship in the same year.
At the tender age of 16, Acosta made his Moto3 debut in March with a strong and heavily experienced team of Red Bull KTM Ajo, meaning he had the equipment to run at the front.
It usually takes riders a few races to get up to pace with the close nature of Moto3; it can even take some a year and very often riders find themselves struggling to get up to speed at all.
It took Acosta just one race.
The Spaniard impressed everyone when he topped both FP1 and FP2 of the Grand Prix of Qatar and went one step further as he battled his way through the pack to finish second in the race, just 0.042s behind race winner Jaume Masia.
The paddock already knew he was the real deal, with Jack Miller even making what then seemed like a bold prediction that Acosta would win the championship.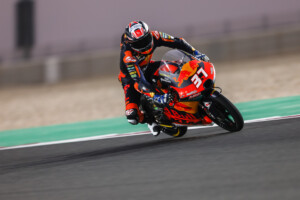 The now 17-year-old couldn't stop impressing as he stunned everyone with a victory in the second round of the year, this time starting from the pit-lane and charging his way up the field to the front – something no Moto3 rider had accomplished beforehand.
Another two wins in Portugal and Spain saw Acosta become the first rider in Grand Prix history to achieve a podium in his first four races.
Acosta remained a regular front-runner from then on but only achieved a further four podiums, with his last coming in the Algarve GP, the race where he was crowned champion.
Ending off the season with 259 points – 43 points ahead of his nearest rival Dennis Foggia – Acosta has cemented himself as one of MotoGP's future stars.
Moving into Moto2 for the 2022 campaign and already being linked to a MotoGP ride, the Spaniard will be looking to continue the already incredible form he has shown this season.