After the torrential downpour yesterday, both races 1 and 2 would be decided on Sunday, while the Superpole race was cancelled. Conditions were once again mixed, with dark clouds on the horizon, and the track was still damp in some places.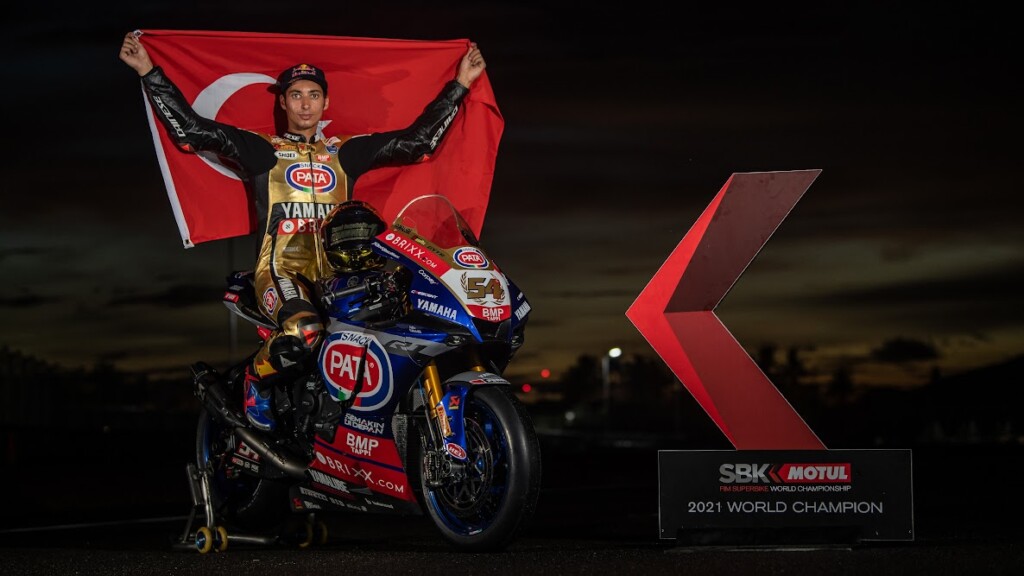 With a points advantage of 30, Toprak Razgatlioglu (Pata Yamaha) knew 2nd place would be good enough for the championship win. Jonathan Rea (KRT Kawasaki) meanwhile, knew he'd have to try get the win, and force the championship to race 2.
Lights out and its Rea with the hole shot, followed by Redding (aruba.it Ducati) in 2nd, Toprak in 3rd, Sykes (BMW Motorrad) 4th and Locatelli (Pata Yamaha) 5th. Toprak knew he had to put Rea under pressure, and maybe force him into a mistake.
With 18 laps to go, the pressure pays off and Razgatlioglu gets past Rea. Bassani (Motocorsa Ducati) made a brilliant start and was up to 3rd, 0.3 seconds behind Rea.
With 16 laps to go Bassani was flying, and gets through on both Rea and Razgatlioglu to take over the lead. Rea meanwhile sensed an opportunity and returned the favour, getting back in front after passing Bassani and Toprak. This was no holes barred racing at its best, the riders were leaving nothing behind.
With 15 laps to go, Rea sets a fastest lap of 1:37.418, the track was now mostly dry, and the riders were confident. Next was the turn of Toprak to post a fastest time of 1:36.772, the lap times now tumbling down.
Rea had the hammer down and was pushing, setting a new fastest lap of 1:35.830. With Toprak on his wheel however, Rea knew he'd need help from somewhere else if he was to keep his hopes of a 7th title alive.
And then with 12 laps to go Razgatlioglu slides up the inside of Rea, both wheels of the Yamaha looked completely out of line, yet somehow as he has done all season long, the Turk gets it stopped and makes the apex to retake the lead. Meanwhile Redding was getting quicker every lap and moves through on Bassani to take 3rd.
Redding was finding his groove, and with 10 laps to go the Ducati rider gets past Rea to take 2nd. He was only 0.1 behind Toprak, and was hunting him down. Again, it was this trio of riders who would be having the final showdown, as has been the story all season long.
The pressure pays off the next lap, as Razgatlioglu is forced into running wide, and Scott accepts taking over the lead. Rea now in 2nd, while Toprak gets back into 3rd, but had Bassani all over the back of him.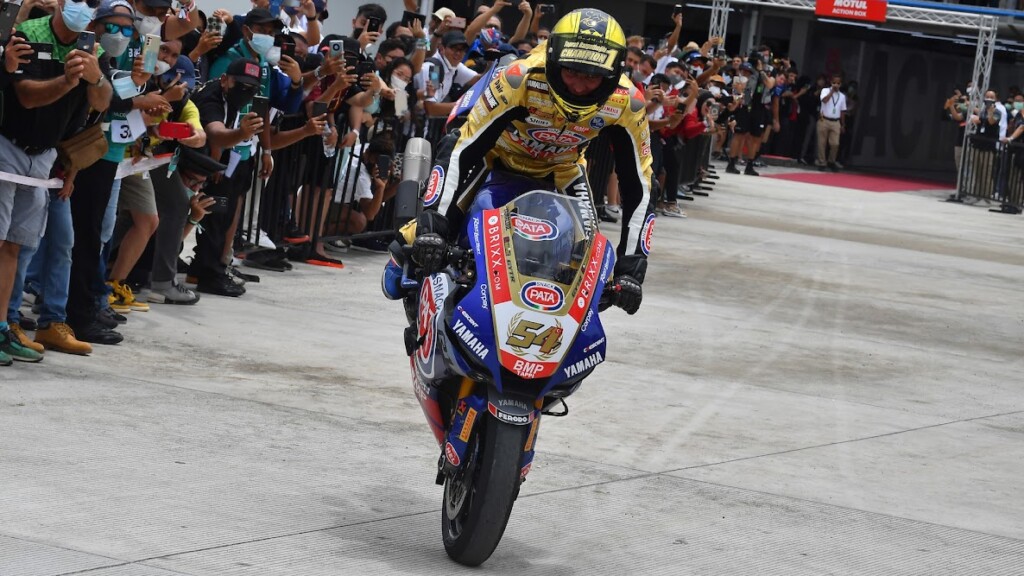 All the riders were feeling the pressure ramp up, and with 5 laps to go it was the turn of Redding to run wide into turn 10, Rea seized the momentum and retook the lead. As it stood, Toprak would need to get past Redding if he was to take his first championship title.
With 3 laps to go, Redding again runs wide, allowing Toprak to come through and take 2nd. Rea meanwhile could do no more, and was having a great race, but it would not be enough ultimately.
Rea crosses the line in 1st, followed by Toprak Razgatlioglu in 2nd and with it claiming his first ever WorldSBK championship title. Redding gets 3rd.
Result top 5:
Rea (KRT Kawasaki)
Razgatlioglu (Pata Yamaha)
Redding (aruba.it Ducati)
Bassani (Motocorsa Ducati)
Locatelli (Pata Yamaha)
Championship top 3:
Razgtlioglu – 551
Rea – 526
Redding 481