Daniel Holgado took victory in the Moto3 French Grand Prix with a well-executed ride and handed Tech3 Racing their first ever victory on home soil.
With that, the Spaniard increased his lead in the championship to 21 points and added a second victory to his tally for 2023.
Ayumu Sasaki put in a very strong qualifying performance to start from pole position, with Diogo Moreira and Holgado completing the front row.
But Sasaki couldn't hold onto his lead at the start, quickly losing out to Holgado who made a nice move down the inside at the first braking zone of the Le Mans track.
The Japanese rider tried to conjure up a reaction as the first lap went on but couldn't make anything stick for the time being.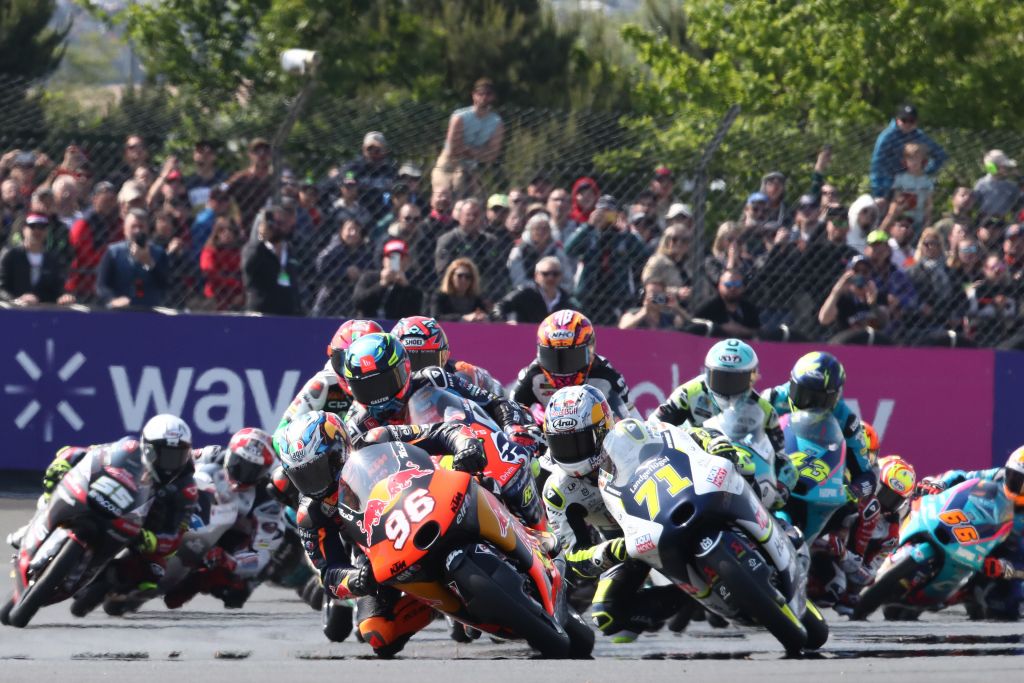 Meanwhile behind the top two it was Deniz Oncu who settled into third as he got the better of Moreira on the opening lap.
Moreira then lost another position on lap seven as Ivan Ortola moved his way into fourth with a nice move at Turn 3.
The battle at the front then stabilised for the following few laps as the riders settled into the race.
But it all began to unfold at the halfway point however, as Moreira crashed out at Turn 12 – the Brazilian had continued to drop back as the race progressed and was in seventh at the time of the incident.
Sasaki then pulled the pin and made his move back into the lead with a pass on Holgado along the pit straight, but Holgado quickly responded at Turn 3 to hang on to first place.
Elsewhere Jaume Masia moved up into third with six laps to go after taking advantage of Oncu running slightly wide at Turn 8.
The Spaniard then attacked Sasaki for second place and the pair were engaged in a back-and-forth battle – which allowed Holgado to sit comfortably out in front as those behind him jostled for position.
Sasaki was able to retake second at Turn 3 with three laps remaining, and quickly tried to shake off Masia in an attempt to chase down the leader ahead.
But ultimately it was to no avail – despite closing the gap to just 0.150 seconds Sasaki had to settle for second as Holgado took victory after a very strong race to hold off the pressure.
Speaking after the race, Holgado said it was a good ending to an event where he'd showed strong pace throughout the three days.
"The feeling is amazing. I am so happy because this Grand Prix was very important for my team as it was their home race, and winning it for them is just incredible," he said.
"I was fast all weekend, and today we were just really strong and confident. What a weekend, thank you to my team."
Masia ended the race in third but had to fight for it as Ortola piled on the pressure in the final two laps.
Oncu went from being third to ending up sixth in the final few laps of the race, finishing behind Ryusei Yamanaka.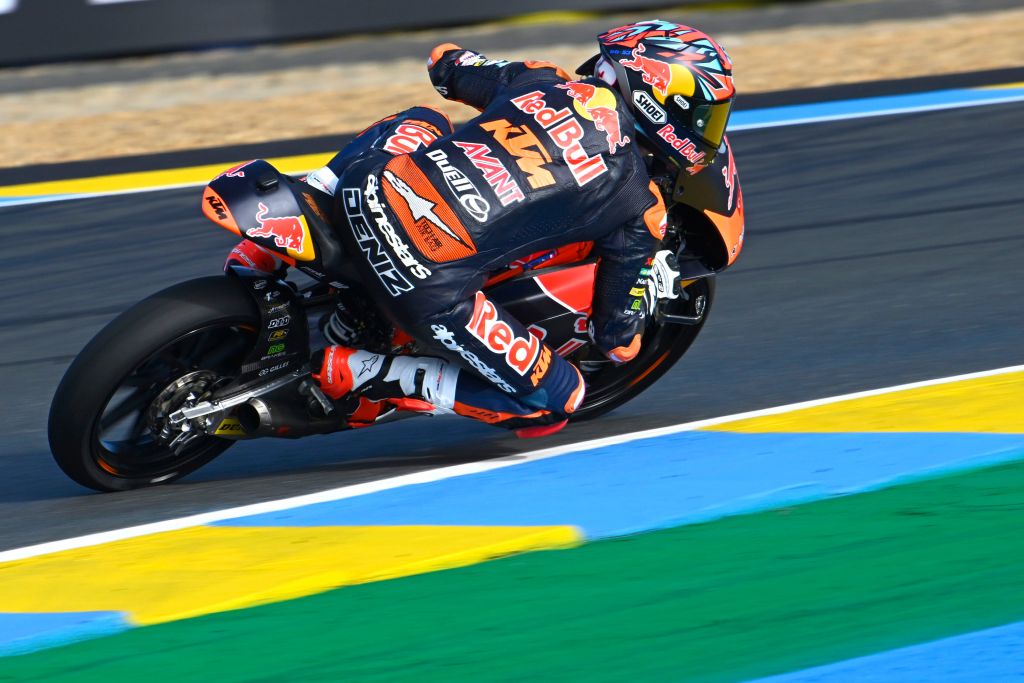 Xavier Artigas finished in seventh, with David Alonso and Jose Rueda some distance behind in eighth and ninth.
Stefano Nepa managed to get the better of Joel Kelso, Kaito Toba and Tatsuki Suzuki in what was a close fought battle for 10th.
David Salvador and Collin Veijer rounded out the points finishers.
Among the other fallers, Syarifuddin Azman was the first victim to crash in the race on the third lap at Turn 12 – a disappointing end to what was a strong weekend for the Malaysian where he qualified 10th.
Andrea Migno also fell at Turn 12 a few laps later and was shortly followed by Scott Ogden at Turn 7, as well as Taiyo Furusato who fell on the last lap at Turn 9.