A dominant performance from Bottas to win ahead of both the RedBulls. But a Mercedes strategy call meant that Hamilton lost track position of P3 to finish P5 after holding off Gasly in P6. Carlos Sainz was awarded driver of the day after an outstanding performance to finish P8 from starting at the back of the grid.
The weather appeared to be playing a major role all weekend and rained before the race leaving a damp track to start and the intermediates on. Colder conditions often favour Mercedes with Hamilton having to take a penalty for a new combustion engine, this is something he was looking to take advantage of. Verstappen however was hoping to take the opportunity to take the lead and pull a gap in the championship.
After a poor result for Daniel Ricciardo in qualifying yesterday, McLaren decided to take a new engine themselves and therefore he started at the back of the grid with Sainz.
Lights out and Bottas got a great start leading Verstappen into turn 1. Alonso tried to go around the outside of Gasly but was tapped and spun, coming back into P15. Once back on the track in an attempt to move forward he tapped Schumacher. Gasly later gained a 5 second penalty for his incident with Alonso and the Alonso got one for the collision with Schumacher. Perez gained on the pair up the inside of turn 1, lap 1 moving up to P3. Hamilton gained a place on lap 1 and then moving into P9 by lap 3.
Carlso Sainz was on a charge from lap 1. By lap 7 he gained another place and was up in P12, making the moves looking simple, and gaining positions every lap. The other driver on a charge was Hamilton. Finally making past Tsunoda after 7 laps with an excellent move around the outside of turn 3 and then dispatching of Stoll and Norris in the following 2 laps all while getting fastest lap.
The track was drying slowly due to the 94% humidity so talk of slicks seemed a little way off on lap 15, but Hamilton using all the warm intermediates to gain on Gasly by 1.5 seconds a lap and overtook with ease. He was now in P5 and hunting down Perez at a rapid pace. Sainz also gaining was in P10 after a slightly risky move making contact with Vettel into the final chicane.
Just 2 laps later and Hamilton complained of bald inters, bringing back the interslicks on a still damp track. RedBull seeing this then looked to release Verstappen from tyre perseveration as he started to gain by nearly half a second and achieve fastest lap. Bottas responded producing a fastest lap himself.
Lap 26 and everyone was trying to decide if it's worth changing to new intermediates. Ricciardo had taken that decision a couple laps earlier and was now matching the leader's pace. Just to add to the mix it had begun to rain slightly, stopping the track from drying but not heavily wetting the track. However, 4 laps later and Ricciardo's speed neutralised, he was lapping the same as the people around him down in P18.
Hamilton meanwhile was still gaining on Perez passing through the backmarkers of Haas cars. There was nearly drama as Mazepin was shown the blue flags but closed the door on Hamilton almost clashing just to let him through on the back straight. Whilst this delayed Hamilton he was still gaining quickly on Perez and was within a second by lap 33.
Lap 34, Hamilton was with Perez and turn 12 the Mercedes picked up the slip stream and tried t go around the outside of turn 12 with the inside line for turn 13. Side by side Perez ended up to the left of the pit bollard but continued down the main straight to come out ahead of Hamilton by turn 1.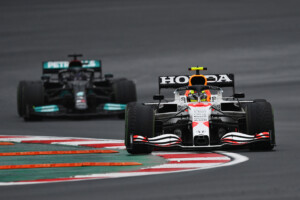 Between lap 36 and 38 many of the drivers were pitting for new inters, however Vettel and Aston Martin decided to go for the medium slick tyres. He didn't even complete a lap before coming back in for inters after spending most of the time sliding off the track.
Leclerc had been quietly going about his race and as the leaders pitted he then became P1. Happy with his tyres though, he decided to stay on his interslicks and keep track position. Hamilton agreed as on lap 41 Mercedes asked him to box and he refused.
Lap 46 and Leclerc was trying to hang on but Bottas was just that much faster and overtook him on the main straight. At this point Leclerc gave in to the team and pitted for new inters which looked to be a good decision because his teammate was setting fastest laps on tyres only a few laps older.
After resisting the team Hamilton pitted on lap 51 because Mercedes were insistent. He lost track position to both Perez and Leclerc. Now frustrated he lost P3 he was on a charge to get back to the podium gaining over 3 seconds on Leclerc on lap 53. However, graining on the tyres meant that he lost time to Leclerc and Gasly was just 1 second behind him. The strategy call from the team did not worked for them.
Valtteri Bottas won the race after a solid performance. Verstappen finished P2 not really battling Bottas all race knowing that he would gain points on Hamilton in the championship. Perez did an excellent job to put both the RedBulls on the podium. Leclerc finished P4 with a very frustrated Hamilton in P5, holding off Gasly who finished P6.
Verstappen now takes the lead of the championship heading into the next round by 6 points. No one has led the championship this year by more than 8 points and it looks like its going down to the wire, much to every F1's delight.