Track temperatures were now in excess of 40 degrees Celsius as the track had been heating up during the day. As the Superpole race had been cancelled, positions on the grid were the same as for race one.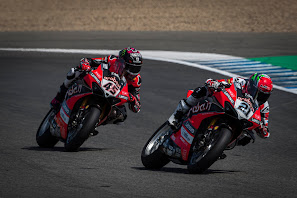 Lights out and its Razgatlioglu (Pata Yamaha) yet again with the quickest start off the line to get into turn 1 ahead of the others. Followed by Rinaldi (aruba.it Ducati) in 2nd, Rea (Kawasaki KRT) in 3rd, Redding (aruba.it Ducati) 4th and Locatelli (Pata Yamaha) in 5th.
Toprak was looking keen to get away but the Ducati team mates of Rinaldi and Redding were looking good in the higher track temperatures, as they had in Navarro earlier in the season. So too the Honda team mates of Haslam and Bautista in 6th and 7th, were looking much better.
With 18 laps to go Rea looked to be losing time and now had Redding pass him to demote the Irishman to 4th. Locatelli was now eyeing up the Kawasaki ahead of him.
With 17 laps to go, Redding puts in a fastest lap of 1:40.776 and was looking to make a move on his team mate . Meanwhile Nozane (GRT Yamaha WorldSBK Team) loses control of his bike into turn 6 and that spells the end of his race.
With 15 laps to go Redding makes the move on Rinaldi up the inside into the last corner to take 2nd. Meanwhile further back Locatelli cuts up the inside of Rea to take 4th. Rea was really struggling to get his Kawasaki stopped into the hard braking corners and was losing ground, with Bassani (motocorsa Ducati) right behind.
With 12 laps to go Redding had closed the gap down to Toprak to 0.4 and was looking comfortable in the warmer conditions. Further down the field it was vd Mark (BMW Motorrad) in 8th, Baz (go eleven Ducati) 9th and Laverty (BMW Motorrad) 10th.
With 10 laps to go, the gap between Razgatlioglu and Redding was further closing with the gap now 0.3, meanwhile Rea was still holding off Bassani for 6th.
With 8 laps to go Bautista (Honda HRC) had now caught up to the back of the Rinaldi, Locatelli group but went too hot into a corner going wide and losing time.
With 7 laps to go, Locatelli gets by Rinaldi into turn 6 to take 3rd. Bautista was showing great late race pace and was looking for a way past Rinaldi who was dropping back looking to be suffering from tyre wear issues. Bautista does make the pass and takes 4th.
With 4 laps to go, Razgatlioglu goes slightly wide into a corner, leaving space for Redding to drive the Ducati up the inside and take over the lead for the first time. Meanwhile it was now the turn of Bassani (motocorsa Ducati) to go past Rinaldi for 6th, Rinaldi who was continuing to lose ground had previously been passed by Rea who was now in 5th.
With 3 laps to go, Bautista goes through on Locatelli. Meanwhile at the front Razgatlioglu retakes the lead diving under Redding into the last corner. The Yamaha showing how much better it could turn in comparison to the Ducati.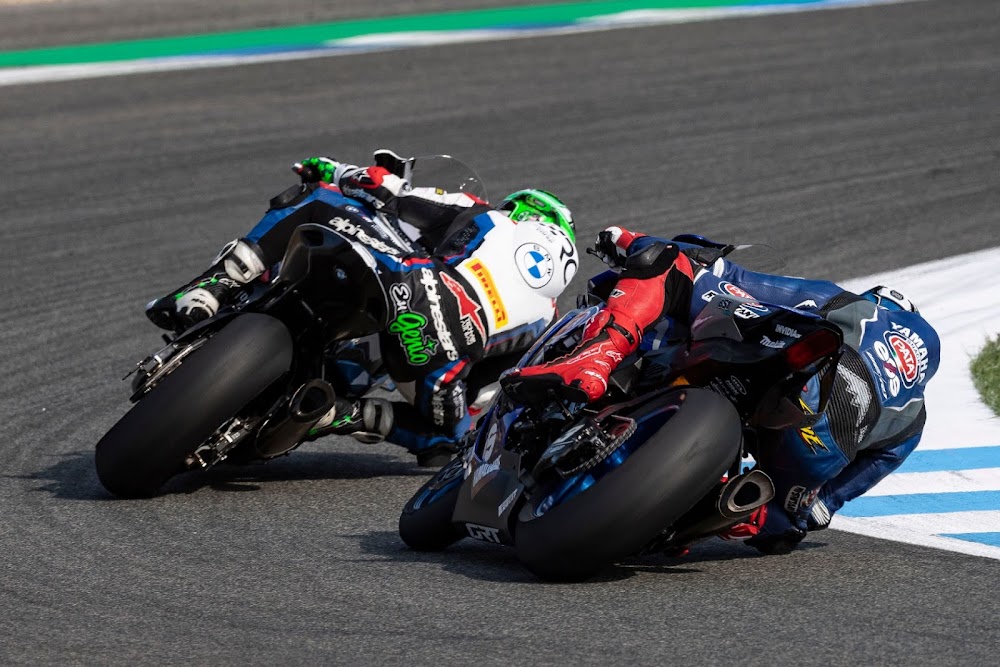 Last lap and would Redding be able to retake the lead? He was lining up Toprak and looked to be gaining momentum through the last series of corners it could be a last corner pass as it has been so often here at Jerez.
Razgatlioglu holds off Redding and crosses the line to take the double win this weekend. Redding 2nd, Bautista 3rd.
Result top 5:
Razgatlioglu (Pata Yamaha)
Redding (aruba.it Ducati)
Bautista (Honda HRC)
Locatelli (Pata Yamaha)
Rea (Kawasaki KRT)
Out: Cresson (Perdercini Kawasaki), Nozane (GRT Yamaha WorldSBK Team), Ponsson (Gil Yamaha)
Championship top 3:
Razgatlioglu – 449 pts
Rea – 429
Redding 375