Superpole on Saturday, saw Toprak Razgatlioglu (Pata Yamaha) claim pole with a fastest lap of 1:38.512, with the Kawasaki KRT team mates of Lowes and Rea in 2nd and 3rd.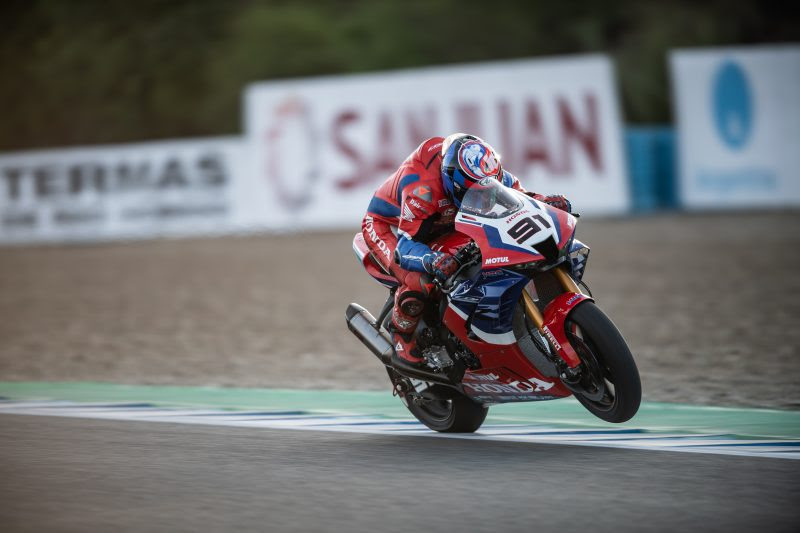 Track conditions were near enough perfect for race 1 with a mix of tyre choices throughout the grid. Toprak going for the softer SCX rear tyre, while Rea went for the harder option. After the tragedy yesterday in the Supersport 300 race there was definitely a sombre mood over the grid with riders all deep in their own thoughts before the start.
Lights out and its Razgatlioglu with the hole shot up into turn 1, followed by Rea in 2nd, Rinaldi (aruba.it Ducati) 3rd, Lowes 4th and Locatelli (Pata Yamaha) in 5th. Rea is not hanging around and dives underneath Razgatlioglu, hoping to get away early.
Next lap and Locatelli has moved up to 3rd, Rinaldi went wide into a corner and loses a position, while Redding (aruba.it Ducati) is 5th Lowes had a terrible start and now finds himself slipping back to 8th. Special mention for Eugene Laverty (BMW Motorrad) who is back racing on Tom Sykes's bike, who misses the race due to injury last week and is in 13th.
With 19 laps to go Redding moves past his team mate not wanting to lose touch with the group up front. Further back its the Honda team mates of Haslam and Bautista in 6th and 7th respectively, vd Mark (BMW Motorrad) in 8th and Lowes who continues to slip back, is now in 10th.
With 18 laps to go, Rea puts in a fastest lap of the race with  a 1:39.837 no doubt trying to break Razgatlioglu behind. This relentless pace being set was distancing everyone behind, except for Locatelli in 3rd who was trying to hang on.
With 16 laps to go Rinaldi loses control of his Ducati sending it sprawling down the track and ploughing into the gravel. His race is over.
With 14 laps to go Razgatlioglu comes from a long way out into the Pedrosa corner, turn 6, but is unable to get it stopped in time and runs into the back of Rea. Fortunately both riders are able to stay upright, but this gives Rea extra incentive to get away from the Turkish rider.
With 12 laps to go, Baz (go eleven Ducati) who is riding Chaz Davies's bike, also out due to injury, moves up to 7th. Meanwhile Haslam is falling back and now in 9th. Redding in 4th, initially looked to have the pace to catch Locatelli in 3rd but now seems to be unable to gain any more time on the Italian rider.
With 7 laps to go, Razgatlioglu makes his move on Rea, diving up the inside into turn 1. Another tough pass but that is how the Turkish rider races and it would not have been a surprise for Rea who would be looking to respond.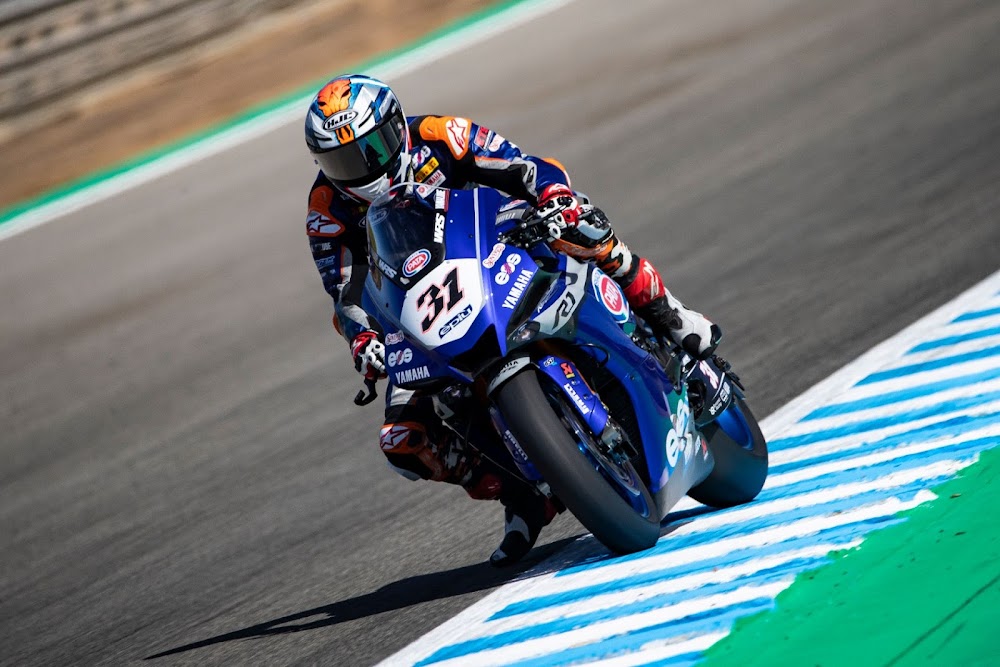 With 4 laps to go Razgatlioglu now held a gap of 0.8 to Rea in 2nd and was looking comfortable in the lead. Meanwhile Locatelli was still holding onto 3rd with Redding in 4th.
Last lap now, and Redding has closed right up to Locatelli, he makes the move using the power of the Ducat and takes 3rd. Further back vd Mark is trying to hold of Bassani (motocorsa Ducati) who has shown great late race pace for 7th.
Razgatlioglu crosses the line for the first win of the weekend followed by Rea in 2nd, Redding 3rd, Locatelli 4th, Bautista 5th, Baz 6th, vd Mark 7th and Bassani in 8th.
Result top 5:
Razgatlioglu (Pata Yamaha)
Rea (Kawasaki KRT)
Redding (aruba.it Ducati)
Locatelli (Pata Yamaha)
Bautista (Honda HRC)
Out: Mercado (Honda), Cavalieri (Ducati), Rinaldi (aruba.it Ducati)
Championship top 3:
Razgatlioglu – 424 pts
Rea – 418
Redding 355