Going into the weekend Remy Gardner leads the Moto2 championship by 36 points from his teammate Raul Fernandez, but the rookie earns his fourth pole of the season, as an eventful race sees him dropping back to ninth then clawing his way back to emerge victorious in the 9th round of Moto2 2021.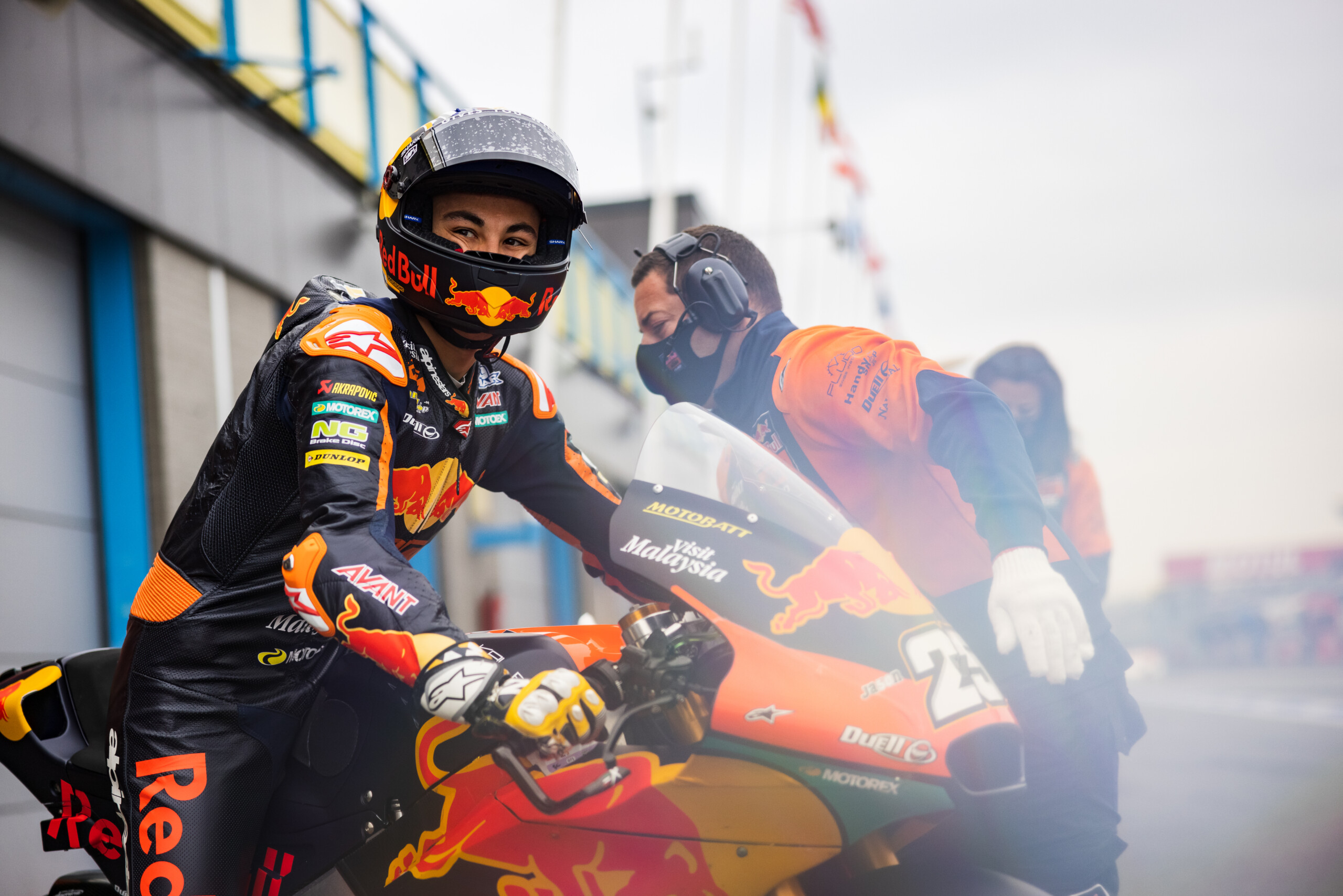 Fernandez's teammate Remy Gardner starts from 2nd place and Sam Lowes completes the front row, ahead of Aron Canet in 4th, Ai Ogura 5th and Jorge Navarro starting 6th.
Off the line it is Canet who gets the best start, forcing Raul out wide into the first bend, causing him to drop back to 4th. Della Porta who started 8th gets caught in the middle of the group into turn 2 – catches the rear wheel of Navarro and is spat off, fortunately avoiding the other machines as his bike is launched into the air from the centre of the pack.
Canet leads, Gardner in second is closely followed by Lowes in third. Tony Arbolino crashes out uninjured shortly after at turn 7, his bike flipping across the gravel.
Lowes moves up past Gardner, then takes Canet to lead at the end of the first lap – Lowes leads briefly before Canet reclaims the lead.
Ai Ogura and Augusto Fernandez pass Raul Fernandez. Raul runs wide through turns 6 & 7 and drops back to ninth as Schrotter passes him.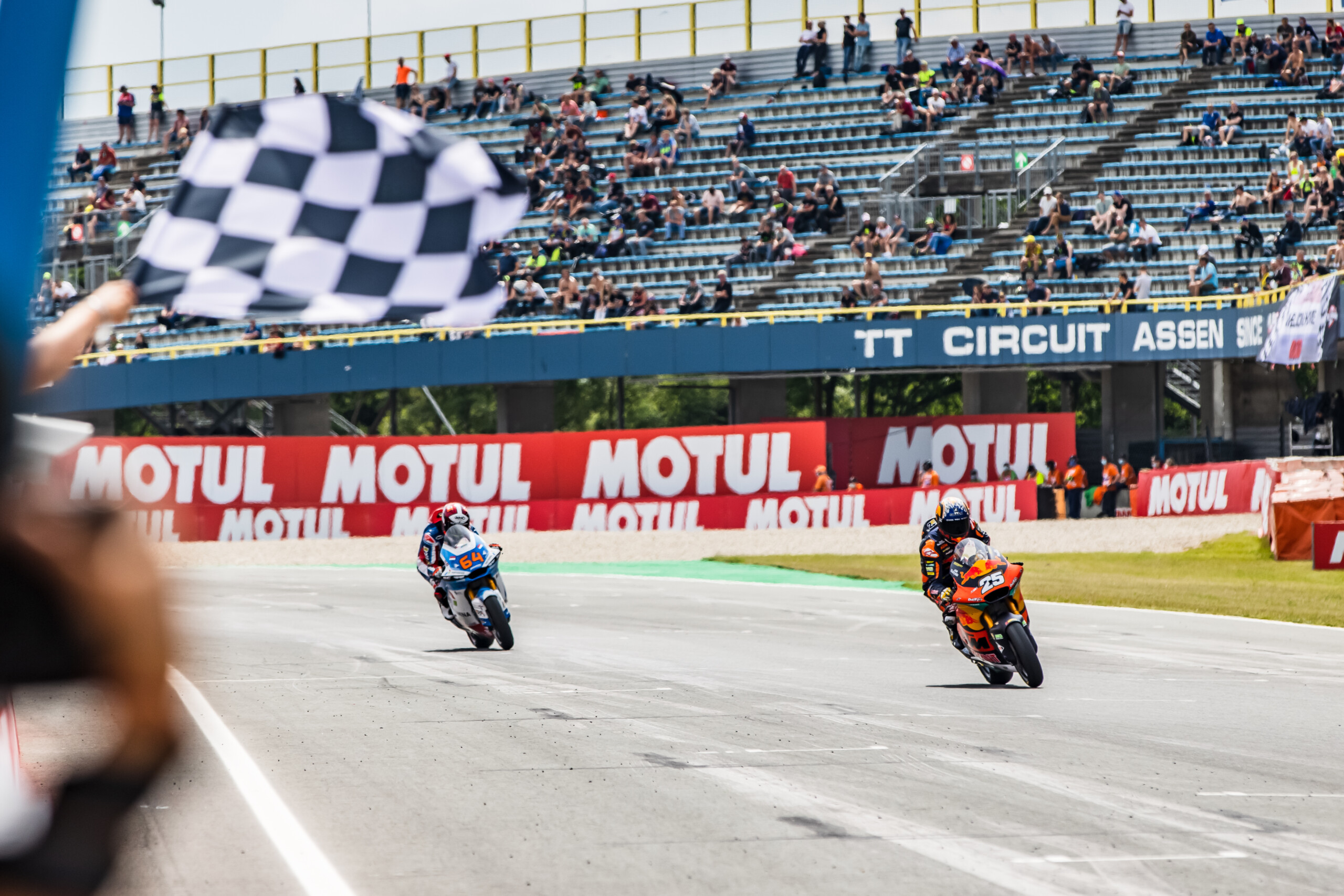 Gardner passes Lowes out of the chicane, and Lowes gets back past Canet to move back into 2nd
Joe Roberts crashes out at turn 9, meaning that both Italtrans bikes are out of the race.
Augusto Fernandez moves up into 3rd, as Raul battles for 7th, then gradually works himself back up to 6th.
With 20 laps to go Lowes starts to close the gap on Gardner. Approaching the start/finish line Lowes slots past, the two almost swapping paint, but Augusto Fernandez spots his opportunity and passes both of them, taking the lead, making it a 1-2 for Elf Marc VDS Racing Team, Gardner in 3rd and Aron Canet in 4th. Meanwhile Raul Fernandez is back up to 5th, and DiGiannantonio moves up past Ai Ogura into 6th.
On lap 7 Raul passes Canet to move up to 4th, as Lowes, who is all over the back of Augusto, passes him to take the lead. A gap of just over a second separates Gardner in 3rd and Raul in 4th, giving Raul a clear space to push on.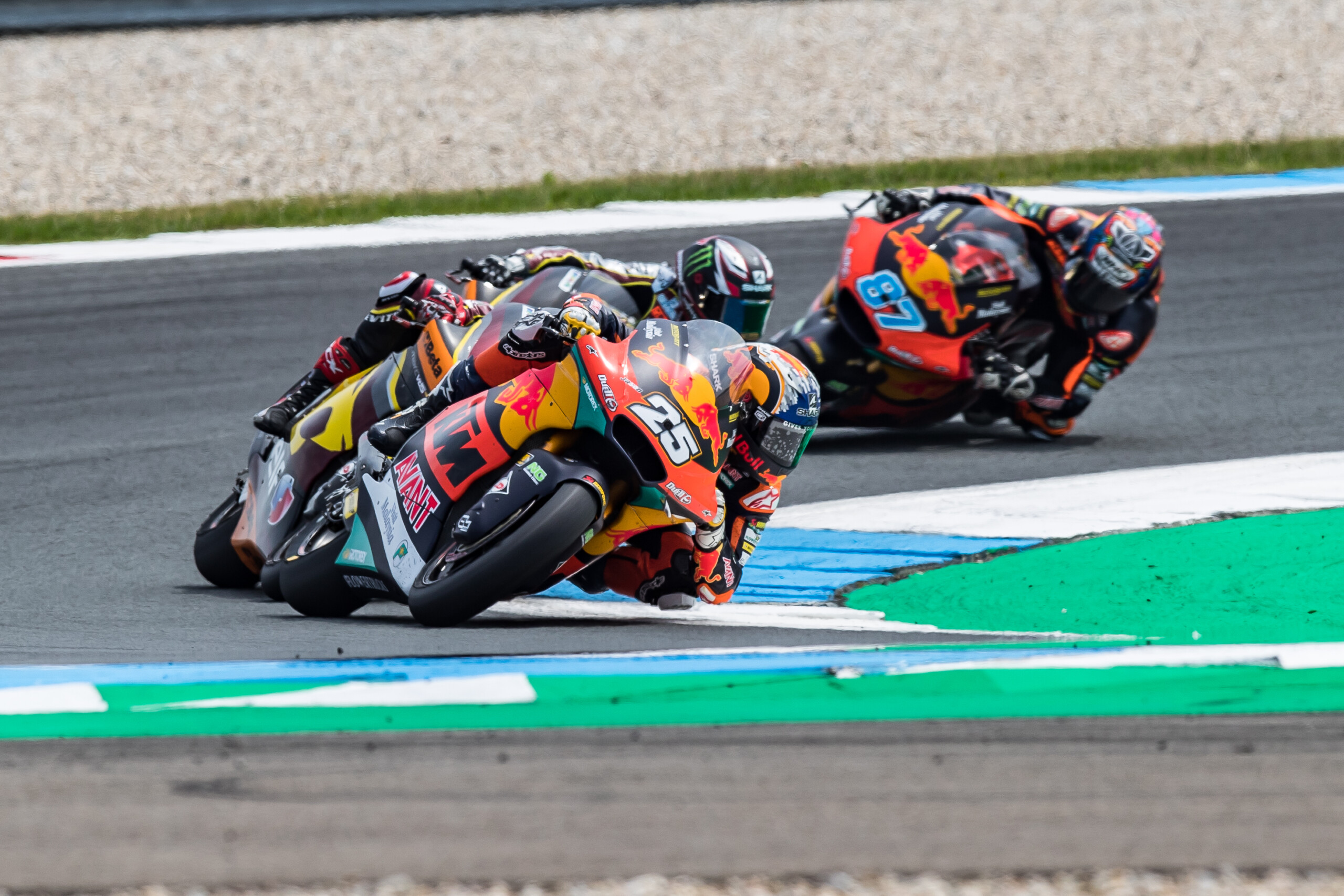 Gardner slots past Augusto into 2nd, and 3 laps later Raul catches Augusto, but Augusto takes Gardner to move back into 2nd.
On lap 14 Augusto Fernandez increases the pressure on Sam Lowes, passing him to take the lead, as Raul gets past his teammate Gardner to move up into 3rd.
Gardner starts to drop back slightly from the top 3, and shortly after Raul takes Lowes to move up into 2nd place. The leading 4 start to spread out as Lowes struggles to match Raul Fernandez's pace, as DiGiannantonio crashes out at turn 9 from 6th.
Raul pursues Augusto, edging ever closer until he makes the move along the start/finish straight at the end of lap 17, with Augusto unable to come back at him.
Augusto runs wide, giving Lowes the opportunity to move up into 2nd. Raul is starting to stretch out his lead with a 0.8 second lead over Lowes.
Lap 20 sees Aron Canet crashes out of 7th place, sliding into the gravel at turn 3.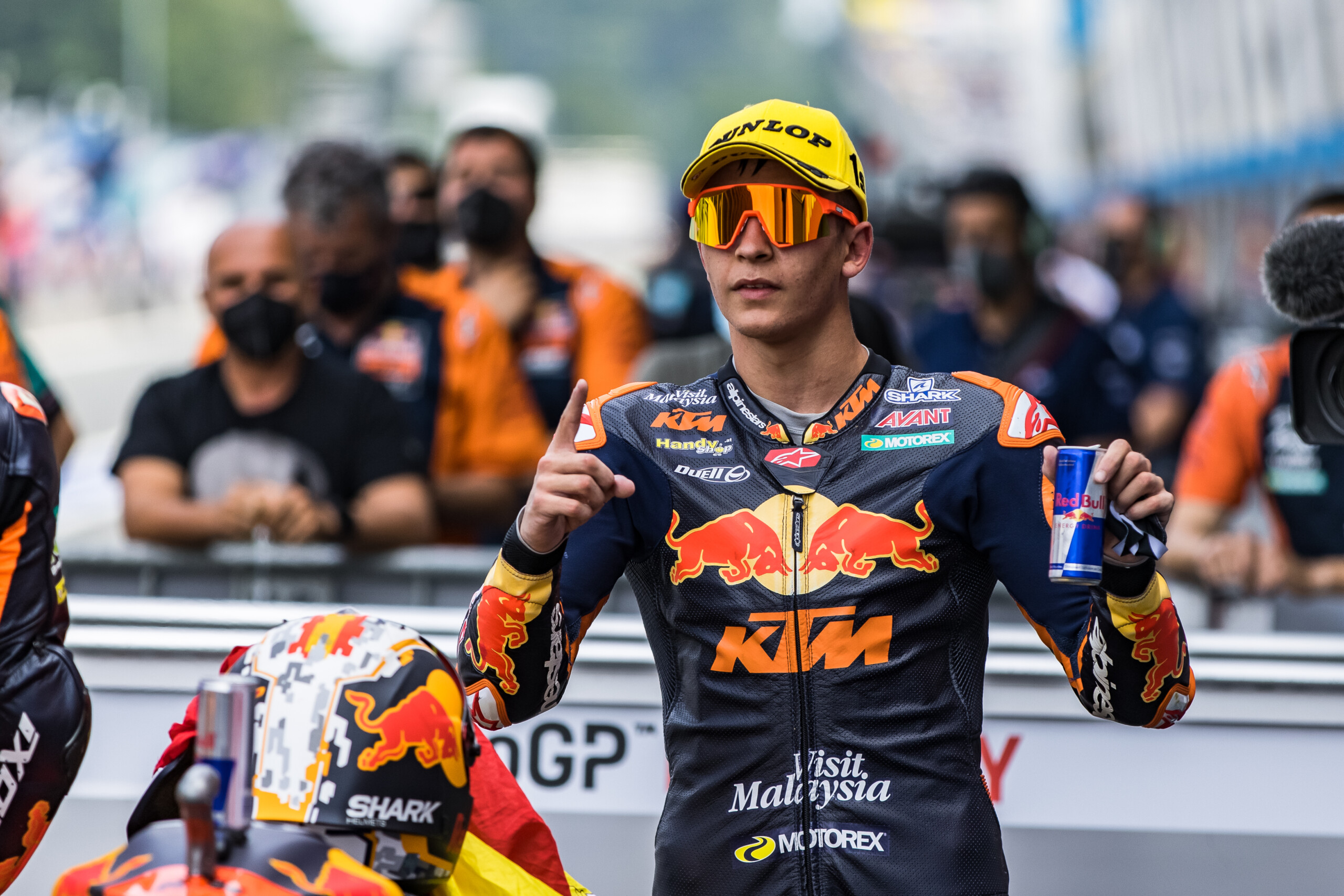 Raul leads by over a second, breaking away from Lowes, Augusto and Gardner. Into lap 22 at the end of the start/finish straight Augusto gets the drive past Lowes to move up into second. Lowes checks over his left shoulder into turn 1, as Gardner slips past on his right, dropping Lowes down into 4th.
At the end of lap 23 Gardner passes Augusto, who pushes hard but is unable to come back at Gardner.
Raul Fernandez takes his third win of the season, ahead of his teammate Remy Gardner, with Augusto Fernandez claiming the 3rd podium spot.
Gardner's lead at the top of the championship narrows slightly to 31 points ahead of Raul Fernandez going into the summer break, Fernandez extends his lead over 3rd place Bezzecchi from 11 points to 25, and Lowes holds onto 4th place overall.  With ten rounds still to go can Gardner hold onto the lead or will rookie Raul Fernandez spring yet more surprises?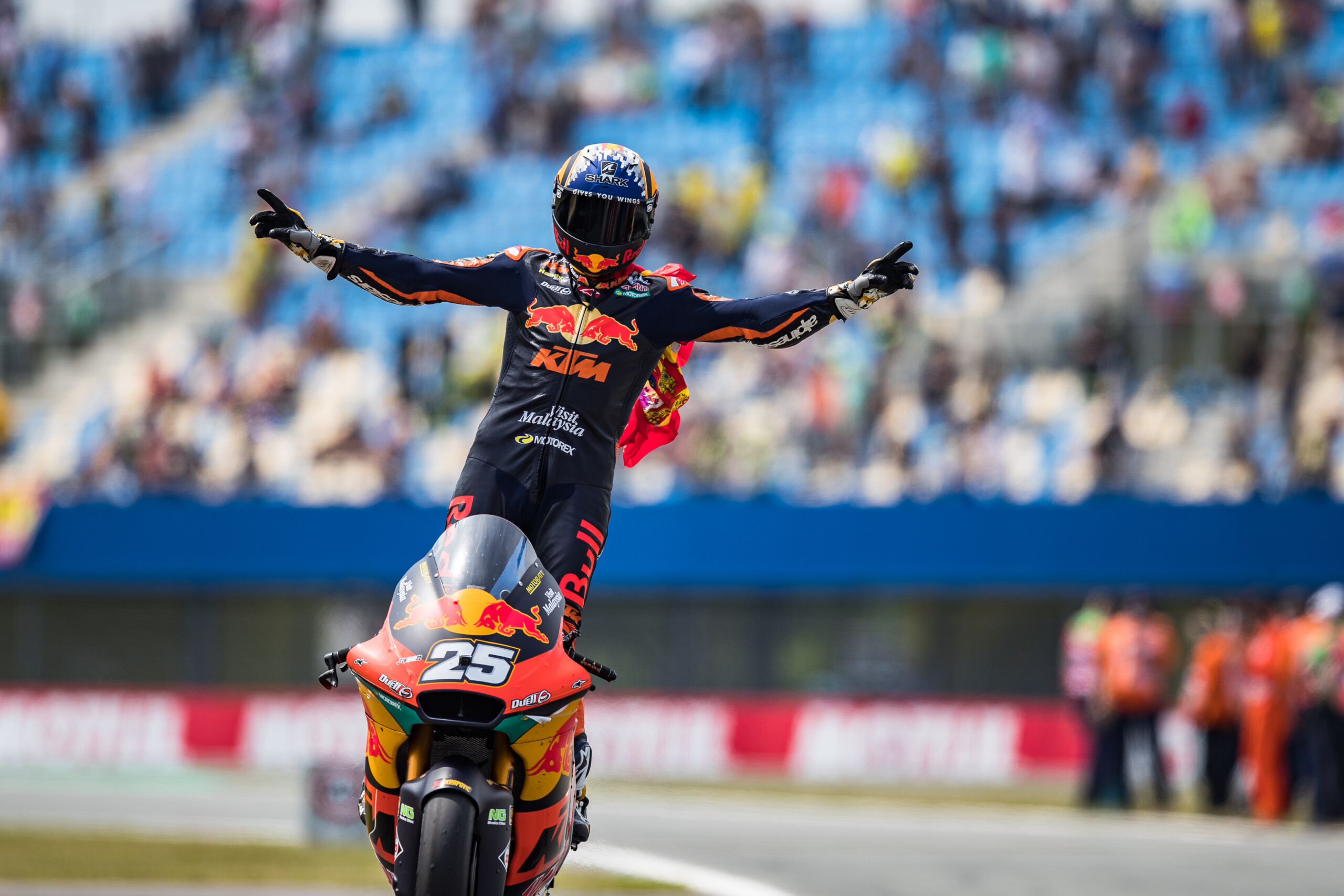 First fifteen riders:
1              Raul Fernandez SPA – Red Bull Ajo KTM – 25 points
2              Remy Gardner AUS – Red Bull Ajo KTM – 20
3              Augusto Fernandez SPA –  – 16
4              Sam Lowes BRI – Elf Marc VDS Racing Team – 13
5              Marco Bezzecchi ITA – Sky Racing Team VR46 – 11
6              Ai Ogura JPN – IDEMITSU Honda Team Asia – 10
7              Jorge Navarro SPA – MB Conveyors Speed Up – 9
8              Xavi Vierge SPA – Petronas Sprinta Racing – 8
9              Marcel Schrotter GER – Liqui Moly Intact – 7
10           Celestino Vietti ITA – SKY Racing Team VR46 – 6
11           Somkiat Chantra THA – IDEMITSU Honda Team Asia – 5
12           Albert Arenas SPA – Inde Aspar Team – 4
13           Stefano Manzi ITA – Flexbox HP40 – 3
14           Thomas Luthi SWI – Pertamina Mandalika SAG Team – 2
15           Bo Bendsneyer NED – Pertamina SAG – 1