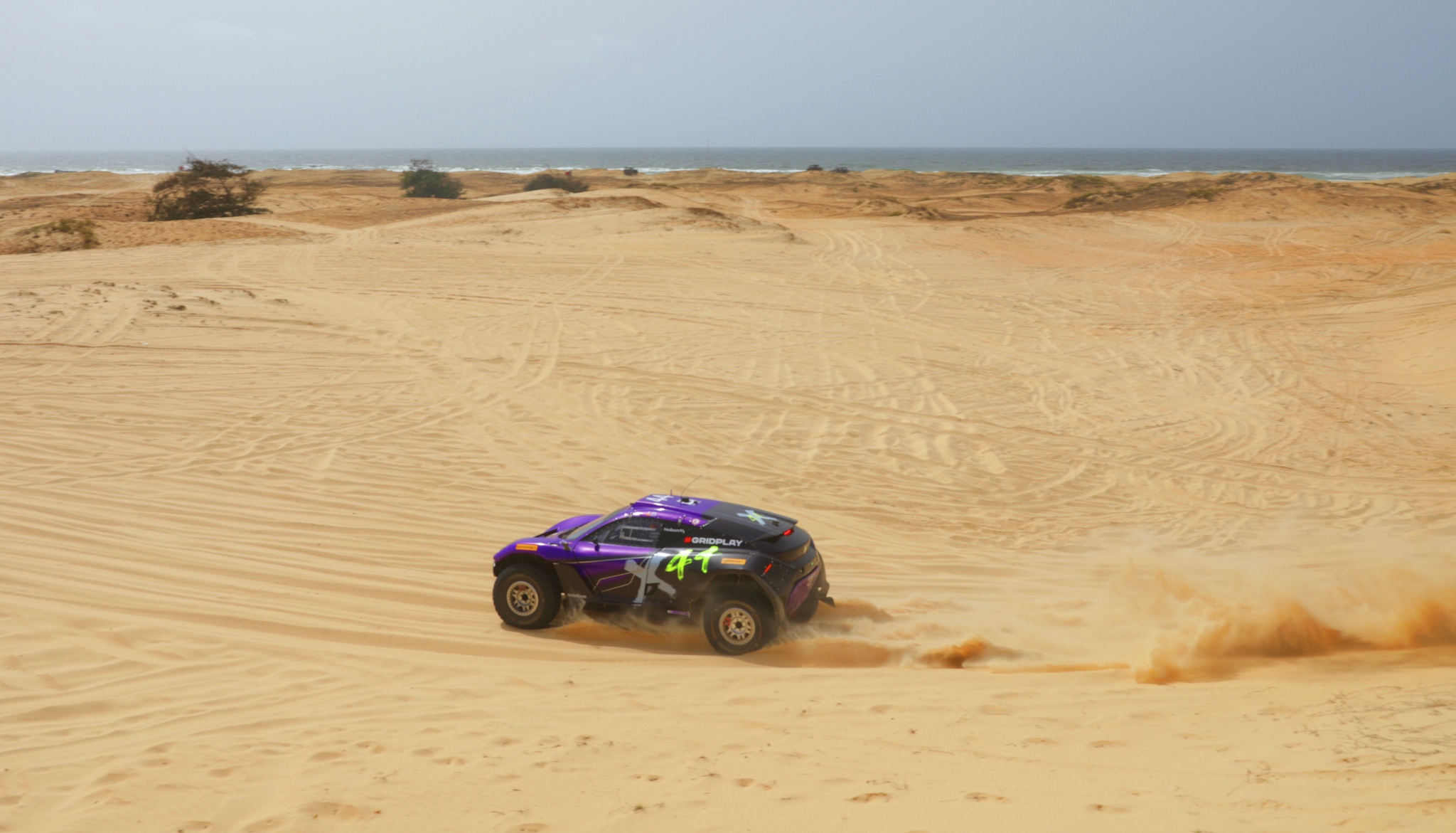 image courtesy of ExtremeE -Andrew Ferraro
Reigning Formula One World Champion, Lewis Hamilton's team, X44 ended an enthralling Qualifying Saturday on top of the time sheets, showing strong pace going into tomorrow's semi final.
Qualifying 1:
Following little running in the first round, Veloce's Jamie Chadwick started off qualifying for the second round of the inaugural season of Extreme E. After steady laps from her and her teammate Stephane Sarrazin, the team set a benchmark time of 11:37.599.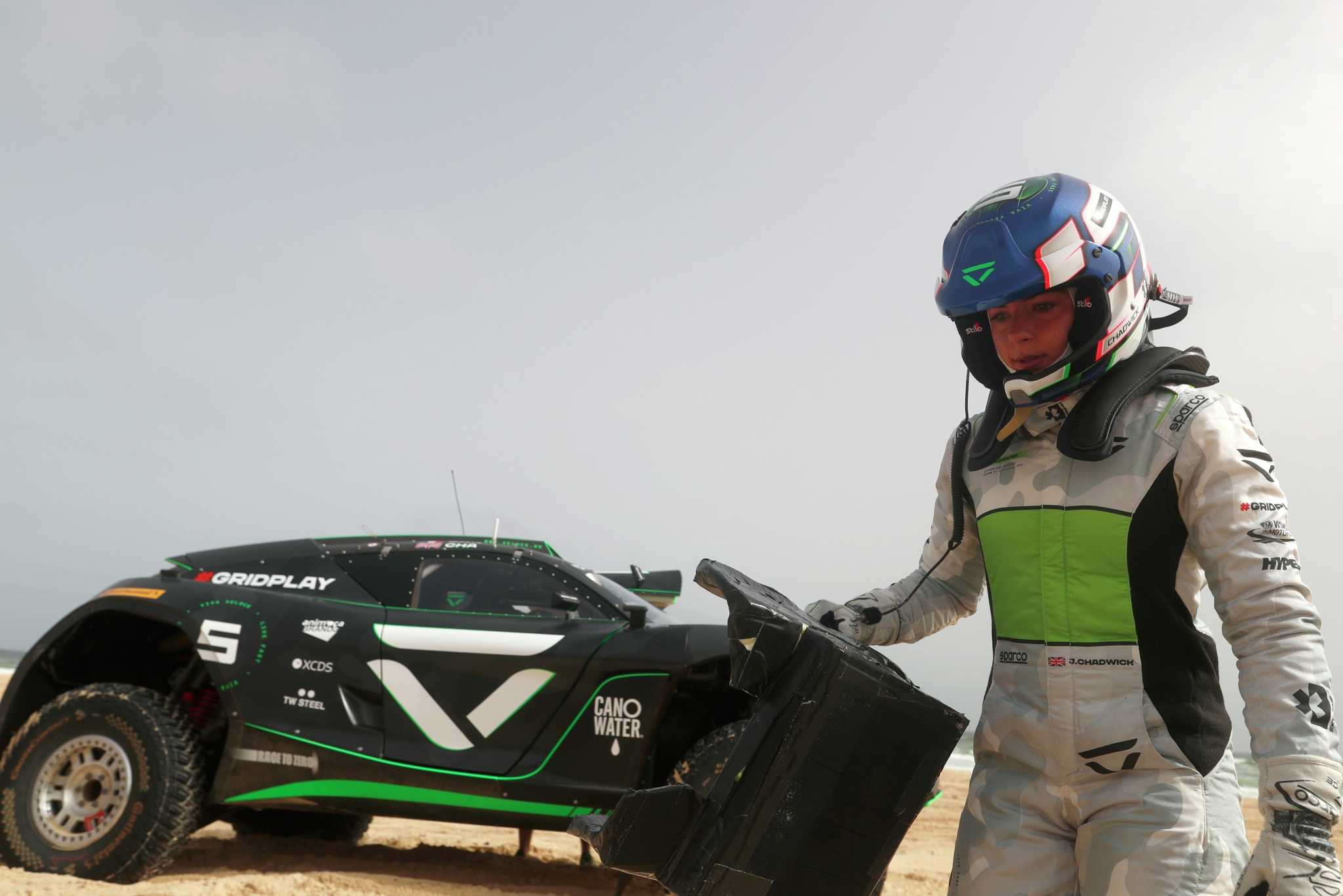 Image courtesy of ExtremeE – Sam Bloxham
Acciona Sainz got off to a strong start in their run, but the car unfortunately ground to a halt part way round Laia Sanz's lap and they were unable to finish. Andretti United's car also came to a stop but, after a lengthy delay, they were able to get moving again, finishing with a time of 14:39.659.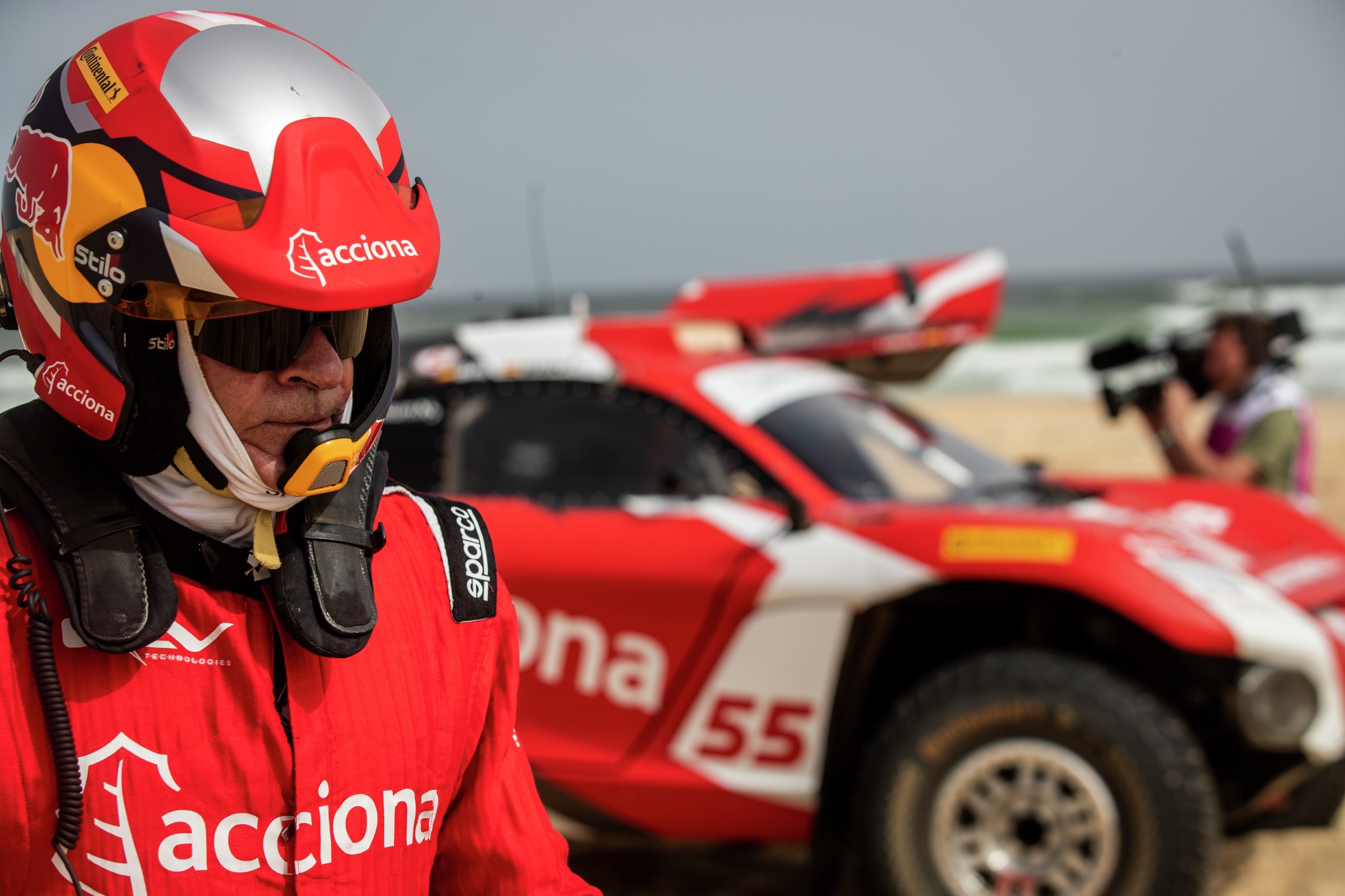 Image courtesy of ExtremeE –Sam Bloxham
Next was the turn of championship leaders and Desert X Prix race winners Rosberg X Racing. Some of the pace from the last round appeared to be missing though as, despite being on provisional pole, they set a beatable time of 11:02.310.
Abt Cupra followed RXR and their drivers put in a strong performance. Jutta Kleinschmidt, who was standing in for the ill Claudia Hurtgen, was particularly impressive, as the 58 year old rounded off their run to put them top of the table with a 10:58.122. Unfortunately for them though, during the changeover, Jutta entered the switch zone before the car had been put into neutral, and the team promptly received a 15 second time penalty.
Then came Lewis Hamilton's X44, whose drivers put in a superb perormance which saw them leap to provisional pole with a 10:47.289. American racing team Chip Ganassi also had a strong showing with Leduc putting in a phenomenal performance. They ended Q1 just 4 seconds down on X44, with a time of 10:51.528.
JBXE and Xite Energy then rounded off an intriguing first qualifying session with times of 11:13.405, and 11:52.806 respectively.
The standings after Q1:
X44 10:47.289

Chip Ganassi +4.239

RXR +15.021

Abt Cupra +25.833

JBXE +26.116

Veloce +50.310

Xite Energy +1:05.517

Andretti United +3:52.376

Acciona Sainz DNF
Qualifying 2:
Going into Q2 the teams switched around their starting driver, which meant Stephane Sarrazin kicked off the final qualifying session of the Ocean X Prix for Veloce. The team had a relatively uneventful run and saw them post a combined time of 23:05.370.
Andretti United went into this session attempting to claw back as much of their lost time as possible. Unfortunately for the american outfit, they were unable to do so and were left with a 25:57.068. Their only chance of progressing to the semi finals would come from other teams running into problems.
Rosberg X Racing's Molly Taylor got some serious air time in her final lap but some excellent car control prevented her from spinning out. They achieved a combined time of 22:12.438, putting them in a temporary pole position. Abt Cupra almost dislodged them straight away but ended up just 8 seconds behind with a 22:20.813.
X44 were the early pace setters in Q1, and another flying run from both of their drivers saw them jump up to the top of the time sheets with a 21:44.856. Close competitors Chip Ganassi got off to a tremendous start in their final qualifying run and were even a few seconds up on X44's time. But then disaster struck. Just as Leduc entered the tree section, his car ground to a halt. After some desperate button pressing the car got going again, but it would be impossible to claw back the several minutes of time he had lost. Teammate Sara Price brought the car home, finishing with a 25:41.815.
With three teams having issues, remaining teams JBXE and Xite Energy just needed to have uneventful runs and see the cars home. Both teams did exactly that and finished with total times of 22:25.426 and 23:36.461 respectively.
Acciona Sainz rounded off the session after just managing to fix the issues they had had in Q1. With them not setting a time in that session, all they could do in Q2 was attempt to set the fastest time through the super sector. Both drivers pushed hard but ultimately neither were able to claim it from Chip Ganassi's Kyle Leduc.
The final qualifying positions:
X44 21:44.856

RXR +27.580

Abt Cupra +35.950

JBXE +40.570

Veloce +1:20.510

Xite Energy +1:51.600

Chip Ganassi +3:56.960

Andretti United +4:12.210

Acciona Sainz +1 Lap
Following an exciting Saturday the gap at the top of the team standings has closed slightly with RXR just 4 points ahead of X44. The current standings:
RXR 46 Points

X44 42 Points

Andretti 33 Points

Sainz 30 Points

Xite 27 Points

JBXE 26 Points

Abt Cupra 23 Points

Chip Ganassi 17 Points

Veloce 12 Points
All eyes now turn to Sunday where we will see the teams face off to determine the final finishing positions. In Semi Final 1, the first two finishers of X44, RXR, and Abt Cupra will progress to the final, where they will be joined by the top two finishers of Semi Final 2 (which consists of JBXE, Veloce, and Xite Energy). The shoot-out will be contested by Chip Ganassi, Andretti United, and Acciona Sainz as they vie for positions seven to nine.
It's certain to be an exciting final day as the nine teams battle it out to be crowned rulers of the Ocean X Prix.