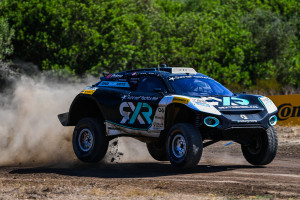 image courtesy of Extreme E
RXR topped qualifying for the second time in as many rounds in Sardinia today, taking maximum points from the two sessions.
Qualifying 1:
By Extreme E's standards, Qualifying 1 was a very sedate affair, with all teams able to post a time.
RXR were the first team to do their run, and they set a benchmark time of 9:00.503, some 10 seconds quicker than they set around the same track just a few days earlier.
RXR's benchmark would not be beaten, with some drivers blaming evolving track conditions for their inability to beat it. Chip Ganassi went closest, with X44 not far behind.
Maximum classification points for Qualifying 1 were awarded to RXR, with Veloce's continuing run of poor form see them prop up the classification.
Qualifying 1 Classification:
RXR  9:00.503  –  10 Points
Chip Ganassi  +10.741  –  9 Points
X44  +11.374  –  8 Points
McLaren +15.126  –  7 Points
Andretti United  +15.203  –  6 Points
ABT Cupra  +16.919  –  5 Points
JBXE  +21.634  –  4 Points
Acciona Sainz  +21.701  –  3 Points
Xite Energy  +22.917  –  2 points
Veloce  +34.065  –  1 Point
Qualifying 2 Heat 1:
The first heat of Qualifying 1 was contested between Xite Energy, Andretti United, X44, RXR, and JBXE.
RXR got the best start and took the lead of the race. Despite some intense pressure from X44 on the first lap, they would not relinquish the lead of the race.
Further behind, Xite Energy made contact with Andretti United, causing the right rear suspension to break on the Andretti car. Timmy Hansen, who was driving in the Andretti at the time, lost the back end, and spun. They dropped to the back of the field and would not complete their second lap.
After the switching of drivers, Xite Energy's Tamara Molinaro overtook the less experienced JBXE driver, Hedda Hosas for third place.
X44 received a post heat penalty for leaving the switch zone early, but it was not enough to see them drop any positions.
Qualifying 2 Heat 1 Classification:
RXR  –  10 Points

X44  –  8 Points

Xite  –  6 Points

JBXE  –  4 Points

Andretti  –  0 Points
Qualifying 2 Heat 2:
McLaren, Chip Ganassi, ABT Cupra, Acciona Sainz, and Veloce all competed against one another in the second and final heat in Qualifying 2.
Acciona Sainz got the best start, swiftly taking the lead before the first waypoint. Kyle Leduc in the Chip Ganassi harried the Acciona Sainz car for much of the lap, but was unable to make the move.
Towards the end of the first lap, Leduc made a mistake, seeing him lose control of the car and go the wrong way. The Chip Ganassi team dropped back into fourth place following Leduc's off-course excursion.
Not much would happen for the remainder of the heat, as Acciona Sainz took a comfortable win ahead of McLaren and ABT Cupra.
Chip Ganassi received a 10 second penalty for dropping a waypoint marker, seeing them fall into last place in the second heat.
Qualifying 2 Heat 2 Classification:
Acciona Sainz  –  10 Points

McLaren  –  8 Points

ABT Cupra  –  6 Points

Veloce  –  4 Points

Chip Ganassi  –  2 Points
Overall Qualifying Classification:
RXR  20 Points

X44   16 Points

McLaren  15 Points

Acciona Sainz  13 Points

Chip Ganassi  11 Points

ABT Cupra  11 Points

JBXE  8 Points

Xite Energy   8 Points

Andretti United   6 Points

Veloce  5 Points
RXR completed another qualifying clean sweep, putting them into Semi Final 1 against Acciona Sainz and Chip Ganassi.
Semi Final 2 will feature X44, McLaren, and ABT Cupra. JBXE, Xite Energy, Andretti United, and Veloce will all face off in the Crazy Race for the fifth and final place in the Final.