It's here. The 'Greatest Spectacle in Racing' is just around the corner as the eyes of the world descend on Indianapolis. A race that is etched into motorsport folklore with unbridled, full-throttle, commitment, and speed. We are, of course, talking about the Indy 500!
May is an incredible month of racing with the Monaco GP on May 23 before Indy 500 on May 30, although the latter is more like a two-week event as practice and qualifying start the week before the intense 500-mile, 200-lap race.
In fact, qualifying is set to take place across both Saturday and Sunday, beginning with the general shootout with the 'Fast Six' on the final day.
We also return to some form of normality, with the Indy 500 returning to its rightful place at the end of May – following last year's postponed event that took place in the middle of August. Unlike last year, we will also have spectators with 135,000 in attendance, a whopping 40% capacity!
DRIVERS! DRIVERS EVERYWHERE!
This season truly has been one to remember. The 2021 campaign has had five race winners in five races with three of those being first-time winners in Alex Palou, Patricio O'Ward, and Rinus VeeKay.
Current championship leader Scott Dixon and Colton Herta won the other two races and the six-time champion will indeed be pushing for his second Indy 500 win having last achieved it in 2008.
The last seven winners are all present this year including Tony Kanaan, Ryan Hunter-Reay, Alexander Rossi, Will Power, Simon Pagenaud, Juan Pablo Montoya, and defending 500′ winner Takuma Sato. Both Sato and Montoya head into this race seeking an incredible third win which would put them tied fourth on the all-time winners list alongside the likes of Bobby Unser and Dario Franchetti.
Three-time winner Helio Castroneves also returns to the Brickyard. A win would put him tied first on the all-time list alongside A.J.Foyt, Al Unser Jr, and Rick Mears.
While the veterans of the sport all bring swathes of experience to the event, it's the younger drivers who will certainly share the spotlight.
Rinus VeeKay won last time out at the IMS in a spectacular display of racecraft, cutting his way through the field to beat pole-sitter, Romain Grosjean, to the chequered flag. Last year, the Dutchman qualified inside the 'Fast Six' on his first attempt at the Brickyard, setting one of the fastest speeds ever seen at the 500′ in the process.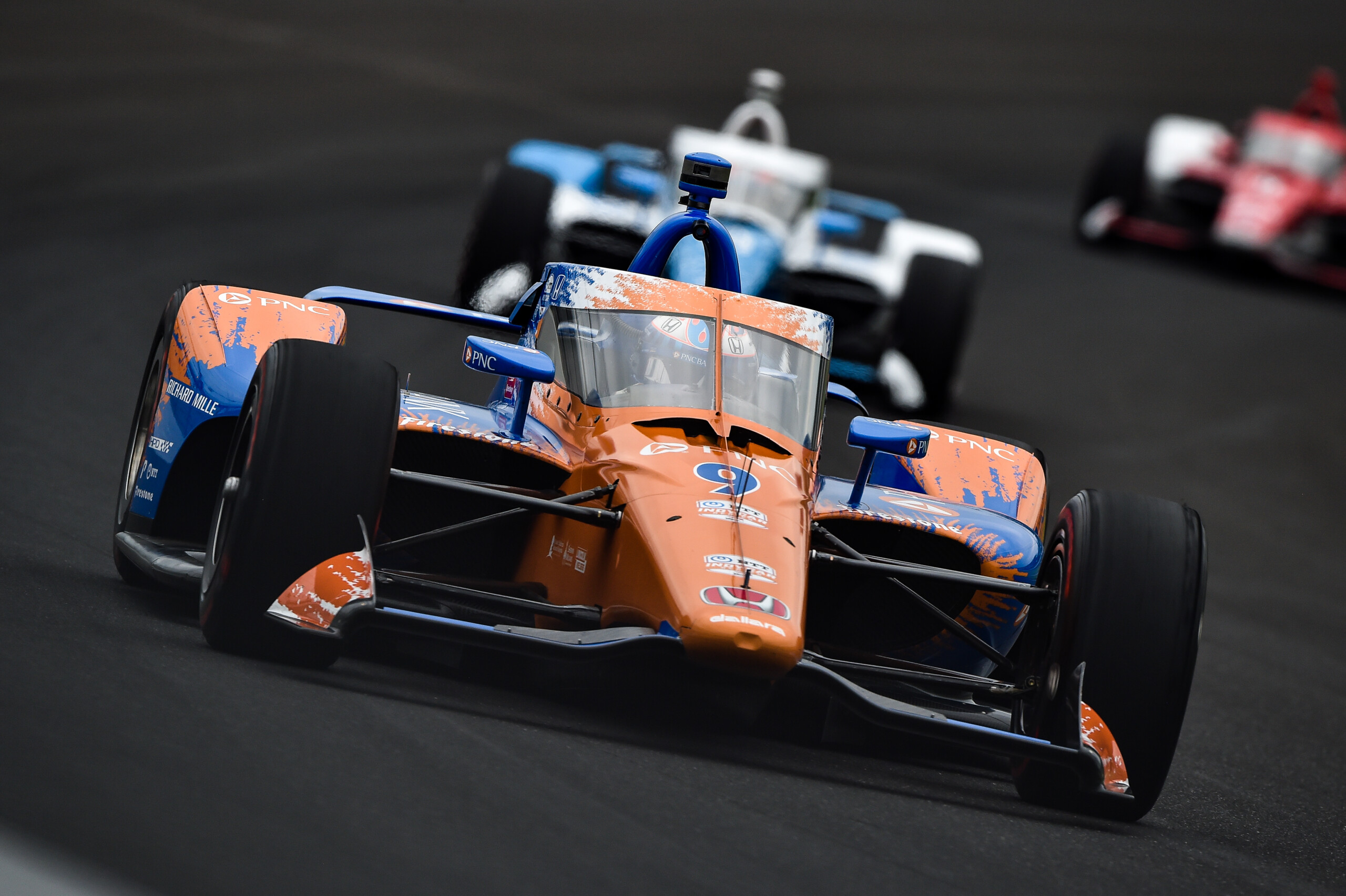 Alongside him in last year's Fast Six' was Alex Palou, who likely caught the attention of his current outfit Chip Ganassi with his performance that weekend. Heading into this weekend second in the championship, Palou has an incredible opportunity to capitalise on the double points on offer.
Graham Rahal was one of the fastest in the pre-season test at the Brickyard and showed a similar pace in this week's practice. The American driver has shown some incredible pace this year putting in two top-five finishes at the double-header in Texas.
There really are contenders everywhere you look. With Patricio O'Ward. Colton Herta, Alexander Rossi, Josef Newgarden, Jack Harvey, Conor Daly, and Scott McLaughlin also looking incredibly sharp coming into qualifying.
FRESH FACES
As ever, we welcome a host of fresh faces to the 500′. Among these are rookies Pietro Fittipaldi and RC Enerson and veterans Pablo Montoya, Tony Kanaan, Santino Ferucci, Stefan Wilson, Ed Carpenter, and JR Hildebrand.
Marco Andretti returns with Andretti. He was last year's pole-sitter and will be looking to repeat that feat this weekend.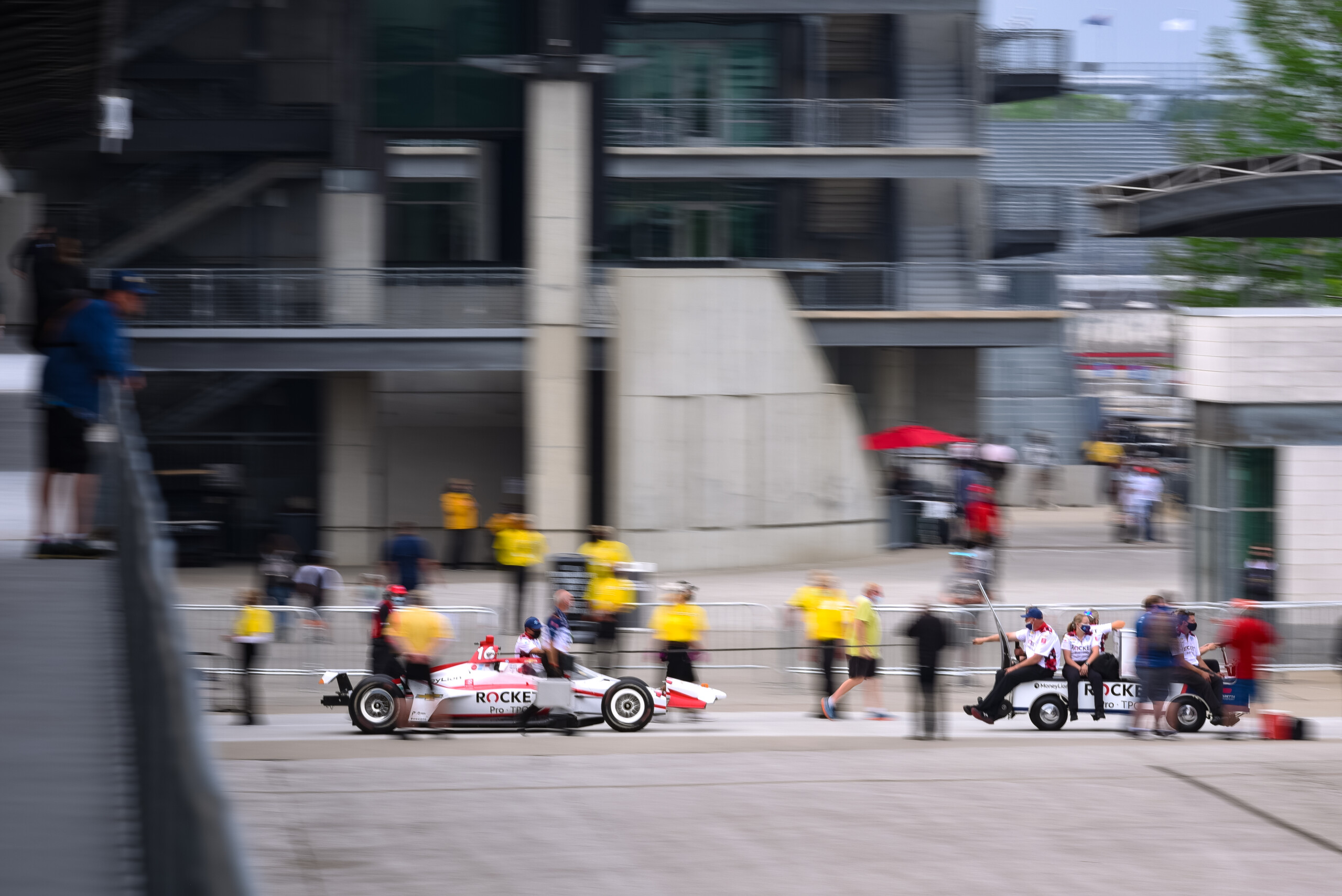 Simona De Silvestro also makes her Indy 500 comeback with the all-female Paretta Autosport outfit. This marks De Silvestro's first run since the 2015 edition of the race.  The Swiss driver has made hints that she could make further IndyCar outings with Paretta in the future.
Both Romain Grosjean and Jimmie Johnson will not be taking part this weekend with both set to return at the Detriot GP.
HONDA VS CHEVY?
So far in practice, there doesn't seem to be an overall advantage in what is set to be an incredibly competitive battle. Will Power with Penske Chevrolet topped Tuesday practice while Scott Dixon's Chip Ganassi Honda topped Wednesday.
Honda, and Chevy have three wins apiece in six attempts. While the only oval comparison we can make this year at Texas was slightly skewed due to qualifying being canceled with the championship standings used to set the grid for the race. Both races were one by an Arrow McLaren SP Chevrolet and Chip Ganassi Honda.
This race truly could be anyones for the taking.
YOU DO NOT WANT TO MISS THIS.
Thursday, May 20
5-11pm (BST): Indy 500 Practice
Friday, May 21
5-11:00pm (BST): Indy 500 Practice
Saturday, May 22
6-7:00pm (BST): Indy 500 Qualifying
Sunday, May 23
6-7.30pm (BST): Last Chance Qualifying
7.30-9.30pm (BST): Fast Nine Qualifying
Friday, May 28                                                                                                                                       3-5:00pm (BST): Final indy 500 Practice
Sunday, May 30                                                                                                                      4:30/4:45 (BST): Indy 500 Race Start