Rinus VeeKay set the third fastest qualifying run in Indy 500 history with a 233.655mph average in his Ed Carpenter Racing Chevrolet at the start of the day going fastest, while Takuma Sato, after having his time deleted for track interference with Marco Andretti, saw him whack the turn two wall but stayed in the throttle and went 12th fastest, securing the final spot for Sunday's fast 12 qualifying session.
While there would be no bump day as part of this year's Indy 500, due to only having 33 entries for the 106th running of the Indy 500, day one of qualifying set positions 13 to 33 and decided who would make Sunday's fast 12 and have a chance at making the fast six and the Indy 500 pole. Multiple attempts to qualify were cut short due to storms with drivers Scott McLaughlin and Josef Newgarden taking to lane one in an attempt to make the fast 12 in time but failed to do so.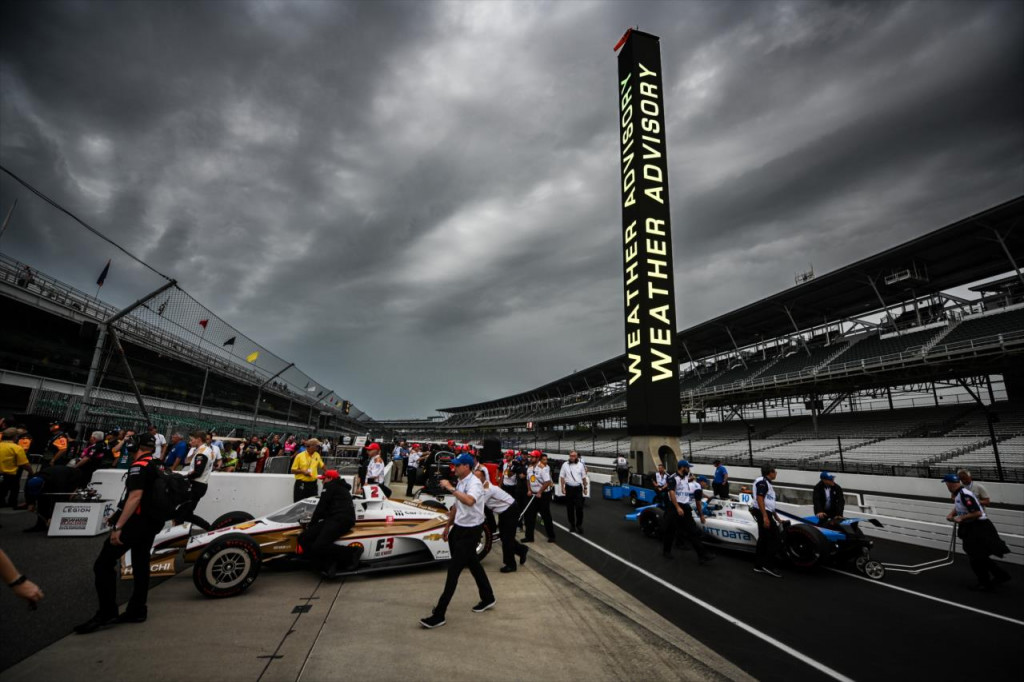 VeeKay was the second car to go out for his first qualifying run in favourable conditions as the track was cool and the air thin. He set a blistering first lap of his four-lap qualifying run with a 234.7mph average. Talking to NBC, VeeKay said the car was "very comfortable to drive."
Sato had his first lap deleted that had put him in the fast 12, after failing to stay off the racing line on his cooldown lap as Marco Andretti came round to begin his run. On the second attempt on lap two, the two-time Indy 500 winner banged square on into the turn two wall but kept his foot in the throttle, barely losing any speed going 12th fastest with a 231.708mph average, knocking out rookie David Malukas from the fast 12. Sato said to NBC: "It's qualifying, you just keep going."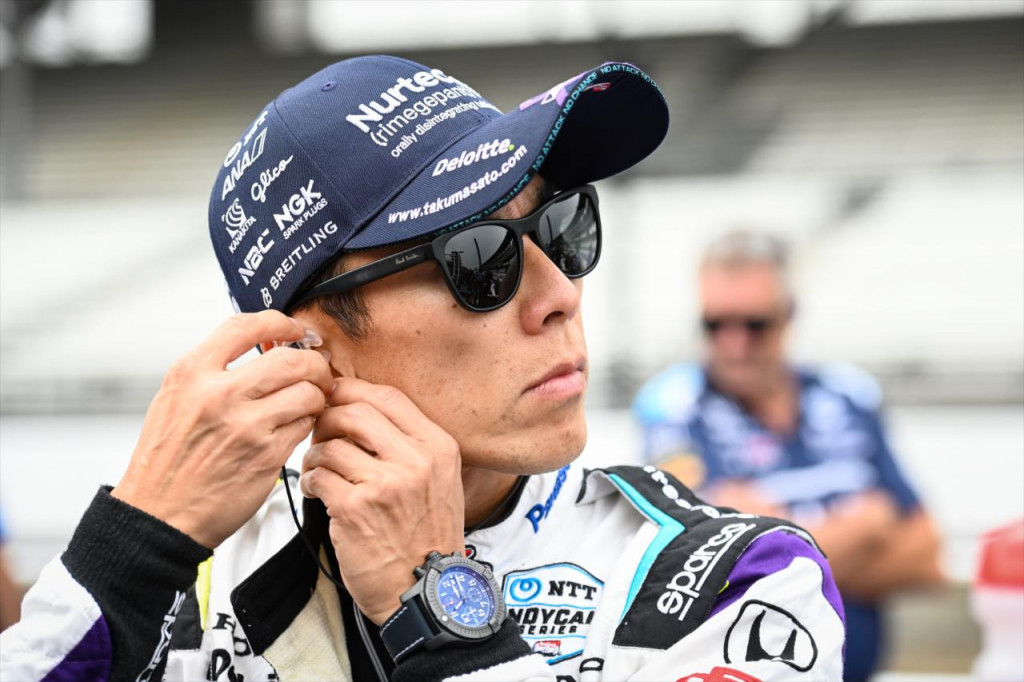 The Arrow McLaren SP's of Pato O'Ward and Felix Rosenqvist went second and third fastest, after going out first and fourth in the session.
The Chip Ganassi Racing camp showed impressive speed all around with all five cars making the fast 12. Álex Palou went fourth fastest with a 232.774mph average, despite increasing track temperatures. 2013 Indy 500 winner Tony Kanaan went fifth fastest while four-time Brickyard 400 winner Jimmie Johnson went sixth fastest with a 232.398mph average in his first ever Indy 500 qualifying session, continuing on from his IndyCar oval success at Texas Motor Speedway. Marcus Ericsson with a track temperature of 107 degrees, 21 degrees hotter than VeeKay's qualifying run, still managed to go eighth fastest while 2021 pole winner Scott Dixon went 10th fastest.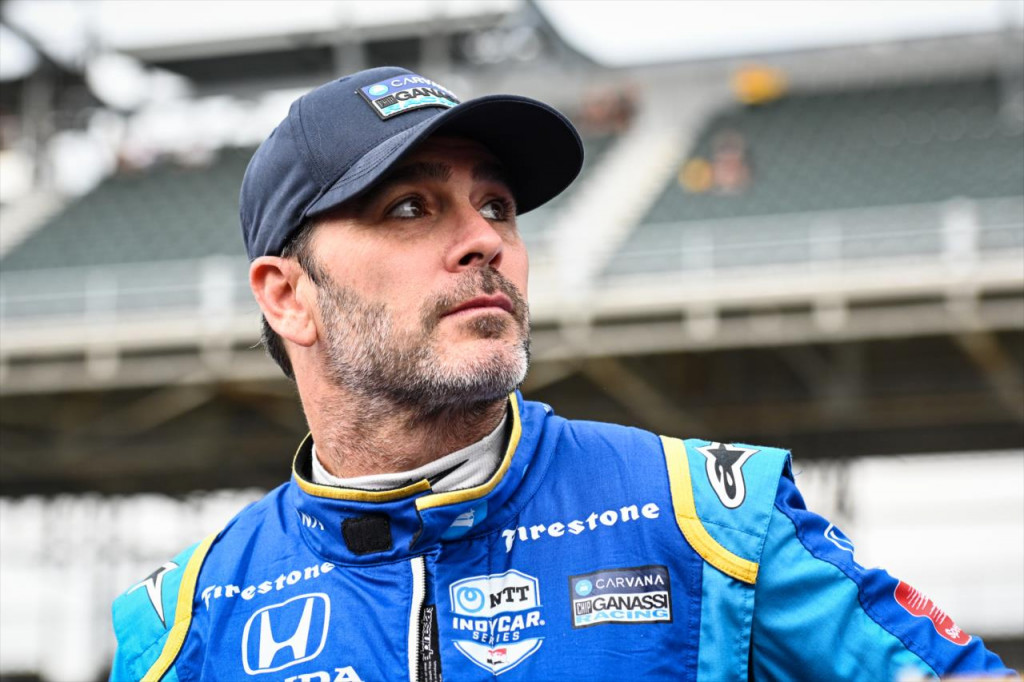 Three-time Indy 500 pole winner Ed Carpenter went seventh fastest despite the hotter track temperature but was forced to lift going into turn three on his final lap as he reached 241mph. Romain Grosjean, after having a difficult would be the surprise lone Andretti Autosport driver to make the fast 12 going ninth fastest in his first ever Indy 500 qualifying run, while 2018 Indy 500 winner Will Power would be the only Team Penske driver to make the fast 12, going 11th fastest after using every inch of the track to do so.
Overall though, it would prove to be not the best of days for Andretti Autosport and Team Penske. Colton Herta's engine shut off on his first qualifying run, forcing the team to do a lengthy engine change before sending him back out later in the day where he only managed to qualify 25th. Alexander Rossi was not happy with his race car, describing it to NBC as "horrible", and qualified 20th.  Marco Andretti qualified 23rd and rookie Devlin DeFrancesco qualified 24th.
Team Penske's Scott McLaughlin withdrew his 15th qualifying position to take lane one for a second attempt but with less favourable conditions, the gamble did not pay off and instead qualified 26th. Josef Newgarden was lucky to keep his 14th qualifying position after lightning brought out the yellow flag on his second qualifying run after also using lane one, ending the session early. As a result, he was able to retain his position.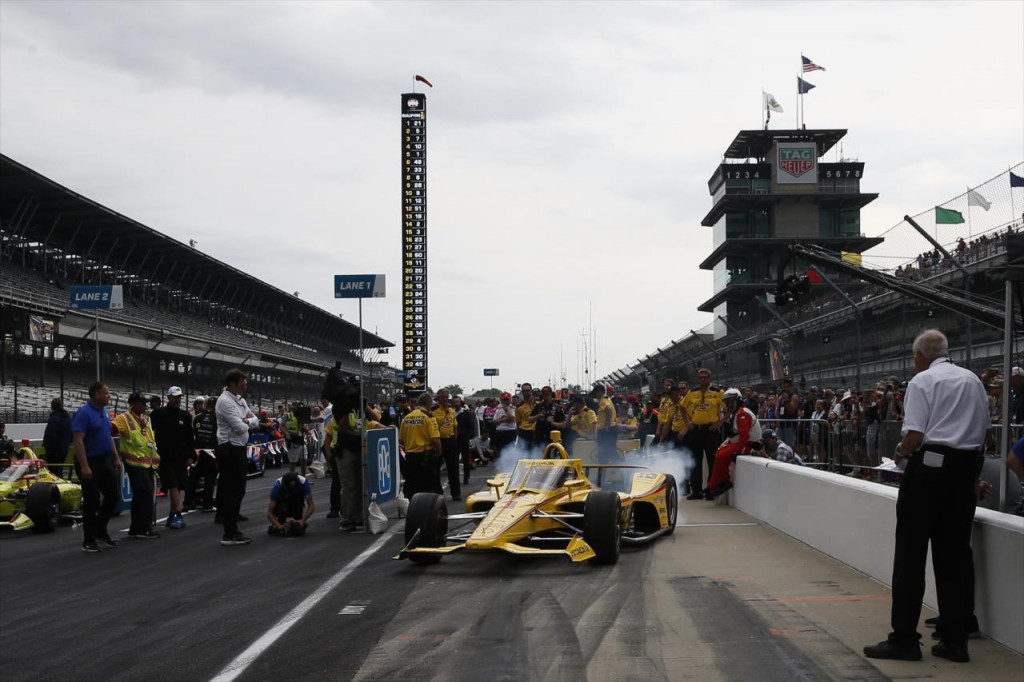 Two-time Indy 500 winner Juan Pablo Montoya, in contrast to his Arrow McLaren SP teammates, had a rough qualifying session. Montoya's car failed pre-qualifying inspection and had to forfeit his first qualifying run. When he did attempt to qualify, he was not on pace saying on the radio the car was "horrible" and "hard to drive", only qualifying 30th.
Four-time Indy 500 winner Hélio Castroneves, after qualifying eighth last year with Meyer Shank Racing before going on to win the Indy 500, could only manage 27th.
Stefan Wilson was unable to get out to qualify due to engine trouble and consequently will start last for next weekend's Indy 500.
The full qualifying results are as follows.
Drivers to progress to fast 12: 1st Rinus VeeKay, 2nd Pato O'Ward, 3rd Felix Rosenqvist, 4th Álex Palou, 5th Tony Kanaan, 6th Jimmie Johnson, 7th Ed Carpenter, 8th Marcus Ericsson, 9th Romain Grosjean, 10th Scott Dixon, 11th Will Power, 12th Takuma Sato.
13th to 33rd: 13th David Malukas, 14th Josef Newgarden, 15th Santino Ferrucci, 16th Simon Pagenaud, 17th JR Hildebrand, 18th Conor Daly, 19th Callum Ilott, 20th Alexander Rossi, 21st Graham Rahal, 22nd Sage Karam, 23rd Marco Andretti, 24th Devlin DeFrancesco, 25th Colton Herta, 26th Scott McLaughlin, 27th Hélio Castroneves, 28th Kyle Kirkwood, 29th Dalton Kellett, 30th Juan Pablo Montoya, 31st Christian Lundgaard, 32nd Jack Harvey, 33rd Stefan Wilson.
Featured Image: Rinus VeeKay in his ECR Bitcoin Chevrolet (Photo by Chris Jones/IndyCar Media)