The 2021 British Touring Car Championship season burst into life at the weekend at Thruxton. Josh Cook won the first two races before Ash Sutton stormed to victory in a thrilling final race. A few talking points arose from the weekend's action, with thrills, spills, and strong performances aplenty.
Never Discount Ash Sutton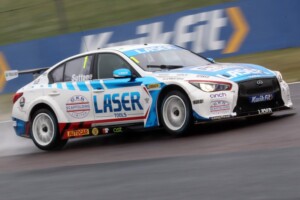 The reigning champ took pole position in Saturday's qualifying session to kick off his title defence in the best way possible. However, he was tapped by Colin Turkington into the Complex and spun, falling to the back of the grid. Not one to stay down for long, Sutton surged through the field finishing tenth on the road but was promoted to ninth thanks to Turkington receiving a penalty for their first lap collision.
Another ninth placed finish in race two put him in good position as the reverse grid draw lottery put him third on the grid for race three. The rain-affected race saw Sutton start strong and lead, before Jake Hill on slicks passed him, only for the rain to return and put Sutton back in the ascendancy to take the win. From despair on race one lap one, to victory on race three, final lap.
Jake Hill – Emergence of a new star?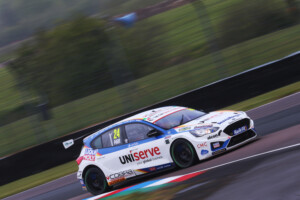 The MB Motorsport team merged with Motorbase for 2021, meaning Hill swapped his Honda Civic FK2 for a new Ford Focus. He was one of the stars of the weekend, taking three podiums and leading the championship as we leave Thruxton.
His skill and talent were underlined when he drove around the fastest circuit in the UK, on slick tyres, in wet and greasy conditions. That's no mean feat, and Hill was not only quick, but he could have won if the rain had held off. A strong performance from the MB Motorsport driver, and one he will be sure to build on at Snetterton in June.
Andy Neate hit with a £2k fine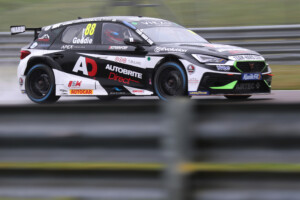 On the opening lap of race two there was a big incident involving Andy Neate, Glyn Geddie and Jade Edwards. Neate dove down the inside of Geddie into turn one. Geddie had the corner covered and was tipped into a spin by Neate, sending both into the wall and Geddie's Cupra Leon pirouetted in the air before landing. Edwards was on the outside and played innocent bystander as she was caught up in it.
Initially Neate suggested he had brake failure which caused him to hit Geddie. However, after checks there was deemed nothing wrong with his car and Neate was hit with a £2,000 fine and points on his licence for the incident. Why did Neate suggest brake failure instead of admitting he was at fault for the incident? Thankfully all three drivers walked away uninjured.
Life in Plato Yet!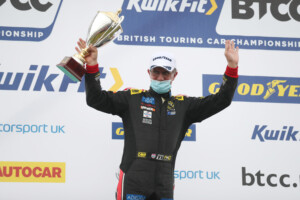 The 53-year-old showed he's not mellowed with age as he took a sixth, a fifth, and a second in the three races this weekend. He got stuck in and showed his great race craft in his Vauxhall Astra. He was involved in dicey battles with the likes of Dan Rowbottom, Dan Cammish and Jake Hill. The latter fighting Plato in a drag race to the line in race three, with Plato coming out on top. A fine weekend back after a year away from the grid.
Was Turkington's Penalty Fair?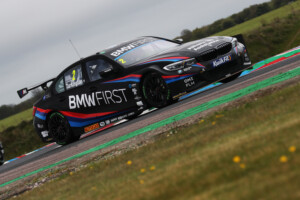 The aforementioned incident between Sutton and Turkington meant the four-time champion was given a 17 second penalty. This dropped him from fourth to tenth. The reason for this was Sutton finished tenth, and so the stewards gave Turkington a penalty which put him behind Sutton.
However, this is potentially a dangerous precedent to set, as theoretically speaking, if Sutton had finished 30 seconds back, or a lap down, by this logic Turkington would effectively have to be excluded from the results. Would a standard five or ten second penalty have sufficed for what was effectively an innocuous mistake on cold tyres?
The BTCC is back, and now the long wait begins for the next weekend of action at Snetterton on June 12-13.