Ash Sutton took the win in a thrilling final race of the day at Thruxton. The weather was a factor with rain stopping and starting again meaning tyre strategies were needed.
Pre-race Josh Cook and Tom Ingram were handed 30 second penalties for not having their tyres on their cars in time.
While most of the front were on wets, Tom Oliphant gambled on slicks, meaning he fell down the order at the start. Sutton took second from him with Stephen Jelley led.
Sutton overtook Jelley at the Complex on lap two while Cook and Ingram served their penalties in the pitlane.
Jason Plato and Aiden Moffat had a nice battle for fourth until Moffat pulled off the road with a mechanical issue on lap seven.
On lap six the weather stopped and the drivers on slick tyres were starting to come good. Jake Hill and Oliphant started to surge through the field with Oliphant coming from 18th.
Dan Cammish and Dan Rowbottom pitted for slicks to try and capitalize on the changing weather but it was the wrong call.
Hill's resurgence continued as he passed Plato for third. Tom Oliphant was given a five second penalty for not being in his grid slot correctly.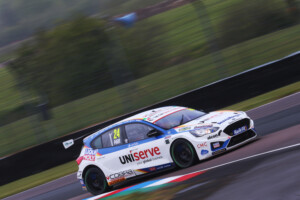 On lap nine Hill was five seconds faster than leader Sutton, and was in second place closing down the leader. By lap ten he was in the lead.
But just as Hill took the lead it started to rain again, with the pendulum swinging back into Sutton's favour. The reigning champion regained his lead with ease on lap 14.
On lap 15 Plato moved into third, but further back Carl Boardley and rookie Rick Parfitt collided at the Complex. Parfitt resumed but Boardley drove into the path of Rory Butcher while recovering and both collided and were out of the race.
Sutton won but there was a mad dash to the line between Plato, Hill, and Gordon Shedden. Plato had the better exit and stole second place on the line.
Shedden finished fourth, Plato's team mate Dan Lloyd made it a good race for Power Maxed Racing with fifth. WSR duo Turkington and Oliphant took sixth and seventh. Jack Goff, Ollie Jackson and Stephen Jelley rounded off the top ten.
Jake Hill leads the championship after this weekend's racing by a point from Josh Cook with Jason Plato in third a few points behind.
Pos
Driver
Team
Car
Gap
1
Ash Sutton
Laser Tools
Infiniti Q50
22:47:671
2
Jason Plato
Power Maxed
Vauxhall Astra
+4.789
3
Jake Hill
MB Motorsport
Ford Focus
+4.859
4
Gordon Shedden
Halfords Racing
Honda Civic
+5.025
5
Dan Lloyd
Power Maxed
Vuaxhall Astra
+9.927
6
Colin Turkington
Team WSR
BMW 330i M
+10.105
7
Tom Oliphant
Team WSR
BMW 330i M
+13.212
8
Jack Goff
Team HARD
Cupra Leon
+14.014
9
Ollie Jackson
MB Motorsport
Ford Focus
+16.377
10
Stephen Jelley
Team WSR
BMW 330i M
+18.713
11
Aron Taylor-Smith
Team HARD
Cupra Leon
+21.321
12
Sam Osborne
Motorbase
Ford Focus
+24.962
13
Tom Chilton
Ciceley
BMW 330i M
+25.188
14
Sam Smelt
Toyota Gazoo
Toyota Corolla
+25.722
15
Chris Smiley
Excelr8
Hyundai i30N
+38.847
16
Rick Parfitt
Excelr8
Hyundai i30N
+40.064
17
Nicholas Hamilton
Team HARD
Cupra Leon
+52.655
18
Adam Morgan
Ciceley
BMW 330i M
+55.339
19
Jack Butel
Excelr8
Hyundai i30N
+1:04.841
20
Josh Cook
BTC Racing
Honda Civic
+1 Lap
21
Dan Rowbottom
Halfords Racing
Honda Civic
+1 Lap
22
Tom Ingram
Excelr8
Hyundai i30N
+1 Lap
23
Dan Cammish
BTC Racing
Honda Civic
+1 Lap
24
Carl Boardley
Laser Tools
Infiniti Q50
+2 Laps
25
Rory Butcher
Toyota Gazoo
Toyota Corolla
+2 Laps
Retirements
DNF
Aiden Moffat
Laser Tools
Infiniti Q50
Mechanical
DNF
Jade Edwards
BTC Racing
Honda Civic
Damage
DNS
Glyn Geddie
Team HARD
Cupra Leon
Damage
DNS
Andy Neate
Motorbase
Ford Focus
Damage