Josh Cook secured his second win from two races with the race marred by a big first lap incident between three drivers.
Andy Neate, Glyn Geddie and Jade Edwards were all in a big shunt on lap one which caused a red flag. On the restart Dan Cammish surged into second to back up his temporary team mate with Jake Hill third.
The race was red flagged on lap one as Glyn Geddie, Jade Edwards and Andy Neate were involved in a first corner collision. Neate dove down the inside at turn one of Geddie and collided. They took Edwards with them as she was an innocent bystander on the outside. Geddie hit the wall and his car pirouetted and rolled and all three were out with considerable damage.
On the restart Hill got away badly, Cammish capitalized on it and moved into third. Into the complex Ingram was battling Cook for the lead with the pair making contact. As Ingram regained his composure Cammish snuck down the inside to take second.
The Safety Car was brought out when Rory Butcher started to spin in the high speed section. He went across the track, with drivers doing well to avoid him, before hitting the tyre wall at speed.
On lap six the race continued, with Dan Rowbottom pulling off a nice move on Ingram as he struggled with ballast in his Hyundai.
The top three pulled away from Jason Plato in fourth who was being caught by the charging Rowbottom. Having pitted, Ash Sutton surged back through the field, ending the race in ninth.
Rowbottom finally passed Plato on lap ten as he got the better of the veteran out of the final chicane for fourth place.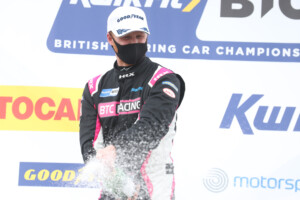 The top two were the quickest cars, with Cook taking his second win from two with Cammish playing a good team mate to back him up.
Hill finished third as his encouraging start to the season continues. Rowbottom secured his best ever BTCC finish with fourth and Plato came home fifth. Ingram and Turkington were next, followed by the Laser Tools duo of Moffat and Sutton. Tom Oliphant rounded off the top ten in his BMW.
Pos
Driver
Team
Car
Gap
1
Josh Cook
BTC Racing
Honda Civic
23:06:411
2
Dan Cammish
BTC Racing
Honda Civic
+0.234
3
Jake Hill
MB Motorsport
Ford Focus
+1.625
4
Dan Rowbottom
Halfords Racing
Honda Civic
+4.655
5
Jason Plato
Power Maxed
Vauxhall Astra
+4.976
6
Tom Ingram
Excelr8
Hyundai i30N
+6.961
7
Colin Turkington
Team WSR
BMW 330i M
+7.303
8
Aiden Moffat
Laser Tools
Infiniti Q50
+9.291
9
Ash Sutton
Laser Tools
Infiniti Q50
+10.055
10
Tom Oliphant
Team WSR
BMW 330i M
+11.411
11
Stephen Jelley
Team WSR
BMW 330i M
+13.259
12
Jack Goff
Team HARD
Cupra Leon
+13.759
13
Ollie Jackson
MB Motorsport
Ford Focus
+15.311
14
Dan Lloyd
Power Maxed
Vauxhall Astra
+15.826
15
Aron Taylor-Smith
Team HARD
Cupra Leon
+16.944
16
Sam Osborne
Motorbase
Ford Focus
+17.540
17
Carl Boardley
Laser Tools
Infiniti Q50
+19.551
18
Gordon Shedden
Halfords Racing
Honda Civic
+19.914
19
Jack Butel
Excelr8
Hyundai i30N
+26.245
20
Sam Smelt
Toyota Gazoo
Toyota Corolla
+26.623
21
Adam Morgan
Ciceley
BMW 330i M
+32.085
22
Nicholas Hamilton
Team HARD
Cupra Leon
+35.931
23
Chris Smiley
Excelr8
Hyundai i30N
+1 Lap
Retirements
DNF
Rick Parfitt
Excelr8
Hyundai i30N
Mechanical
DNF
Tom Chilton
Ciceley
BMW 330i M
Mechanical
DNF
Rory Butcher
Toyota Gazoo
Toyota Corolla
Crash
DNF
Jade Edwards
BTC Racing
Honda Civic
Crash
DNF
Andy Neate
Motorbase
Ford Focus
Crash
DNF
Glyn Geddie
Team HARD
Cupra Leon
Crash