Reigning champion Ash Sutton took the first pole position of the 2021 British Touring Car Championship season on a drying track at Thruxton.
Qualifying started off with a wet track and dried over the course of the 30 minute session, with the likes of Sutton, Josh Cook and Rory Butcher all exchanging fastest times throughout.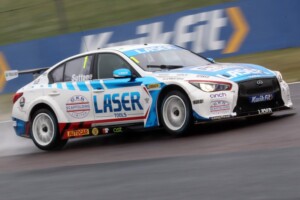 BMW's Colin Turkington set the first competitive time of the session, and of the season, before Ford's Jake Hill went faster. Tom Ingram, in his first qualifying session with Excelr8, was fastest five minutes in.
The track was starting to dry at a quick pace, which meant the times were starting to tumble. Cook went fastest and then Sutton regained the top time soon after. Dan Cammish, who returned to the grid with BTC Racing following Michael Crees' shock departure this week, went third with ten minutes remaining.
With just eight minutes remaining the action began, as Hill went fastest by just under a tenth of a second. Tom Oliphant in the BMW then set a 1:19:7 before Butcher set a 1:19:4.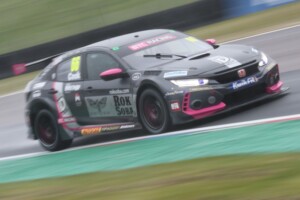 Not to be upstaged, Hill's next lap was a 1:19:0, showing how fast the track was drying out. Butcher then snatched top spot straight back as the first driver to break the 1:18's.
With just under two minutes to go Jade Edwards spun and collided with the tyre wall. She was on slicks and must have hit a damp spot as she hit the wall but soon got going again, but brought out the yellow flag.
Hill was looking to be on a fast lap to try and retake pole, but was held up by Jason Plato into the final chicane. The Vauxhall driver, who was not on a hot lap, had ample opportunity to move out of Hill's way, but decided to hold him up into the final corner before peeling into the pitlane.
Ingram went fastest as time ran out with a 1:18:7 before Sutton smashed the fastest time, setting a 1:18:3, and taking pole position in the process.
Cook was second, with Turkington's quiet session finishing third. Ingram, Butcher Oliphant and Hill followed, with Gordon Shedden, Ollie Jackson, and Chris Smiley rounding off the top ten.
| | | | | |
| --- | --- | --- | --- | --- |
| Pos | Driver | Team | Car | Time |
| 1 | Ash Sutton | Laser Tools | Infiniti Q50 | 1:18:305 |
| 2 | Josh Cook | BTC Racing | Honda Civic Type R | +0.053 |
| 3 | Colin Turkington | Team WSR | BMW 330i M Sport | +0.362 |
| 4 | Tom Ingram | Excelr8 | Hyundai i30N | +0.413 |
| 5 | Rory Butcher | Toyota Gazoo | Toyota Corolla | +0.530 |
| 6 | Tom Oliphant | Team WSR | BMW 330i M Sport | +0.586 |
| 7 | Jake Hill | MB Motorsport | Ford Focus | +0.604 |
| 8 | Gordon Shedden | Halfords Racing | Honda Civic Type R | +0.810 |
| 9 | Ollie Jackson | MB Motorsport | Ford Focus | +1.641 |
| 10 | Chris Smiley | Excelr8 | Hyundai i30N | +1.740 |
| 11 | Jason Plato | Power Maxed | Vauxhall Astra | +1.973 |
| 12 | Dan Cammish | BTC Racing | Honda Civic Type R | +2.088 |
| 13 | Carl Boardley | Laser Tools | Infiniti Q50 | +2.408 |
| 14 | Adam Morgan | Ciceley | BMW 330i M Sport | +2.458 |
| 15 | Jack Goff | Team HARD | Cupra Leon | +2.630 |
| 16 | Dan Rowbottom | Halfords Racing | Honda Civic Type R | +2.677 |
| 17 | Jade Edwards | BTC Racing | Honda Civic Type R | +2.969 |
| 18 | Stephen Jelley | Team WSR | BMW 330i M Sport | +3.171 |
| 19 | Aron Taylor-Smith | Team HARD | Cupra Leon | +3.172 |
| 20 | Tom Chilton | Ciceley | BMW 330i M Sport | +3.310 |
| 21 | Aiden Moffat | Laser Tools | Infiniti Q50 | +3.547 |
| 22 | Dan Lloyd | Power Maxed | Vauxhall Astra | +4.065 |
| 23 | Sam Osborne | Motorbase | Ford Focus | +4.350 |
| 24 | Andy Neate | Motorbase | Ford Focus | +4.574 |
| 25 | Rick Parfitt | Excelr8 | Hyundai i30N | +5.460 |
| 26 | Glyn Geddie | Team HARD | Cupra Leon | +5.547 |
| 27 | Sam Smelt | Toyota Gazoo | Toyota Corolla | +6.152 |
| 28 | Jack Butel | Excelr8 | Hyundai i30N | +6.826 |
| 29 | Nicolas Hamilton | Team HARD | Cupra Leon | +6.882 |