The date 4th April 2021 may well go down in motorcycle racing history as the day that Pedro Acosta announced himself to the world. Still only 16 years old, the Spaniard pulled off one of the all-time great rides in any class in modern memory.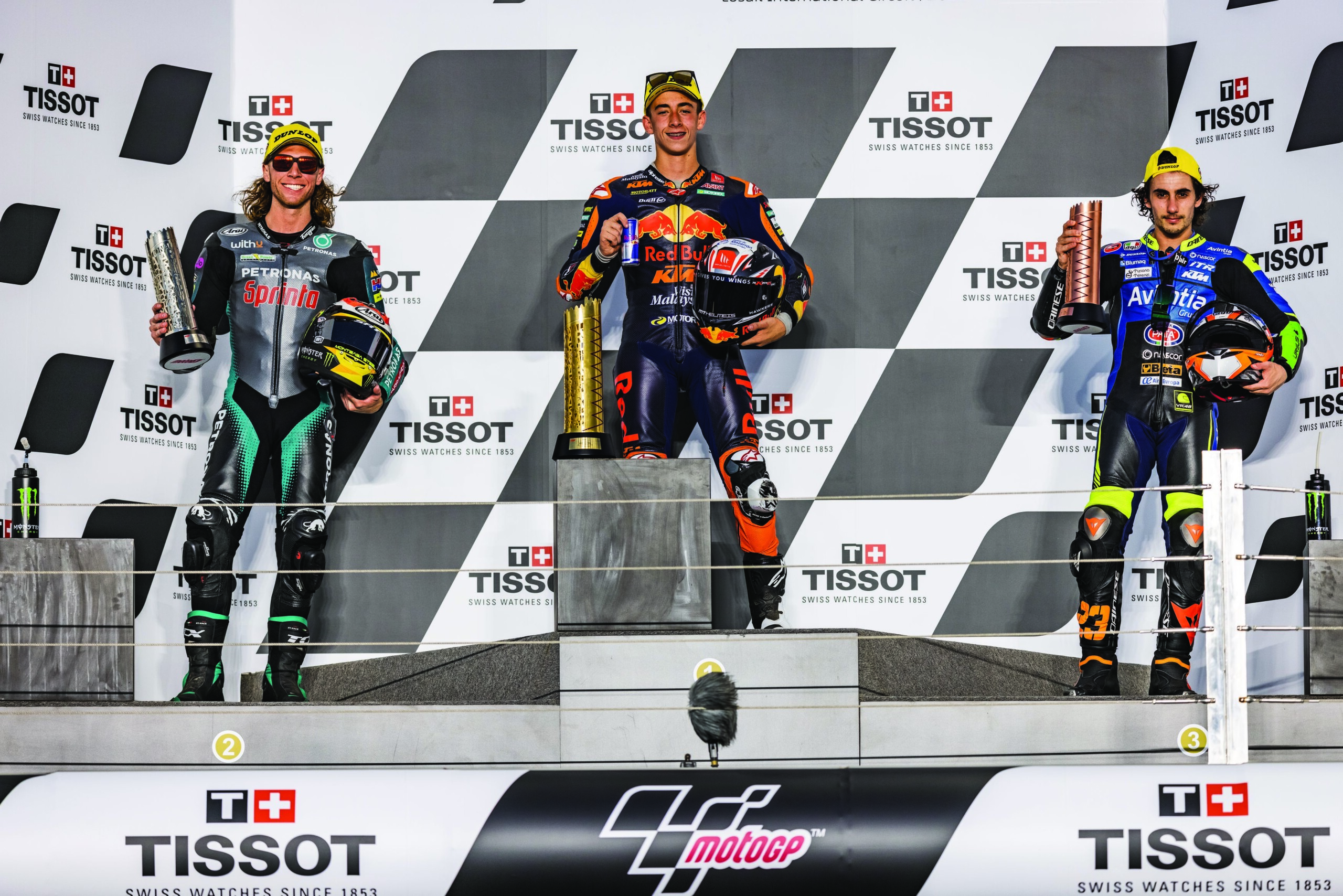 Fans look back at 18th August 1996 when Valentino Rossi won his first 125cc Grand Prix at Brno or 6th June 2010 when Marc Marquez took his first victory in the same class at Mugello. You have to wonder in years to come just how historic the second race of the 2021 season will be in the career of young Acosta.
A rookie winning a race is nothing new, even in only his second race. What stands out though is that Acosta started from the pit lane along with six other riders, some eleven seconds after the lights went out to start the race. As the eighteen laps ticked away, Acosta and Romano Fenati (who finished tenth) dragged the late starters up to the main pack with seven laps remaining. Once there, Acosta picked his way through each rider and when he hit the front, and you might think he had over-used his tyres, he still pulled away. Darryn Binder nearly caught him by the end but the Red Bull rider held on to win by 0.039 seconds.
Of course, there is no guarantee that Acosta will be a star of the future as it was a young Fenati that finished second in his debut at Qatar in 2012 before winning in Jerez at the next round and he's still in Moto3 at the age of 25 (largely through issues of his own creation).
Binder often featured in the leading pack and was so close to his second ever win. He was lucky to avoid being taken out by an incident involving his teammate John McPhee and Jeremy Alcoba however. With four laps to go, Binder led into turn one from Alcoba  who nearly clipped the back of the South African. Alcoba went over the handlebars and his cartwheeling Honda took out the innocent McPhee who was in the wrong place at the wrong time. The Scot reacted badly to being taken out of the race two weeks in a row and squared up to the Gresini rider before aiming a kick at his Spanish crown jewels. Both riders will receive a pit lane start at the next round at Portimao in Portugal on 18th April, with McPhee penalised one thousand Euros and 10 seconds and Alcoba one thousand Euros and five seconds.
The last step on the podium went to Nico Antonelli who won here five years ago. The Italian started twelfth and positioned himself in the top six with a lap to go. Fortunately for him, last week's winner Jaume Masia took Gabriel Rodrigo wide half way around the lap and Antonelli popped up to fourth. The 25-year-old then passed his compatriot Andrea Migno for third and beat him to the line by 0.032 seconds. Masia came home seventh while Argentine rider Rodrigo was only thirteenth.
Kaito Toba, who won here in 2019, finished fifth for his second top ten finish in a row with the rookie taking his best finish so far with sixth. Ayumu Sasaki took his best Losail result in seventh followed by fellow Japanese rider Ryusel Yamanaka who took his best ever finish with eighth in his twentieth start. With Tatsuki Suzuki finishing twelfth and Yuki Kunii fifteenth (his first points finish) there were five Japanese riders in the top fifteen for the first time since Jerez 2019.
RESULTS (TOP 15)
1 – Pedro Acosta – SPA – Red Bull Ajo KTM – 25
2 – Darryn Binder – RSA – Petronas Sprinta Honda – 20
3 – Nico Antonelli – ITA – Avintia Esponsorama KTM – 16
4 – Andrea Migno – ITA – Rivacold Snipers Honda – 13
5 – Kaito Toba – JAP – CIP Green Power KTM – 11
6 – Izan Guevara – SPA – Gaviota Aspar Gas Gas – 10
7 – Ayumu Sasaki – JAP – Red Bull Tech 3 KTM – 9
8 – Ryusel Yamanaka — JAP – CarXpert PruestelGP KTM – 8
9 – Jaume Masia – SPA – Red Bull Ajo KTM – 7
10 – Romano Fenati – ITA – Sterilgarda Max Husqvarna – 6
11 – Jason Dupasquier – SUI – CarXpert PruestelGP KTM – 5
12 – Tatsuki Suzuki – JAP – SIC58 Squadra Corse Honda – 4
13 – Gabriel Rodrigo – ARG – Indonesian Gresini Honda – 3
14 – Max Kofler – AUT – CIP Green Power KTM – 2
15 – Yuki Kunii – JAP – Honda Team Asia Honda – 1
STANDINGS (TOP 15)
1 – Pedro Acosta – SPA – Red Bull Ajo KTM – 45
2 – Darryn Binder – RSA – Petronas Sprinta Honda – 36
3 – Jaume Masia – SPA – Red Bull Ajo KTM – 32
4 – Nico Antonelli – ITA – Avintia Esponsorama KTM – 26
5 – Izan Guevara – SPA – Gaviota Aspar Gas Gas – 19
6 – Kaito Toba – JAP – CIP Green Power KTM – 18
7 – Gabriel Rodrigo – ARG – Indonesian Gresini Honda – 14
8 = Sergio Garcia – SPA – Gaviota Aspar Gas Gas – 13
8 = Andrea Migno – ITA – Rivacold Snipers Honda – 13
10 – Tatsuki Suzuki – JAP – SIC58 Squadra Corse Honda – 12
11 = Romano Fenati – ITA – Sterilgarda Max Husqvarna – 11
11 = Jason Dupasquier – SUI – CarXpert PruestelGP KTM – 11
13 – Ryusel Yamanaka — JAP – CarXpert PruestelGP KTM – 10
14 – Ayumu Sasaki – JAP – Red Bull Tech 3 KTM – 9
15 – Carlos Tatay – SPA – Avintia Esponsorama KTM – 4