Jaume Masia won an exciting race to start the 2021 season, winning in Qatar ahead of his Red Bull teammate Pedro Acosta. The pair had spent the majority of the race near the front of the leading pack and took first and second at the start of the last lap. For Masia it was his fourth win in Moto3 and he has now won three of his last six races after he won both rounds at Aragon last year.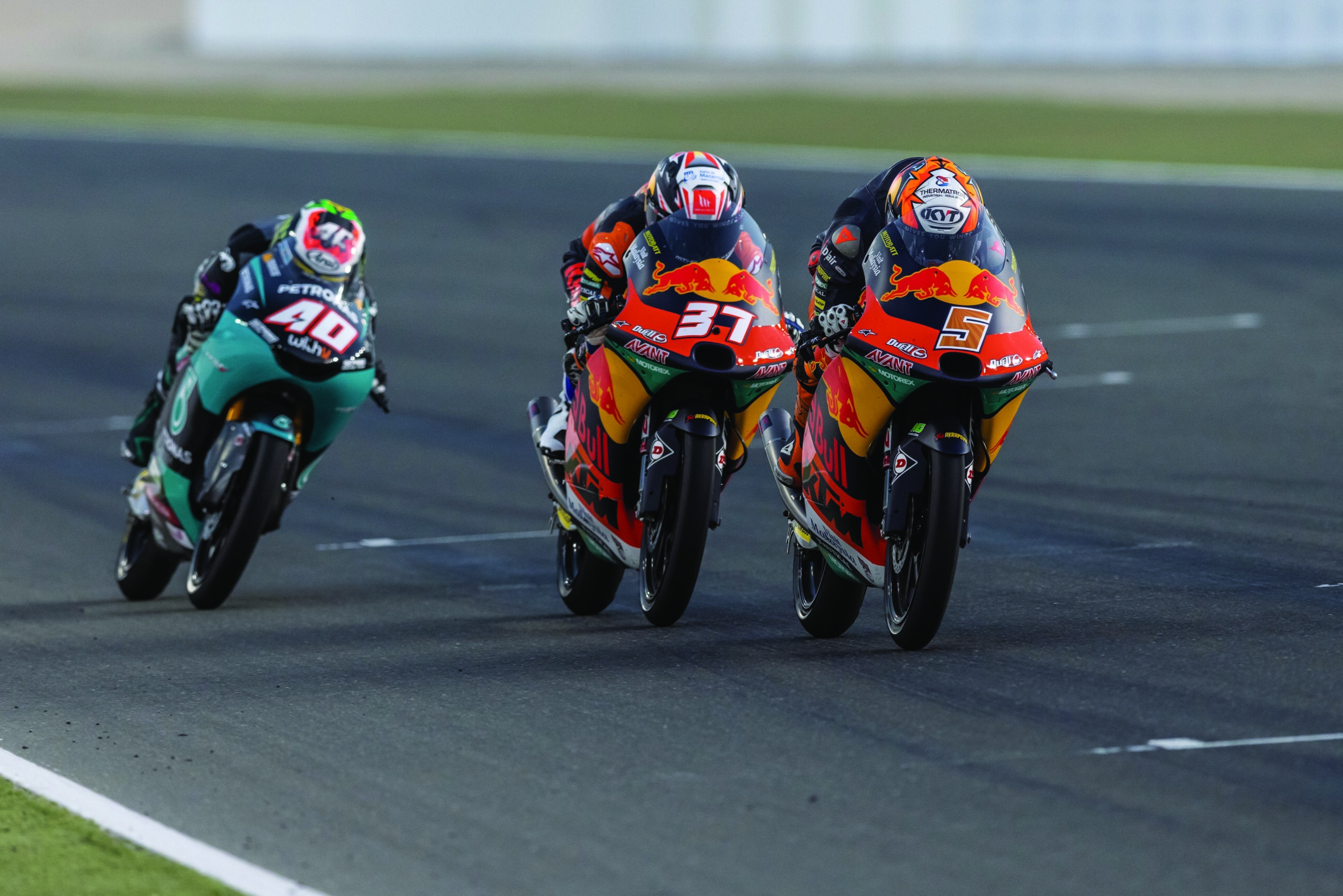 Rookie Acosta qualified eleventh but worked his way forward early on to work well with his teammate, especially when trying to break away from Darryn Binder who finished third. The sixteen-year-old Spaniard proved he is one of the rookies to look out for this season with a confident ride. Another rookie worth noting for the right reasons is Izan Guevara who qualified on the front row for the new Gas Gas team and finished seventh in the race.
One rookie with a race to forget was Xavier Artegas after he took out three riders as well as himself on the second lap with a move which could be described as optimistic or adventurous at best, or likely in less polite terms by the riders he retired. Coming into the heavy-braking left hand corner he tried to go up the inside but had too much speed and too little grip to make it work. His move took out Jeremy Alcoba, Andrea Mignoe and one of the pre-race favourites John McPhee. The Brit had qualified on the front row with his new teammate Binder on pole position.
Binder had a solid race from the front row, riding in his usual aggressive style with late-braking passes and was in the top three for many of the eighteen laps. In the end though he could not catch the breakaway from the Red Bull riders on the last lap and settled for his fifth career podium.
The entire race was a typical Moto3 affair with places changing every lap and plenty of riders going three or four wide into turn one. In the penultimate lap though there was one fantastic rear-facing onboard shot showing the riders going six-wide into one right hand turn and all coming out unscathed. It was a perfect example of the combination of skill and madness required to race at this level.
Guevara's teammate Sergio Garcia had a solid race on the Gas Gas, running in the leading pack throughout and staying out of trouble. He just did not have enough at the end to reach he podium. It was very similar for Argentine rider Gabriel Rodrigo although at one point it did look like his chance of a high finish had gone when he clipped Masia's rear wheel and ran wide. The 24-year-old pulled himself back up from outside the top ten to finish fifth in the end.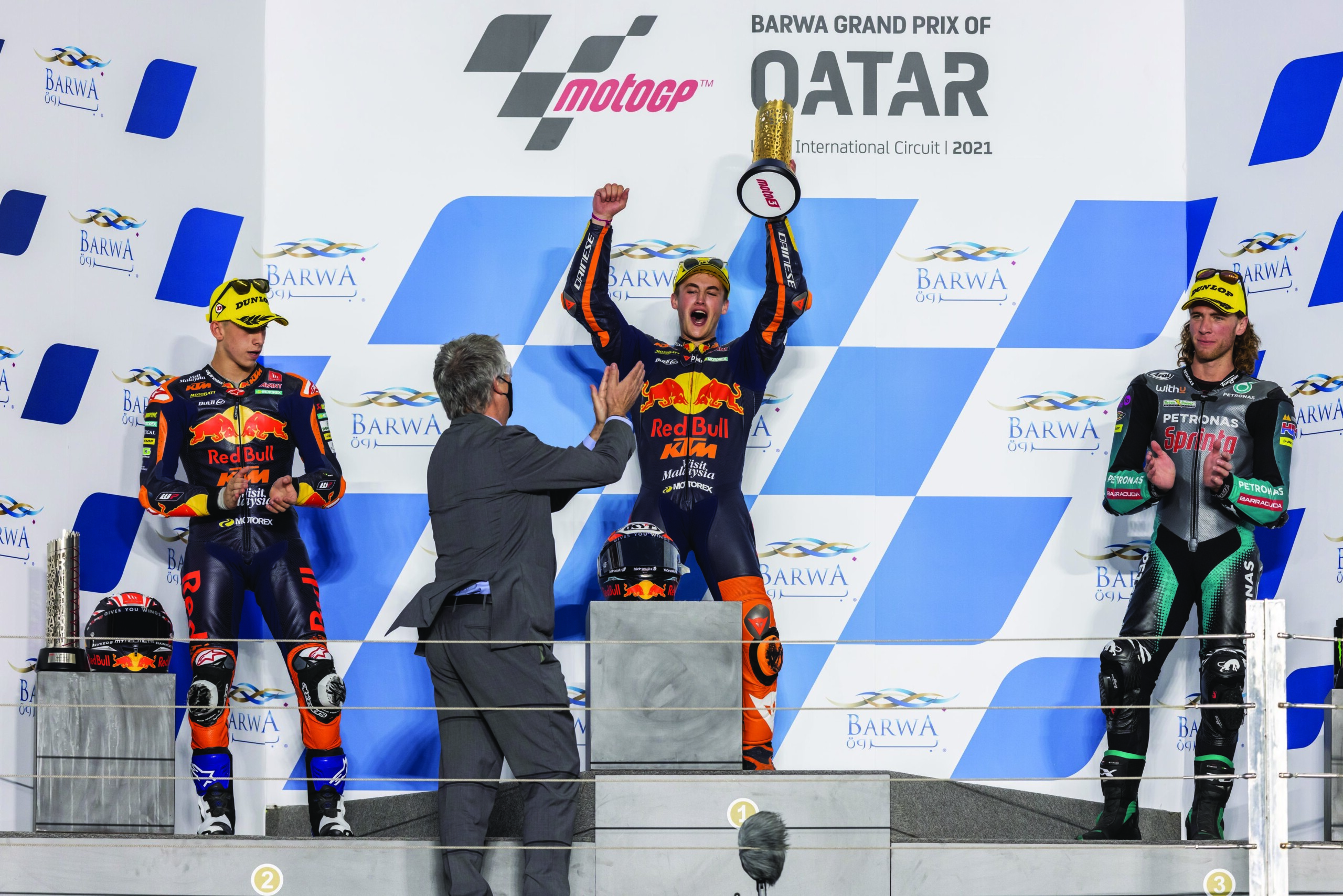 Nico Antonelli qualified tenth and was largely unnoticed in the early stages of the race but in the final third he worked his way through to the front and led shortly before the final lap. He dropped back to sixth by the chequered flag.  His 2020 teammate Tastsuki Suzuki finished eighth with Gueveara between them. The Japanese rider started dead last after failing to set a qualifying time in Q1 so a top ten finish was a great result.
2019 winner Kaito Toba finished tenth ahead of Jason Dupasquier who took his first points finish. Romano Fenati made his name here in 2012 on his debut with second place but struggled around to eleventh ahead of Carlos Tatay.
TOP FIFTEEN RIDERS
1 – Jaume Masia – SPA – Red Bull Ajo KTM – 25 points
2 – Pedro Acosta – SPA – Red Bull Ajo KTM – 20
3 – Darryn Binder – RSA – Petronas Sprinta Honda – 16
4 – Sergio Garcia – SPA – Aspar Gas Gas – 13
5 – Gabriel Rodrigo – ARG – Indonesian Gresini Honda – 11
6 – Nico Antonelli – ITA – Avintia KTM – 10
7 – Izan Guevara – SPA – Aspar Gas Gas – 9
8 – Tatsuki Suzuki – JAP – SIC58 Squadra Corse Honda – 8
9 – Kaito Toba – JAP – CIP Green Power KTM – 7
10 – Jason Dupasquier – SUI – CarXpert PruestelGP KTM – 6
11 – Romano Fenati – ITA -Max Racing Husqvarna – 5
12 – Carlos Tatay – SPA – Avintia KTM – 4
13 – Filip Salac -CZE – Rivacold Snipers Honda – 3
14 – Ryusei Yamanaka – JAP – CarXpert PruestelGP KTM – 2
15 – Max Kofler – AUT – CIP Green Power KTM – 1