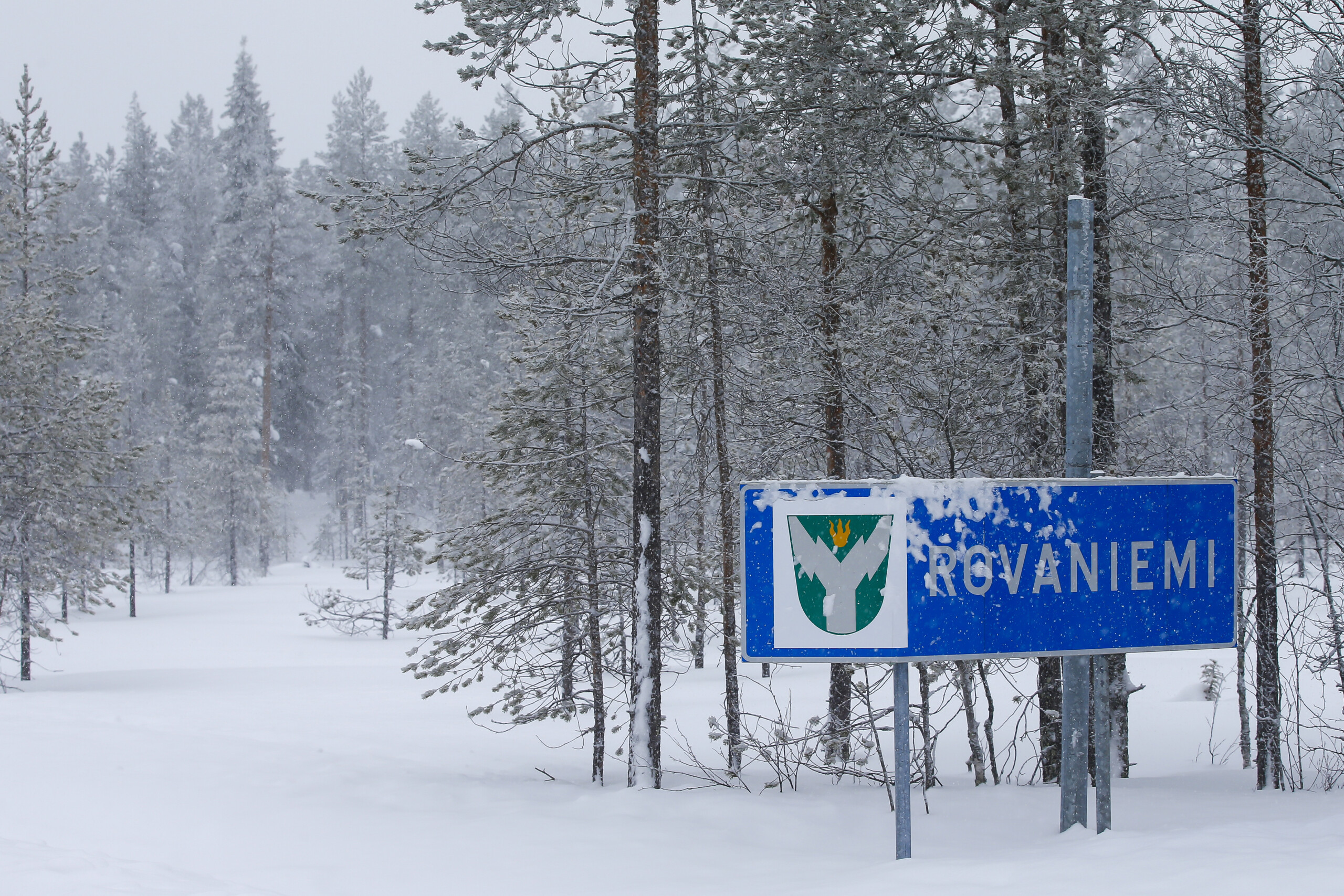 With two stages on Friday, the running order looked like this – Ogier, Evans, Neuville, Rovanperä, Katsuta, Greensmith, Tänak, Suninen, Breen, Solberg, Loubet, Tuohino, Bertelli.
Sarriojärvi 1, 31.05km run in the daylight and as expected Ogier was sweeping the road of loose snow. His Welsh teammate lost some time in the early splits in this, the longest stage of the rally, but as he came through the last split, he'd not only reduced the gap, he was now faster, and crossed the line six seconds quickest at this point. What happened after that was that their times were really tumbling with Thierry, then Ott going fastest. Craig came through with a very good time, but was not really happy, and it seemed that the Hyundai was just dealing with the road better than the Toyota's, but the only flaw in that theory is the quick kid, Kalle who despite a spin in the stage was there in amongst the Hyundai's in his Toyota. Oliver Solberg was right on the pace as well in first outing in the i20 WRC, losing ten seconds in the stage, but ahead of Gus Greensmith. It was a good drive from the nineteen-year-old.
As the sun set on this magical location in the arctic circle, the crews prepared for the night time run of SS2 Sarriojärvi 2 – 31.05 km, and what we saw was that Ott was right in the groove. Somehow, he was just maintaining the grip from these Pirelli's and the studs, so with the right starting position and the right feel with his car on these tyres, it was just coming together for him and Martin and once again he was fastest from Kalle and Craig third. Oliver and Seb in their i20 were fourth in the stage, just 2.2 slower than Craig, a very good performance from them which brought them up to 8th overall! Overall top three were, Ott, Craig and Kalle.
Classification after Day One
| | | | | |
| --- | --- | --- | --- | --- |
| 1 | O. Tänak | M. Järveoja | Hyundai i20 Coupe WRC | 31:50.7 |
| 2 | C. Breen | P. Nagle | Hyundai i20 Coupe WRC | +16.2 |
| 3 | K. Rovanperä | J. Halttunen | Toyota Yaris WRC | +20.4 |
| 4 | T. Neuville | M. Wydaeghe | Hyundai i20 Coupe WRC | +29.8 |
| 5 | E. Evans | S. Martin | Toyota Yaris WRC | +32.0 |
| 6 | T. Suninen | M. Markkula | Ford Fiesta WRC | +34.5 |
| 7 | T. Katsuta | D. Barritt | Toyota Yaris WRC | +38.8 |
| 8 | O. Solberg | S. Marshall | Hyundai i20 Coupe WRC | +45.9 |
| 9 | S. Ogier | J. Ingrassia | Toyota Yaris WRC | +49.8 |
| 10 | G. Greensmith | E. Edmondson | Ford Fiesta WRC | +1:05.8 |
Let's hear from the drivers at the end of Friday's stages.
Hyundai Motorsport
Ott Tänak (1st)
"Let's say that I'm happy, but it's very early and there's no reason to get carried away yet. This has been a rollercoaster kind of day, typical for Finland with very technical and up-and-down roads. It's been a big job today, for sure, with road position and tyres playing their part. The car balance is OK but it can always be better so there are things we need to work on. At the moment, we are leading but the road position was different to our rivals so everything can change tomorrow. We need to keep focused and keep pushing."
Craig Breen (2nd)
"It's nice to be here with such unique conditions; it's a special feeling to be in the woods, in the dark, doing 200kph – I definitely enjoyed it! I have had a good starting position, but I honestly don't think I took the full benefit from that, particularly in the first stage. In the second run, I tried to push hard – perhaps a bit too much at the start because I suffered towards the end, losing studs in the last three to four kilometres. This is something that comes with time and experience. I know I can jump in the car after six months and be on the pace, but it takes time to refine the small things. Absence certainly makes the heart grow fonder, and it's nice to have the confidence and security from a full programme."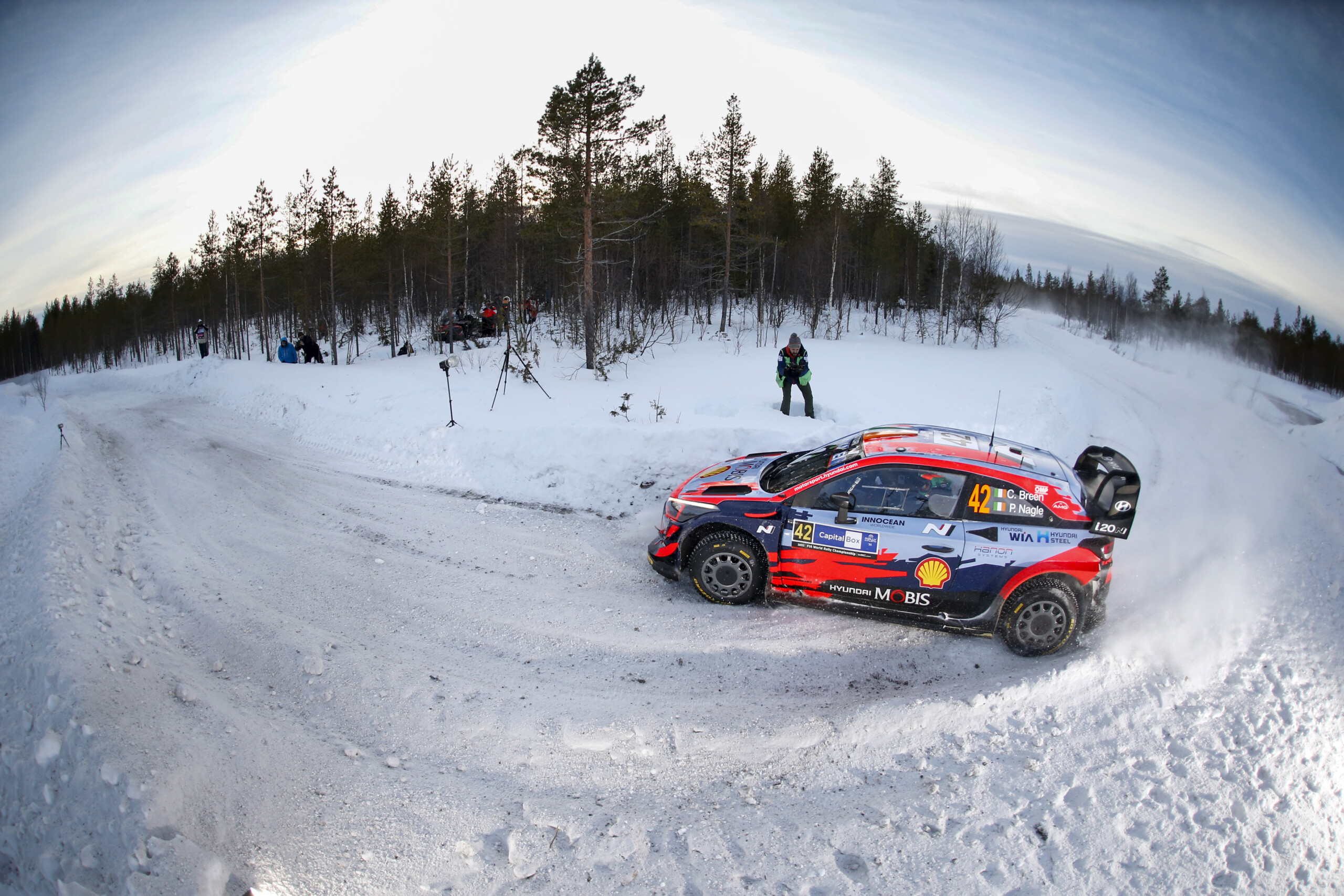 Thierry Neuville (4th)
"We've had a pretty satisfying start to this brand-new WRC event. Compared to what we saw in the pre-event test, we went quickly through the snow onto the gravel; the grip was higher, as was the tyre wear. I lost the first studs on the shakedown and then a few more this afternoon. The car was working well in those conditions and we had a good afternoon, making our way to P4 which gives us a good road position for tomorrow. We need to benefit from that and fight with the cars in front of us – and behind. At the same time, I am also continuing to build on my new working relationship with Martijn."
Toyota Gazoo Racing WRT
Kalle Rovanperä (3rd)
"The first stage started really well, but in one junction I made a mistake and I went wide into the snowbank. We almost got away with it but we had to reverse out. In the second stage I could already see in the beginning that the setup we had was not optimal for the conditions in the second pass with a lot of gravel coming through, and I was having a lot of understeer. That was hurting the front tyres, so the end of the stage was really tough. But I'm sure that we can find something with the setup for tomorrow and keep fighting."
Elfyn Evans (5th)
"It has not been a bad start for me today. We were running early on the road which is perhaps not the best position to be in, but we had a clean run through the first stage and then I think we had a decent run through the second stage in the dark. The stage evolved a lot between the two passes with a mix of ruts and quite a lot of loose snow, so it was challenging. Today the main target was always to improve our road position for tomorrow, and we've managed to do that, so now we want to try and move up the order if we can."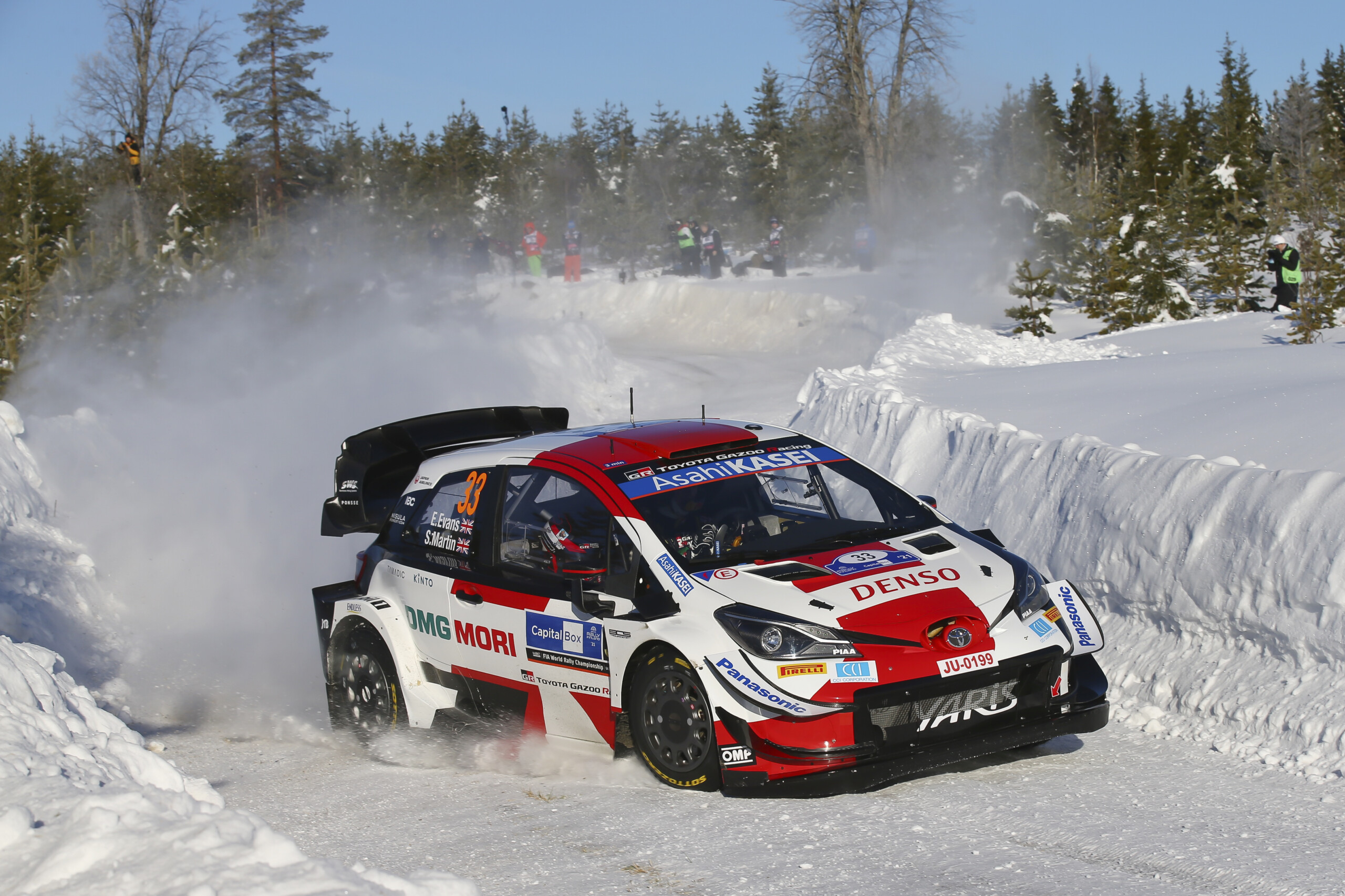 Sébastien Ogier (9th)
"It was tough today; it was not an ideal start for us. I had hoped to be a little bit closer to the lead tonight. I was enjoying the driving but not the stage times. There wasn't much we could do unfortunately. With colder temperatures it probably would have been better, but we had the first positive temperatures of the year here today and that didn't help us running first on the road. It meant that the snow was very soft and the cleaning effect was huge, and it wasn't any easier on the second pass. Tomorrow we have to keep trying and see what's possible."
M-Sport Ford WRT
Teemu Suninen (6th)
"I'm really enjoying these conditions. It's a proper winter rally with really nice stages and I've been happy with my driving and how things have been working with me and Mikko inside the car.
"We're not quite where we want to be when compared to the fastest times, but it's always been a bit like this on the faster rallies – and we'll keep working to improve and move forward together."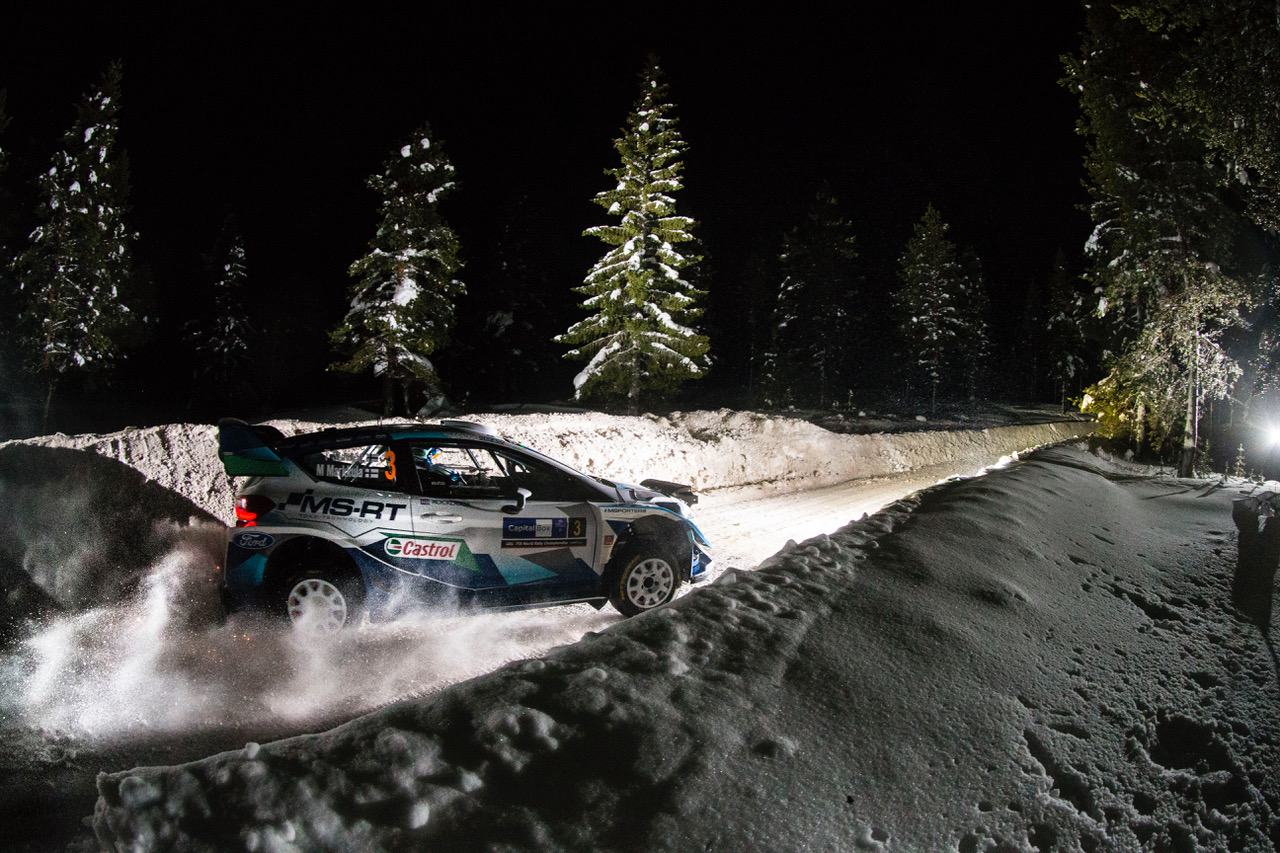 Gus Greensmith (10th)
"I'm really enjoying it out there and the conditions are just incredible! Having such a good feeling on Shakedown, it was disappointing to have lost so much on the first stage – but we got back into a rhythm for the second pass and it was a lot better. It was good to see that we were there or there abouts, and we just need to continue like that tomorrow.
"Of course, there is still a long to go, but I'm really looking forward to it. If SS4 is as good as I think it's going to be then it'll be one of the top-five stages I've ever driven – and I can't wait to get back out there!"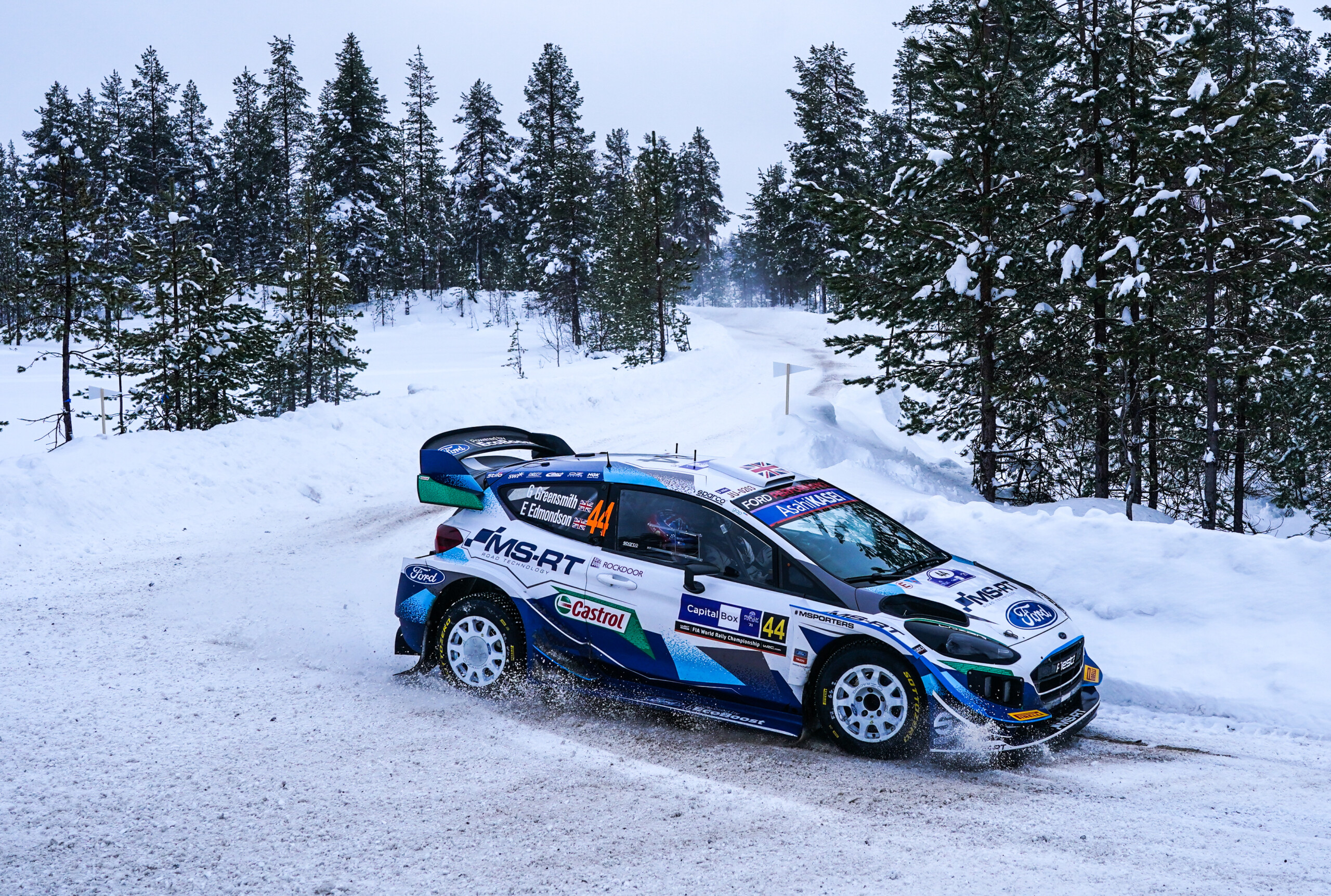 Saturday
The start list for the seven stages on day two looked like this – Loubet, Tuohino, Bertelli, Greensmith, Ogier, Solberg, Katsuta, Suninen, Evans, Neuville, Rovanperä, Breen, Tänak.
First into SS3 Mustalampi 1 – 24.43 km was the young Frenchman in his i20 and he found the going tricky, sliding wide and taking a load of snow into the front of his car after clipping a snowbank on the outside of a tight left-hand corner. He limped to the end of the stage, losing over three minutes with Tuohino passing him in the stage as well. Top three in the stage was Ott followed by Thierry and Oliver Solberg, and there was a pattern emerging, as it seemed that the Hyundai was dealing with these fast stages better than the Toyota.
The following stage, SS4 Kaihuavaara 1 – 19.91 km saw Elfyn win, from Kalle and Seb. Kalle's pace lifted him up into second overall as well at the expense of Craig who was fifth fastest in the stage. Erstwhile leader, Ott did not have a good run at all, setting the eighth best time, 6.1 second slower than his former M-Sport teammate, after putting his i20 a little into a snowbank. Kalle was not happy though despite his good time, saying "There are so many seconds I should be able to take away, but at this stage I cannot. I don't have the feeling with the car and it's not doing what I want, so in many places I just lose the car and the line. We have to see what we can do."
The following stage, SS5 Siikakämä 1 – 27.68 km, saw Ott back at the top from Elfyn who was just a tenth slower and Seb third fastest who was a further second back.  Moving up the leaderboard with the fourth fastest time was Oliver, who was just 8 tenths off Seb's time. The young Swede was showing some great skill, with his temporary co-driver and the duo were now in sixth, moving ahead of Takamoto.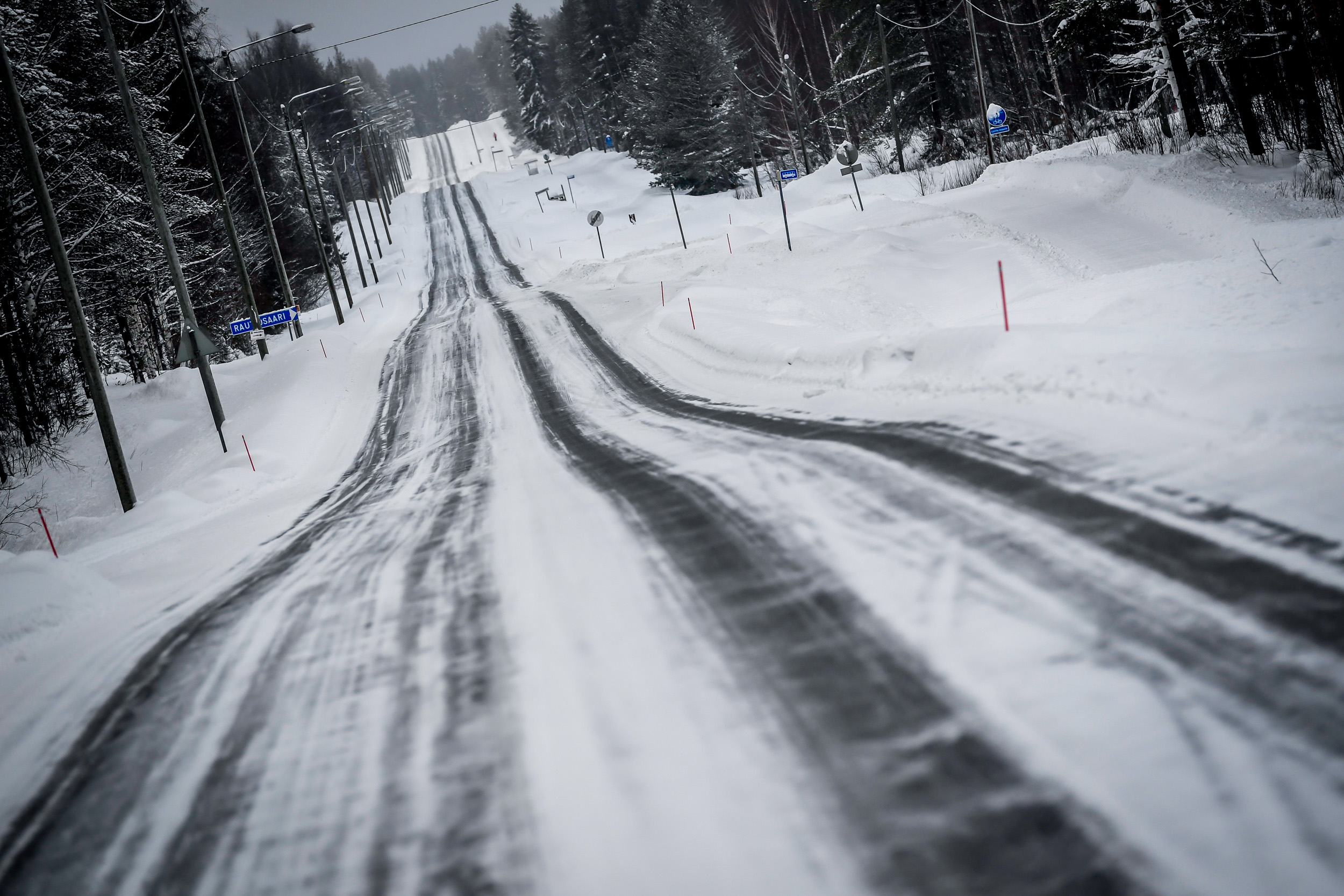 After the break, SS6 Mustalampi 2 – 24.43 km, Ott was fastest again from Thierry and Kalle. There was a swap in positions between the Belgian and Craig, with Thierry moving into third at the expense of his teammate. Going well in this one as well was Teemu who was fourth fastest, showing a big improvement compared to the earlier running of the stage. Takamoto was passed by Seb after the Japanese driver lost five seconds when he went into a snowbank.
Kalle won SS7 Kaihuavaara 2 – 19.91 km, breaking Ott's run of fastest times, with Ott and Elfyn second and third. Unfortunately, Oliver clipped a snowbank, and dropped a place, with Seb gaining another position and was now sixth overall.
The final stage, SS8 Siikakämä 2 – 27.68 km started as the sun was setting and there were all sorts of things going on! Oliver lost his glasses, but this didn't seem to slow him down, going fifth fastest. The big drama from this one was that Seb clipped a snowbank and he'd ended up buried in the snow, right off the road. The Yaris was stuck, and not coming out without digging it out, and the French crew was just metres from the end of the stage. A big shame indeed! Fastest and setting an amazing pace was Thierry, who won the stage by an incredible 12 seconds from Ott and Kalle. The Belgian was now just 1.8 seconds behind the young Finn in their battle over second overall.
Classification after Day Two
| | | | | |
| --- | --- | --- | --- | --- |
| 1 | O. Tänak | M. Järveoja | Hyundai i20 Coupe WRC | 1:43:32.1 |
| 2 | K. Rovanperä | J. Halttunen | Toyota Yaris WRC | +24.1 |
| 3 | T. Neuville | M. Wydaeghe | Hyundai i20 Coupe WRC | +25.9 |
| 4 | C. Breen | P. Nagle | Hyundai i20 Coupe WRC | +53.4 |
| 5 | E. Evans | S. Martin | Toyota Yaris WRC | +1:03.5 |
| 6 | O. Solberg | S. Marshall | Hyundai i20 Coupe WRC | +1:26.8 |
| 7 | T. Katsuta | D. Barritt | Toyota Yaris WRC | +1:34.4 |
| 8 | T. Suninen | M. Markkula | Ford Fiesta WRC | +1:49.3 |
| 9 | G. Greensmith | E. Edmondson | Ford Fiesta WRC | +3:01.8 |
Hyundai Motorsport
Ott Tänak (1st)
"All in all, everything has gone to plan today. We had a good morning, but the stages were very demanding, incredibly fast and there are always places where the pace notes are not 100%. This afternoon, we took all the tyres we had, and we used them all; it was important just to get through and not make any mistakes. We were pushing on the first loop, but we wanted to come through the final stages of the day cleanly. The last one was still quite stressful on the tyres, but we completed it with no trouble and that was the target."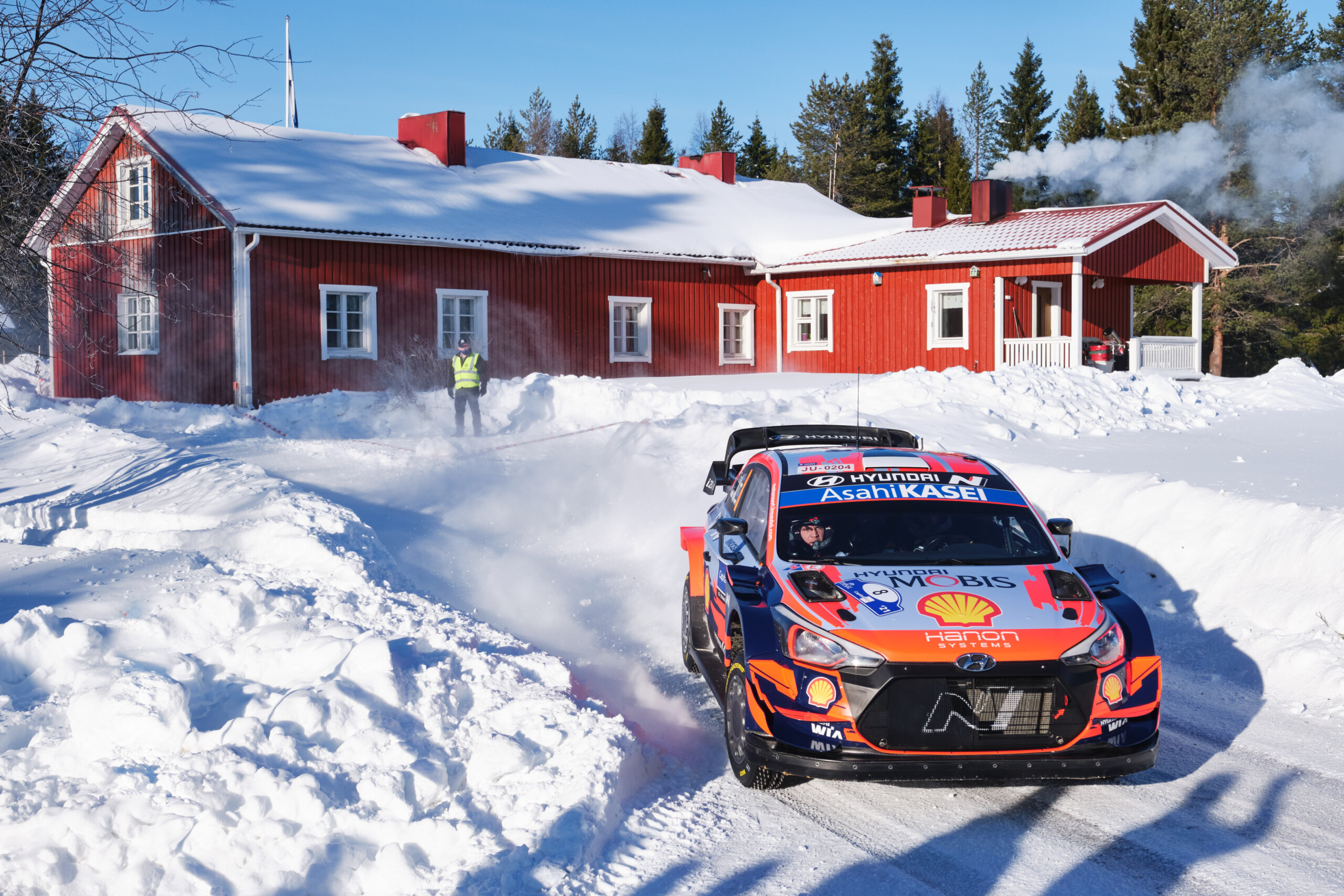 Thierry Neuville (3rd)
"I am happy at the end of the afternoon's stages which went well; we had good tyre management and I think we were fastest over the loop. I was a bit surprised to see the gap was so big after that final stage to be honest. It was definitely better than this morning. I expected a better run on the opening loop because the car was working well but I couldn't take all the risks due to some communications issues. Martijn and I have been making some improvements but there's more to come. The main target tomorrow is to bring home a double podium for Hyundai Motorsport. The stage is a different profile to those we've done so far but the car has been working well, I have been feeling comfortable and if our communication is working well, then we'll go for it."
Craig Breen (4th)
"It's been a frustrating day, but we are still in fourth so it's not too bad. You need to be at the absolute top of your game in these conditions. I started the first stage this morning well, got into a rhythm but then made a few mistakes, got sucked into a few snowbanks and lost the momentum. That upset the loop, really. I haven't driven on these conditions for a long time and the pace notes weren't as fast as they needed to be. I've tried my best to manage things – including the tyres – but it's tricky when I don't have any reference points. On the final stage, Thierry set an incredible time but compared to those around us we weren't too far away. I know we can do it. The raw speed is there; it's just getting the other refinements in order. The plan now is to keep hold of fourth and assess the situation to see what we do in the Power Stage."
Toyota Gazoo Racing WRT
Kalle Rovanperä (2nd)
"This morning I didn't have such a good feeling in the car, but we made some small changes during the loop and it got better. Then in the midday service we made some bigger changes, and this really helped in the conditions that we faced in the second loop, so I could manage the tyres and everything quite well. The tyre choice was tricky and a bit of a gamble. Fitting the new tyres in the middle stage was the wrong decision, so we lost a bit too much in the last stage. The approach for tomorrow is quite clear: We just have to push and try to be as fast as possible."
Elfyn Evans (5th)
"I had a slow start this morning on the first stage, I think I was too careful and was a bit frustrated to have given away so much time. After that we seemed to find something: I was maybe being a little bit more aggressive and that seemed to work better. But unfortunately, in the afternoon we lost a lot of time on the first one again, and struggled with tyre wear and the general feeling. I feel I should have managed it better and didn't take enough chances. Tomorrow we have to keep at it. It's not such a huge gap to fourth place so we'll be out there to do our best."
Sébastien Ogier (22nd)
"Up until the last corner of the last stage it had been a strong day for us honestly compared to our start position. This morning with the colder temperatures the grip was not too bad and we could set some good times. I think we were doing a good job but unfortunately in motorsport every corner counts and the day is never over until it's over. It's a shame: We had made a lot of effort to climb up the rankings and now all that effort is gone. But there will be better days ahead for us for sure."
M-Sport Ford WRT
Teemu Suninen (8th)
"I have been enjoying the driving a lot today. The pace isn't where we want it to be, but we can see that in the tricky, more technical sections we are capable of setting some top times. The conditions also became a lot trickier this afternoon and we were also able to show a bit more of what we can do there which was good.
"Tomorrow will be quite challenging as the stages will be very fast again. The goal is to make it to the finish, but if we have a perfect run through the Power Stage then there is chance to score a few points there as well. Let's see how it goes."
Gus Greensmith (9th)
"I'm still ruing yesterday's opening stage as that hampered our road position today! But generally, the morning was pretty good and I was quite happy with the progress we made. It was a bit trickier in the afternoon as we had to take two spares to contend with the worsening conditions and didn't really have the right setup to make that work.
"But overall, not a bad day and it's amazing to drive these cars in these conditions. We know what we need to do as a team, and I've been able to identify some areas to improve my driving as well. So, it's all going in the right direction – and we get to go enjoy these amazing stages again tomorrow!"
Sunday
With two runs of the same stage to round off this event, with what many of the crews were looking forward to as their favourite stage, there were two positions that four drivers were battling over. There were also the hopes of the reigning champions to score some points in the power stage. There was some news about Janne Tuohino, who would not start the final day after falling over in a sauna! This meant that the start list looked like this – Bertelli, Loubet, Ogier, Greensmith, Suninen, Katsuta, Solberg, Evans, Breen, Neuville, Rovanperä, Tänak.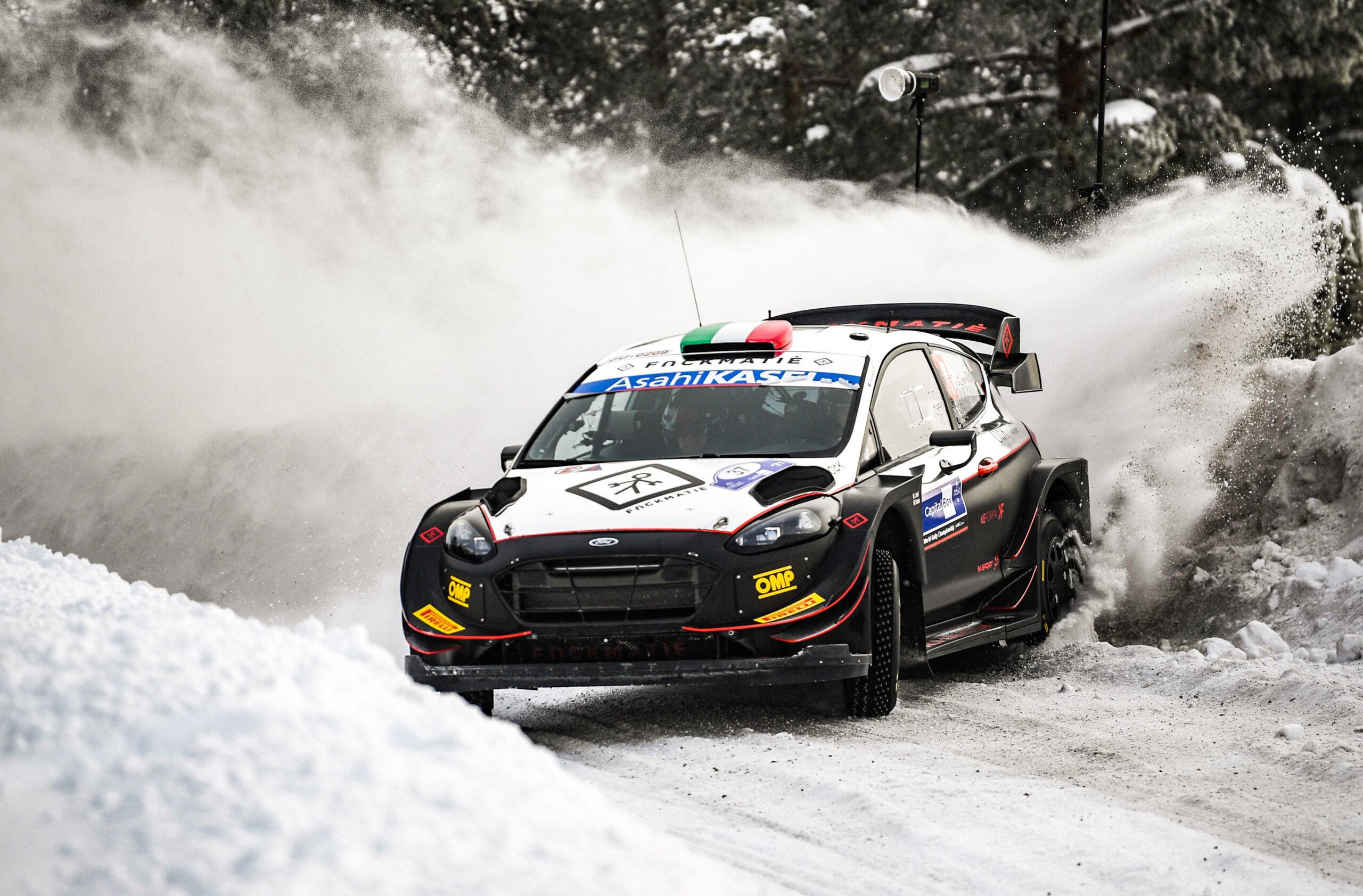 Elfyn came out on top at the end of SS9 Aittajärvi 1 – 22.47 km, with a great run through which meant that he closed the gap on Craig in their battle for fourth to just 3.6 seconds. Craig was just not comfortable in this one, and was just taking it very carefully. Kalle did really well, as he'd taken two spare Pirelli's, to everyone else taking just one. He was targeting maximum power stage points. Thierry was third, just not quite doing enough to pass Kalle.
The final stage then, SS10 Aittajärvi 2 [Power Stage] – 22.47 km, and Pierre-Loubet was coming to the end of the stage. His car had a misfire, but there was even more drama in store. As he came round the final corner to the flying finish the rear of his car stepped out and he went into the snowbank. He was still fastest though, setting a time 3.9 faster than Bertelli. There was snow all over the bonnet as he crossed the line. Next up was Seb, and he was hugely quicker than his younger compatriot. Gus who was next was matching Pierre-Louis on the splits and made it to the finish without any drama. Teemu was next and was quicker than Gus as expected.
Following the Finn was Takamoto, and he was faster early in the stage and maintained that gap, completing just 4 seconds slower than Seb who remained fastest as this point in the power stage. Oliver was next, and how would the youngster finish? Well, he was up on the world champions after four splits despite hitting the snowbanks a few times. He was not happy as he came to the last part of the stage, hitting his steering wheel in annoyance, and there was more drama to come! He went wide and the car spun in the snowbank on the exit of a right-hander. He got the car turned round and finished the stage, but dropped a place behind Takamoto by just 1.3 seconds.
Elfyn was next and was losing time in each split and was slower than Seb in the end. It seemed his bid for fourth was over. Well, Craig was going very well and setting a great pace, faster than Seb and he clinched the fastest time at this point with three cars remaining to complete. Thierry went well, but was slower than Craig by just one tenth! It was down to Kalle to knock Craig off the top. Just one car remained then, Ott and Martin. The former world champions were looking to just finish but still setting a good time out there. They came in fourth quickest and took a couple of power stage points. Top three in the stage were Kalle, Craig and Thierry.
Final Overall Classification – Arctic Rally Finland
| | | | | |
| --- | --- | --- | --- | --- |
| 1 | O. Tänak | M. Järveoja | Hyundai i20 Coupe WRC | 2:03:49.6 |
| 2 | K. Rovanperä | J. Halttunen | Toyota Yaris WRC | +17.5 |
| 3 | T. Neuville | M. Wydaeghe | Hyundai i20 Coupe WRC | +19.8 |
| 4 | C. Breen | P. Nagle | Hyundai i20 Coupe WRC | +52.6 |
| 5 | E. Evans | S. Martin | Toyota Yaris WRC | +1:01.5 |
| 6 | T. Katsuta | D. Barritt | Toyota Yaris WRC | +1:37.8 |
| 7 | O. Solberg | S. Marshall | Hyundai i20 Coupe WRC | +1:39.0 |
| 8 | T. Suninen | M. Markkula | Ford Fiesta WRC | +2:09.0 |
| 9 | G. Greensmith | E. Edmondson | Ford Fiesta WRC | +3:39.4 |
| 10 | E. Lappi | J. Ferm | Volkswagen Polo R5 | +6:07.0 |
Let's hear from the drivers!
Hyundai Motorsport
Ott Tänak (1st)
"This victory is very important and allows us to take away good points for the championship. We came to Finland – the home country of one of our closest rivals – so the pressure was on for sure. We knew it would be complicated to take on the fight but, in the end, we did a very good weekend. The pre-event test was held in very different conditions, so we didn't really know what to expect. I was pushing the engineers quite a lot, but their hard work really paid off. We tried some new things in shakedown, and it all worked out nicely. This has been an amazing place to come for a rally, definitely one of the best for a winter event; there's no place where you can have more snow and the characteristics of the road have been very special. Big praise to the organisers – it's more than a worthy addition to the world championship."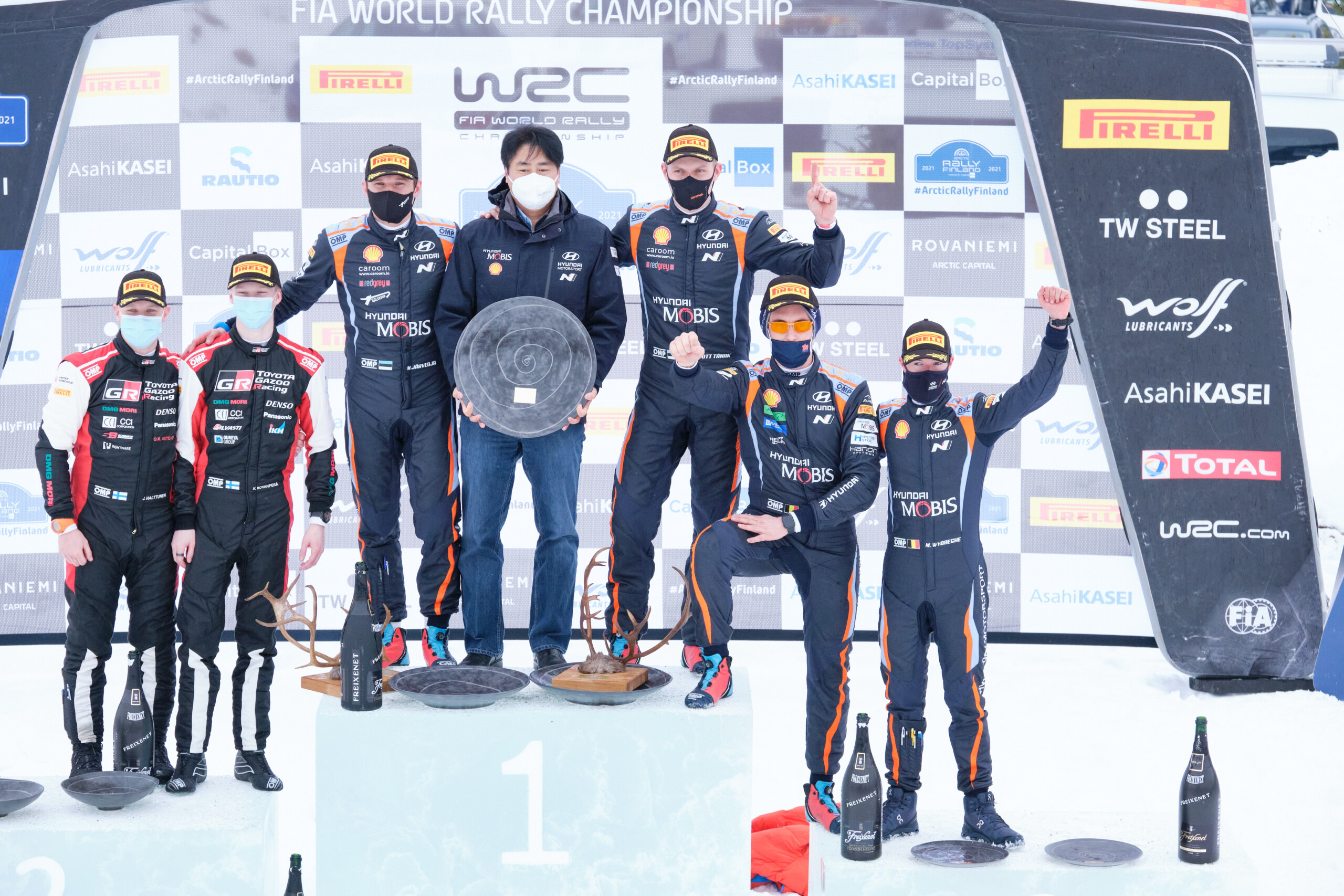 Thierry Neuville (3rd)
"I am very satisfied with our weekend and third position, even if second was so close. We kept believing right up to the end, but everyone was pushing hard on the Power Stage, so it wasn't possible to grab P2. Still, we have taken some good points for both championships, which were really needed after Monte-Carlo. The partnership with Martijn, too, was better. We still have some communication issues to resolve, to get the wording clearer and for me to understand better, but I'm sure we'll be more competitive with that. I felt that the car was really great in these conditions, I didn't really have any complaints; I felt comfortable, we could find a good rhythm and I was able to push immediately. A great all-round team result."
Craig Breen (4th)
"I am happy to finish this rally with fourth place. In all honesty, it's been a tough weekend. I've felt mentally – after delivering so much in Estonia last season – that the goalposts had moved, so I wanted to win but I also have to remember my experience is still a bit on the low side. It definitely gives me motivation to have made progress today. We spent some time in the regroup to analyse where I was losing time compared to the others. Thanks to the engineers, we were able to identify a few things that, maybe due to my driving style, were upsetting the car – erasing some traits that I've carried for a few years. I knew the speed was there, so it was nice to score some points for the team in the Power Stage and to end the weekend on a positive note."
Oliver Solberg (7th)
"I don't think I actually have the words to tell you how this feels," said Oliver. "It's really unbelievable and the biggest thing I did in my career. To Andrea, to everybody in Hyundai Motorsport and to the 2C [Compétition] team I just want to say thank you. We are in the home town of Santa Claus – I think he gave me a fantastic present!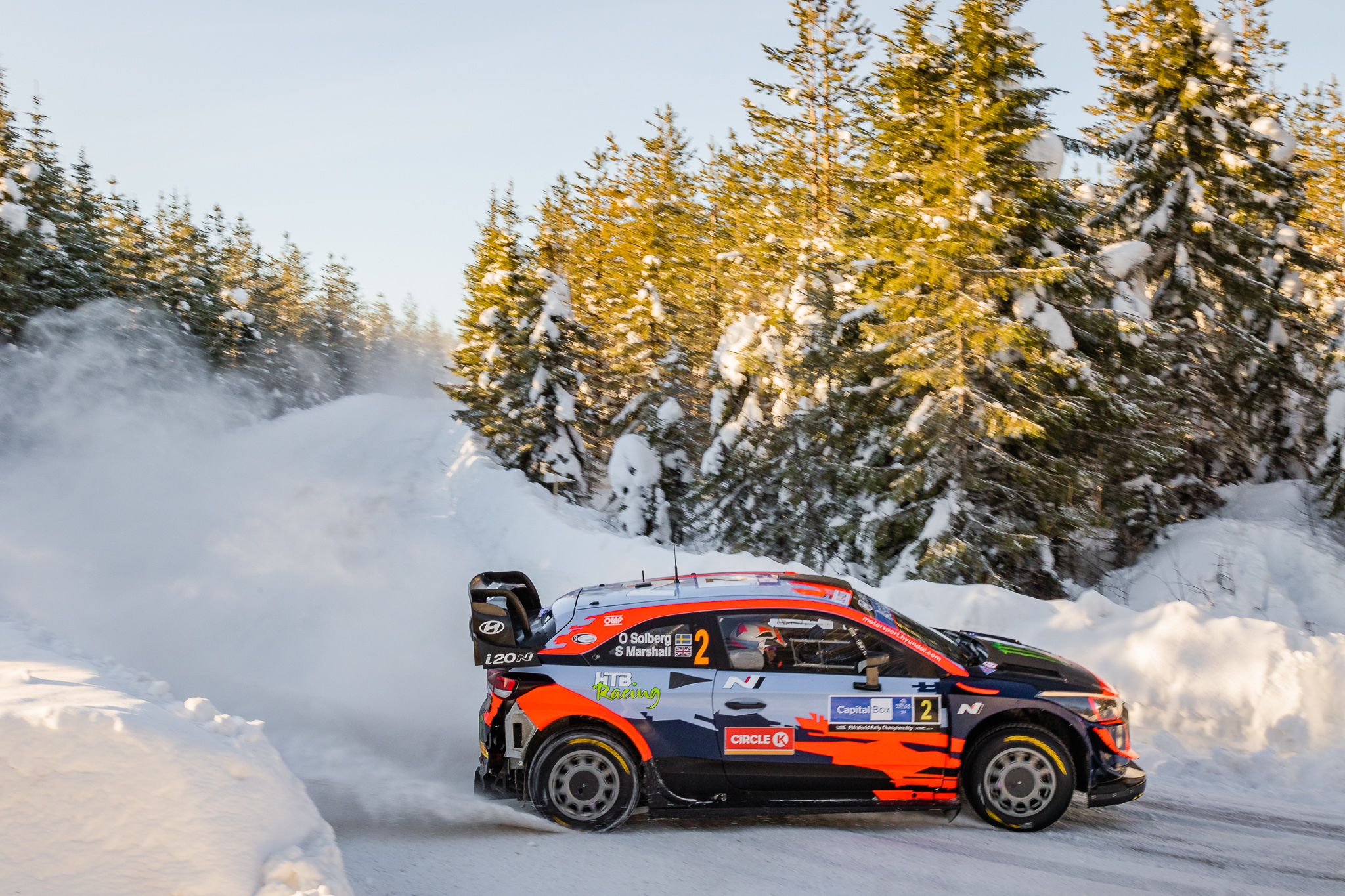 "I knew it would be complicated to understand the aero," said Oliver. "But I was quite confident I would be happy at this speed. I didn't expect to make these sorts of times quite so early in the rally. It was just so much fun. Before the rally Andrea was telling me there was no pressure and I had to make sure I was smiling. I am smiling more than I ever did before now.
"There were a couple of times when I was a little bit frustrated, like in the last stage. I made a spin near the finish and that cost me sixth place. Sixth would have been nice, but I will take this result – in the top five on six stages out of 10. This is so much more than I could have dreamed of. It's amazing. It's unbelievable."
Toyota Gazoo Racing WRT
Kalle Rovanperä (2nd)
"I'm really pleased with the second place. It was quite a difficult weekend, I was pushing really hard and we couldn't always be on the optimal pace, but we were fighting back all the time. In the Power Stage I gave everything that I had and it was enough, so we got really good points from here. It's really nice to be in this position now, leading the championship for the first time. It's going to be a new situation for me going to the next event, and we just have to keep up the pace and be consistent like we have been here."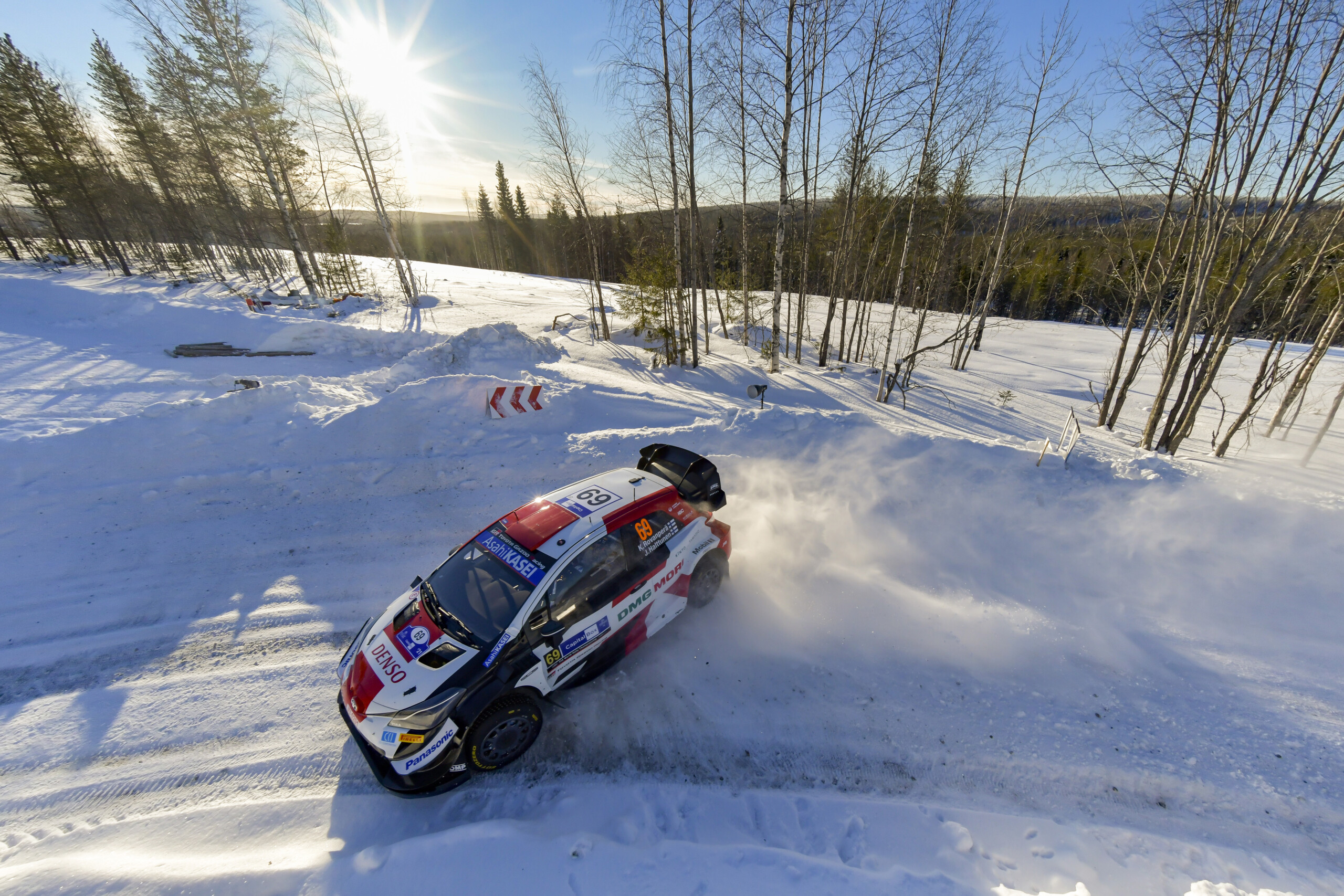 Elfyn Evans (5th)
"I had a good start to the final day. The grip was higher than I expected but after the first few corners we seemed to find a better rhythm and it was a good time. But then it was not the best run for us in the Power Stage. It felt OK but the time was quite a bit off where we would have liked to be. It has not been the best event for us to be honest, I'm quite disappointed with the overall result. There were some flashes of good speed but nowhere near consistent enough to challenge for the top positions."
Takamoto Katsuta (6th)
"I'm happy with this weekend, but I wanted to show something more and I was hoping for a better position before the rally. I enjoyed the stages a lot and, in some splits, I was fastest, while in some splits I was a bit too careful and losing too much time. When the conditions were consistent. I felt very confident, but when there was loose snow or big ruts I needed to improve my driving. I really need to focus on this and improve if I want to get on the podium or win rallies. I still have a lot to learn and I'm even more motivated than before."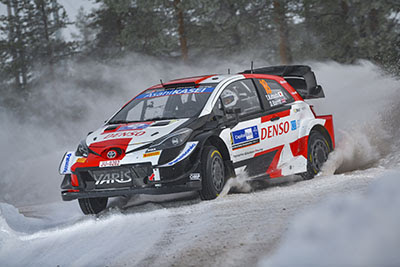 Sébastien Ogier (20th)
"Overall, it's been a tough weekend. We tried everything we can but we knew coming here as leaders of the championship it would be a tough rally. Still, we fought hard but this small mistake yesterday in the final stage of the day was obviously very costly too and took us out of the fight. With our starting position we had not so much hope for the Power Stage. I couldn't do more, I was on the limit and there was still too much snow, but it was good to score one point at least."
M-Sport WRT
Teemu Suninen (8th)
"Our rally was pretty good with no issues or mistakes, and I was enjoying the stages a lot. The car felt really nice to drive, and I would say that this is one of the rallies I have enjoyed the most in my career with really nice winter conditions.
"Of course, it was a bit disappointing to see that the stage times weren't where we wanted them to be, but we have struggled in the fast rallies before. In the slower sections the pace was good and we were amongst some of the fastest drivers – so this is where we can aim to make a difference in the next events."
Gus Greensmith (9th)
"Overall, I would say that it has been a pretty good weekend for us. The stages have been incredible, and I was happy with my driving – especially on Saturday morning. But of course, there's still work to do and there will always be more to learn.
"It was also a bit disappointing to have given so much time away in the first stage because that hampered us for the rest of the event. I think that's one of the main things I will take away from this weekend – knowing that I can't be giving road position away as it doesn't help me show my potential."
Warren's Thoughts
Well, it's fair to say that Hyundai and in particular Ott rally hit back in this event after their disappointing result last time out. It was a masterclass in tyre management from the Estonian crew and they just made their strategy  work, along with the good road position on Friday. He didn't win every stage, but no-one else came close to his consistency and sheer speed. Thierry also went well, but there was a bit of a blame game going on with his new co-driver and not hearing the notes always or clearly. Craig drove a good rally, but lacked a bit of consistency in places. To be fair though, he'd not sat in the car competitively since Estonia last year, so to confirm fourth on the final stage after a nail-biting battle with Elfyn was a very good result. Finally, Oliver, with Seb alongside him, took a massive result for a rookie. It was a brilliant result for the young Swede, and he showed great pace out there. Fourth quickest on his second stage showed the incredible talent he has.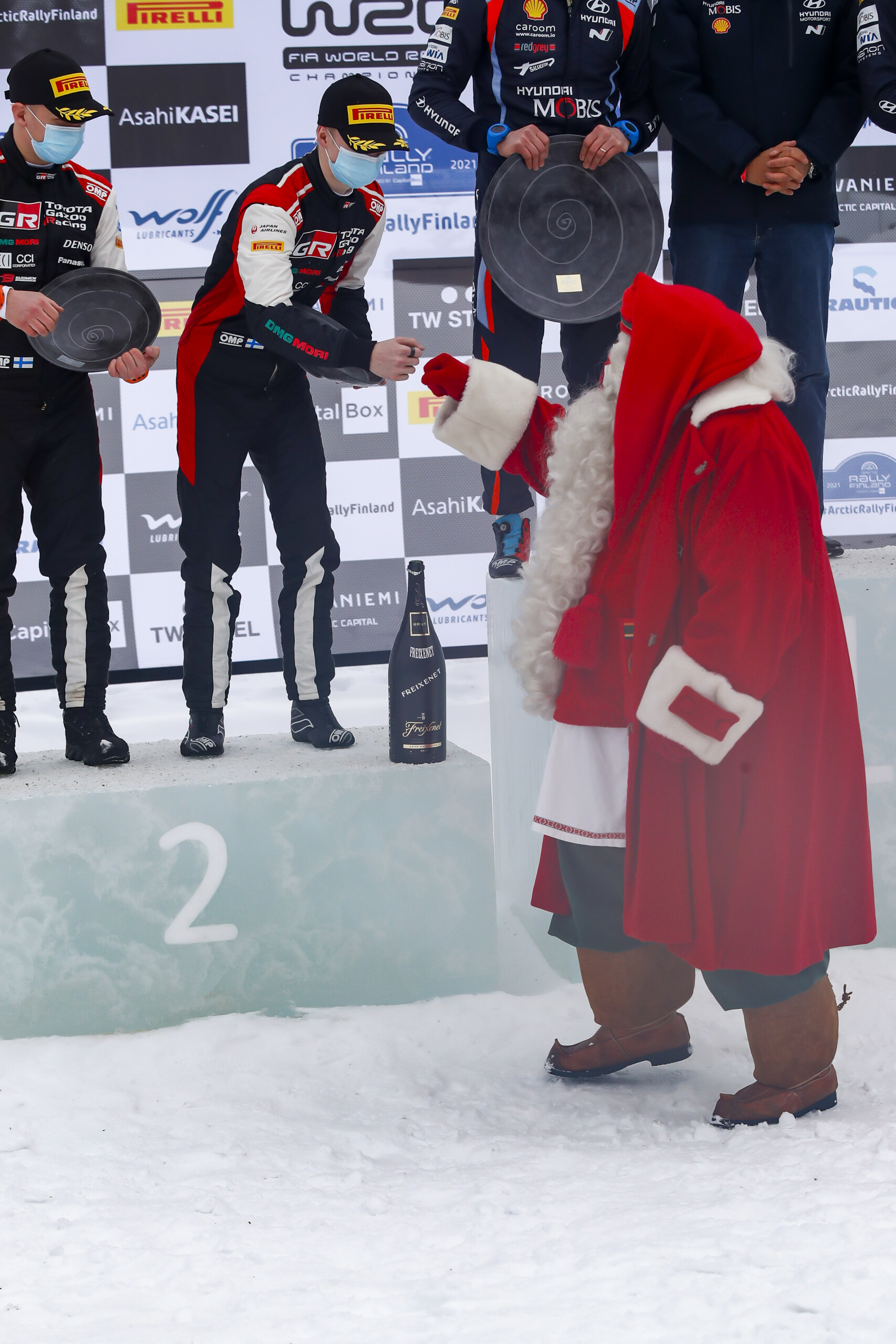 At Toyota, Kalle was the one that really showed his pace again, and his battle over second place with Thierry saw the young Finn produce a drive that had its moments, but delivered him second place and the lead for the first time of the World Championship. His Welsh teammate had his moments of speed, but its fair to say that running second on the road throughout Friday held him back and meant that he didn't have the best position on the road afterwards. He still took two stage wins though, and holds a good position in the championship. Takamoto also showed great speed out there and of course picked up sixth place right at the end. It was a shame what happened with Seb at the end of Saturday, but it certainly spices up the championship.
Finally, at M-Sport Ford WRT, Teemu made the finish after a consistent run through. The Finn showed moments of pace out there and its probably fair to say that M-Sport are just lacking a bit of development with their car. For Gus, taking a points finish on a surface that he has never driven on in one of these cars is a good result. Perhaps at the next event on tarmac they will show some better pace.
Round Three will take place in Croatia from the 25th to the 28th of April. Pop back then for our preview!
2021 FIA World Rally Championship for Drivers' Standings
After Round Two
| | | |
| --- | --- | --- |
| 1 | K. Rovanperä | 39 |
| 2 | T. Neuville | 35 |
| 3 | S. Ogier | 31 |
| 4 | E. Evans | 31 |
| 5 | O. Tänak | 27 |
| 6 | T. Katsuta | 16 |
| 7 | C. Breen | 16 |
| 8 | D. Sordo | 11 |
2021 FIA World Rally Championship for Manufacturers' Standings
After Round Two
| | | |
| --- | --- | --- |
| 1 | Toyota Gazoo Racing World Rally Team | 88 |
| 2 | Hyundai Shell Mobis World Rally Team | 77 |
| 3 | M-Sport Ford World Rally Team | 24 |
| 4 | Hyundai 2C Competition | 22 |