Rallye Monte Carlo 2021 Review – Seb and Julien take their Eighth Monte Carlo Victory
Thursday
The first day saw just two stages. The starting line-up looked like this – Ogier, Evans, Tänak, Neuville, Rovanperä, Suninen, Sordo, Greensmith, Katsuta, Loubet.
First up was SS1 Saint-Disdier – Corps – 20.58 km first up! Ott was fastest in the stage, from Kalle and Elfyn. Thierry and Martijn started their first ever stage as a crew, going fourth fastest, 3.9 off their teammates best time. The big news was Teemu and Markko's crash though, near the end of the stage. They were pushing hard and the stage was really wet in the last sector. The Finn put his tyres on the white line on a left hander, and the car slid into a bank which sent the car onto its roof, and then off the road backwards into a tree, leaving the broken rear wing on the road in bits. It was a huge shock and surprise and a big shame as well.
It was a second stage win for the Estonian crew in SS2 Saint-Maurice – Saint-Bonnet – 20.78 km, with Kalle only three tenths off, and Elfyn a further five seconds off in third. Thierry continued a good start, moving into fourth overall at the expense of Seb, who was suffering with a braking problem, which was holding him back from his ultimate pace.
Classification after Day One
| | | | | |
| --- | --- | --- | --- | --- |
| 1 | O. Tänak | M. Järveoja | Hyundai i20 Coupe WRC | 24:17.5 |
| 2 | K. Rovanperä | J. Halttunen | Toyota Yaris WRC | +3.3 |
| 3 | E. Evans | S. Martin | Toyota Yaris WRC | +8.5 |
| 4 | T. Neuville | M. Wydaeghe | Hyundai i20 Coupe WRC | +16.0 |
| 5 | S. Ogier | J. Ingrassia | Toyota Yaris WRC | +16.9 |
| 6 | D. Sordo | C. del Barrio | Hyundai i20 Coupe WRC | +42.7 |
| 7 | P. L. Loubet | V. Landais | Hyundai i20 Coupe WRC | +1:07.8 |
Let's hear from the drivers.
Ott Tänak (1st)
"At the start, it was looking like quite a simple start to Monte-Carlo; we never started before in daylight and with consistent conditions. The second one, with more cuts and muddy places, was very demanding and with lots of surprises. We have more stability with the car compared to last year and definitely better feedback. Overall, in wet conditions, the Pirelli tyres have some grip and seem to have good performance but in other places, when you hit some mud or some dirt, the step is quite big. It's something we still need to learn and get experience."
Thierry Neuville (4th)
"Everything went quite OK in these opening stages. It was all pretty new for Martijn in the Hyundai i20 Coupe WRC, driving at fast speeds, so we have to be satisfied. We didn't know what to expect with no shakedown or testing together, but it worked well. We have some things to improve with the in-car communication over the weekend, but he has done a good job so far. I was able to drive at a good rhythm without taking any big risks. The first stage went well but we perhaps lost a bit too much on the second one. Tomorrow is a much longer, trickier day and I expect a more difficult tyre choice; we look forward to it."
Dani Sordo (6th)
"This is not the way we were hoping to start this rally. I had a weird feeling from the car right from before the first stage. There was a noise that I have never heard before, perhaps in the differential, it sounded like something was not fixed properly. We need to check to see what it is. The rally is very long and tomorrow we are expecting some different conditions but honestly, I wanted more from today. I was confident I could do well on the first stage which is why I think something is not quite right. We need to keep pushing."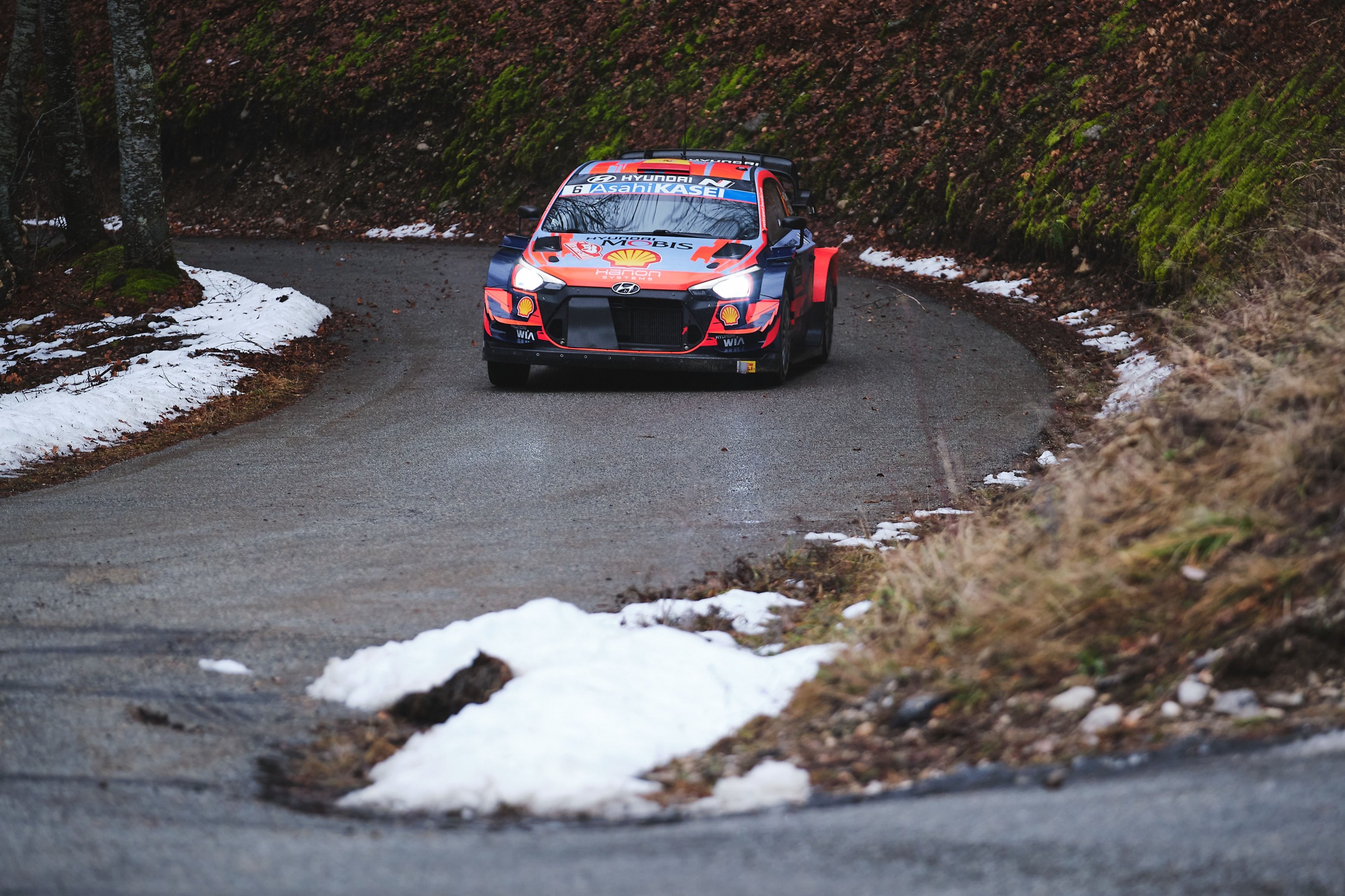 Toyota Gazoo Racing WRT
Sébastien Ogier (5th)
"I had a cautious start in the beginning of stage one, because I have very little experience with these tyres and I needed to get a bit of a feeling. Then in the middle of the stage I started to have this brake issue, and so then the rest of the loop was tricky. When you are not confident with the brakes it's quite hard to drive on the limit. It's not an ideal start but for sure we will keep fighting and I'm quite sure the car will be 100 per cent tomorrow morning and now it's up to me to do my best. Tomorrow morning it will be a super early start with probably some tricky conditions, so there is still a long way to go in this rally."
Elfyn Evans (3rd)
"It was a difficult couple of stages to open the rally. It was quite wet and we had a lot of surface changes, so the grip was changing all the time. To top it off we had a delay waiting to start the second stage, so we had to enter it with cold tyres and that was pretty difficult. Immediately we went into a narrow village with ice on the road, so it was very difficult to generate temperature and gain confidence. But we got through it. We have the possibility of more wintery weather tonight, so we'll have to wait until the morning and see what conditions we'll face."
Kalle Rovanperä (2nd)
"The feeling was good in the first loop. The first stage was quite nice. It was my first time driving on wet asphalt with the new Pirelli tyres but the feeling was good. The second stage was much more tricky with the ice, but there the pace was also quite good and I enjoyed the challenge. I was a bit surprised about the pace because it didn't feel so fast or a big push, but the car felt good. Tomorrow will be really tricky starting in the dark with ice and snow maybe but we'll try to keep the same pace up."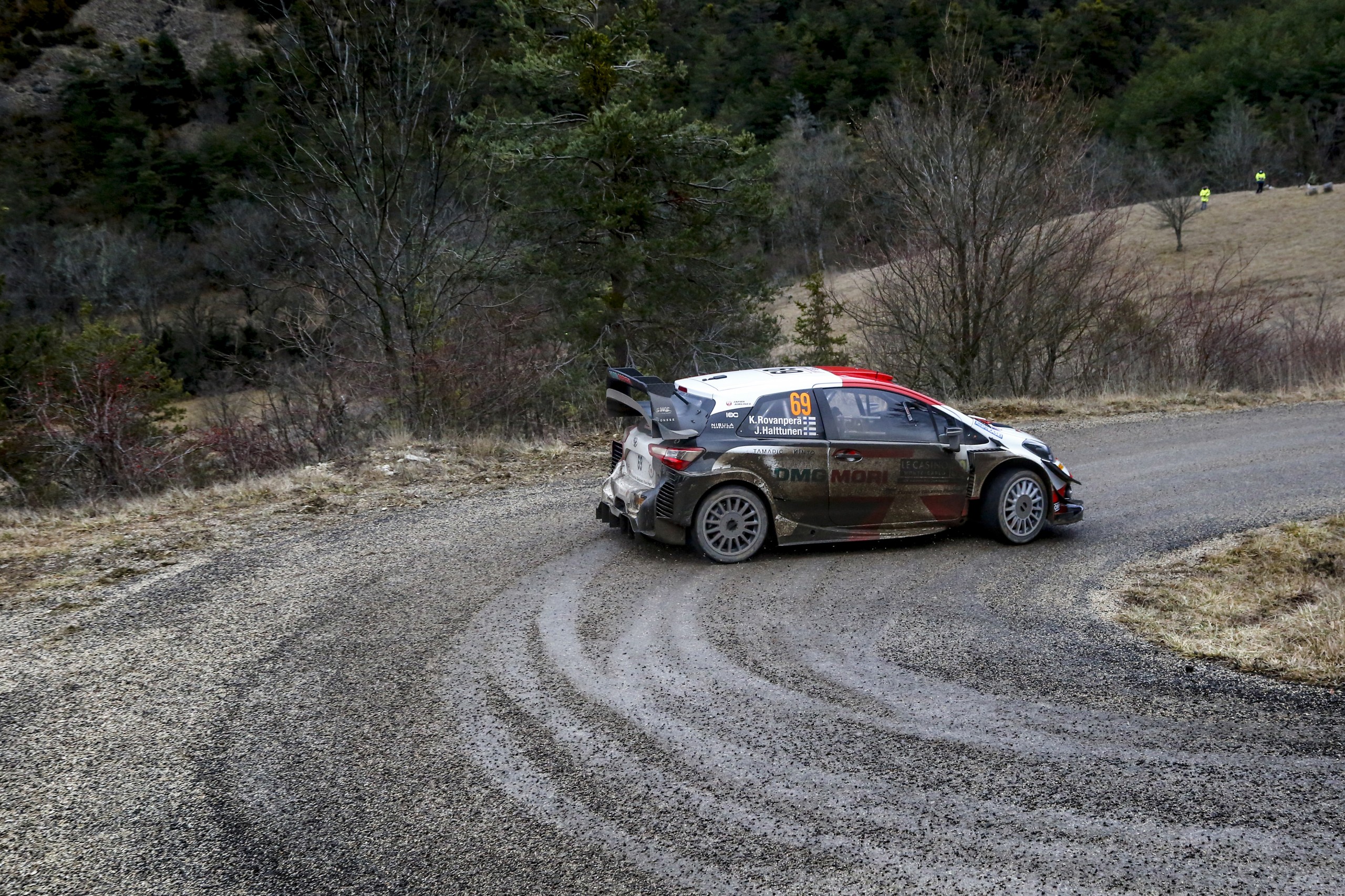 M-Sport WRT
Teemu Suninen (DNF)
"Everything was going well and I had a really good feeling in the car. Then coming into a corner, I lost the line and touched the bank which sent us off the road. It's a really big shame because the car was quick and everyone has worked really hard to be here. The pace was good and the car was looking really strong, so this isn't the start to the season that any of us wanted – and with too much damage, we won't be back tomorrow."
Gus Greensmith (10th)
"It's not been a great start for us and all of the confidence we had on the test seems to have gone amiss somewhere. I'm feeling really uptight and uncomfortable in the car, and not relaxed in my driving – so that's something we're going to have to try and solve for the morning. There could be some snow in first stage which will make the rest of the loop pretty tricky when it comes to the tyre choice. But they're all really nice, flowing stages – especially the last one which is probably my favourite of the rally; so, let's see if we can have some fun in there!"
Adrien Fourmaux (2nd WRC 2)
"We saw some very tricky conditions today with the grip levels changing all the time. We decided where to push and where to be a bit more cautious and I have to say that I was really pleased with my pace – especially on the last stage which is where we decided to push to make the most of our tyre choice. It was a really clean drive and to be only eight seconds away from the lead is nothing on a rally like this. For tomorrow we should see some snow and ice which means a lot can still happen – so we have to stay focused."
Friday
The second day of this event saw five stages, totalling 104.70km. The start list looked like this – Ogier, Evans, Tänak, Neuville, Rovanperä, Sordo, Greensmith, Katsuta, Loubet.
It was all change in SS3 Aspremont – La Bâtie-des-Fonts 1 – 19.61 km, with Seb, Elfyn and Kalle locking out the top three fastest times and with that, Kalle was now leading from Elfyn and Seb. Overnight leader, Ott, fell to fourth overall, 8.7 seconds from the lead now. Also falling down the leaderboard was Gus in his Fiesta WRC. He was only 14th fastest, and dropped one place to eleventh overall.
Seb struck back in SS4 Chalancon – Gumiane 1 – 21.62 km, winning the stage from Kalle and Elfyn, and moved into the lead from his younger Finnish teammate, and now had a lead of 3.3 over Elfyn, with Kalle a further 6.4 back, but still holding third overall. Gus had a much better stage, setting the seventh best time and climbing back into tenth overall.
The Frenchman took SS5 Montauban-sur-l'Ouvèze – Villebois-les-Pins 1 – 22.24 km as well, from Elfyn and Ott. Kalle had taken a ten second penalty for arriving at the next stage late, and this meant that former rally leader Ott was now back into third overall. Further down the leaderboard, Takamoto and Gus swapped positions, with the Japanese driver back in front and back in the top ten. Seb now held a 11.3 second lead over Elfyn in their battle over the win.
After service, everything changed! The second run of SS6 Aspremont – La Bâtie-des-Fonts 2 – 19.61 km saw Seb have a puncture, and he spun on one of the hairpins and was only twelfth fastest. Top three was Elfyn, 6.9 ahead of Ott with Thierry a further 2.8 behind his Estonian teammate. Takamoto was also on the move up the leaderboard, after setting the fifth best time in the stage and was now in eighth overall, gaining two places at the expense of Adrien Fourmoux and Pierre-Louis. So, what of Seb? Well, he was now in third, 23.4 behind Elfyn.
The last stage of the day, SS7 Chalancon – Gumiane 2 – 21.62 km, now run-in daylight saw things improve for Seb though. He was a massive 16 seconds faster than Elfyn, reducing Elfyn's' advantage to just 7.4 seconds. After a troubling day for Dani, he found a rhythm, and was just 1.3 from Seb and second fastest, with Kalle third. Takamoto was making eighth overall his position, going fourth quickest. Meanwhile, Gus was also moving up, and was now in tenth overall.
Classification after Day Two
| | | | | |
| --- | --- | --- | --- | --- |
| 1 | E. Evans | S. Martin | Toyota Yaris WRC | 1:33:57.5 |
| 2 | S. Ogier | J. Ingrassia | Toyota Yaris WRC | +7.4 |
| 3 | O. Tänak | M. Järveoja | Hyundai i20 Coupe WRC | +25.3 |
| 4 | K. Rovanperä | J. Halttunen | Toyota Yaris WRC | +53.1 |
| 5 | T. Neuville | M. Wydaeghe | Hyundai i20 Coupe WRC | +59.1 |
| 6 | D. Sordo | C. del Barrio | Hyundai i20 Coupe WRC | +1:49.6 |
Let's hear from the drivers
Toyota Gazoo Racing
Elfyn Evans (1st)
"Even though we're leading I'm not completely satisfied with the day, to be honest. Seb has driven very well today and it's been difficult to keep up with his times. In some sections I was able to do quite well, but when the surface gets more slippery, I'm struggling to feel the grip and I don't get the confidence to push more in those areas. Hopefully we can make some changes and be in a better position in those conditions tomorrow. It's been a difficult rally with the conditions so far and it sounds like there's the possibility for more interesting weather overnight, so it's not going to be easy all the way to the end."
Sébastien Ogier (2nd)
"After the difficult start yesterday, I was able to wake up this morning and have a good rhythm from the first kilometres. It was a difficult start on the first stage with some fog and a lot of icy sections. But I was happy with the car and it was much more enjoyable to drive now that I had the confidence. This afternoon the roads were more muddy as expected, but with the winter tyres on it was still nice to drive. I think we were pretty unlucky in the penultimate stage where we lost a lot of time, but other than that I think we've done the best we could do today. I came here to win this rally and I'm going to do everything to make that happen."
Kalle Rovanperä (4th)
"I had a good feeling this morning. It started with a tricky stage but we managed quite well. Then we had a small issue on the road section and we couldn't make it on time to the next stage but at least we got it fixed. In the first stage after service in the beginning there was a really big cut with a lot of mud: I was expecting a bit more grip from the tyre, and we had a spin and took us some time to get back on the road. I'm pretty happy with the driving, but with the time penalty and this small off it's quite a big gap we have given away."
Hyundai Motorsport
Ott Tänak (3rd)
"It's been a bit of a mixed day with some tricky conditions. In some places, things have felt consistent, but then you have sections where the grip changes a lot and it's difficult to figure out and find the limit. I tried my best, but I am lacking confidence at times and this is not the place to be a hero. In the final stage of the afternoon, we had no visibility with a misted-up screen, so things got extra complicated."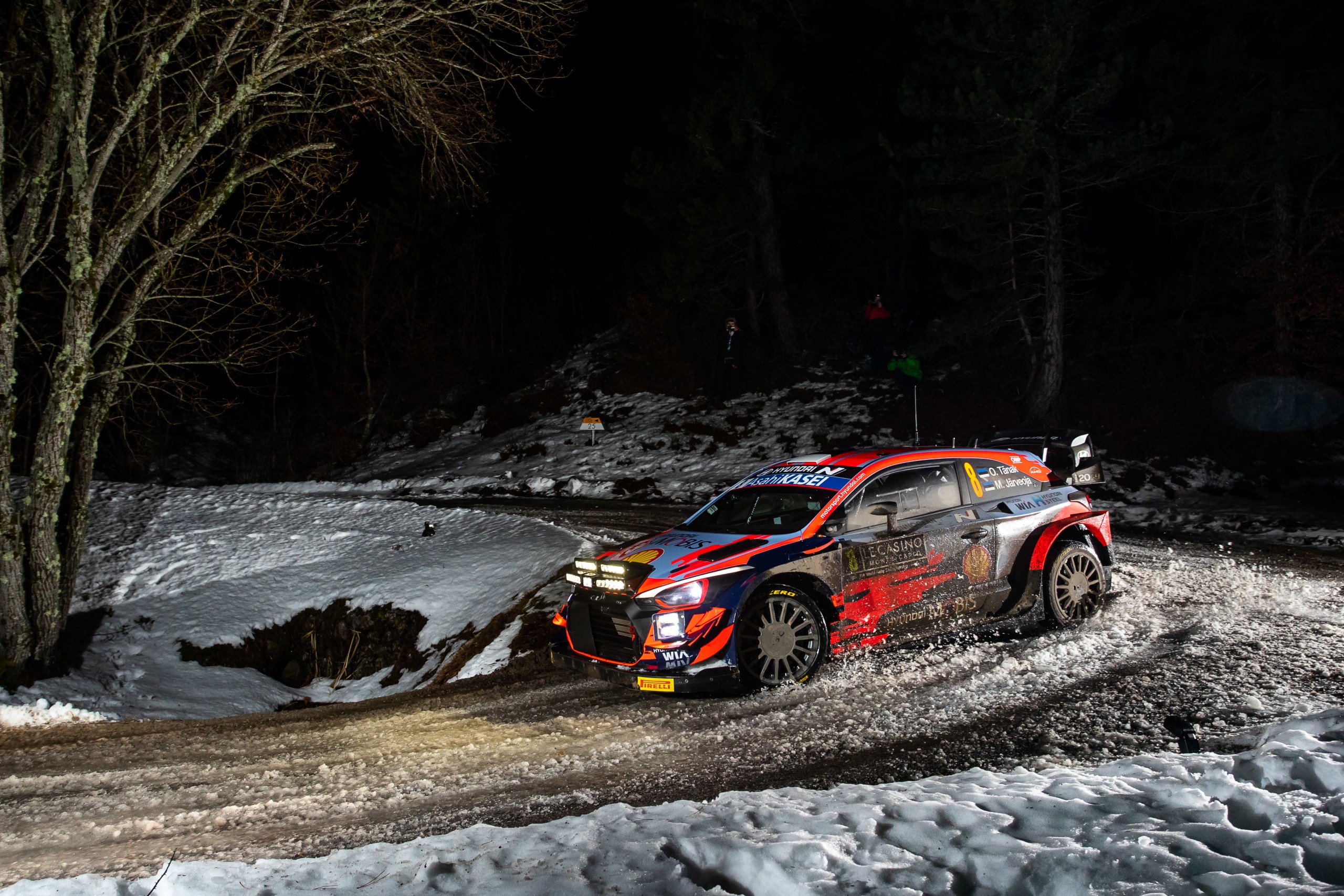 Thierry Neuville (5th)
"We ended the day with a really nice stage and an incredible job from Martijn. I have been feeling increasingly confident after a less than easy morning. We didn't make the best tyre choice in the opening loop so we had to make the most out of it. We tried to stay cautious as the conditions have been really difficult. A top job at midday service, with a strong team spirit, allowed us to tackle the afternoon stages in a more positive manner. It still wasn't a really big push because it's tricky to catch back the time lost from the morning."
Dani Sordo (6th)
"Conditions have been difficult, and it's honestly been a challenge to find the grip and the confidence. I have struggled a lot, although we had a better run this afternoon. We lost a lot of time this morning which will be hard to catch back, but we keep on doing what we can. I can't say I am happy with the performance but our time in the final stage shows that I can set good pace when I feel comfortable and confident in the car."
M-Sport WRT
Gus Greensmith (10th)
"For some reason things just aren't clicking for us this weekend. The car is good, it's just the driver and I wish I had the answer as to why things aren't going right. Normally I really enjoy these conditions. I've won here before and I'd see challenging, changeable conditions like this and think, great, I can make some time here. But this weekend, I just don't seem to have the confidence.
"We're still here which is the most important thing – and we're getting the mileage and the experience which is definitely a positive. But it's not the weekend we anticipated after such a good feeling on the test. We'll have another look through the data tonight to try and identify where to improve, and hopefully that will be the case tomorrow."
Adrien Fourmaux (2nd WRC 2)
"It's been another really tricky day out there, but we had good pace and can only be happy with our performance. The conditions were so difficult and dirty with almost every cut full of gravel – so we had to compromise. We set a fastest time, but sometimes we also had to back off the pace as it's so easy to make a mistake.
"The conditions aren't going to get any easier tomorrow and they could be even trickier if we have snow and ice – so we need to stay focused. We've done a good job so far, and just need to continue like that tomorrow."
Saturday
With three stages on the third day, and the first run in the dark, there had been some changes in the conditions. Snow had fallen, and we were seeing a much more normal challenge out there for the crews. The starting line-up looked like this – Loubet, Greensmith, Katsuta, Sordo, Neuville, Rovanperä, Tänak, Evans, Ogier.
Into SS9 La Bréole – Selonnet 1 – 18.31 km then, and we saw Seb take advantage of his experience going through the stage 17.8 seconds faster than Elfyn who was second and Dani who was getting some confidence in the conditions going third fastest. Gus was also finding some confidence, and set the fifth best time. Unfortunately, it was going wrong for Ott, who picked up a puncture on the stage, and dropped more than a full minute and fell to fifth overall as well.
The penultimate stage of the day, SS10 Saint-Clément – Freissinières – 20.48 km, had a very interesting outcome. Pierre-Louis was first through the stage, and had set a very good time. The fresh snow on the stage had given the young Frenchman good confidence. As the other crews came through, they couldn't beat that time, but finally, Thierry and Martijn took their first stage victory as a duo. As the top drivers came through, they found that the conditions were such that they couldn't get anywhere the times set earlier.
Top three was Thierry, Pierre-Louis and Dani. Top three overall remained, Seb, Elfyn and Kalle, but Thierry was now just 1.4 seconds from taking the third place from the Finn. It was a disaster for Ott though. He had another puncture! What a nightmare for the 2019 champ. He stopped to put the wheel rim back on, so that he and Martin would have a tyre on a rim to drive back to service.
Elfyn took the last stage of the day, SS11 La Bréole – Selonnet 2 – 18.31 km. He and Seb had swapped and the Welshman, meaning that Elfyn was last to complete, and was the only driver on the second run to drop below 12 minutes, setting a time, 1.3 seconds faster than Seb. Kalle was third, and increased the gap over Thierry to seven seconds over their battle for the final podium position.
Classification after Day Three
| | | | | |
| --- | --- | --- | --- | --- |
| 1 | S. Ogier | J. Ingrassia | Toyota Yaris WRC | 2:16:31.9 |
| 2 | E. Evans | S. Martin | Toyota Yaris WRC | +13.0 |
| 3 | K. Rovanperä | J. Halttunen | Toyota Yaris WRC | +56.8 |
| 4 | T. Neuville | M. Wydaeghe | Hyundai i20 Coupe WRC | +1:03.8 |
| 5 | D. Sordo | C. del Barrio | Hyundai i20 Coupe WRC | +2:11.3 |
| 6 | T. Katsuta | D. Barritt | Toyota Yaris WRC | +4:43.1 |
Let's hear from the drivers!
Toyota Gazoo Racing WRT
Sébastien Ogier (1st)
"It has been a good day, although not perfect. The first stage went very well in super tricky conditions. I really pushed hard so I was happy to cross the finish line and keep the car on the road with that kind of speed. The second stage was much more difficult for us. The conditions were really extreme and I had absolutely no grip, and we lost quite a lot of time compared to the drivers running at the front of the road order. Maybe we also didn't do the perfect job with the tyre management but they are new and we're still learning about them. In the final stage the conditions had changed a lot since the first pass and also since the gravel crew went through, but it was a clean drive for me. Most importantly we are in the lead and that's what we need to keep now."
Elfyn Evans (2nd)
"It has been a bit of frustrating day for me. I didn't start off too well in the first stage this morning. Once I got my rhythm the time was not so bad, but Seb was obviously very strong. In the second stage it seemed to polish a lot and as later runners we seemed to have a lot less grip. Still, our time was quite close to Seb's, although we had a small stall at a hairpin which cost us a handful of seconds. The last stage was difficult because the gravel notes were telling you it's much worse than what you were seeing on the road. I tried to stay clean and out of trouble and it seemed OK. There was more to get out of it today and I wasn't brave enough really, but of course it's about finding a balance in these conditions. We'll keep the pressure on tomorrow."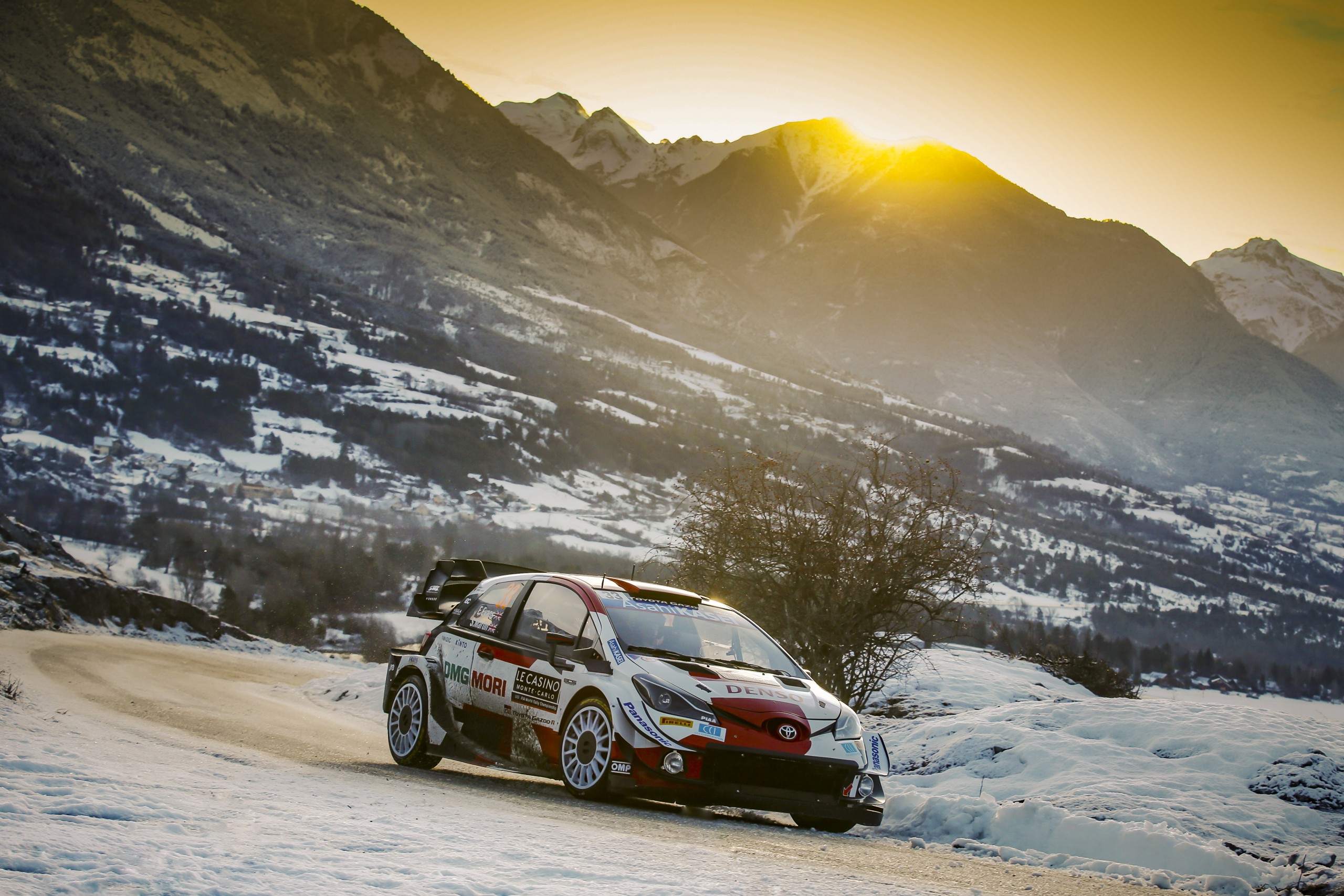 Kalle Rovanperä (3rd)
"It was a nice start this morning, the first stage went quite well. I was quite careful in the tricky conditions but the time compared to others was good. The second one was really tricky, it felt good but I think the road was getting much slower all the time and we lost some time there. The last stage was tricky because I had a problem with my earplugs, so Jonne had to scream all the time so I could hear the notes! But I think it was a good run – we were faster than the driver behind us so it was enough."
Hyundai Motorsport
Thierry Neuville (4th)
"It has been another tricky, challenging day but we have been constantly improving in the car. It was a difficult start; I wasn't feeling comfortable in the first stage and not in the rhythm but that improved in SS10. I tried to be as efficient as possible in the car, looking for traction and keeping it clean. There was a mid-section where I felt I had more grip so I could push a bit more. Still, I was surprised to see the time, especially after we lost a lot in that opening stage. It was our first stage win of the season and the first for Martijn, which was nice after the progress we have made this weekend. The target has been to get mileage and get used to working with each other. Monte is the best school you can get!"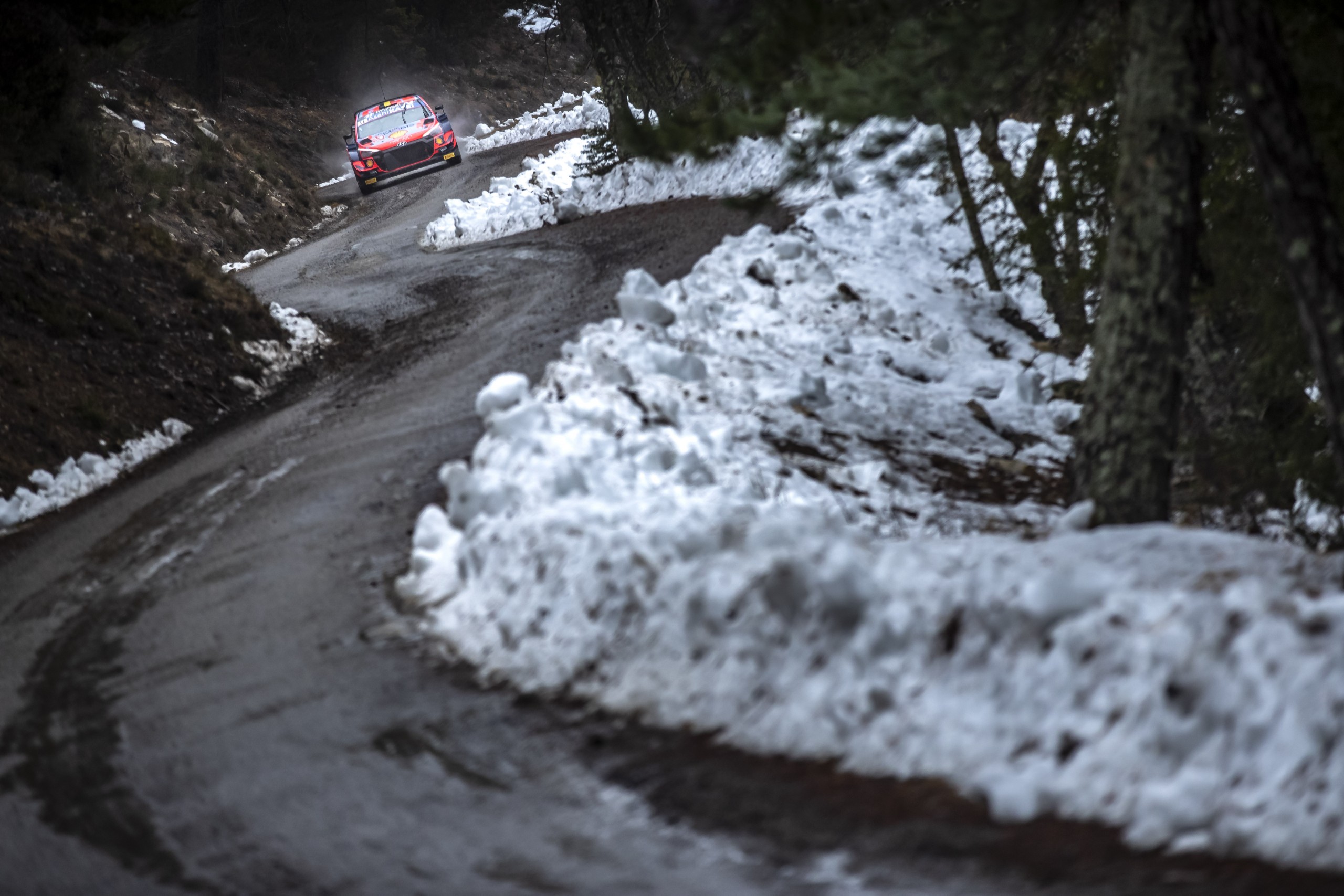 Dani Sordo (5th)
"Today was all about the grip and getting the car to the end. We knew the opening stage would be 'interesting' with lots of ice when we heard the comments of the gravel crew this morning. We changed to a softer car set-up to get a better feeling. The first stage was difficult to read the road, as we knew it would be, with some slippery places and other parts less so. I lost a bit of confidence in the middle of the second stage, so I didn't push as much there. We didn't have any problems and it's been important to get through today with no mistakes. We took the final stage slowly because it's so easy to go off the line, so we took no risks."
Ott Tänak (DNF)
"Unfortunately, another early finish to Monte for us. On the first stage, I hit a stone – or something similar – and damaged the wheel, which caused a puncture. It was my mistake, something I didn't notice during the recce. From the very beginning of the second stage, we had a slow puncture, so it was a long way to come back on the rubber. We tried to put the first damaged tyre back on the car to make the road section, but it didn't last. Nothing much more we could do. We made it to service but had to retire the car. With no opportunity to re-join tomorrow that's the end of the rally for us."
M-Sport WRT
Gus Greensmith (8th)
"It's been pretty icy out there today! There was quite a lot of grip on the compacted snow at the start of the first stage and I didn't feel as though I was making the most of it – but to be fair, the splits were pretty okay.
"I didn't commit as much as I could after that. I wasn't sending it into the entry of the corners as much as I could, but the driving did feel better. There's still a lot more confidence to be found out there, so let's see if we can find some of it tomorrow."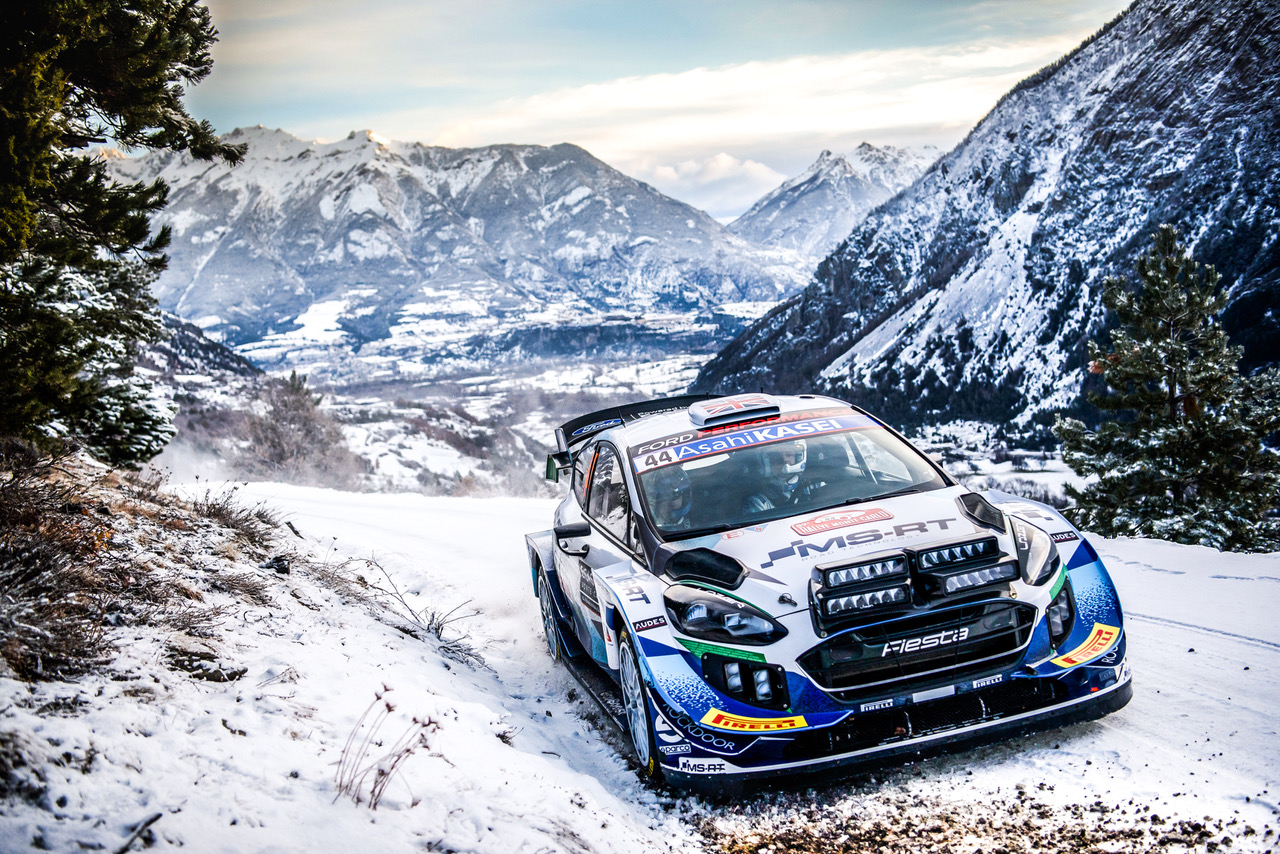 Adrien Fourmaux (2nd WRC 2)
"Just after a long right-hander there is a small left, and I was already focused on the next corner. I took the cut, but there was a rock on the inside which I hit and picked up a puncture. We had to do almost the whole stage on the rim and lost a lot of time.
"It was frustrating because we had a really strong second place and didn't have to push too much – but that's rallying. I made a little mistake, and now we need to push a little bit more to keep our second place and keep Éric behind us."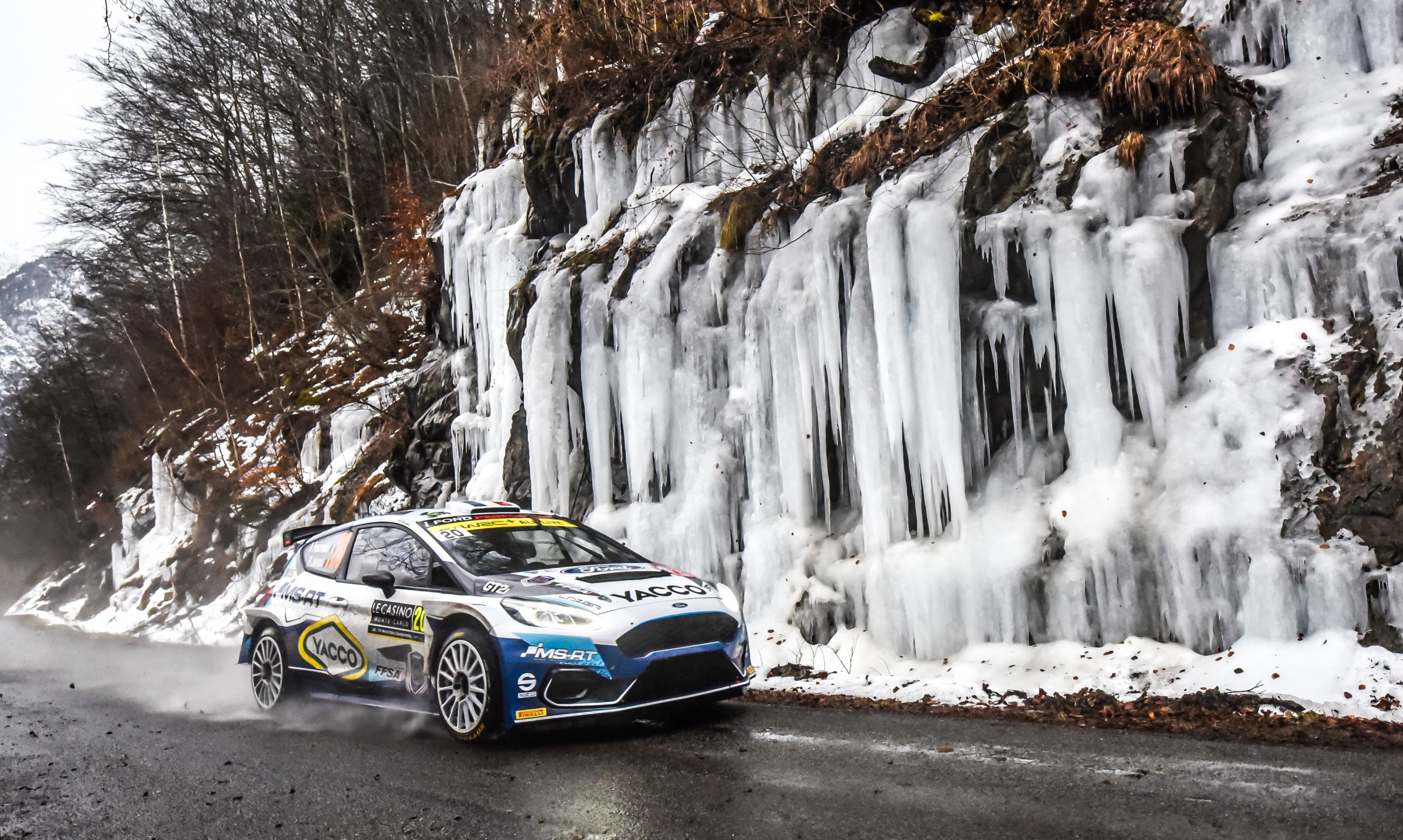 Sunday
The last day then. There were some penalties handed out to some. Here is the running order – Loubet, Greensmith, Katsuta, Sordo, Neuville, Rovanperä, Evans, Ogier.
The first stage, SS12 Puget-Théniers – La Penne 1 – 12.93 km, saw ice on the road, and the first two crews in both slid wide and hit the scenery early in the first sector. They were however able to continue. In terms of the battle between Kalle and Thierry, with the Belgian setting the second fastest time and Kalle getting a puncture, the Hyundai crew took third place. Seb was fastest, whilst Elfyn was third in the stage and now 21 seconds from the leader, and holding second overall. The drive of the stage, I think, was Oliver Solberg and Aaron Johnston who were fourth fastest, just 15 seconds slower than the fastest time in their Hyundai i20 Rally2 car.
Onto SS13 Briançonnet – Entrevaux 1 – 14.31 km, and it was a second stage win for Thierry and Martijn, with Elfyn and Scott setting the second fastest stage and Seb third. The gap came down a little between Elfyn and Seb, but only a little over a second. There was drama for the drivers who opened the stage, with Pierre-Louis sliding into a barrier filled with snow, but getting away with it. At the same point and he set the fourth fastest time. Gus had the same problem, and hit the barrier harder with the left rear and the car spun to the point that the front was facing the barrier. Gus had to manoeuvre the car and lost quite a lot of time. Another to spin was Takamoto, who ended up setting a similar time to Gus, with the two of them fifteenth and sixteenth on the timesheets.
The rerun of SS14 Puget-Théniers – La Penne 2 – 12.93 km saw Seb take the stage win, with Dani and Thierry second and third fastest. Elfyn was fourth, and although Thierry was faster, the gap between the two of them remained just a little under 30 seconds.
Onto the last stage then, SS15 Briançonnet – Entrevaux 2, the power stage. Gus set the early benchmark, which was first eclipsed by Dani. Then Kalle cam through with the fastest time, but said that it would not be fast enough to take the stage victory. Thierry was next, but didn't set the best time, unlike last year. Elfyn came through and was a 1.2 from Kalle's time. Sadly, Pierre-Louis who was pushing hard got stuck in a snowbank, and ended up losing about two minutes. A big shame, but it was the first time that he had competed in this event, and there were some promising times.  Finally, Seb came through, and took the fastest time, 3.3 faster than Kalle. The top five was Seb, Kalle, Elfyn, Thierry and Dani.
Final Overall Classification – Rallye Monte-Carlo
| | | | | |
| --- | --- | --- | --- | --- |
| 1 | S. Ogier | J. Ingrassia | Toyota Yaris WRC | 2:56:33.7 |
| 2 | E. Evans | S. Martin | Toyota Yaris WRC | +32.6 |
| 3 | T. Neuville | M. Wydaeghe | Hyundai i20 Coupe WRC | +1:13.5 |
| 4 | K. Rovanperä | J. Halttunen | Toyota Yaris WRC | +2:33.6 |
| 5 | D. Sordo | C. del Barrio | Hyundai i20 Coupe WRC | +3:14.2 |
| 6 | T. Katsuta | D. Barritt | Toyota Yaris WRC | +7:01.3 |
| 7 | A. Mikkelsen | O. Fløene | Škoda Fabia R5 | +7:23.6 |
| 8 | G. Greensmith | E. Edmondson | Ford Fiesta WRC | +8:21.1 |
| 9 | A. Fourmaux | R. Jamoul | Ford Fiesta R5 | +9:15.8 |
| 10 | E. Camilli | F. Buresi | Citroën C3 R5 | +10:41.0 |
Let's hear from the drivers!
Toyota Gazoo Racing WRT
Sébastien Ogier (1st)
"This is a perfect start to the season. Watching this rally as a kid gave me the dream to become a driver one day. If I could have only one record, for sure I would take this one. It has a lot of meaning for me, and this is also the reason I was quite emotional on the podium. The Yaris WRC has been fantastic this weekend: I had such a good feeling in the car. I think it was a good decision to do one more year. The team is great, so a huge thanks to all of them. The first stage this morning was incredible: There were so many grip changes and it was impossible to read because it was like black ice. The gravel crew went through the stage two hours earlier and there was nothing there at the time, just a little bit of frost. So, it was really surprising. It is never the easiest to manage a lead and especially on this rally, but we did it."
Elfyn Evans (2nd)
"It was a tough final day with very challenging conditions, as it has been throughout the weekend really. Maybe I didn't push quite enough to really challenge Seb for the victory, he was very very good this weekend. It's his home rally so it was always going to be tough – but credit to him. And as a team it's a fantastic start to the year. We can be happy with the points, but of course you always want more and hopefully next time I can be a bit stronger. I don't think I quite had the feeling this weekend. Perhaps at the start of the year it was better not to risk everything to try to win, but we know if we want to challenge for the title, we'll have to do that during the year. However, I feel we've got a really strong car and a very strong team to go with it."
Kalle Rovanperä (4th)
"I would say the conditions were really quite extreme this morning. The first stage was really tricky with the ice and then then we had snow in the second stage. I think I was a bit unlucky with the tyre damage but that's also rallying sometimes. In the Power Stage we had a nice time. I was a bit surprised because I wasn't really pushing on the maximum. I just picked up the pace a bit more, and it was good to have proper points from there too. Overall it was a really nice weekend from my side because I didn't do so many kilometres on asphalt last year. We were a lot faster than on this rally last year and more consistent also, so it was a good weekend with just a bit of bad luck."
Hyundai Motorsport
Thierry Neuville (3rd)
"A challenging start to the new season for us, especially after a late co-driver change. We were able to find a solution to be competitive and, step by step, Martijn and me were able to find more confidence in the car to improve our collaboration and to improve our speed day by day. To finish on the podium is a satisfying result considering the situation we have faced. The job in the car has been really impressive considering the difficulties of Monte."
Dani Sordo (5th)
"We haven't had a very good rally, so to take some manufacturers' points away is some consolation. From the beginning, we have not really been on the pace and I am not particularly happy with myself, to be honest. We have faced some incredibly tricky stages and there have been some parts where I have just lacked confidence. The only thing we've been able to do is survive: to bring the car home and to score points for the team. At the end of the year, they could be very important. We need to reset and go to the next one with full power. It is sad to finish my partnership with Carlos; we've had some good results over the years, and it's been great to work with him."
M-Sport WRT
Gus Greensmith (8th)
"It goes without saying that this wasn't the weekend we wanted. I had a lot of confidence after the test and was really looking forward to this rally – but as soon as we got to that first stage the confidence just went to zero.
"So much work went on behind the scenes to get us here, and with the preparation we had I know we should have been better. Teemu proved on the first stage that there were no issues with the car – it was just the driver. I have to learn from this weekend, and work hard to get back to where I know we should be."
Adrien Fourmaux (2nd WRC 2)
"It was a really nice rally for us and I'm really happy with our performance. We had very good pace and it was nice to be able to fight with Andreas – a guy who has so much speed and experience in this sport.
"I also have to say thank you to the team because they did a perfect job all weekend and really deserve this result. To finish in the top ten made it even better, and I look forward to continuing the fight at the next rally."
2C Competition
Oliver Solberg (DNF)
"We came here to make experience," said Oliver. "Of course, like always, I wanted to push hard and set some good times and I think we have done that. I wanted to finish and it's very frustrating not to be back in Monaco this afternoon, but it was a small mistake.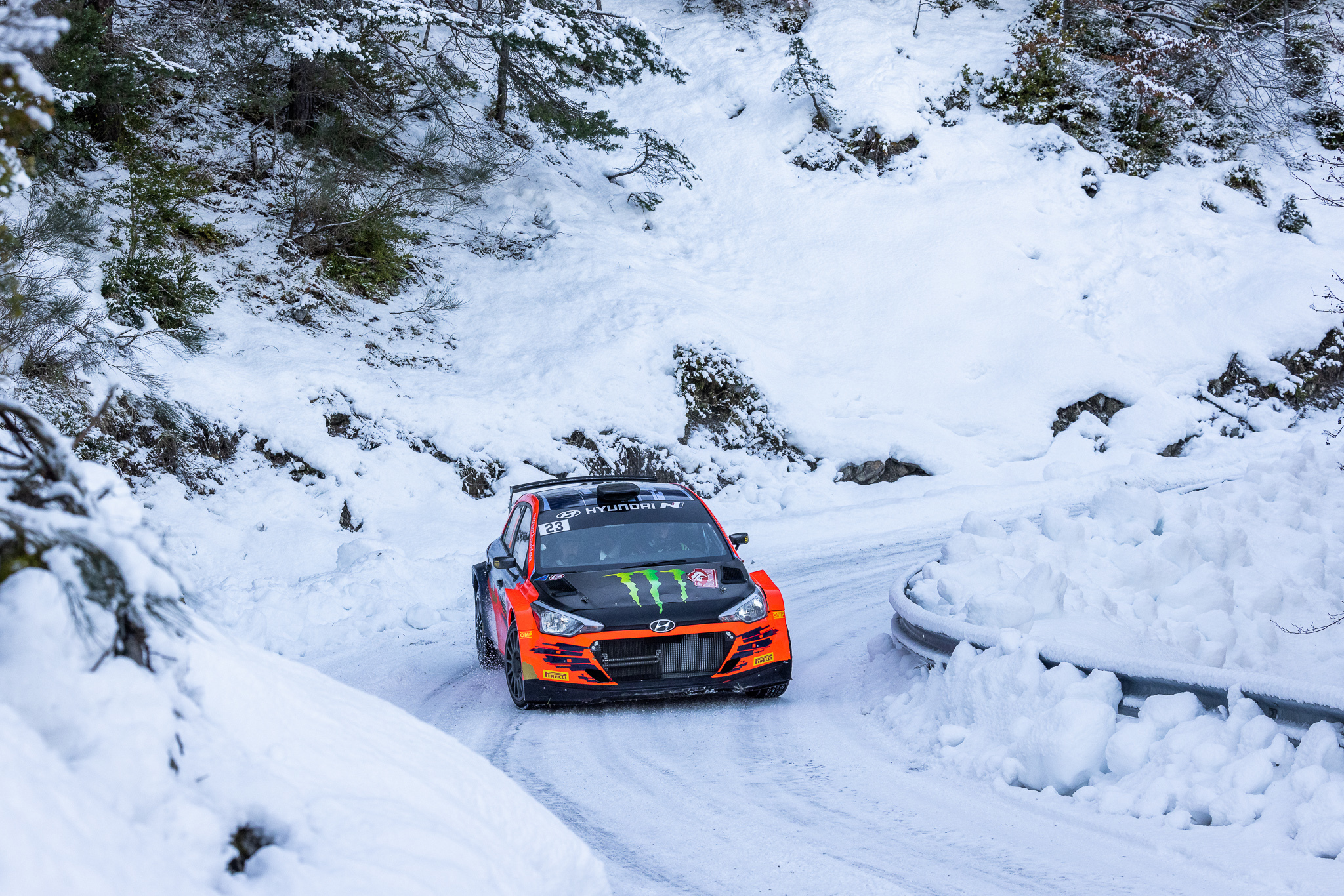 "The car is fine and if we had some more people around, we could have come to the finish. OK, sometimes it's like this. I won't think so much to this. Instead, I take the positives.
"The time in the first stage on Sunday was really cool, to be fourth fastest overall was something special – it's my best ever time on a WRC round. The conditions were so complicated there with a lot, a lot, a lot of black ice in places; every time you were going to the corner, you were asking yourself: "How will it be? Will the grip be there?"
"But I was able to find a rhythm and deal with the changing grip. It was nice because we were fifth fastest overall on the last stage on Saturday as well. Trying to forget the last stage, it's been a fantastic event and almost the perfect way to start our time with Hyundai Motorsport in the WRC."
Warren's Thoughts
Well, it was a perfect start for Seb and Julien at the start of their final season. If you think about what happened in stage five, with the puncture and spin on the ice, the way that the world champions came back was incredible. They took eight stage wins including the power stage, meaning they'd taken the full points as well.
Elfyn and Scott drove really well too. A second podium finish on this event and one place better than last year showed how much they'd shown they could compete at the top, and they took two stage wins as well. They led for a short while again, just like last year, but were caught by a fired up Seb and Julien. It was a very good drive and they will once again be championship contenders.
Kalle and Jonne were also very good, and improved on their fifth place with fourth this year. It could have been a podium, but after their punctures, it slipped away from them. However, it was still a good drive and just like his teammates, an improvement from last year.
Thierry and his new co-driver Martijn settled in really well, and took two stage wins along the way. To secure a podium on their first ever event together is quite amazing, and I suspect that we will see them in the car on the next event.
Elsewhere in the Hyundai team, Dani with Carlos in the car for the final time, found it hard to get settled in the conditions, and then when things started to gel, the team suffered the retirement of Ott and then I suspect that the drivers were told to bring the cars to the end.
For the second year in a row, Ott and Martin really didn't have things their way. It started well with two stage wins on Thursday, but once he hit the problems with the punctures, it really didn't end well. He will hope that the next event is better.
Making their debut in a Hyundai i20 WRC 2020 spec car, Pierri-Louis Loubet and Vincent Landais had an up and down event. The Corsican had never competed in this rally before, but certainly had their good moments, with some top three times, but their crash also took any hope of points away. They re-joined and then on the final stage, were pushing on when they slid off the road, losing any hope of points in the power stage.
At M-Sport, it was a rally to forget. With Teemu and Markko crashing out on stage two and no hope of a restart, the Finns part season did not get off well. This left Gus and Elliot as the only remaining Fiesta WRC in the field, and they were all at sea. The young Brit was really hard on himself. There were moments however, when things came together and they showed what they could do. At least there wasn't the large mistake from last year and they managed to complete all the stages.
Adrien and Renaud in their Fiesta R5 took second in the Rally 2 category, as they started their season well, taking ninth overall as well. They will be looking forward to the moment that they step into the Fiesta WRC.
2021 FIA World Rally Championship for Drivers' Standings
After Round One
| | | |
| --- | --- | --- |
| 1 | S. Ogier | 30 |
| 2 | E. Evans | 21 |
| 3 | T. Neuville | 17 |
| 4 | K. Rovanperä | 16 |
| 5 | D. Sordo | 11 |
| 6 | T. Katsuta | 8 |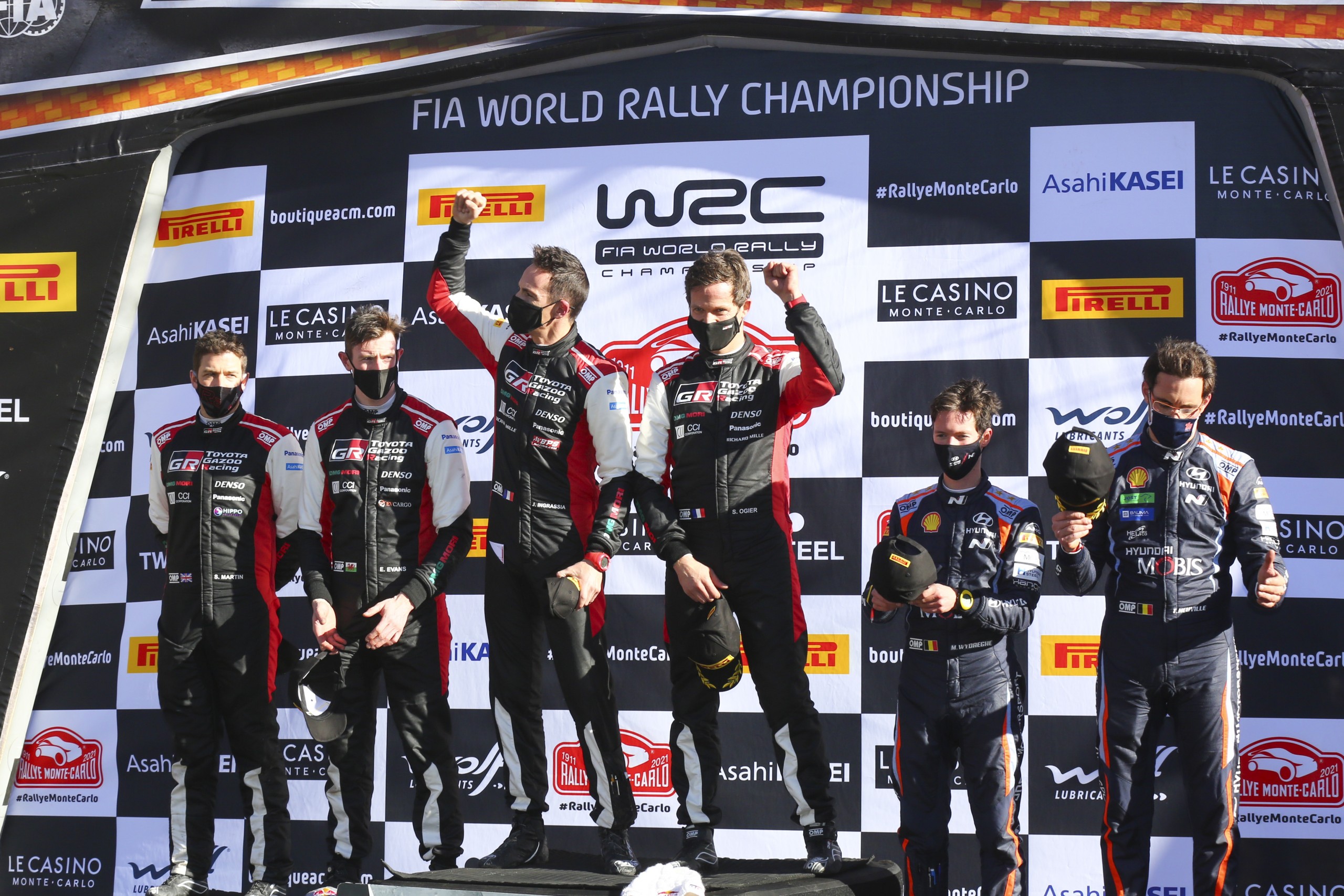 2021 FIA World Rally Championship for Manufacturers' Standings
After Round One
| | | |
| --- | --- | --- |
| 1 | Toyota Gazoo Racing World Rally Team | 52 |
| 2 | Hyundai Shell Mobis World Rally Team | 30 |
| 3 | M-Sport Ford World Rally Team | 10 |
| 4 | Hyundai 2C Competition | 8 |
Next event is the Artic Rally in Finland, which takes place from the 26th to the 28th of February. It is a replacement for the cancelled Rally Sweden. Pop back closer to then to read my preview for round two!