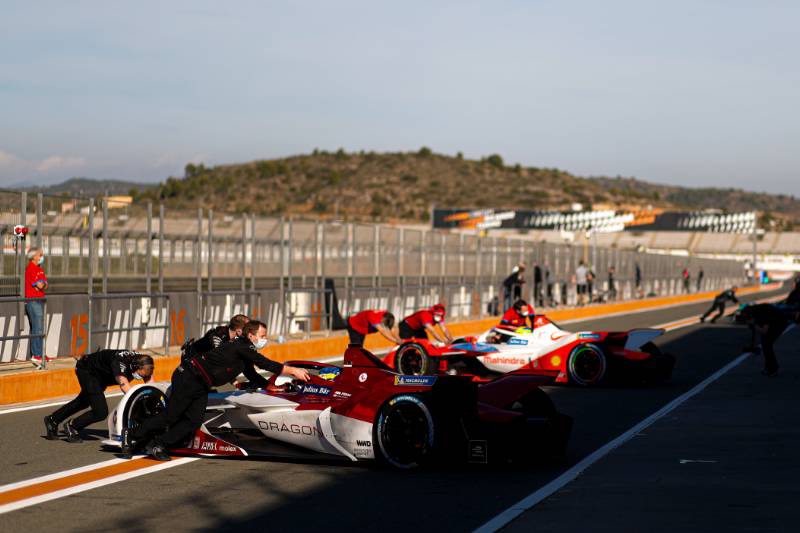 image courtesy of Sergio Sette Formula e
Earlier this week saw the return of Formula E, as the teams took to the Ricardo Tormo Circuit in Valencia to test their cars ahead of the 2020/21 Season. BMWi Andretti's Maximilian Guenther was the quickest of all over one lap, but what can we actually learn from Formula E testing? Let's find out!
Changes to Testing
Last year, the Ricardo Tormo circuit implemented a tight chicane into the first corner, in order to try and replicate some of the characteristics of Formula E's famous (or infamous) street circuits. This year, though, that was removed in an attempt to minimise the risk of the cars sustaining damage. That wasn't the only change either. Due to the somewhat creative interpretations of where the track limit was last year, it was decided that this year they would monitor it using sensors. The increased awareness of track limits also helped with the batteries' operating temperatures. Unfortunately, because of all the changes to the track, comparing times with last year would not give an accurate representation of how the technology has developed since then.
Rookies Impressed:
Every year the quality of the Formula E Grid seems to get better and better and this year is no different. The new faces this year, Venturi's Norman Nato, Andretti's Jake Dennis, and Virgin's Nick Cassidy, sprinted out of the starting blocks, posting competitive times almost immediately. By the end of testing, their quickest laps were all within 4 tenths of the overall fastest, Max Guenther, with Cassidy and Nato both quicker than their more experienced teammates.
NIO Resurgence:
It's fair to say NIO have struggled to be competitive in recent years, often being the slowest car on the grid. However, that seems to have changed this year, as an all-new powertrain helped Oliver Turvey finish testing 10th quickest. NIO also completed the most laps of anyone with a total 535 across all three days; valuable data to help get to grips with the new system. As spectators, we can but hope that the clear improvement in one-lap pace, also means an improvement to their long run pace.
As Tight As Ever:
One of the best things about Formula E is the closeness of the racing, and this year it's set to be the closest field ever. At the end of testing, all the drivers were covered by a little over half a second. The young Max Guenther lead the pack, but Audi's Lucas Di Grassi brought up the rear just a mere 0.578 seconds behind. Audi themselves seemed to be a tad behind the others, perhaps as a result of their decision to pull out of the all electric series after this season, so that they can focus on Le Mans. With a field covered by so little, however, this season is going to be as close as ever. Any championship hopefuls will need to be incredibly consistent.
So now that testing has concluded, we have learned many things about what to expect in this coming season. NIO look like they can be competitive again, and anybody can win any race. We look destined to witness one of the best seasons of Formula E to date: you won't want to miss it when it kicks off in Santiago on January 16th.